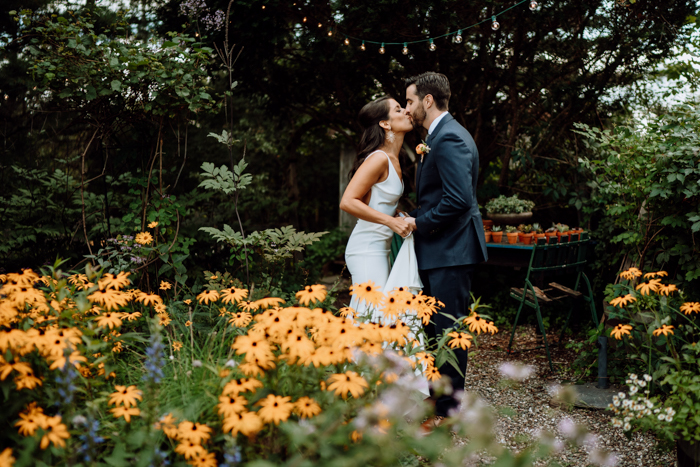 Photo by With Love and Embers. See more of this real wedding here. 
Your wedding is one of the most memorable days of your life, but did you know that it's also one of the most wasteful? In fact, according to The Green Bride Guide, the average wedding produces anywhere from 400 to 600 pounds of trash and 63 tons of CO2–all in one day! Because of the pressure to have the picture-perfect day, many of us don't think about the effect that our wedding purchases and excess food have on the environment.
Luckily, eco-friendly weddings are becoming increasingly popular—especially as micro weddings and elopements are on the rise. Planning a sustainable wedding does not have to be more challenging than planning less environmentally-friendly nuptials. However, we know figuring out where to start can be daunting. That's why we're here to help you navigate the world of green wedding planning.
Sustainable Weddings are Trending
At Junebug, we've seen our fair share of weddings–we're talking thousands. We've noticed an upward trend in sustainable weddings, so we took to asking our vendors if they've also seen a difference!
This is what member Jenn Mauer of Wild Coast Photography had to say about the trend, "Every year more couples are reaching out saying they want to have "smaller, more intentional" celebrations. Rather than a big, traditional wedding, I'm photographing more eco-friendly outdoor elopements where couples have the chance to be super specific about what things are a part of their day. Rather than physical objects, they are choosing experiences to celebrate this moment in their lives. Instead of huge floral arrangements, they're choosing natural mountain backdrops. Instead of a big dinner reception with a generic catering menu, they're choosing a small picnic of their favorite foods."
The Future of Sustainable Weddings
"I really think sustainable weddings are the future, whether they are small two-person elopements or eco-friendly ballroom weddings that have been crafted to reduce waste. At this point, a wasteful wedding is out of touch – it's easier than ever to choose small sustainable swaps to make a wedding eco-friendly!" 
Photographer Nikk Nuygen agreed, saying, "Today's couples are concerned about the state of the planet and are passionate about lowering their carbon footprints as much as possible. Most modern couples don't want a wedding full of excess waste and unnecessary items, especially with the increasing costs! When it comes to sustainable weddings in 2020, it's all about locally sourced and seasonal food, natural materials over plastic, recycled paper and goods, eco-friendly and all-inclusive venues, and mindfully choosing decorations (reusable is preferable)."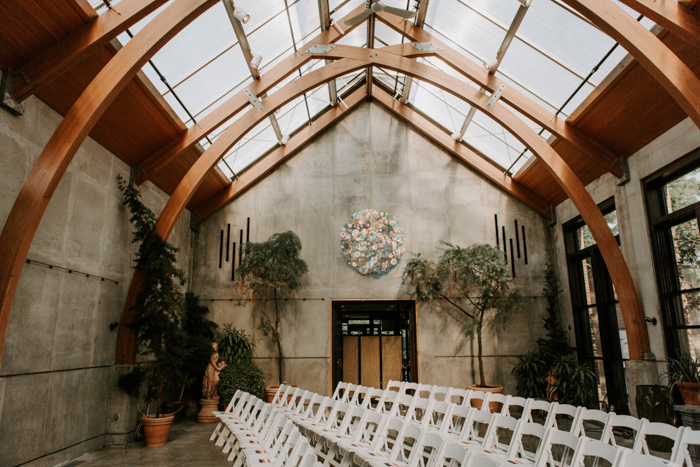 Photo by Scarlet Roots. See more of this real wedding here. 
How To Find A Sustainable Wedding Venue
One of the easiest ways to host a sustainable wedding is to find a venue that prides itself on reducing its carbon footprint, recycling wherever possible, and incorporating renewable energy sources.
Junebug member Kat Warner of Benjamin T Warner Events put together the perfect list of questions to ask a potential venue to gauge what efforts they use to be environmentally friendly:
Do they offer recycling or composting bins on-site, or recommend a local green trash service?

Do they offer rentals?

What seasons would lower the wedding's carbon footprint?

Are there any local vendors or organizations they recommend connecting with?

Are renewable energy sources, such as solar generators, available?

Do they incorporate sustainable operations or methods? Options like carbon offsetting, gravity rainwater harvesting, solar-powered energy, seasonal options, etc.

Do they work with a local conservation organization? These organizations typically look like a conservation easement, a mentoring program, etc.
Junebug member Sachin Khona suggests looking into whether or not a venue is LEED-certified. She says, "the LEED certification process ensures that the venue is functioning in a sustainable and energy-efficient manner. This includes water savings and materials selection. You'll feel better knowing your wedding is housed in a caring environment." 
19 Other Changes You Can Make For A Sustainable Wedding
1. Be Thoughtful About Who You Hire
Hiring vendors that care about sustainability themselves and are willing to work with you to be as sustainable as possible is critical. Life is easier when you've got people in your corner, and the same goes for wedding planning. Vendors that share your same views will make wedding planning that much easier.
2. Keep the Guest List Small
While it may seem tempting to invite everyone you know to your special day, the smaller the guest list, the less waste you will produce. If you're in the wedding planning process and you're overwhelmed with the thought of cutting friends and family from your guest list, use these tips to help you narrow it down.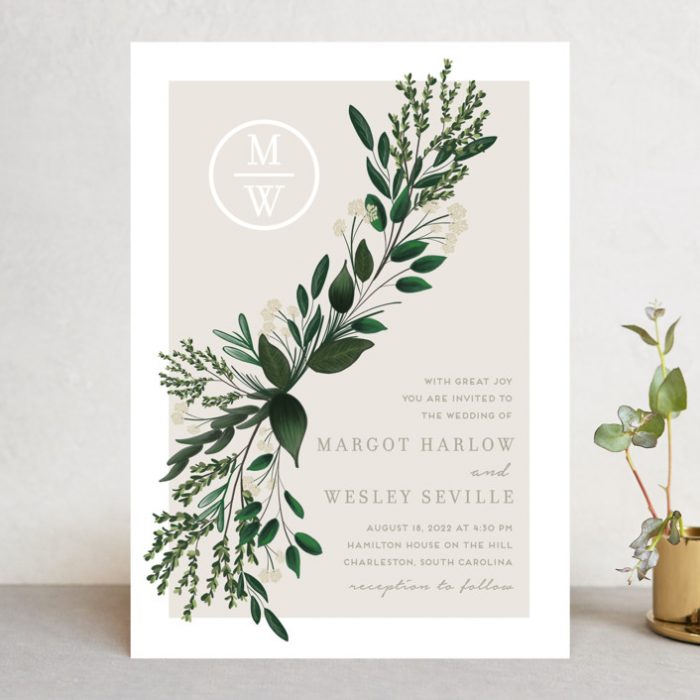 Watermark Invitation via Minted
3. Choose Eco-Friendly Recycled Invitations or Opt For Virtual Invitations
There are so many options available for eco-friendly invitations. It's easier than ever to find invitations made from recycled paper, upcycled fabric, leather, and even wood. Some companies also give back with every purchase. For example, Paper Culture offers 100% post-recycled paper invites, and they plant a tree in your honor with every purchase. Botanical Paperworks prints their invites on seed-infused paper that you can plant and turn into flowers.
4. Create an Eco-Friendly Registry or Have Guests Donate to a Charity of Your Choice
We know how easy it is to go a little scan-crazy when you're putting together your wedding registry. However, before going shopping, make a list of sustainable items that you and your new spouse would like to add to your home. Whether it be recycled ceramic or reclaimed wood, there's usually a sustainable alternative to our everyday household item or decor.
If you would rather forgo the gifts, have your guests donate to a charity of your choice. Whether you're passionate about feeding the homeless or educating children, there are so many charities to choose from Get creative and find a charity that speaks to you like this real couple who had their guests donate to a local food rescue charity in New Zealand.
5. Buy Ethical Wedding Rings
Did you know that it's important to track the origins of your diamonds and gemstones? Due to poor planning and regulation, diamond mining has created a real mess. Finding ethical wedding rings will help you avoid this pitfall.
If you want a conflict-free diamond ring, look no further than lab-grown diamonds. Moissanite is starting to take the world by storm, and for a good reason. It's a rare, naturally occurring mineral created in a lab, so you don't have to worry about harming the Earth. The best part? Moissanite stones look exactly real diamonds and cost a whole lot less. Companies like Brilliant Earth pride themselves on being as ethical as possible while producing seriously stunning jewelry.
You can also switch up ring shopping by looking for vintage options. Whether your family has a precious heirloom or you shop at an estate sale, vintage rings are truly one-of-a-kind.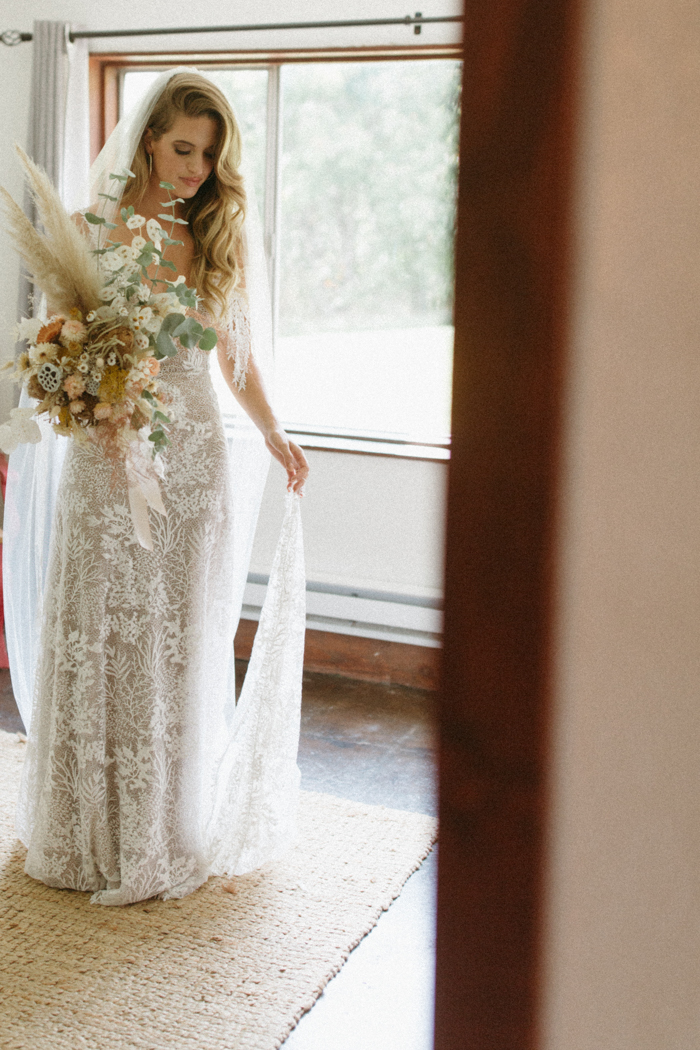 Photo by Michelle Lyerly Photography. See more of this real wedding here. 
6. Choosing An Eco-Friendly Wedding Dress
Who says you can't be sustainable and still look fabulous on your wedding day? Many gowns are created as "fast fashion" but that doesn't mean you are entirely out of luck when it comes to your wedding dress. There are many wedding dress designers who focus on ethical production and eco-friendly fabrics. Some of these popular designers include Grace Loves Lace, Sanyukta Shrestha, and Reformation Bridal.
You can also give a pre-loved wedding dress a second chance. Etsy, Nearly Newlywed, and Preowned Wedding Dresses are just a few of the places you can find gently worn gowns. This is a great way to get the dress of your dreams without spending extravagantly!
7. Rent Tuxes for Groom and Groomsmen
Unless galas are regularly part of your social life, there is no need to have a nice tux on hand at all times. Save you—and your groomsmen—money and help the planet by renting a tux from sites like The Black Tux and Generation Tux. That's what we call a win-win.
8. Get Married Outside
As mentioned earlier, finding a sustainable wedding venue may seem tricky. There's one option that makes being environmentally friendly a piece of cake–the great outdoors! What better way to be one with nature than to tie the knot surrounded by a lush forest or the rolling countryside?
Outdoor venues typically have built-in decor, making them easy to work with. Vineyards add scenic backdrops while greenhouses bring lush greenery without the need to bring cut florals.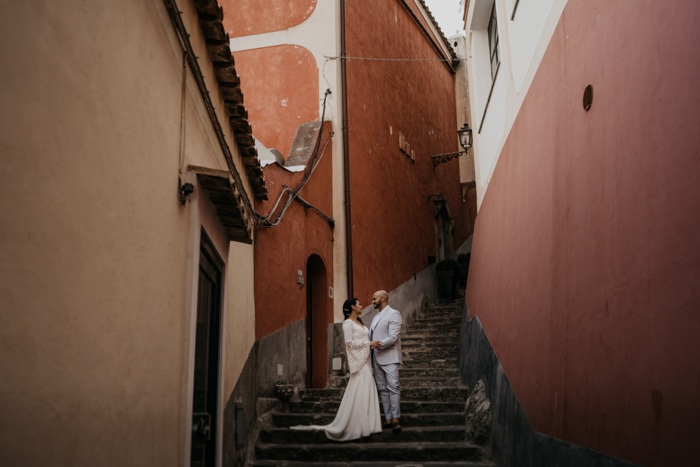 Photo by Henry Tieu Photography. See more of this real wedding here.
9. Think About Travel
If you have your heart set on a destination wedding, consider the travel necessary for friends and family. If visiting a faraway destination, you and your guests are likely going to have to hop on a plane, which can drastically affect your carbon footprint. Destination weddings don't need to be counted out just for sustainability. Businesses like My Climate offer a calculator to offset your carbon footprint from travel.
Travel isn't necessarily only by airplane. If you're hosting your wedding in two different venues–one for the ceremony and one for the reception—consider offering a shuttle service or ask your guests to carpool as much as possible.
10. Check Facebook For Wedding Decor
We can't stress this enough–Facebook groups are your best friend while wedding planning! Couples are often looking to sell their wedding decor once the wedding has passed, and one of the best places to do so is Facebook. Whether it be Facebook groups or Facebook Marketplace, you can find everything from linens to glassware to lighting.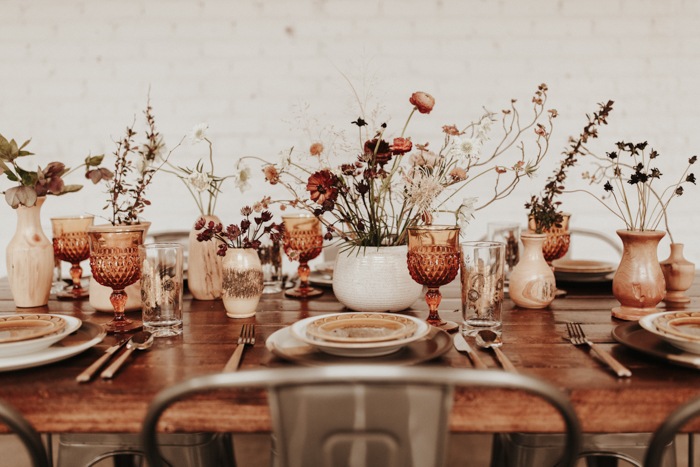 Photo by Karra Leigh Photography. See more of this wedding inspiration shoot here. 
11. Reuse Flowers or Opt For Dried Flowers
There is no doubt that flowers are one of the most stunning ways to dress up a venue. Fortunately, there are a few ways to get the most out of your floral arrangements. If you are using floral arrangements in your ceremony, choose to reuse them for your reception as well. Turn your backdrop into a photobooth, or use your bridal party's bouquets as decor for your cake table.
Potted orchids, roses, and succulents also make great focal points for tables and can be taken home and used as decor once the day is done.
If you'd prefer to skip the flowers altogether, we've put together a list of creative floral alternatives that will still have your wedding day looking elegant and well put-together, all without the worry about what to do with them once the wedding is over.
12. Donate Leftovers and Decor
One of the most significant ways waste accumulates at weddings is discarded food, decor, and flowers. Rather than throwing everything in the garbage, consider donating it.
Resell wedding decor on those Facebook groups we mentioned earlier, and donate leftover food to local food kitchens, if possible. If regulations prohibit this, give your guests the option to take food home in to-go containers.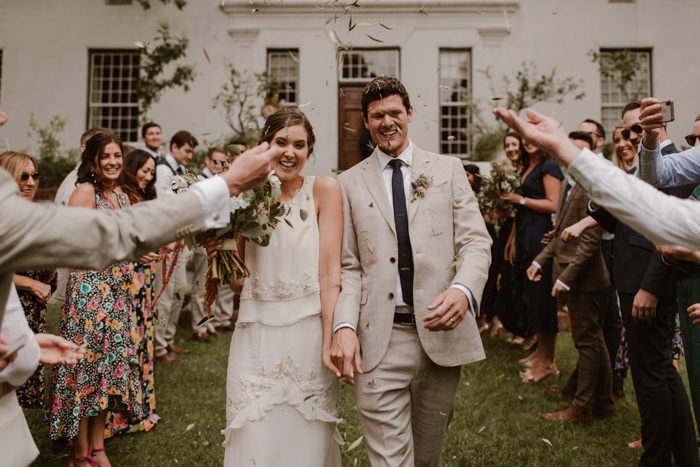 Photo by Dearheart Photos. See more of this real wedding here. 
13. Skip the Confetti or Rice Toss
While rice or confetti looks great in photos, it's not very environmentally-conscious. There are alternatives that are just as beautiful–one could argue that they're even more beautiful. If you still want a dramatic send-off before your reception, go down the natural route with dried flowers. Some of our favorites include lavender, rose petals, leaves, and dried flowers.
If you can't part ways with the idea of a confetti toss, look into dissolvable confetti! The Confetti Bar has multiple colorful options that will still give your photos that "wow" factor.
14. Avoid Single-Use Dishes and Utensils
This is one of the easiest switches to make when planning a green reception. While it may seem easy to opt for single-use plates, napkins, and utensils, these options produce lots of extra waste. Renting dishware and glassware not only helps make a significant impact, but it also adds an extra touch of glam to your special day.
15. Choose Caterers That Source From Local Farmers
Eating local is always important, as the carbon emissions from shipping food across the country can be extremely detrimental to our environment. When putting together your wedding menu, have a conversation with your caterer to find out where they source their food and if you are able to keep the food menu seasonal.
16. Consider a Vegan or Vegetarian Menu
This suggestion might be slightly controversial, but stay with us here. Consider serving vegetarian and vegan options. Plant-based meals consume fewer resources than dishes that rely heavily on animal products. This may sound daunting, but there are endless possibilities that avoid animal products. Your top-notch caterers can make your dream meal come true.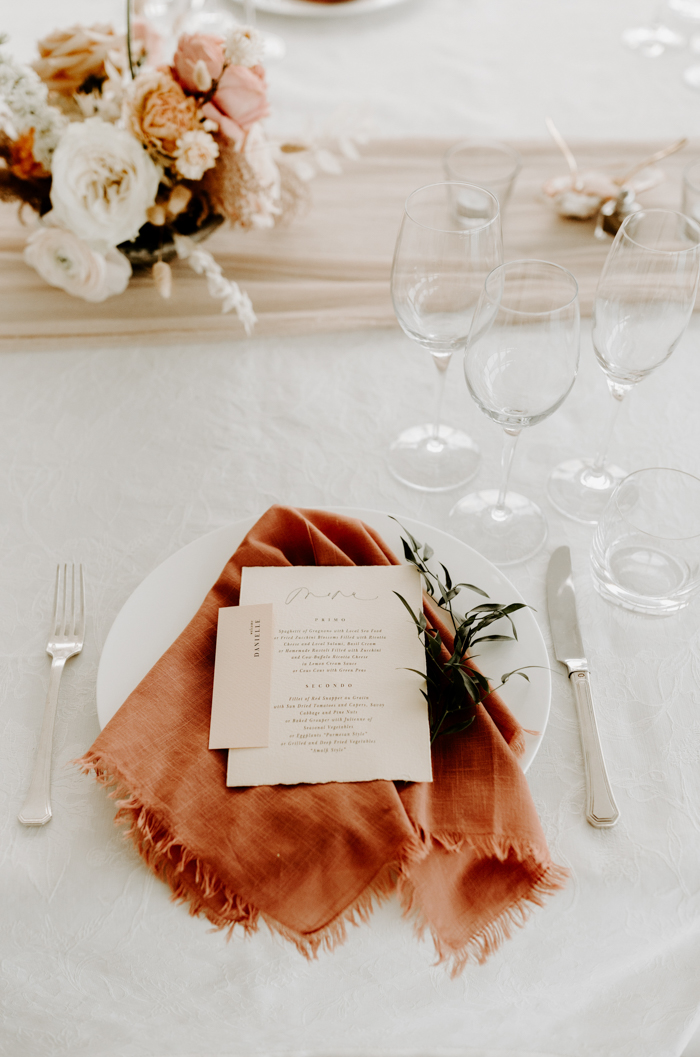 Photo by Karra Leigh Photography. See more of this real wedding here. 
17. Skip Buffets
Speaking of your menu, while a buffet may seem like an easy choice–as it gives your guests choices–it can also lead to a lot of food waste. Hosting a plated dinner will ensure that you have just enough food for the guests that attend.
18. Cut out Balloons and Floating Lanterns
Balloons and floating lanterns have become increasingly popular for over-the-top exits at the end of the evening. Balloons, if not disposed of properly, can end up being eaten by animals. Floating lanterns can not only be a fire hazard for you and your guests, but they can also spark forest fires if in wooded areas.
19. Rethink Your Wedding Favors
How many times have you gone to a wedding and left with a wedding favor that you know that you will never touch again? Wedding favors are a great way to thank your guests for celebrating with you, they are often small goods that we forget about once we leave the wedding. Tasty edible gifts are popular for a reason—guests will look for midnight snacks after a night of celebrating with you.
We hope these small changes help inspire you to reduce waste and host the sustainable wedding of your dreams, Junebabes. Use even a few of these tips and you'll ensure you feel beautiful and sustainable for your incredibly special day. For more eco-planning inspiration, read about how you can repurpose your wedding decor from ceremony to reception!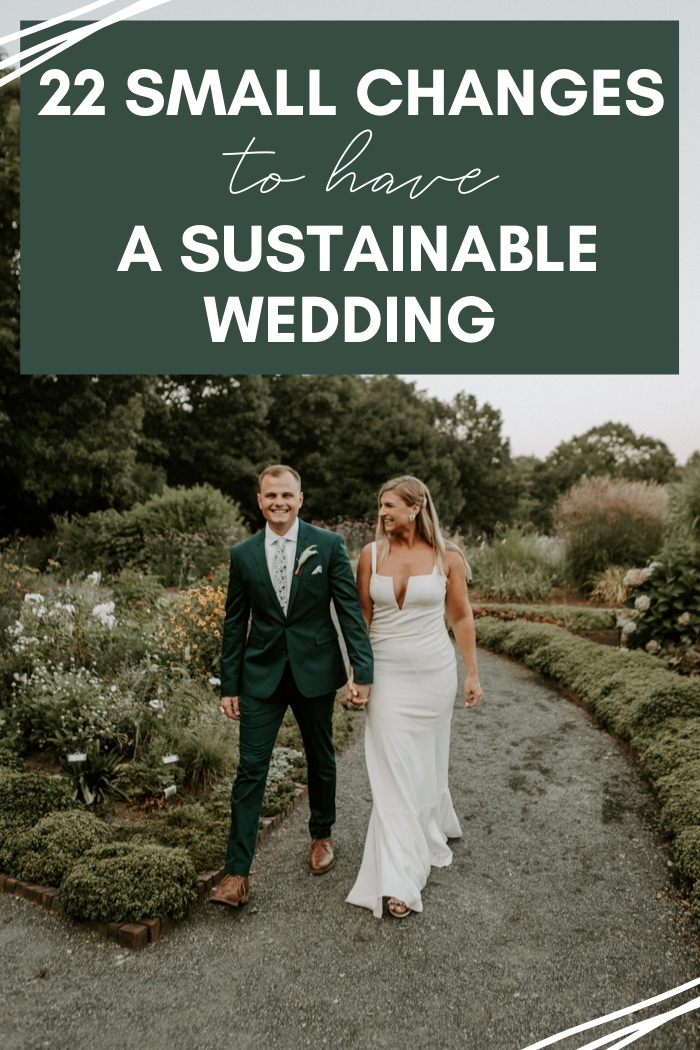 Photo by Scarlet Roots. 
The post 20 Small Changes to Have a Sustainable Wedding appeared first on .