Music is the soundtrack of our lives. Whether you're jogging down the street with wireless headphones or baking bread in the kitchen, there's something special about the impact music has on those who can hear it. On the most important day of your life—ahem, your wedding day—how do you decide what should be included in the soundtrack? We've got a foolproof set of questions to help you make a wedding playlist as perfect as your day. 
Don't Forget Music Creates Emotions, Choose It Wisely
The music you choose creates and enhances the emotions felt by you and your guests whether you're on the dance floor or having dinner. "Can you imagine eating a nice meal with a Pitbull song in the background? If the music doesn't match the moment, things feel off. When you make a wedding playlist it needs to fit what you want your guests to experience. The whole night should have a soundtrack that feels like you as soon as you hear it. If you're not excited, as the couple, then no one will be," says Mark Maya Photography, an expert Junebug member. 
1. What Would We Dance To?
After you're officially married, what songs will you want to dance to? Imagine that you are a guest at your own wedding. What do you want to hear? Add some songs that will make you smile, add songs by your favorite artists, and add the songs that are inside jokes between you and your partner.
2. What Do Your Guests Want?
It's okay if everyone doesn't love every single song on your playlist. That will help the ebb and flow of your bar line—your bartenders will thank you later—and it will also give your guests a chance to breathe during songs they aren't familiar with. 
Junebug member and wedding planner, Mirabella Weddings, has the perfect suggestion for how to easily pull this off. When you send your invitations, include space on the RSVP for guests to put a song they'd like to hear at your wedding. This is a great way to make your guests feel involved and ensure you always have someone on the dance floor! 
Junebug Tip
If your grandmother is going to your wedding and she sends you a song, you can bet she'll be ready to boogie to it. Make sure her request is on the playlist.
3. What Songs Are Popular Right Now?
You know what songs are popular right now, even if you don't listen to the radio. Even if you think these songs are overplayed on the radio, you want them on your playlist—hear us out. Their popularity will mean that your guests have heard these songs and are familiar with them. When they're familiar with these tunes, they're much more likely to hit your dance floor. 
4. What Songs Are You Loving?
London-based Junebug wedding planner, The Bijou Bride, had great advice for songs you can't get enough of. She says, "Set up a shared playlist through Spotify, iTunes, Prime, or Tidal and every time you hear something you love, add it to your playlist. The issue most couples find is that their song selection adds up to more time than they actually have available on the wedding day! This is where starting early really helps as you'll need to allow time to sort through your lists and allocate to the parts of the wedding day they suit best."
4. DJ, What Do You Suggest?
Of course, making a wedding playlist will never be as important as hiring an expert wedding DJ. However, creating this playlist can help bridge the gap between your wedding music expectations and reality. 
With the experts in mind, we turned to our industry pros and asked them, what does it take to make the perfect playlist? We loved what Junebug members Benjamin T Warner Events had to say, "music can make or break your celebration and helps set the tone and energy throughout the day."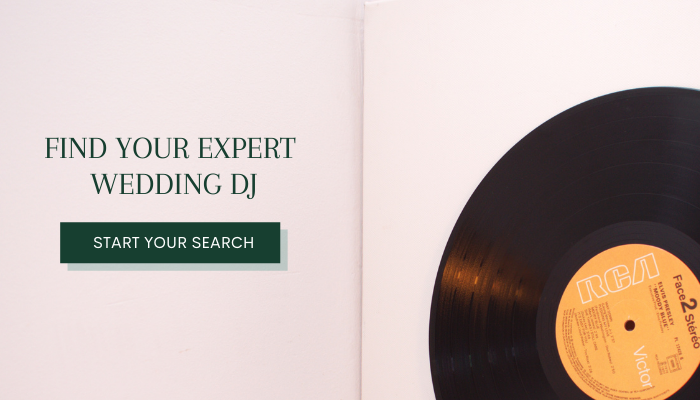 5. What Genres Must Be Played?
At your wedding, you'll likely have a broad list of guests. Keep folks from all ages in mind as you load up songs that are going to ignite their inner 'dance floor is my stage' fire and be appropriate for everyone to hear. 
6. What's On The Kill List?
Mirabella Weddings, Junebug expert wedding planner, has more expert advice regarding your wedding playlist. She says, "It's certainly important to think about songs you definitely want to be played—it's also equally important to make it clear which songs you absolutely don't want to be played." You should communicate this to your DJ and band in advance to avoid any panic on the dance floor. 
Remember, in the end, that you're creating a playlist to celebrate your partnership, so your wedding music should be chosen as partners. This means if your partner says there's no way you'll be hearing Ice Ice Baby, you'll need to compromise and keep it off the list. 
7. Are There Enough Slow Songs?
Make sure your playlist includes a ratio of one slow song for every six songs. Give your new spouse time to slow dance with you while making sure not to neglect the other styles of songs. You'll want to make sure to include a good mix of cheesy dance songs like Gangnam Style or Macarena to warm your guests up for sing-along songs like Sweet Caroline or We Are Family. 
Junebug Tip
When planning for changes between songs, make sure to add some flexibility. Junebug members, Happy Together Films, advise that couples be prepared for the unknown, especially now. "For example, if the weather changes and you need to move indoors, think about whether your venue will have room for your guest to get loud and dance or if you need to control the crowd once inside."
8. Do We Want To Listen To This All Night?
Once you've answered the questions above, scroll through your playlist and ask yourselves if you want to listen to this playlist—without skipping tracks—for the whole night. If the answer is yes, it's ready. You've made a wedding playlist!  
Music creates the mood and ambiance of your wedding. Striking that perfect balance can be intimidating, but it doesn't have to be. We're here to help, and we've created a wedding playlist guaranteed to please—and get guests on the dance floor. Check it out for inspiration while you're waiting to hear back from our expert wedding DJs.
The post 8 Questions To Make A Wedding Playlist appeared first on .