There's something about a new year that brings a sense of excitement and rejuvenation. This is especially true if your wedding plans were altered last year because of COVID-19. As the new year begins, so does a new round of wedding trends–everything from wedding dresses to florals to color palettes. If you're including a bridal party in your wedding, bridesmaid dress trends should be at the top of your mind.
This year is going to be all about luxe fabrics, prints, and a wide variety of silhouettes–including jumpsuits! Depending on your wedding style and colors, choosing the right bridesmaid dresses will help tie your special day together for an effortlessly cohesive look.
Bridesmaid Trends In Different Styles
Bridesmaid Jumpsuits
Bridal jumpsuits have taken the fashion world by storm, so it's no surprise that bridesmaid dresses are going to follow. Especially now that weddings have shifted into smaller, less formal affairs. Jumpsuits are ideal for everything from courthouse ceremonies, backyard weddings, and micro wedding "I dos." And don't worry about limited color options. More and more designers, including BHLDN, Hayley Paige, and Dessy, are adding bridesmaid jumpsuits to their line up.
Mixing Textures
We've seen mismatched colors in bridesmaid outfits for a couple of years now, but in 2021 it's all about mixing textures, especially velvet and satin. Satin is definitely going to be the star of the show this year, but pair it with velvets and other luxe fabrics for an eclectic and romantic look. To ensure this look is put together flawlessly, aim for dresses within the same color family.
Midi Length
As mentioned earlier, weddings have taken on a more casual appearance and with that comes more laidback bridal party fashion. Midi length dresses, especially in satin fabric, are going to be a hot commodity. Perfect for spring and summer weddings, the midi dress offers a chic, put-together look. Don't forget the most important accessory with midi length dresses—their shoes that will be showing. 
Bridesmaid Trends In Colors
Terracotta
If you've been following Junebug for a while, then you may already know that the terracotta color palette is already a hot trend. This earthy palette has replaced blushes and golds for couples looking for a more natural feel. When shopping, think about the colors like dark orange, rust, cinnamon, etc. The best parts? Because of the brown undertones, these colors look good on every skin tone and they're extremely easy to mix and match.
Hues of Green
As we see pastels like blush fade, pastel green is going to become big for those that still want the soft, delicate look. For spring and summer, opt for moss green or sage. If you still like the idea of having blush or pale pink on your special day, using it as an accent with the pastel green will make your wedding a springtime fairytale.
Once we shift into fall and winter, choose darker, richer greens such as emerald or olive. Companies like BHLDN, Jenny Yoo, and Show Me Your Mumu have lovely options in the soft green color range.
Hues of Blue
Light blue will also be a welcomed change of pace from the pastel pinks and golds. Don't think baby blue, but rather a dusty blue. You may also see this referred to as slate blue. This shade is beautiful for summer or oceanside weddings. In the fall and winter, if you want to darken the color palette, look for navy or midnight blue. This deep shade looks stunning in velvet fabrics.
Yellow
While this may not seem like an obvious trend, Pantone has listed vibrant yellow as one of its colors of the year. It's going to pop up. Whether you're going to incorporate Pantone's bright yellow as one of your bridal party colors or you're going to use it as a smaller accent, yellow is definitely making an appearance this year.
If the idea of having yellow bridesmaid dresses does not sound appealing to you, consider yellow floral printed dresses or opt for a darker, mustard tone.
Prints
This is another trend that we have already begun to see pop up, and it's going to be extremely popular this spring and summer. Bring out your personality and add a bit of whimsy to your wedding with prints. Florals are idyllic for a romantic spring affair, but you can also choose wild prints such as leopard for a more modern approach.
Bridesmaid Accessories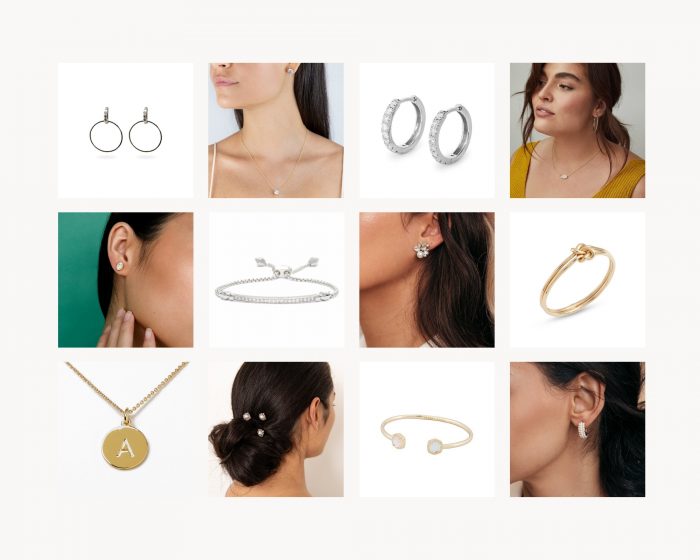 Gemist The Stud Circle Drop ($227); 2. Adina's Jewels Juliette Necklace ($58) ; 3. Pave Gemist Hoop ($144); 4. Kendra Scott Elisa Birthstone Necklace ($50); 5. Gemist Firecracker Earrings ($156) 6. Kendra Scott Ott Friendship Bracelet ($70); 6. Gemist Firecracker Earrings ($156); 7. Olive + Piper Bordeaux Stud Earrings ($38); 8. Set & Stones Margot Ring ($50); 9. Kate Spade One in a Million Initial Pendant ($58); 10. Olive + Piper Daisy Hair Pins ($54); 11. Kendra Scott Davie Cuff ($48); 12. Olive + Piper Sammie Pearl Earring Hoops ($36)
Now that you're in the know about 2021's upcoming trends, make sure your wedding party looks chic while you're mix-and-matching them.  We know these trends might not be for everyone, so if these 2021 options left you wanting more, check out 13 of our favorite bridesmaid color palettes to get inspired.
The post Bridesmaid Trends We've Got Our Eyes On This Year appeared first on .