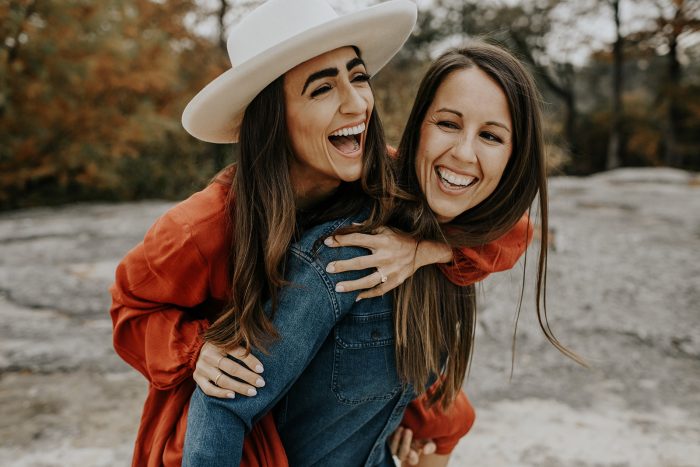 photo by Map + Compass Photography
If pumpkin spice, chunky sweaters, and leather jackets make you giddy, a cool and cozy fall engagement session is right up your ally. The Autumn season and changing of weather brings a certain romance unlike warmer months—making it a perfect time to hire a photographer and announce your engagement. While we always recommend asking your photographer for advice when it comes to outfits—they can recommend the best colors for their editing style and location—you're probably eager to start thinking of engagement outfit ideas now.
We've got you!

Tips for Putting Together the Perfect Fall Engagement Outfit:
Utilize accessories and jackets to create layers, which will provide depth to your photos.

Include touches of textured fabrics.

Choose prints wisely—but don't be scared to mix them.

Embrace your everyday style by wearing your favorite t-shirt or sweatshirt.
Get ready for ten awesome outfit combinations to inspire your own engagement photo look.
Mix Black and White For an Effortlessly Cool Vibe
Why it works: Neutrals photography well. Especially classics, like black and white. This color combination will look stunning in urban locations or for couples with an edgy sense of style.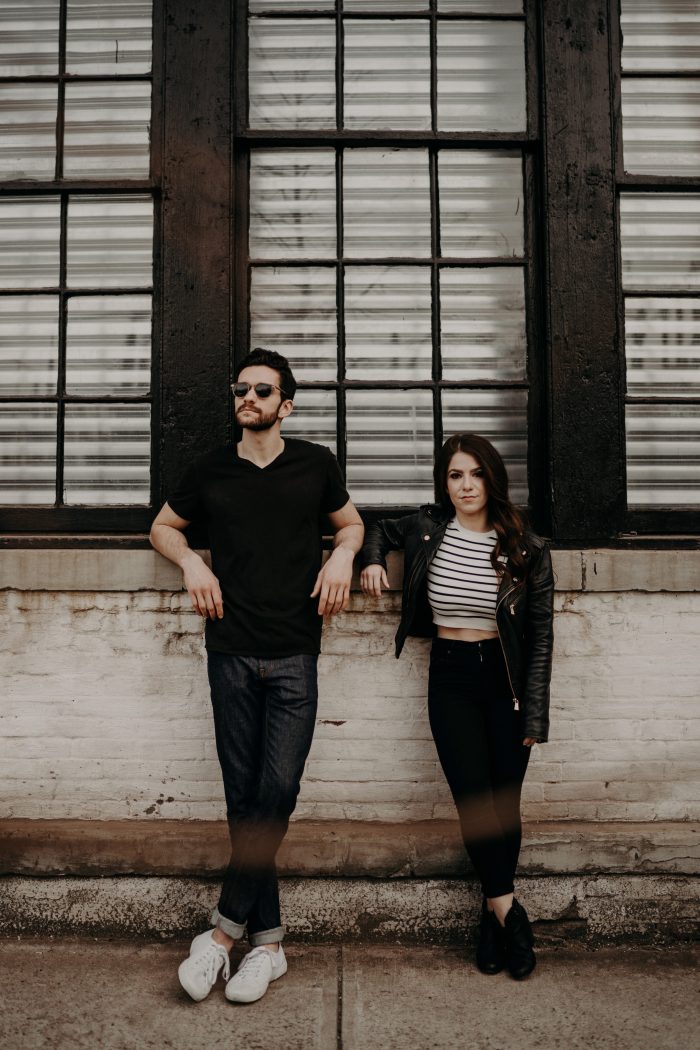 photo by The Quirky
Layers are a Good Idea for Fall Engagement Outfits
Why it works: If you're planning on getting cozy for your engagement photos layers are the way to go. For example, adding a jacket over a flannel shirt allows the checkered pattern to pop without overpowering the photograph.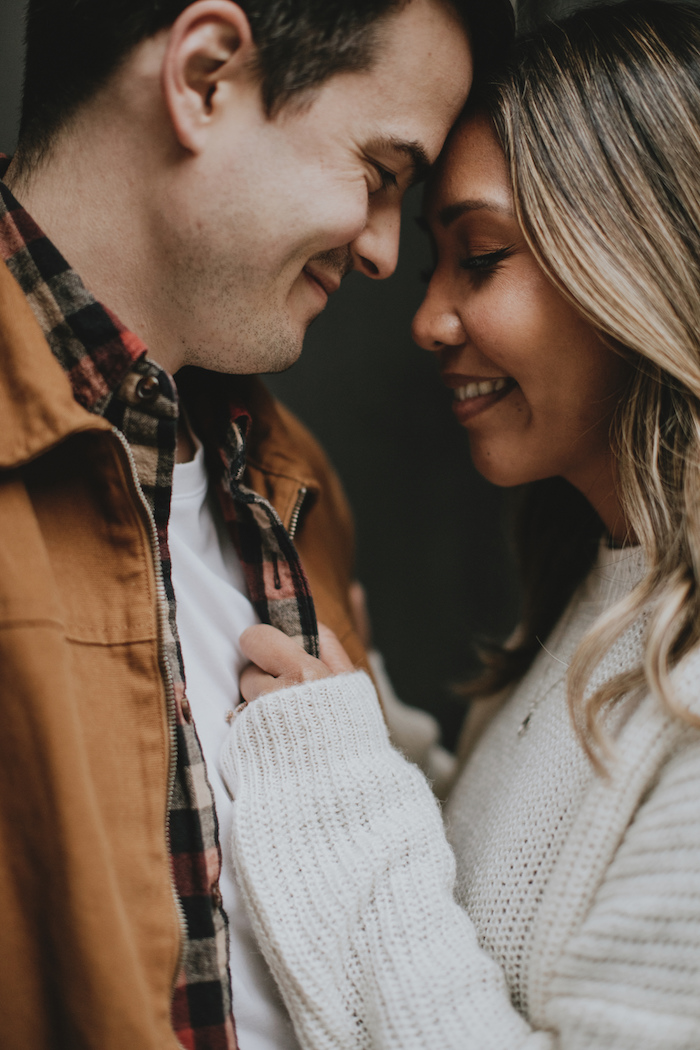 photo by The Goddards
Include a Touch of Velvet
Why it works: We love when couples play with interesting fabric textures. A touch of velvet or silk will make your outfits look luxurious without much effort.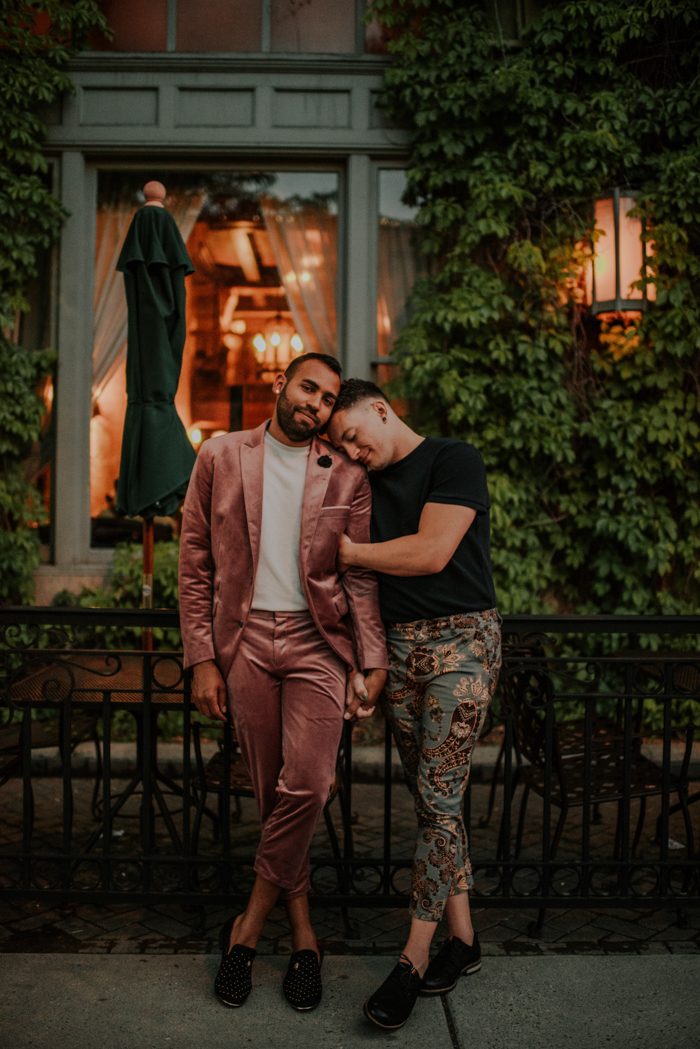 photo by Maggie Grace Photography
Pajamas Will Always be in Style for Cozy Sessions
Why it works: With cooler temperatures outside (in most places, at least), you might be tempted to stay inside and snuggle on the couch for an in-home engagement session. We're all for it! Don't feel obligated to put on a "real outfit," your PJs will work just fine.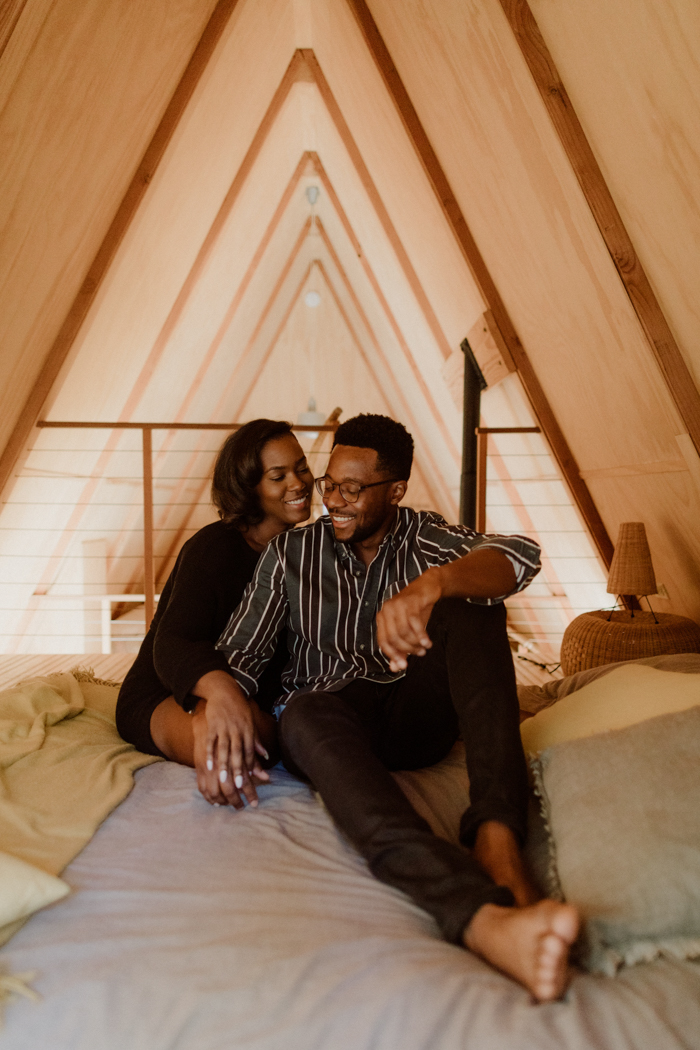 photo by Cedar & Pines
Accessorize Your Outfit With a Hat
Why it works: Accessories are a perfect way to add a touch of pizzazz to your outfit. We love to see couples add fun elements like hats and sunnies to their engagement photo wardrobe.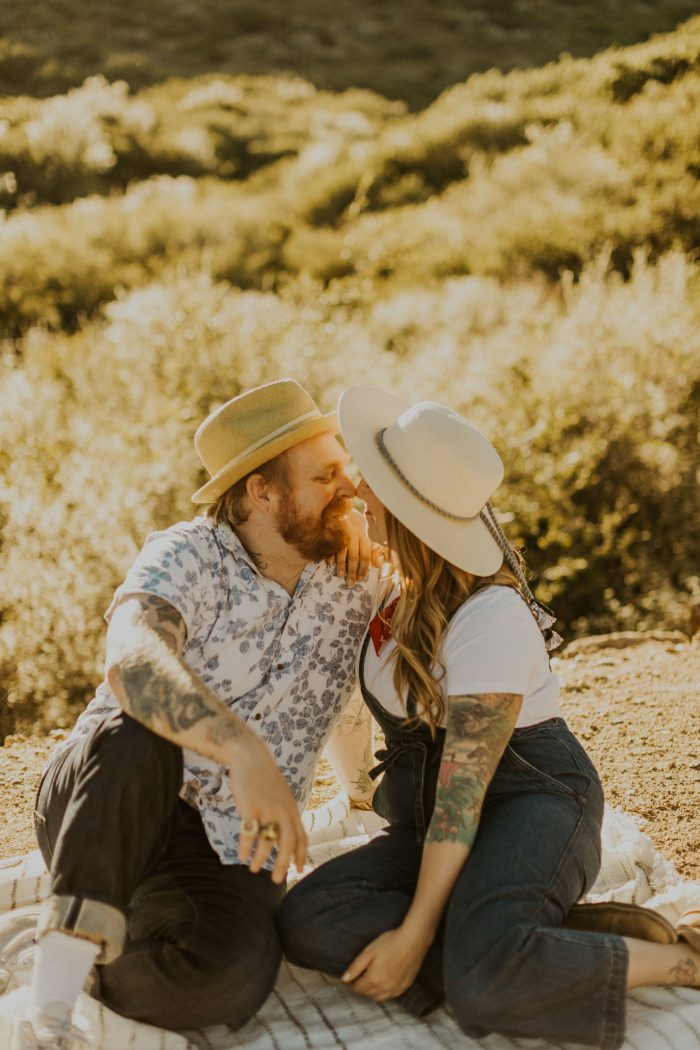 photo by Kellie Jane Creative
Prints are OK — Just Make Sure They're Large
Why it works: You may have heard someone say "don't wear print patterns for photos." We disagree. Patterns are awesome and add an element of personality that always shines through. Make sure to choose a large, simple pattern so it won't overpower the photo. A good rule of thumb: If you wouldn't want to stare at it for hours, it's probably not a great choice for photographs.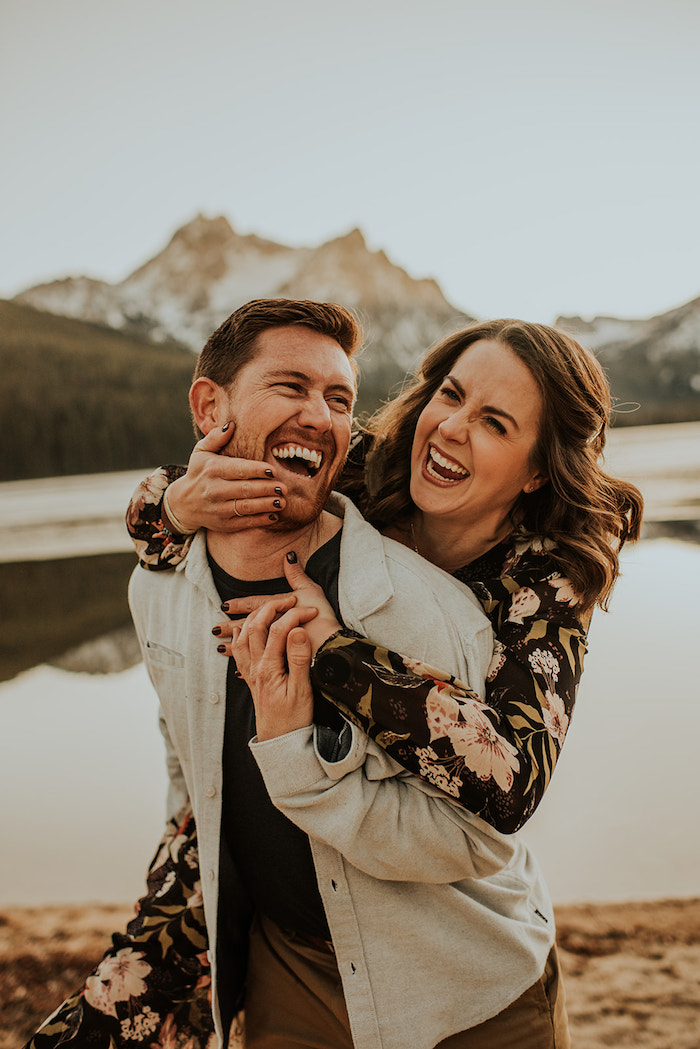 photo by Maggie Grace Photography
Add a Pop of Color in an Autumnal Hue
Why it works: Raise your hand if you love Autumn colors. Is it up? We thought so. There's just something about deep hues of orange, red, and yellow that make us melt.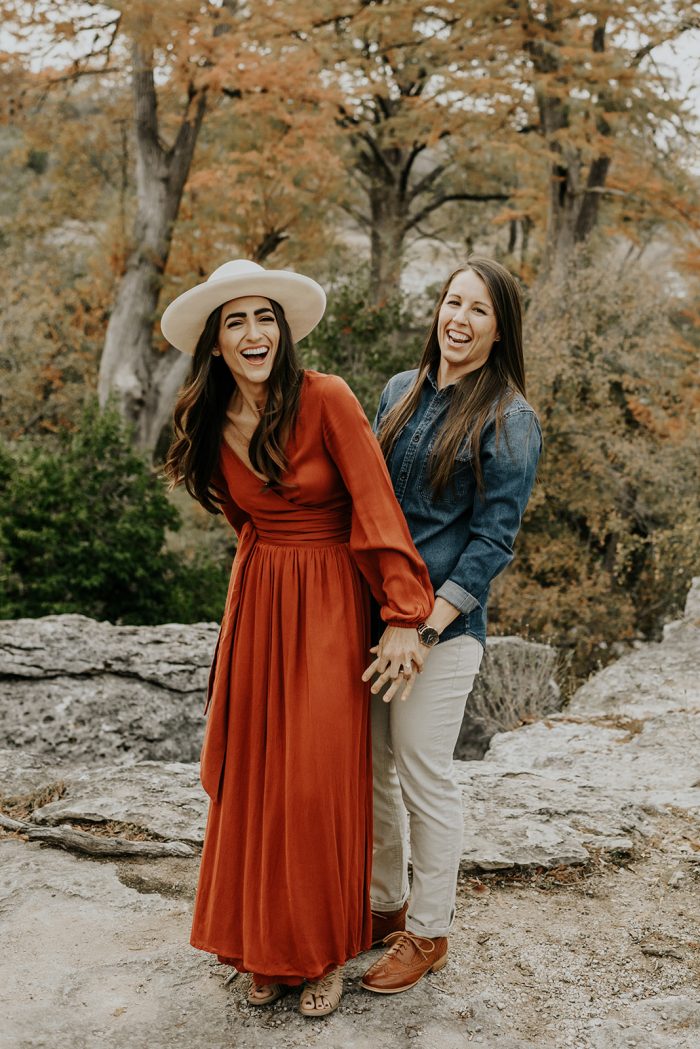 photo by Map + Compass Photography
Keep Your Outfit Simple, Minimal, and Chic
Why it works: Your engagement outfits should be reflective of you and your style, but we'd never want them to take away from the emotion of your love. Simple outfits will ensure the focus of the photographs is on you—not your attire.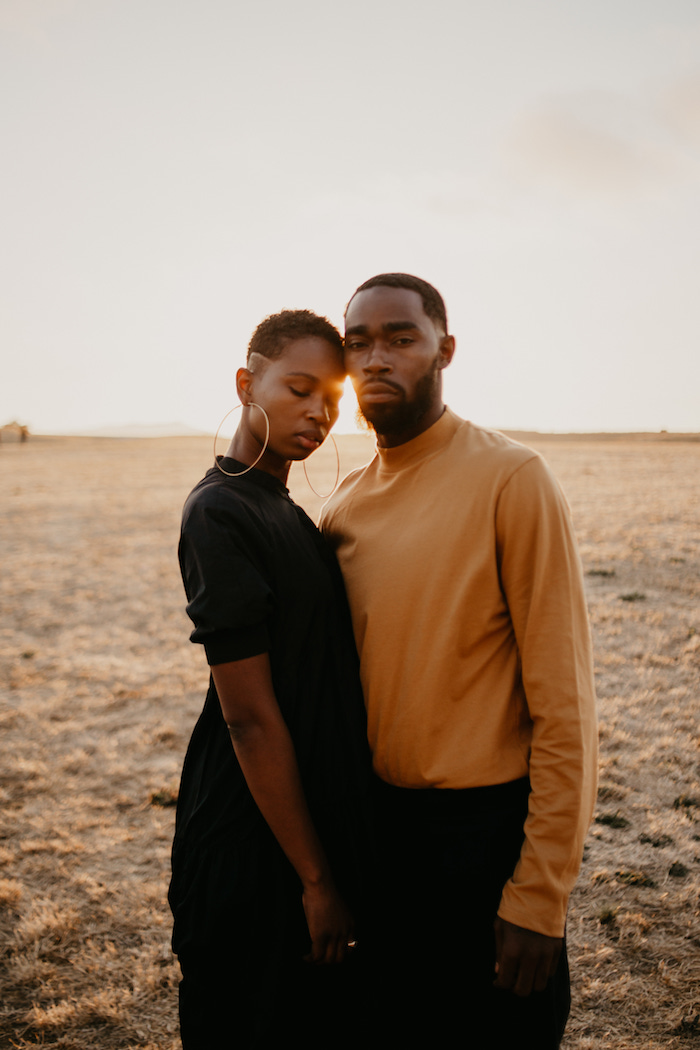 photo by Liv With the Lens
Mixing Prints Can be
Why it works: This technique takes a keen eye to execute with perfection, but we know you can do it! Ask your photographer—an expert in visual aesthetics—what they think about the prints. They'll be honest if you nailed it or need to rework the idea.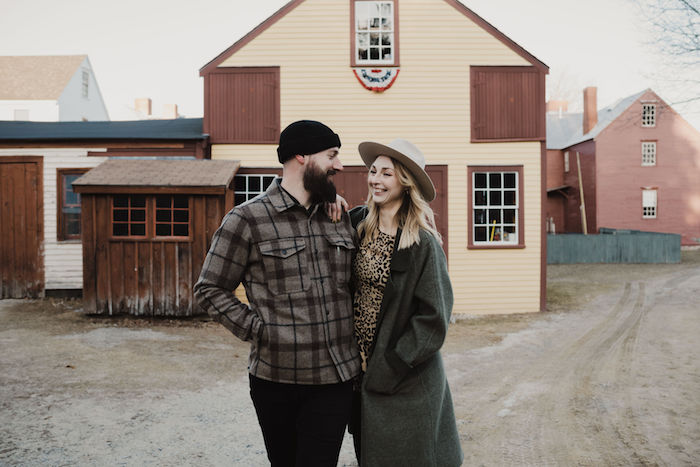 photo by Maddie Barr
Your Favorite Vintage Sweatshirt Will Always be in Style
Why it works: Purchasing a new outfit for engagement photos can be a lot of fun, but consider an outfit that truly represents you in this exact moment in time—the vintage t-shirt you wear every day, that skirt you just can't get enough of. While your closet staples might seem like "nothing special" right now, capturing those pieces will help recall memories years down the road. Plus, if you're comfortable in your favorite clothes your love will look effortless.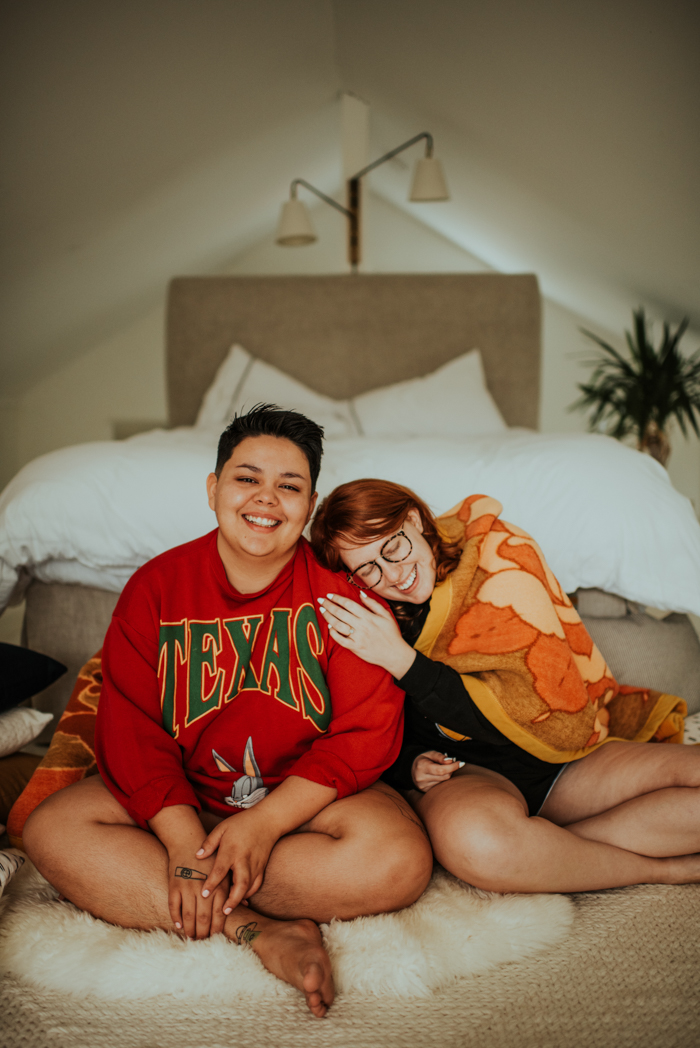 photo by Maggie Grace Photography
We hope these ideas have sparked ideas of your own. We can't wait to see how you rock your fall engagement outfits! Don't forget to read these tips for advice on how to rock your engagement session.
Still looking for a photographer to capture this special time? Check out our list of the world's best wedding photographers who are eager to help make your vision come to life.
The post Cozy, Cute, Cool Fall Engagement Outfit Ideas appeared first on .