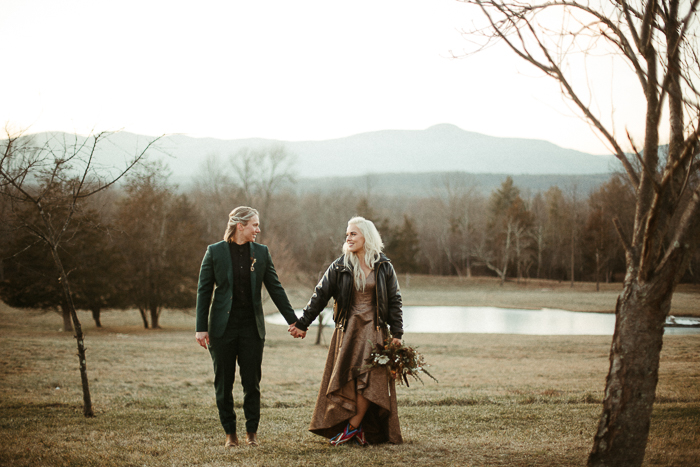 2020 was a challenging year, to say the least. But if there's one thing that came from it, it's the fact that couples didn't let it stop them from vowing to spend forever together. When Hadley and Andrea's 150-person wedding was canceled–rather than let it get them down–they opted for a Catskill mountains elopement at the Scandinavian Upstate Barn. And although their special day looked a little different than they envisioned, the two said "I do" in front of their loved ones.
From Andrea's emerald Bindle & Keep suit to Hadley's Calvin Klein high-low copper dress that she paired with rainbow glitter boots, the wedding fashion was not only unique, but it also matched the moody color palette perfectly. And that wasn't the only creative aspect of the day. Andrea wore a pin with a photo of her late father, and the two opted for a broken glass unity ceremony–just to name a few.
We're so thankful that Junebug member Par La Mer Photography was there to not only capture the beauty of the day but also played a part in planning the whole thing. What can't our members do?
The Couple:
Hadley and Andrea
The Wedding:
Scandinavian Upstate Barn, Germantown, New York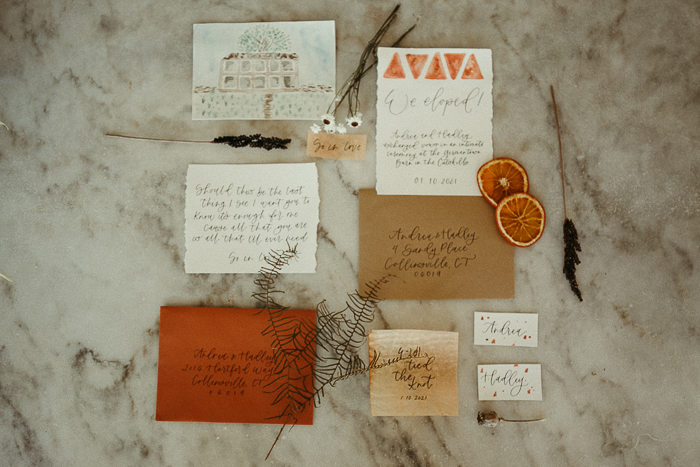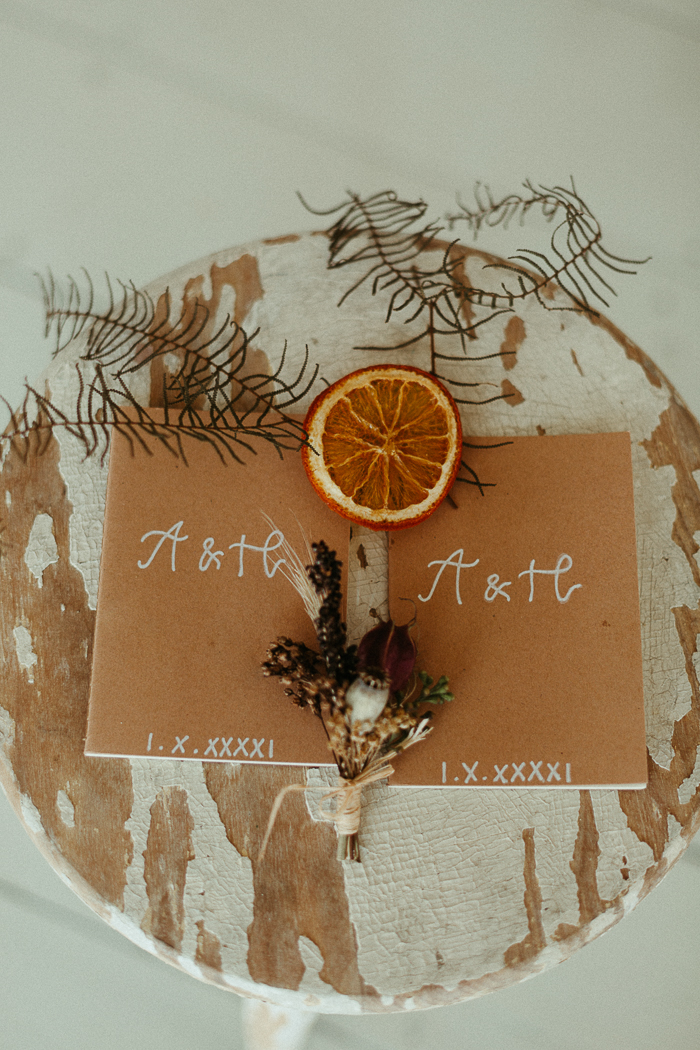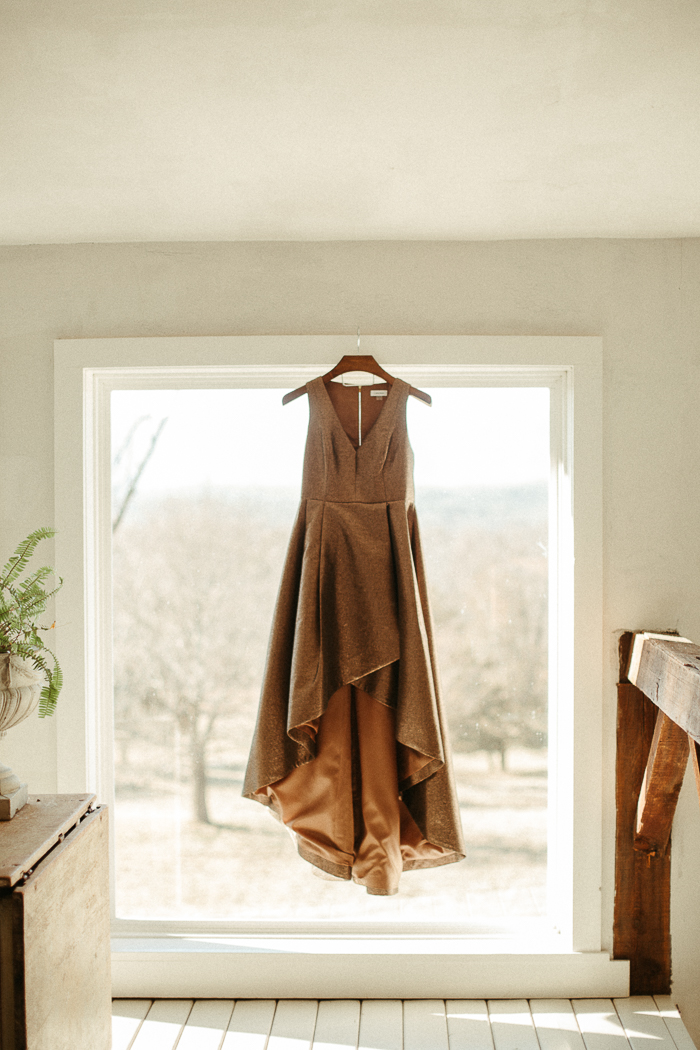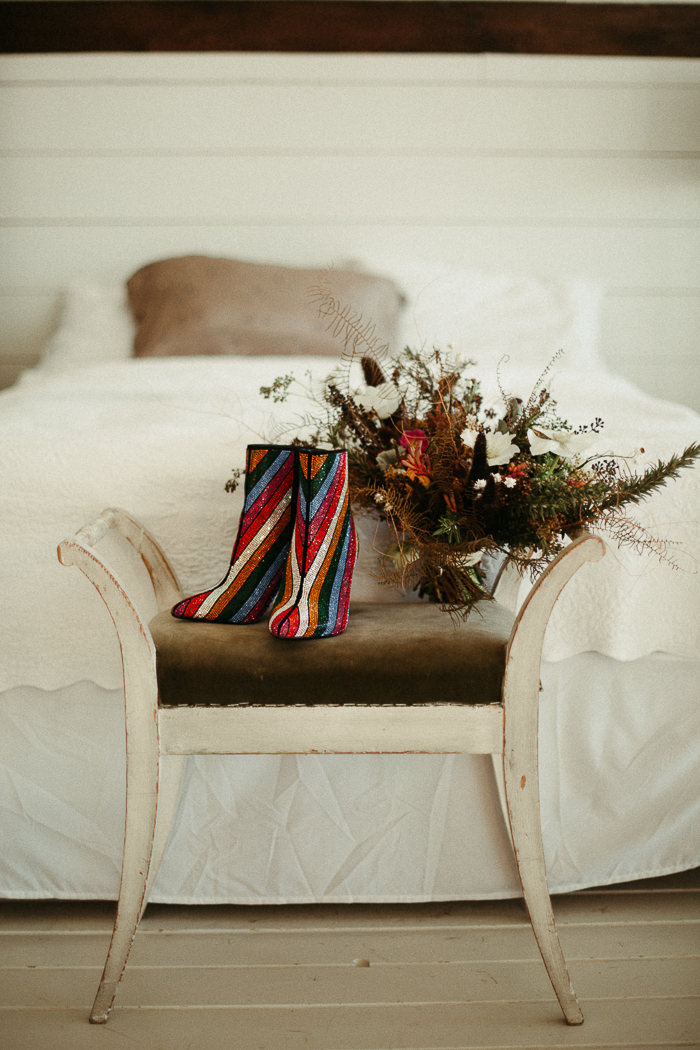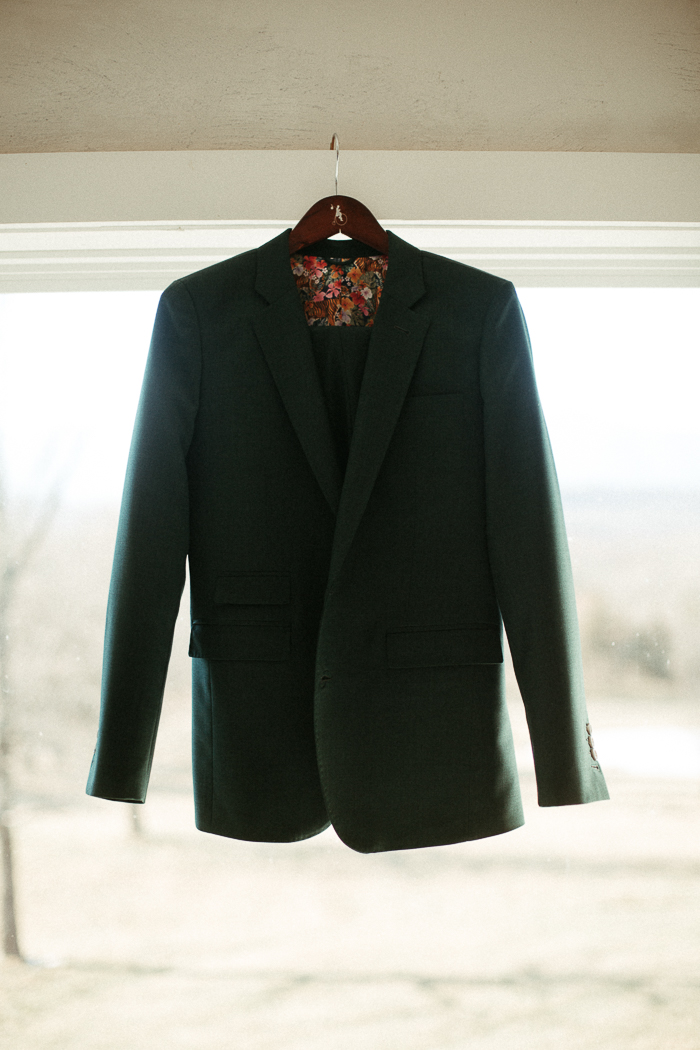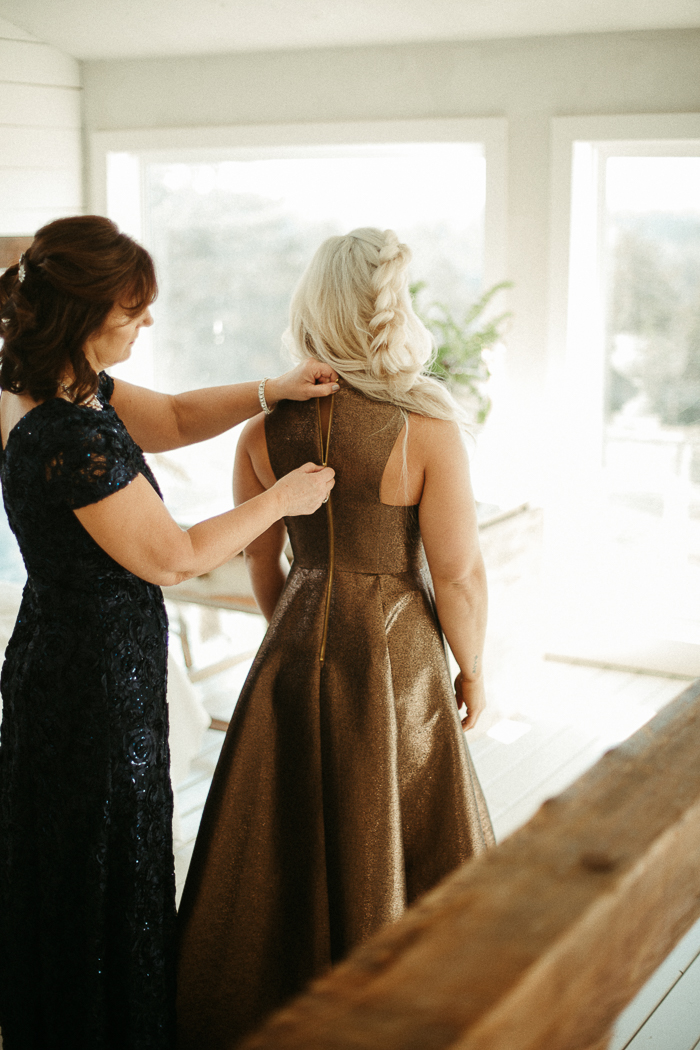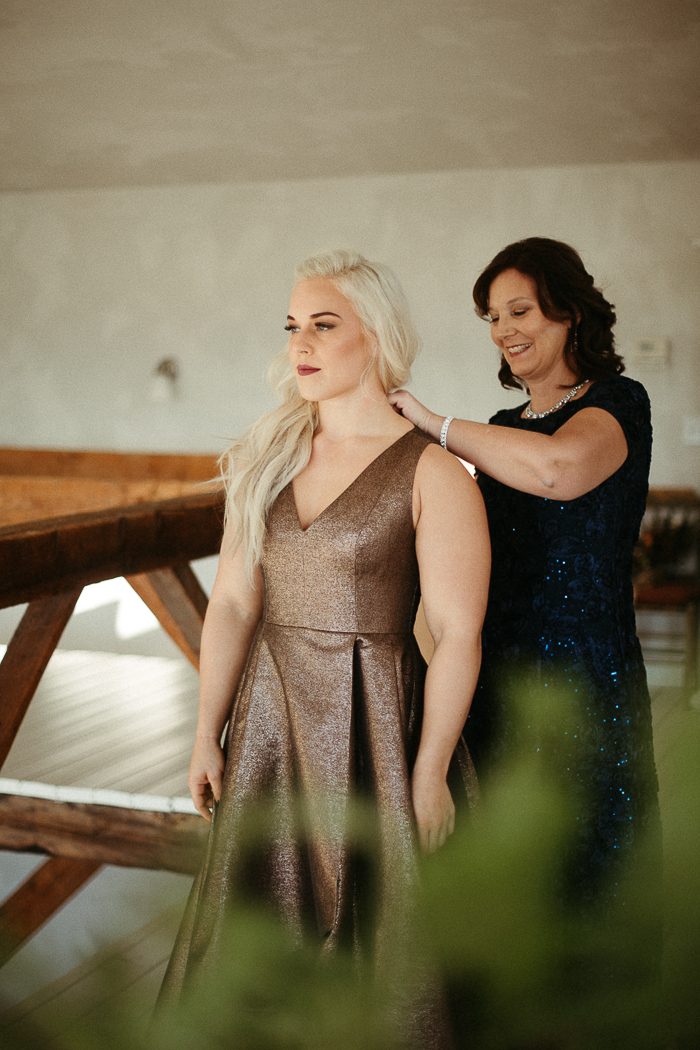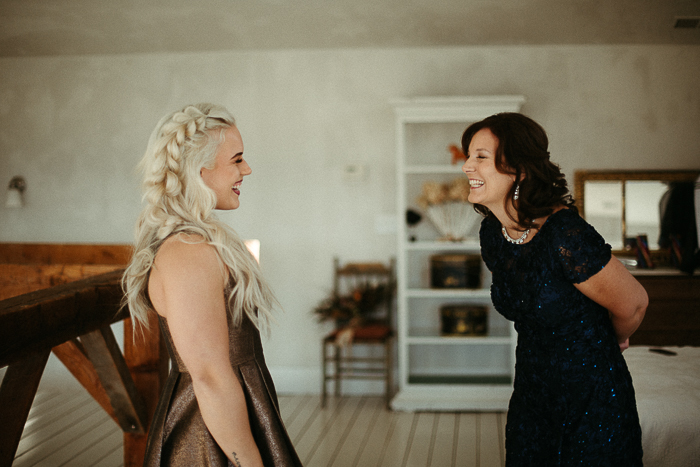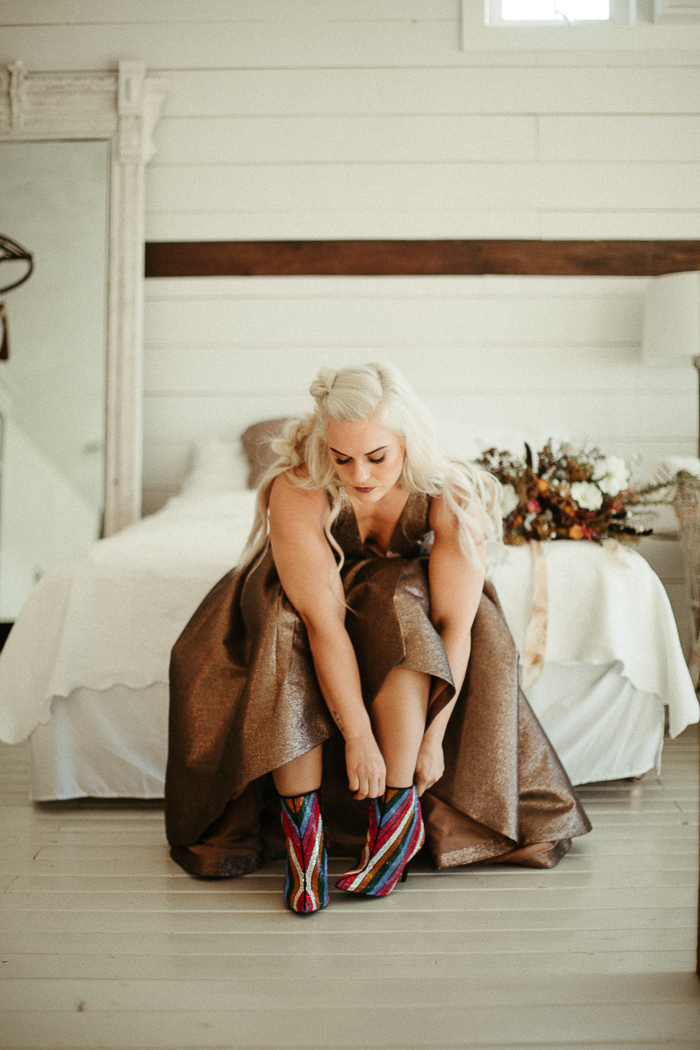 Wedding Advice From The Couple
If planning a wedding during a pandemic taught us anything, it was to be flexible. We originally planned a large wedding for 150 people, but once it was clear that we couldn't safely have the ceremony we dreamed of, we had to reassess and figure out what was important to us. Instead of postponing the wedding, we decided to elope, which meant planning a whole new ceremony that looked a lot different from what we initially envisioned. Rarely does anything in life go perfectly according to plan, so be flexible! It's okay to make changes that might not align completely with your original vision as long as you stay true to who you are as a couple.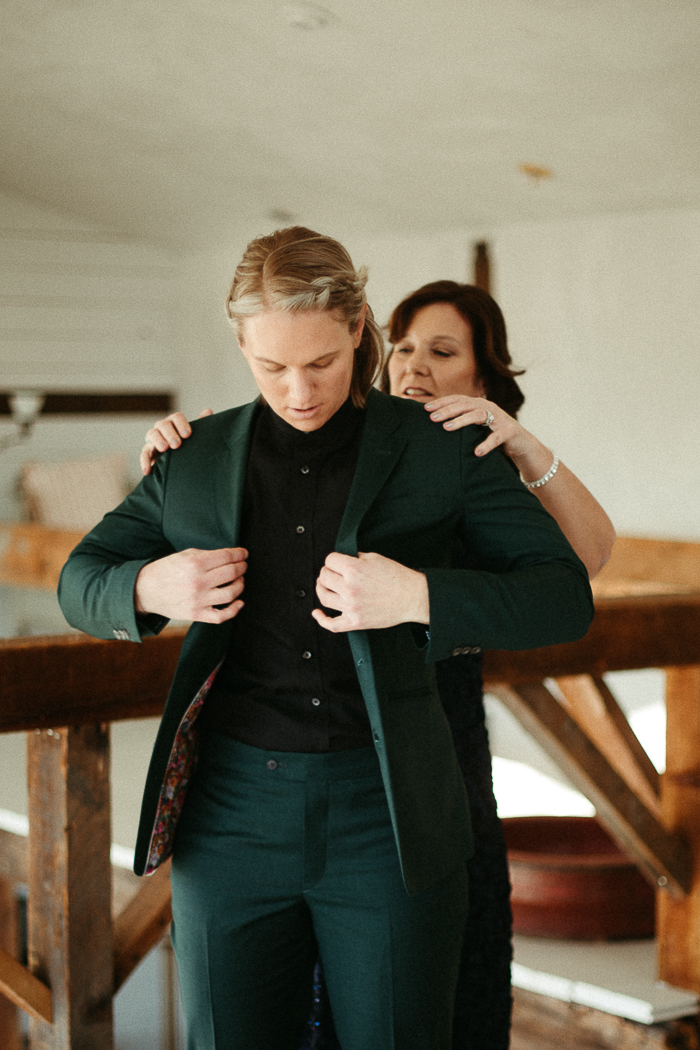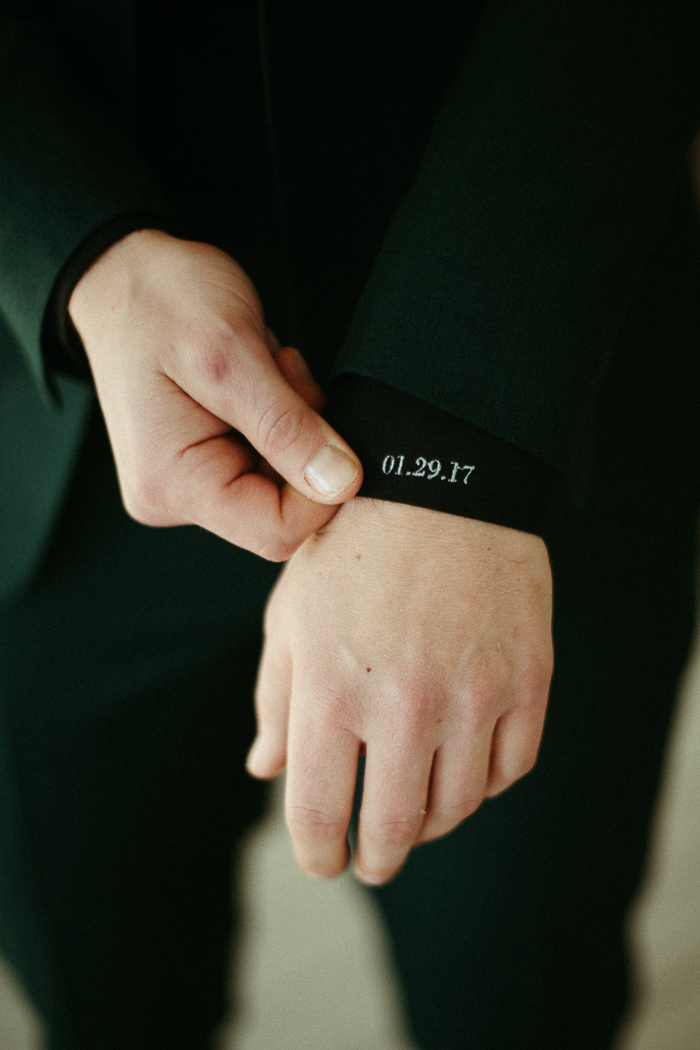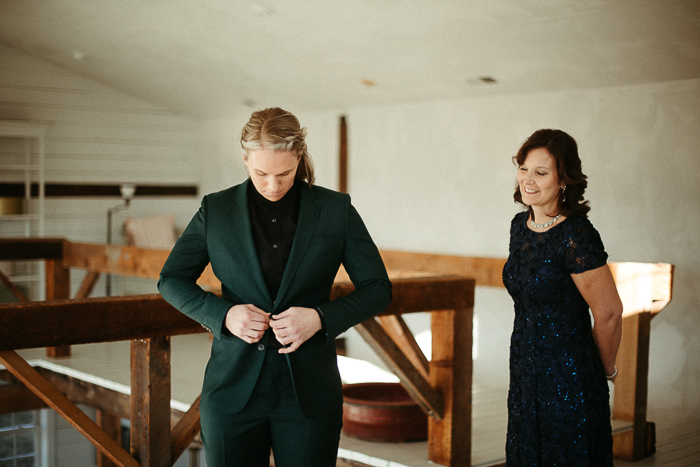 Recommended Reading: The Dreamy Unconventional Colorful Suit Roundup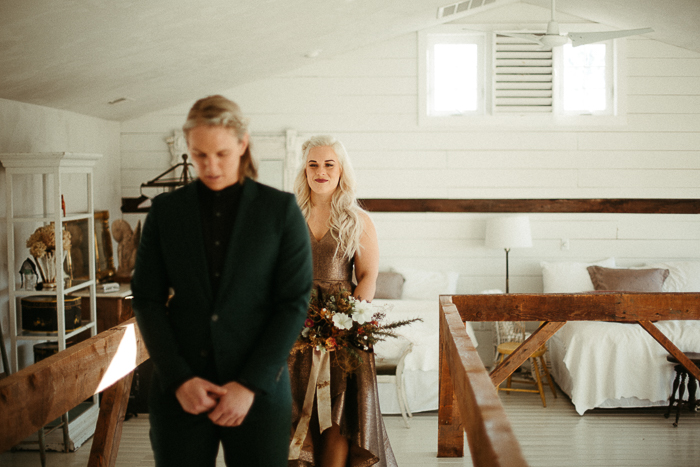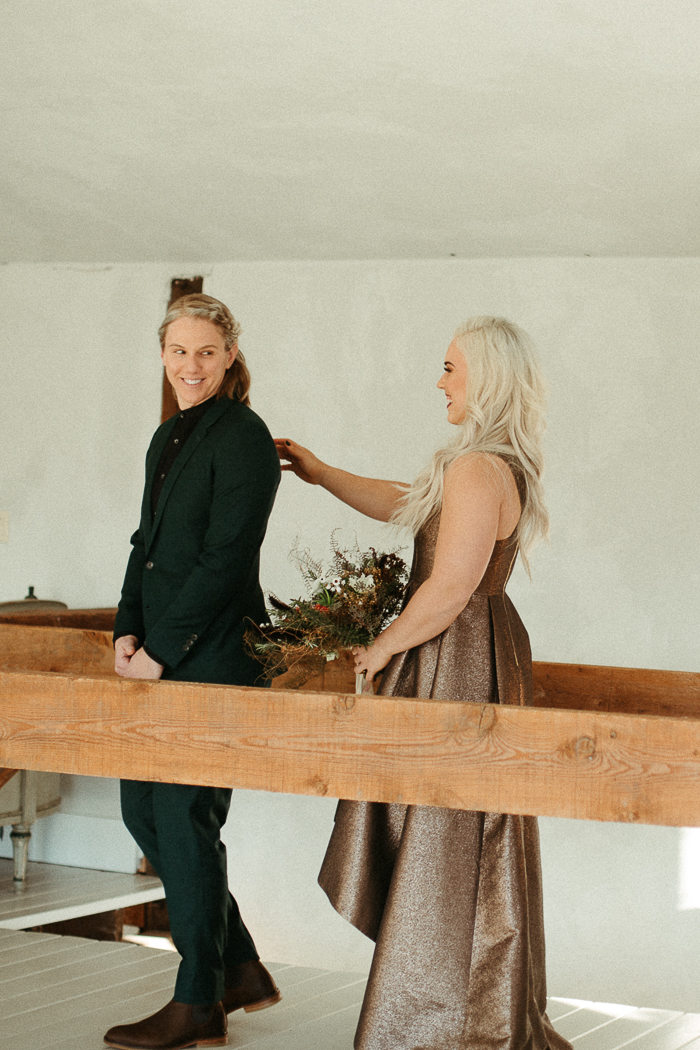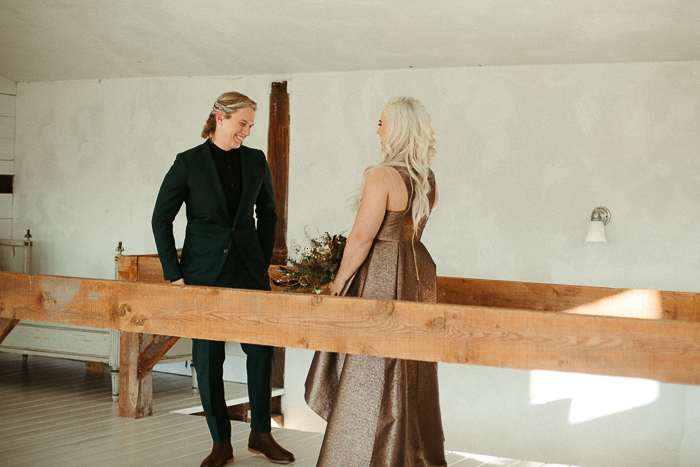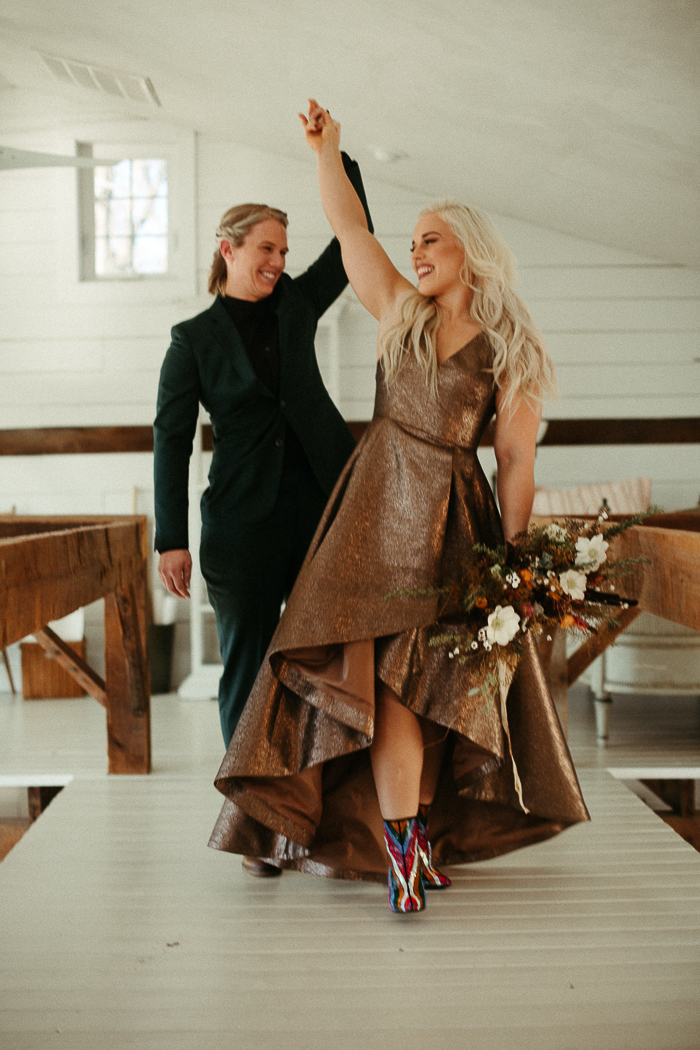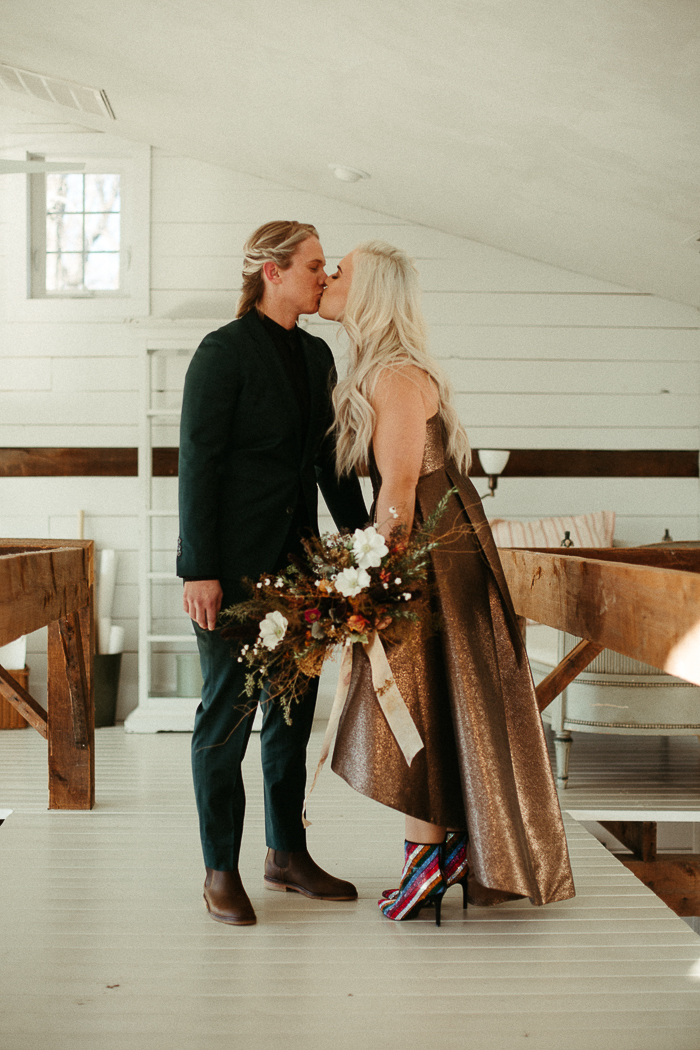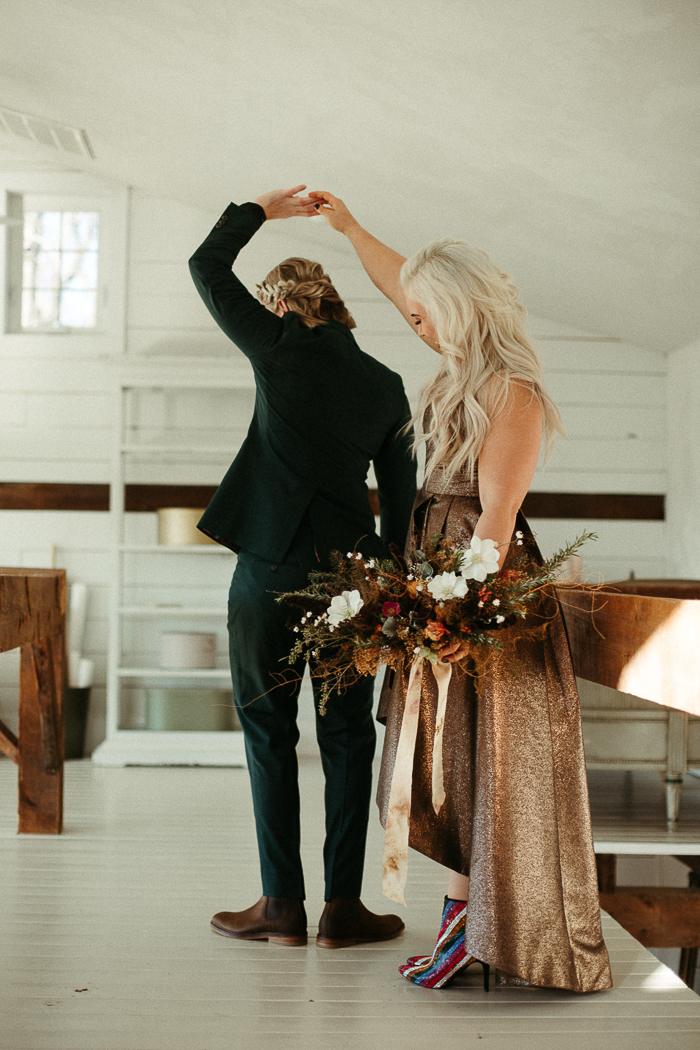 Recommended Reading: 35 Cute Wedding Boots for Fall and Winter Brides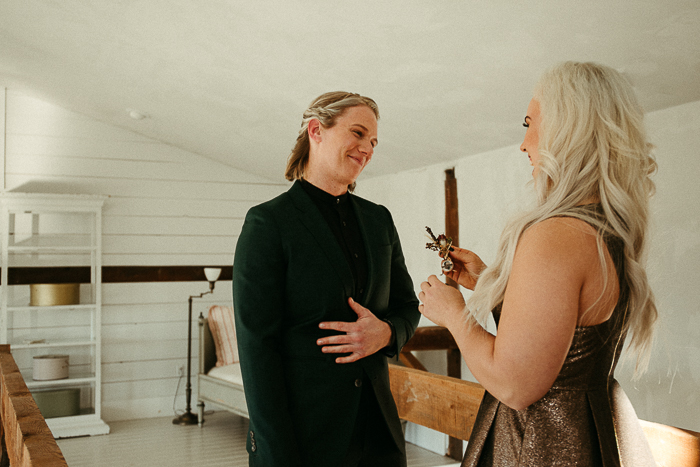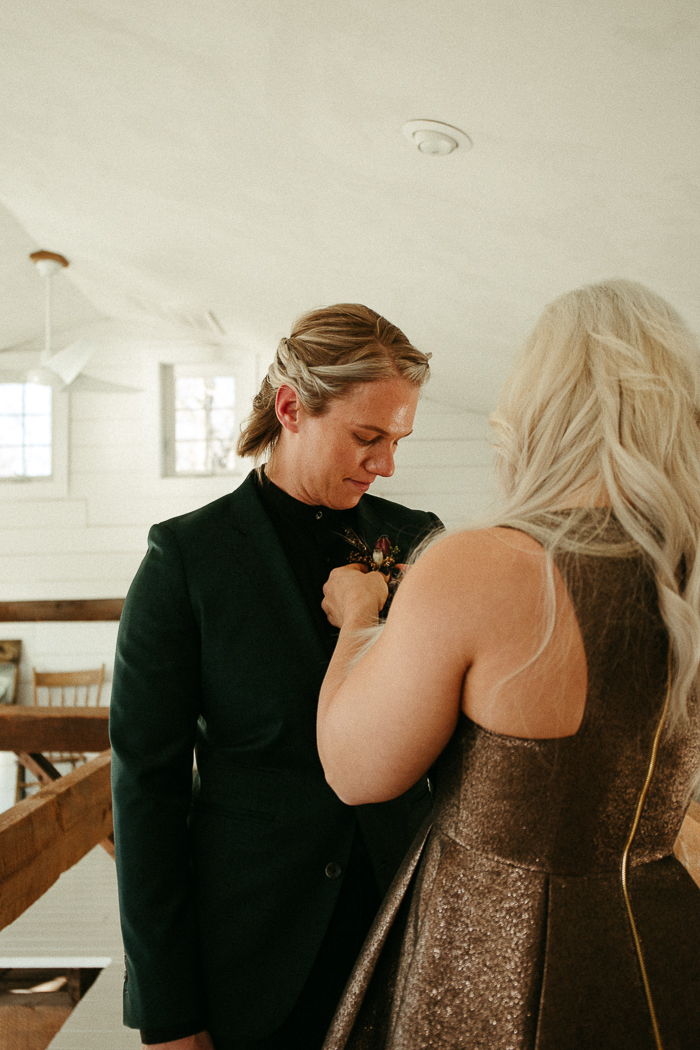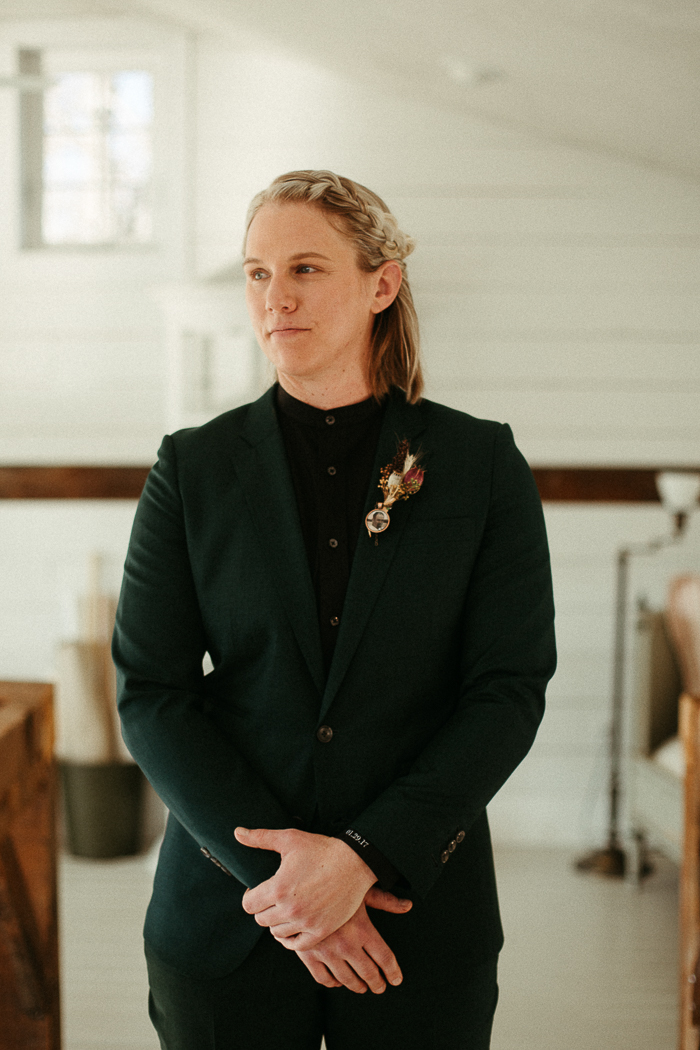 Remembering Late Loved Ones
My father passed away from cancer not long ago, and I was struggling with the fact that he couldn't be there to see us get married. Hadley–very thoughtfully–bought me a pin with his picture that we pinned to the boutonniere of my suit. He was with me for the entire ceremony, and it was honestly the best gift she could have given me.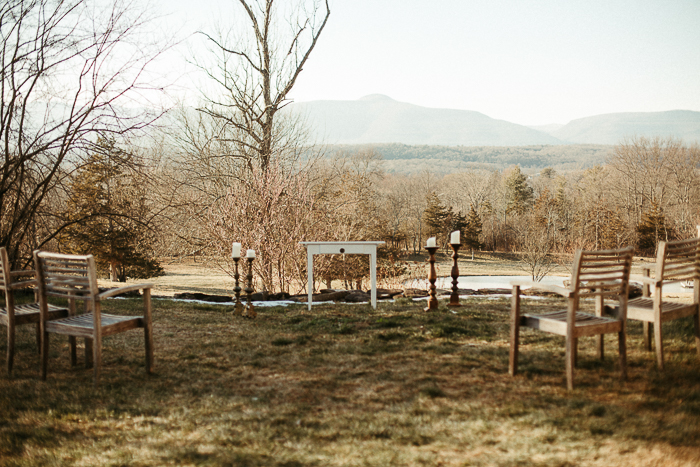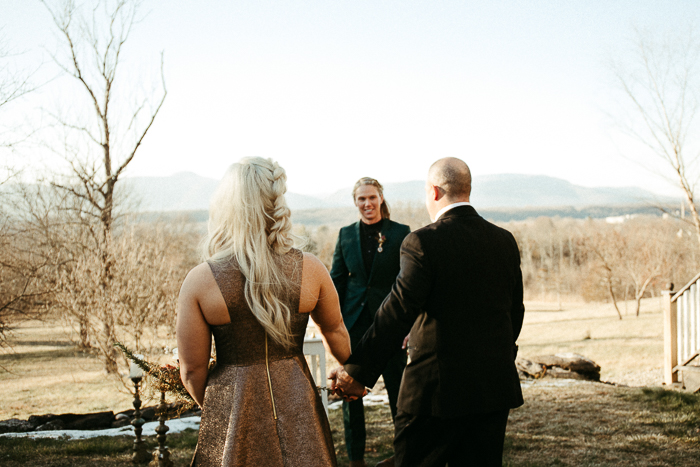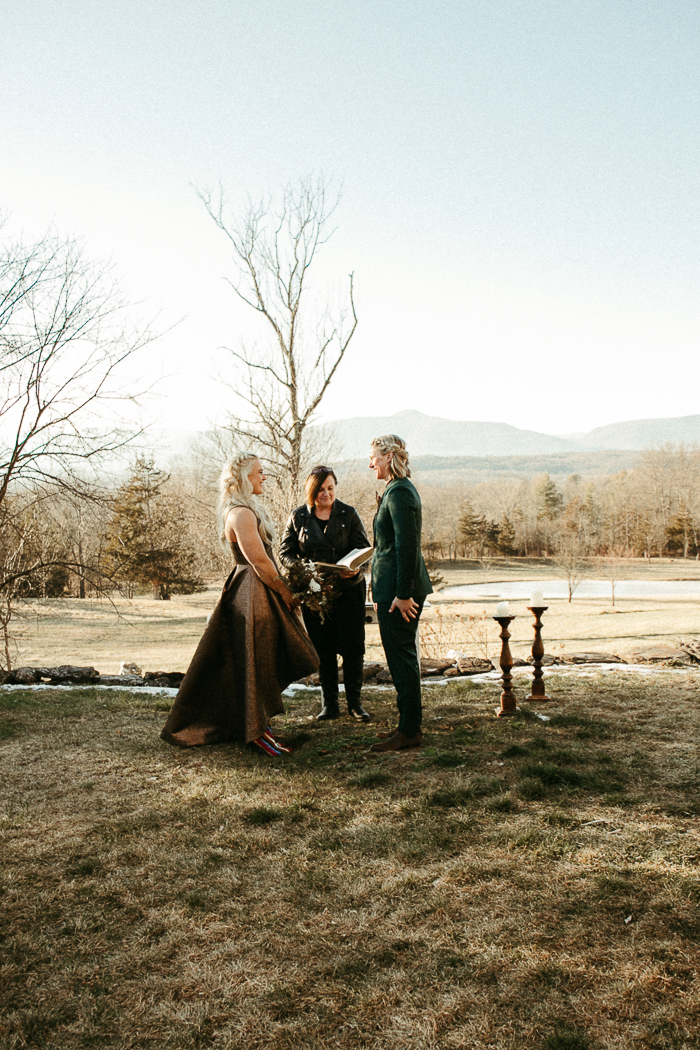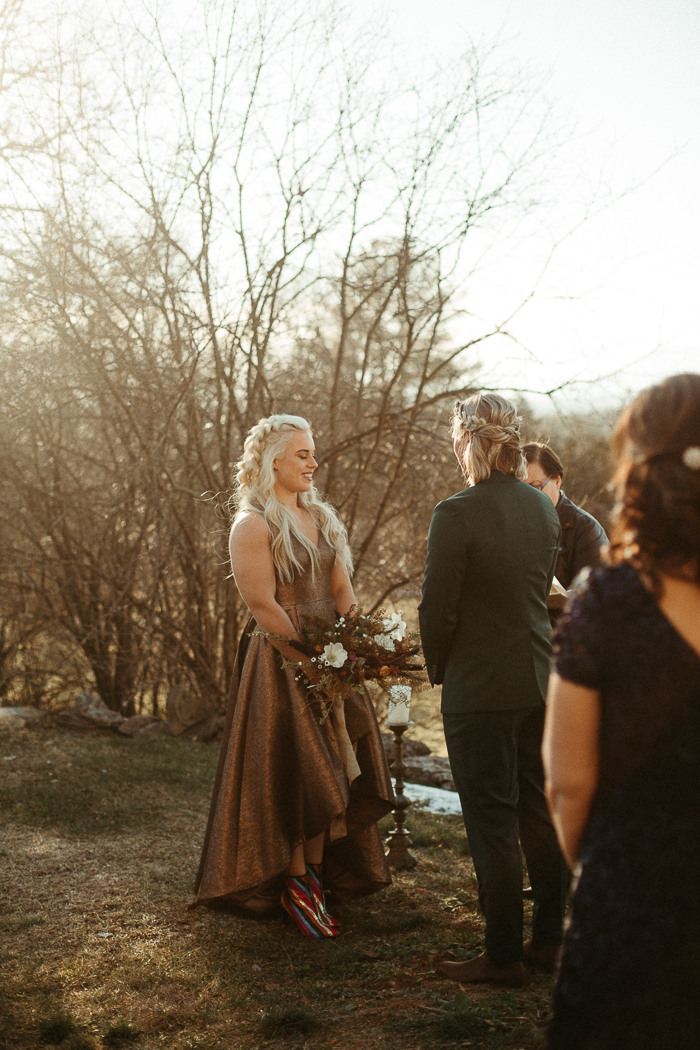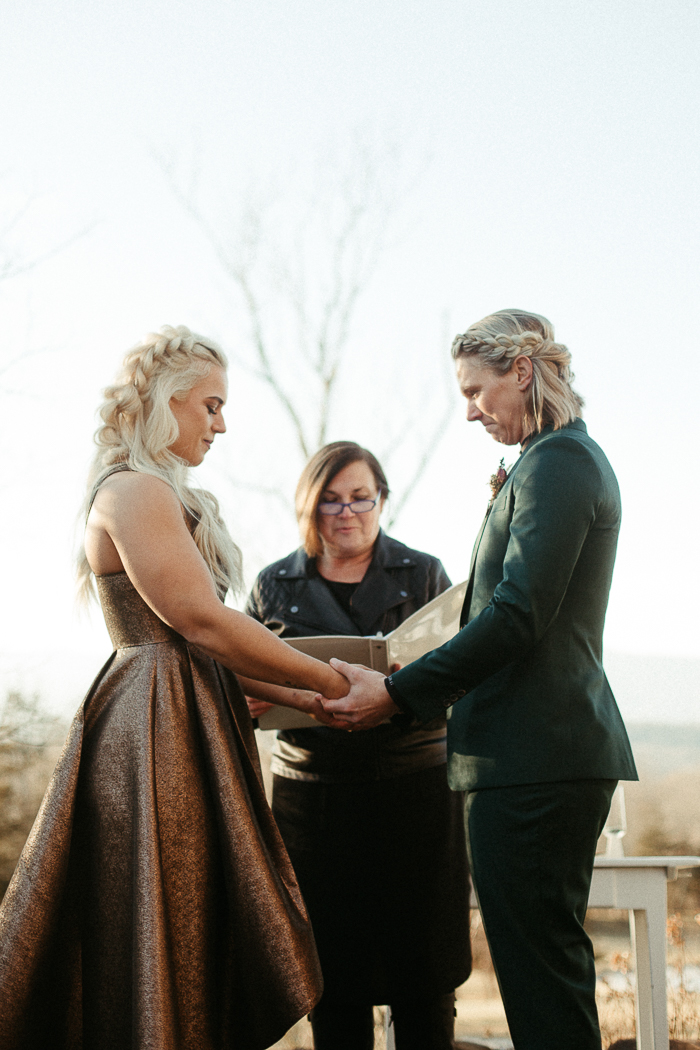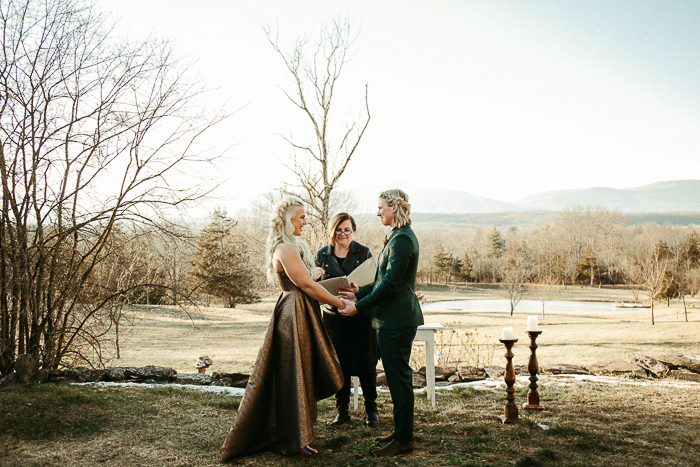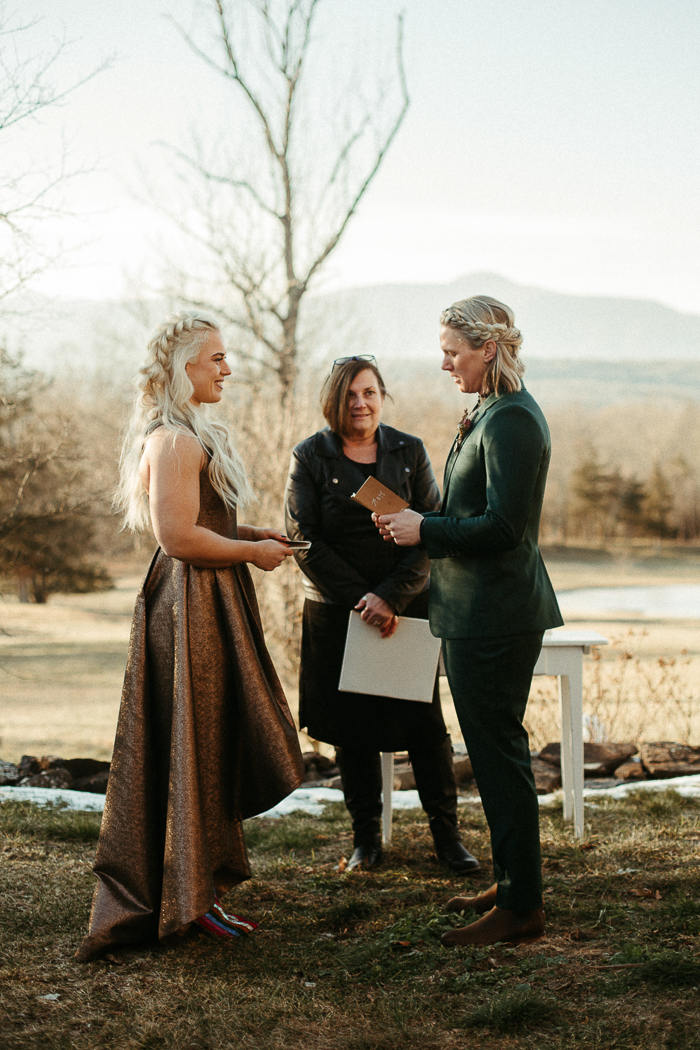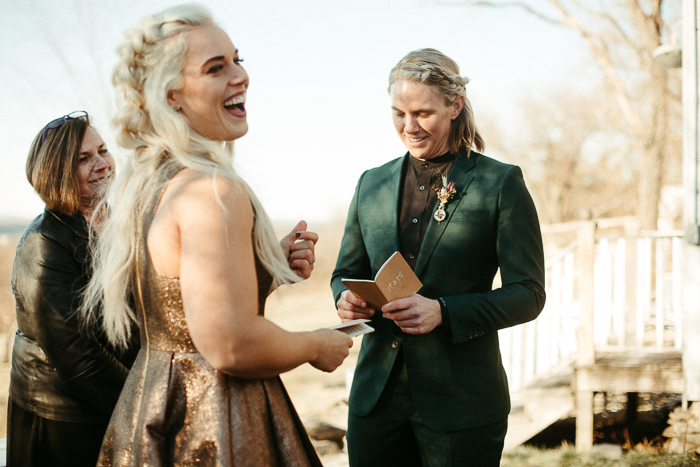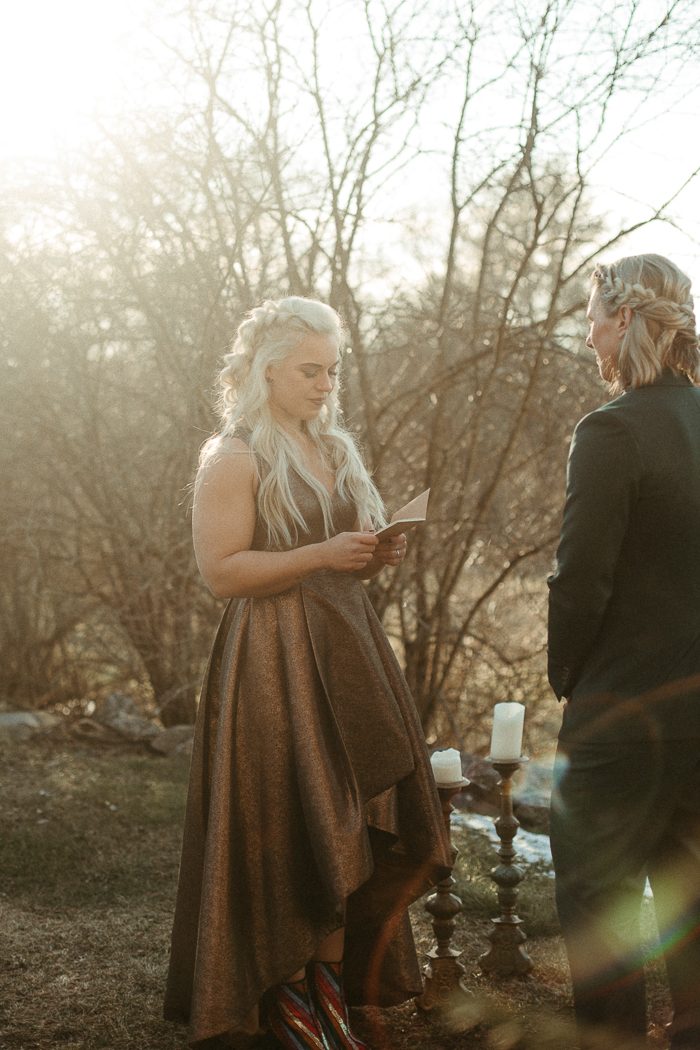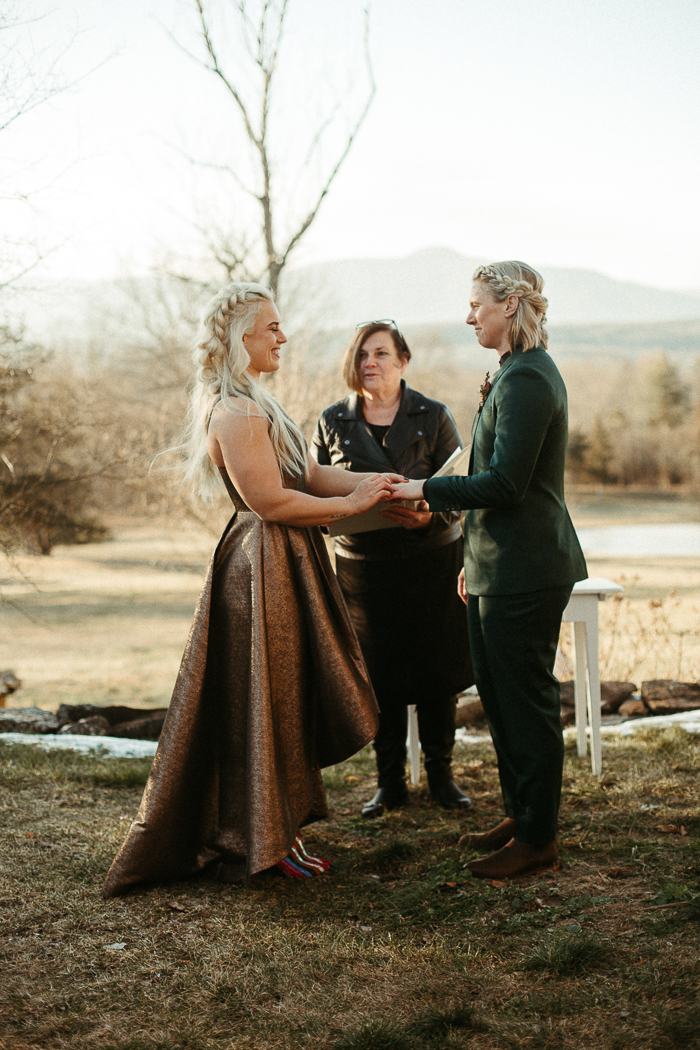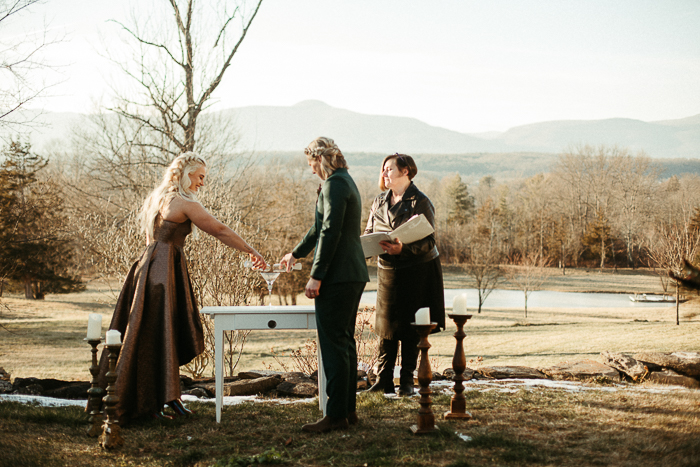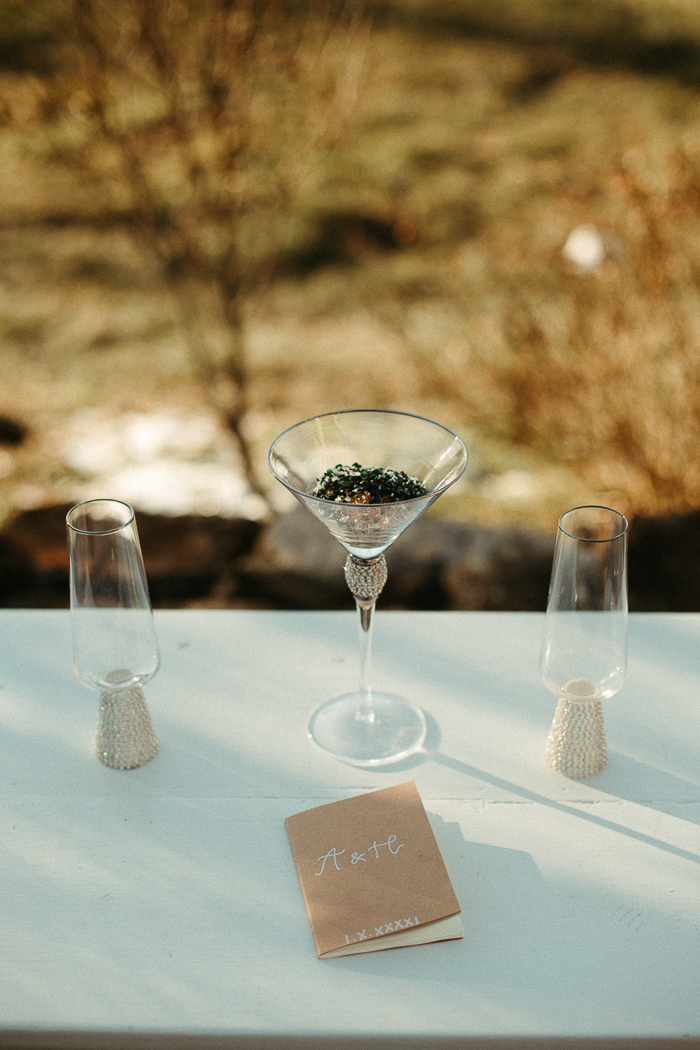 Personalizing The Ceremony With Vows And A Unity Ceremony
We chose to do a unity ceremony using broken colored glass. During our ceremony, we blended the glass together to symbolize our union of marriage and two becoming one. We decided to ship the glass out and have an ornament made to commemorate our special day. We also chose to write our own vows. Writing our vows made our ceremony personal to the two of us by allowing us to have a special moment to speak directly to one another and truly celebrate one another.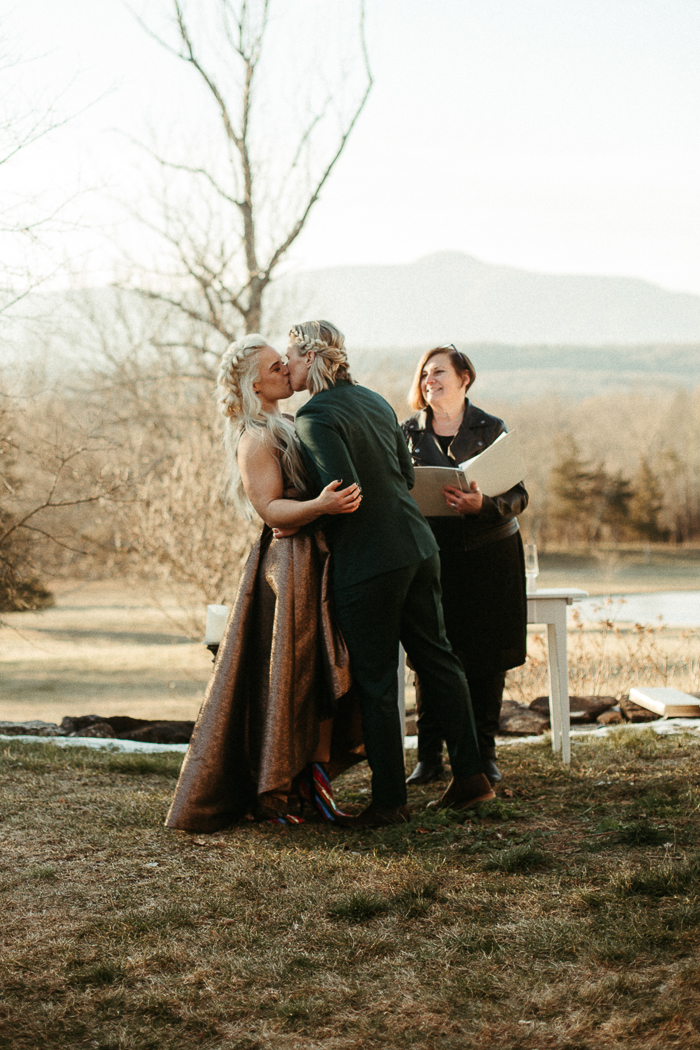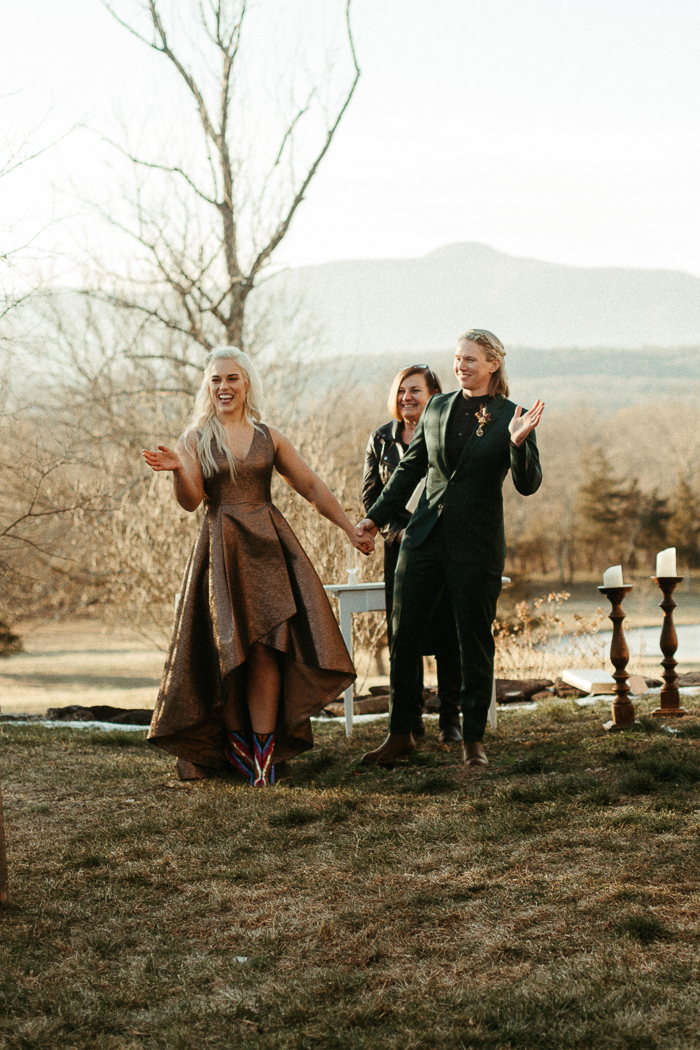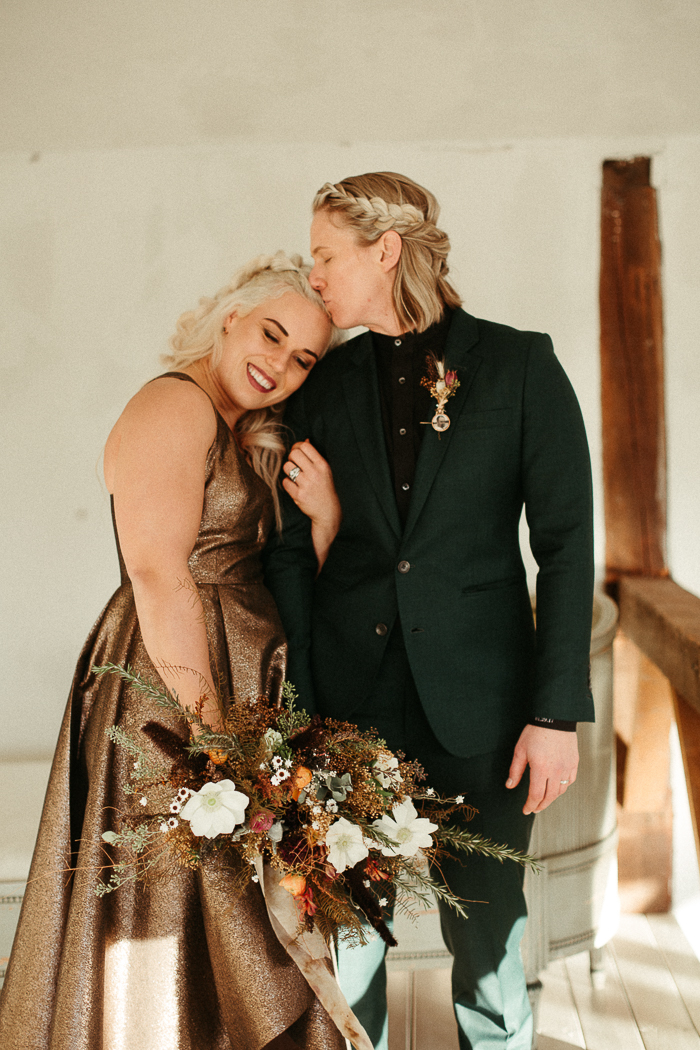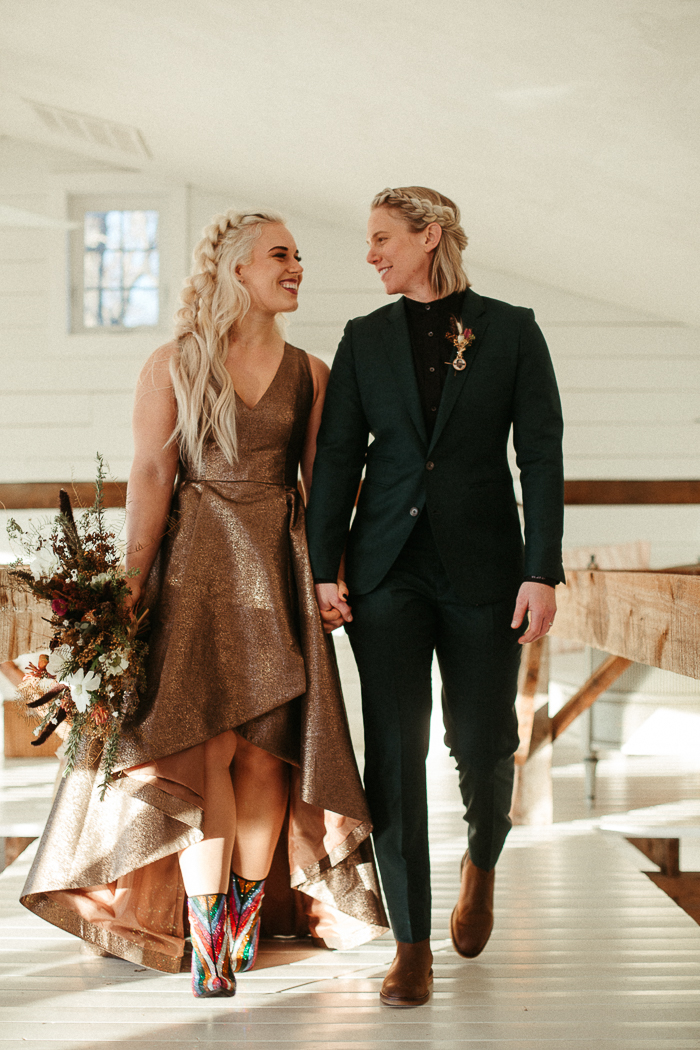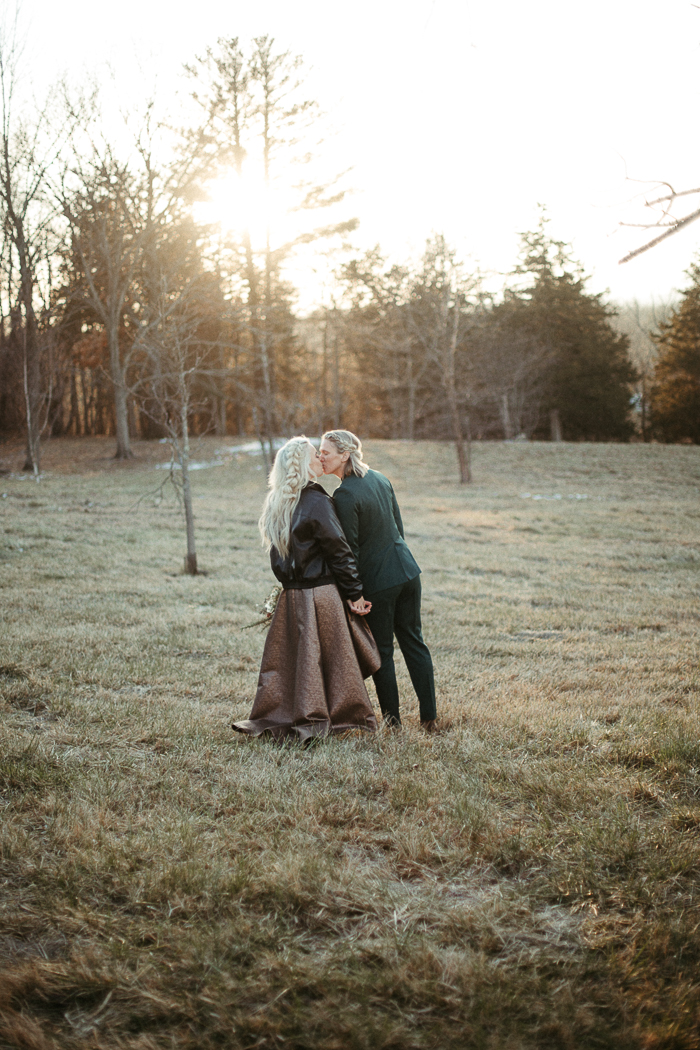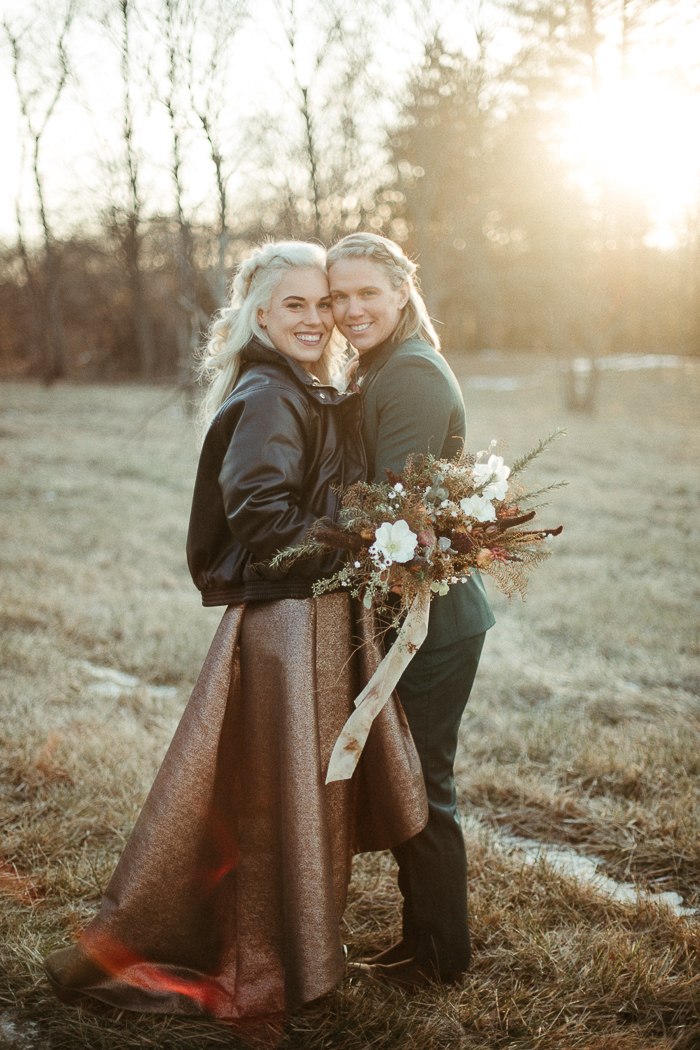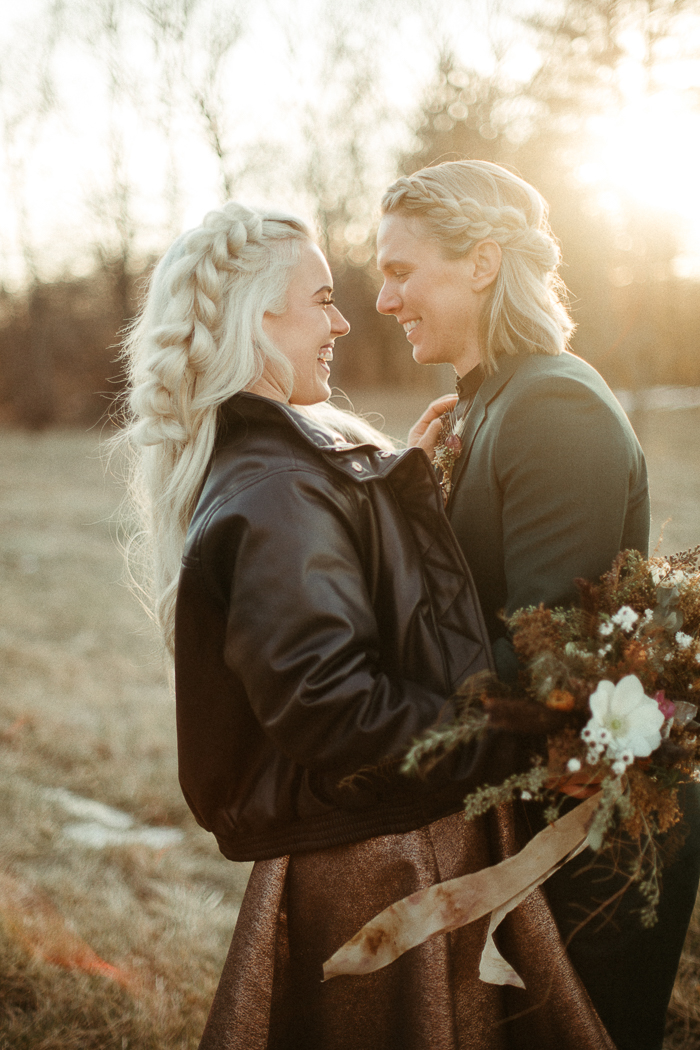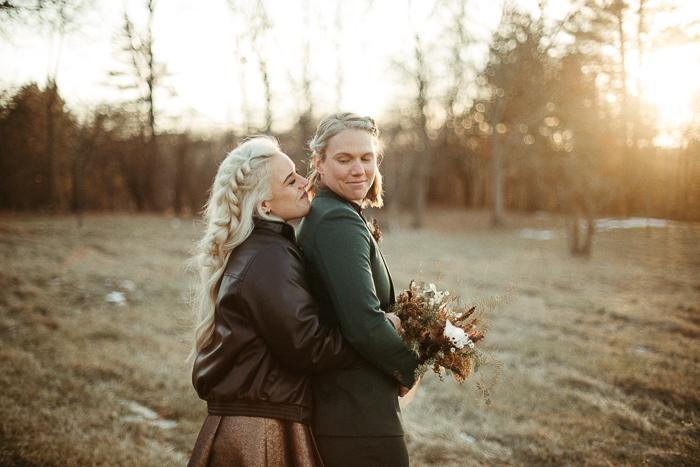 A Catskill Mountains Elopement Full Of Moody Vibes
We have always been a non-traditional couple, and you can definitely see that in the alternative style of our wedding. We chose a moody color palette, textured florals, and a backdrop that brought our whole vibe together. We both wore darker colors that stood out against the crisp white of the barn and the muted colors of the winter mountains. We wanted our wedding to be bold and dramatic but have some boho elements throughout. We opted for big boho braids and earth tones for our wardrobe while also incorporating more dramatic fun pieces like Hadley's pair of amazing rainbow glitter boots and leather jacket. We were married outside at sunset, and we decided to incorporate some of the vintage pieces around the barn into our ceremony to help bring the whole vibe together.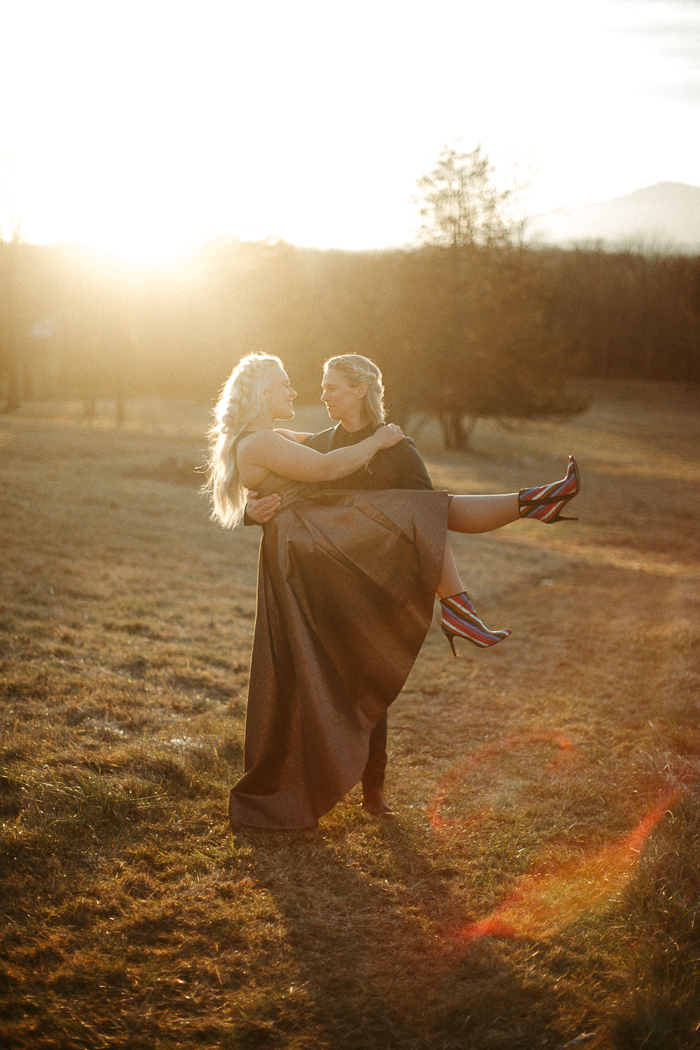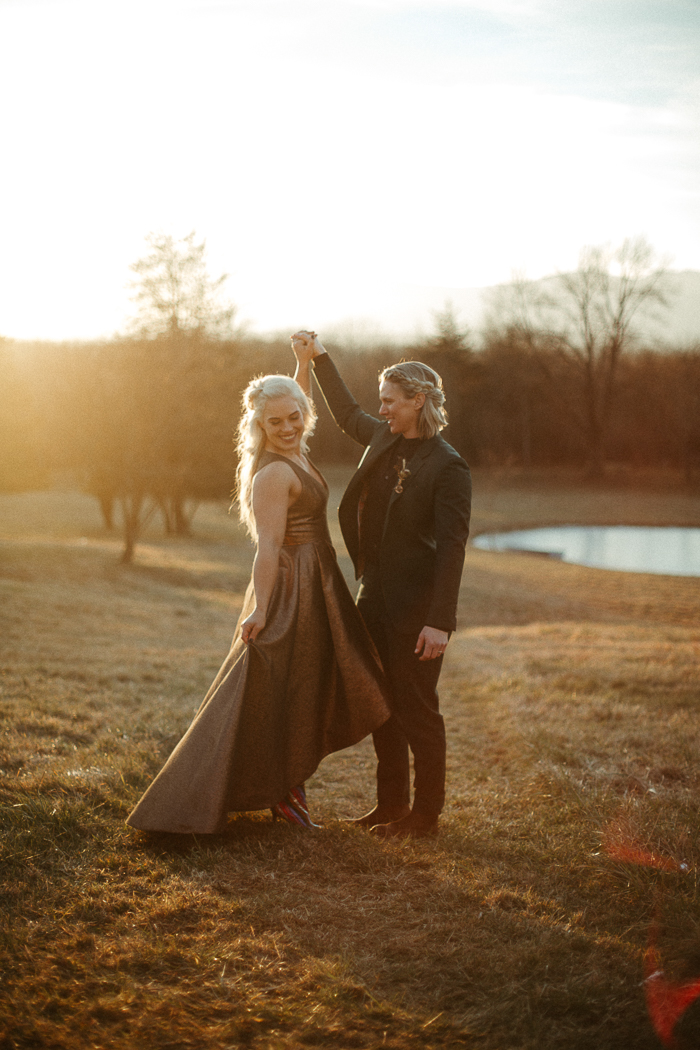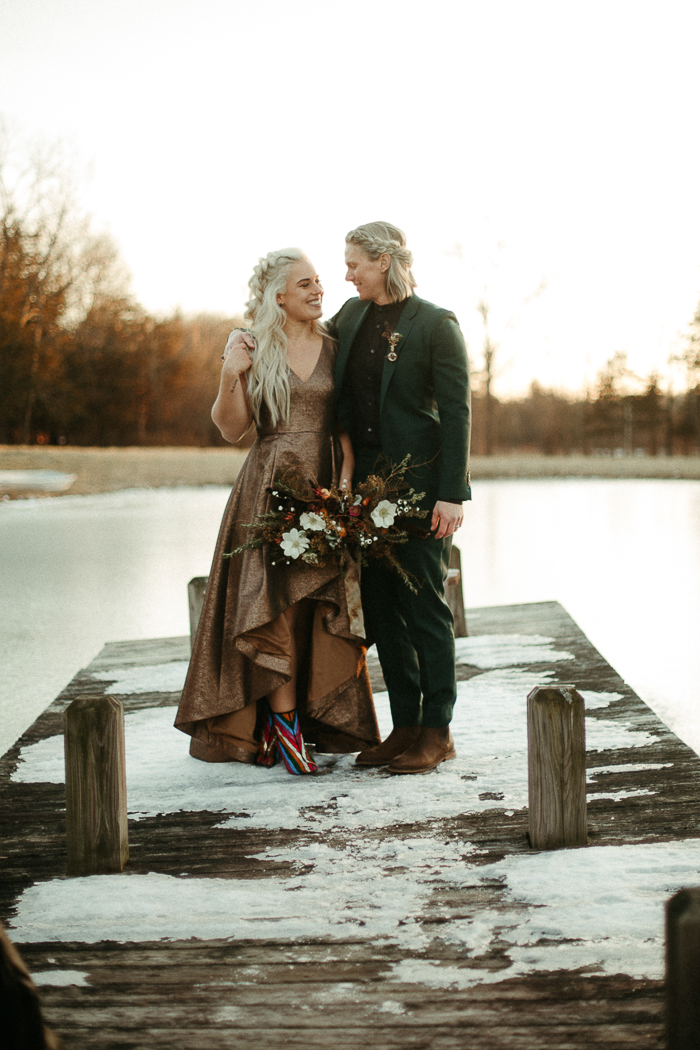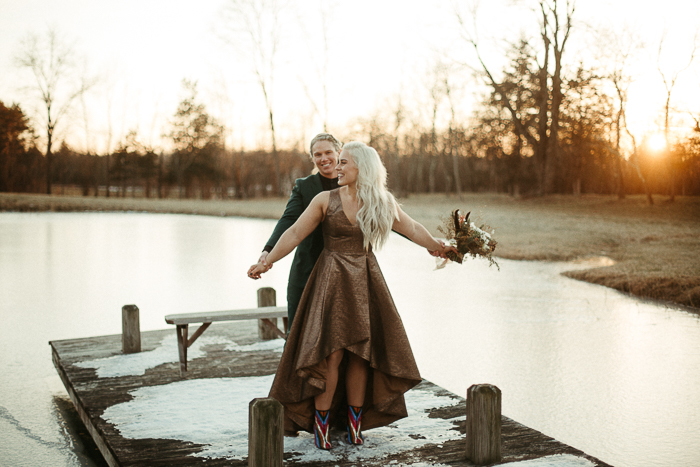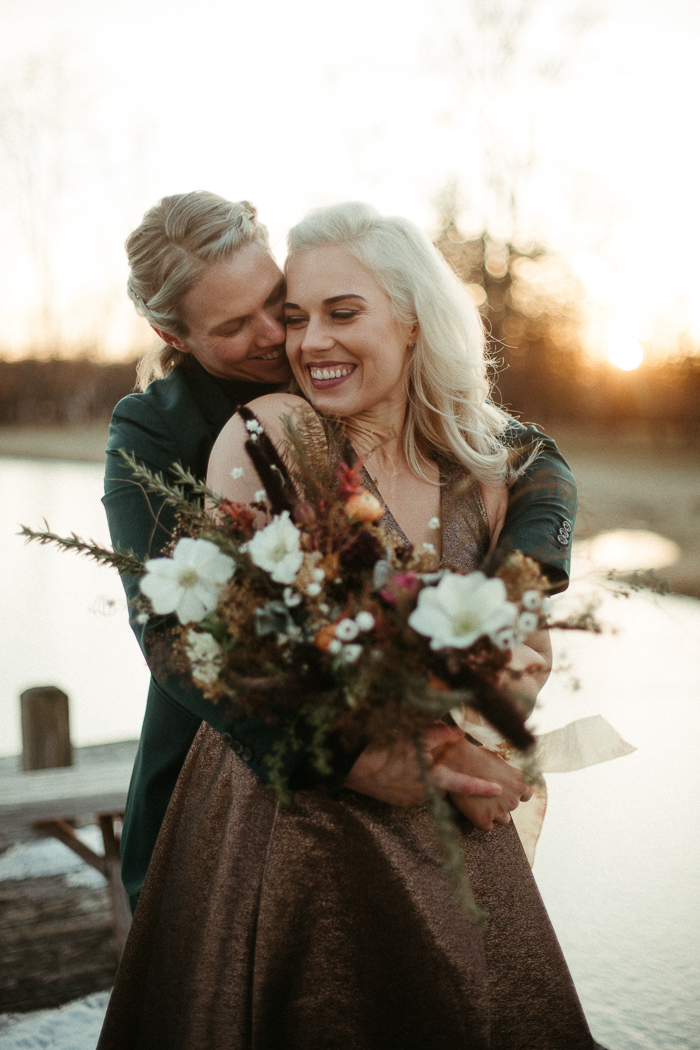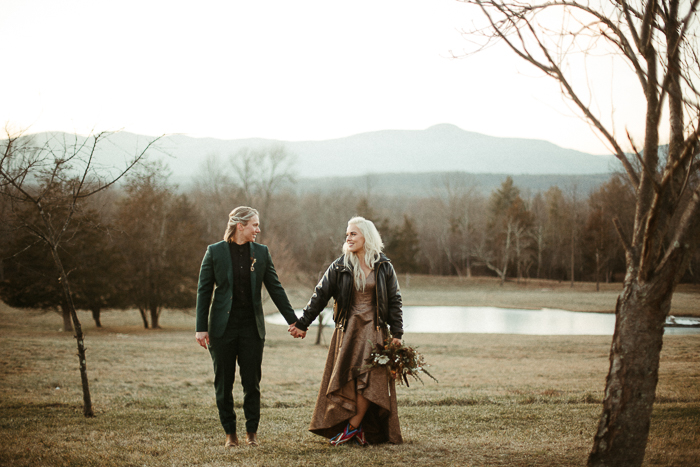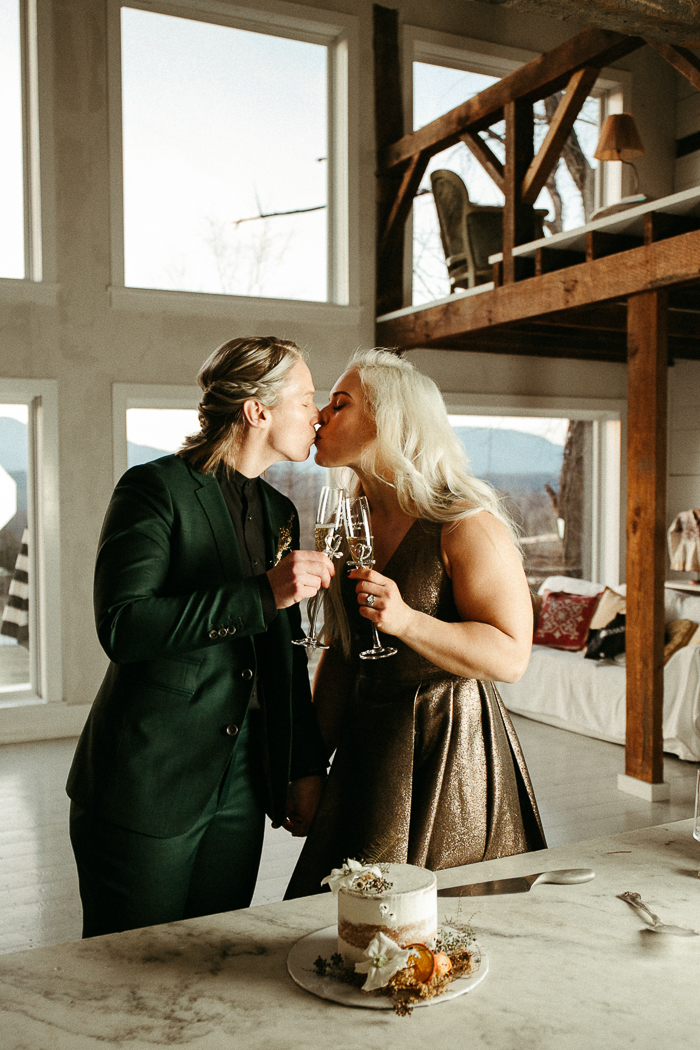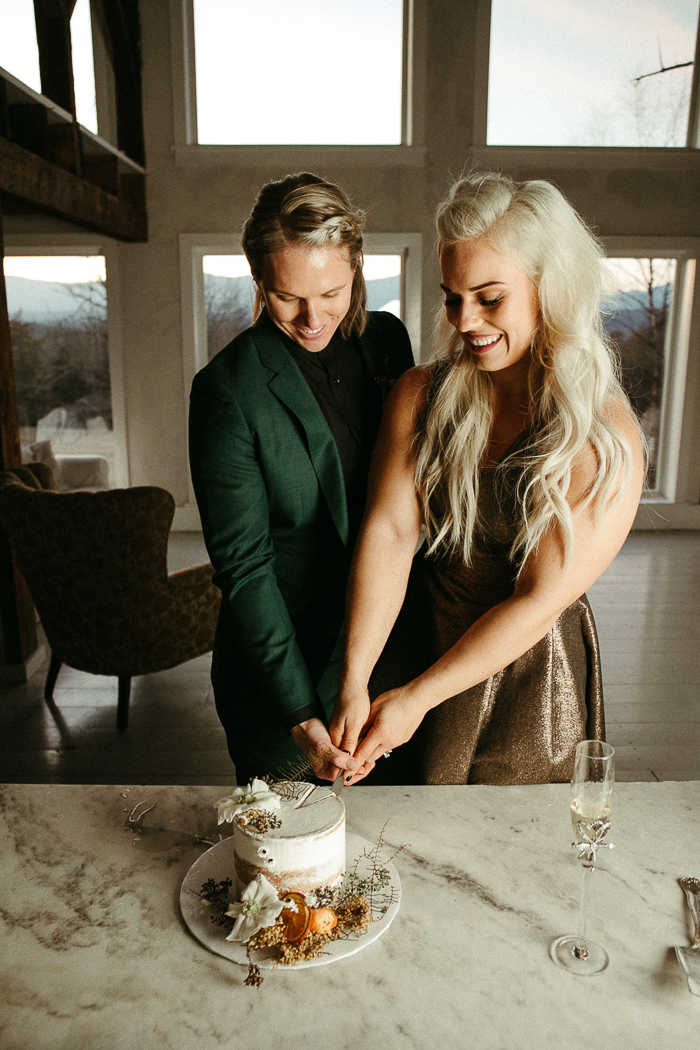 Congratulations again to Hadley and Andrea on their intimate Catskill mountains elopement. We're so thankful that Junebug Par La Mer Photography was there to help plan and photograph the special day. To see more of Tonya's work, check out her profile in our directory of wedding photographers from around the world!
The post Gorgeous and Intimate Catskill Mountains Elopement appeared first on .