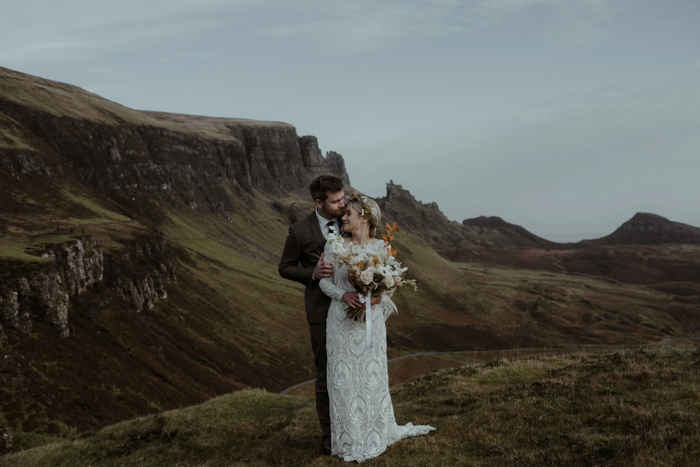 This Isle of Skye elopement was rich with emotions as high as the mountain ranges where the couple exchanged "I do's". From the hand-crafted and personalized rings to the handwritten messages from loved-ones—no detail was short of amazing. Angela and Mark couldn't take their eyes off each other—even surrounded by views as beautiful as the Quiraing. Humanist celebrant Rona Burstow tied the couple's stories together and tailored the ceremony to celebrate their uniqueness. These Scottish lovers traded a typical champagne toast for some Kraken rum from the Quaich—a Scottish traditional two-handled cup which you share to symbolize two becoming one.
Photographer The Caryls captured the intimate moments that are sure to make even a few couples trade their large previously planned wedding for a meaningful and intimate elopement. Below is what The Caryls had to say about capturing this powerful celebration.
The Carlyls' Take On The Isle of Sky Elopement
Angela and Mark's dreamy Isle of Skye elopement in Scotland encapsulates everything that makes our hearts sing about Scottish elopement weddings. Ange and Mark have never been the traditional types, so running away just the two of them, to have an adventure on the breathtakingly beautiful Isle of Skye felt like the perfect way to exchange their vows and to celebrate their love. Angela's parents had chosen an elopement wedding themselves, so they were on board with the idea from the start – and Mark's family were super-supportive of their plan too.
As the Isle of Skye is renowned for its beauty, it can get quite busy with tourists, so we picked a stunning elopement ceremony location away from the crowds and with the most incredible view. As photographers, we have witnessed so many ceremonies, but Ange and Mark's was one of the most personal and moving that we've ever had the honor of being a part of. We were in tears behind our cameras. 
The Couple:
Angela and Mark
The Wedding:
Isle of Skye, Scotland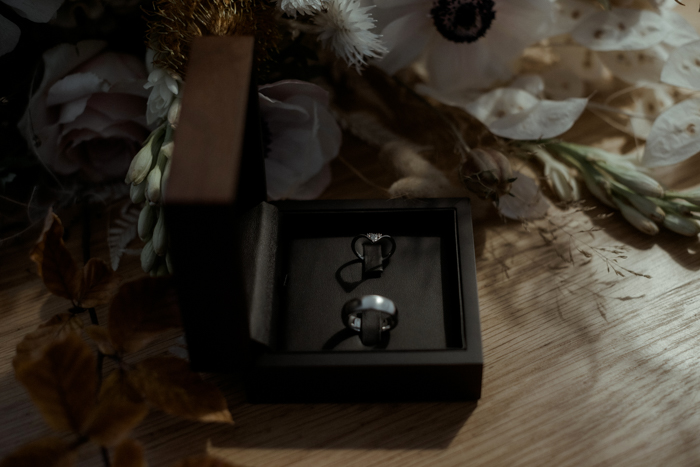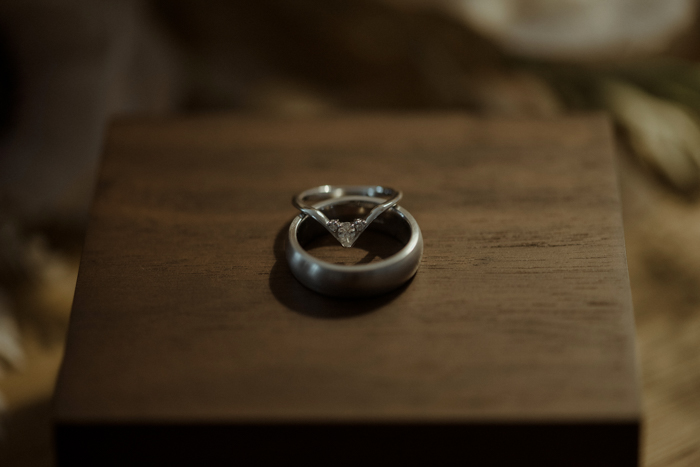 Rings Hand Crafted With The Couple In Mind 
Mark designed Ange's engagement ring with the help of a local jeweler in Yorkshire. It was made from the stones of his late grandmother's ring. The aquamarine is so striking, unique, and chosen to match the color of Ange's eyes. The same jeweler made both the wedding rings and was heavily involved in the design process. Mark had Ange's handwriting engraved on the inside of his ring, too.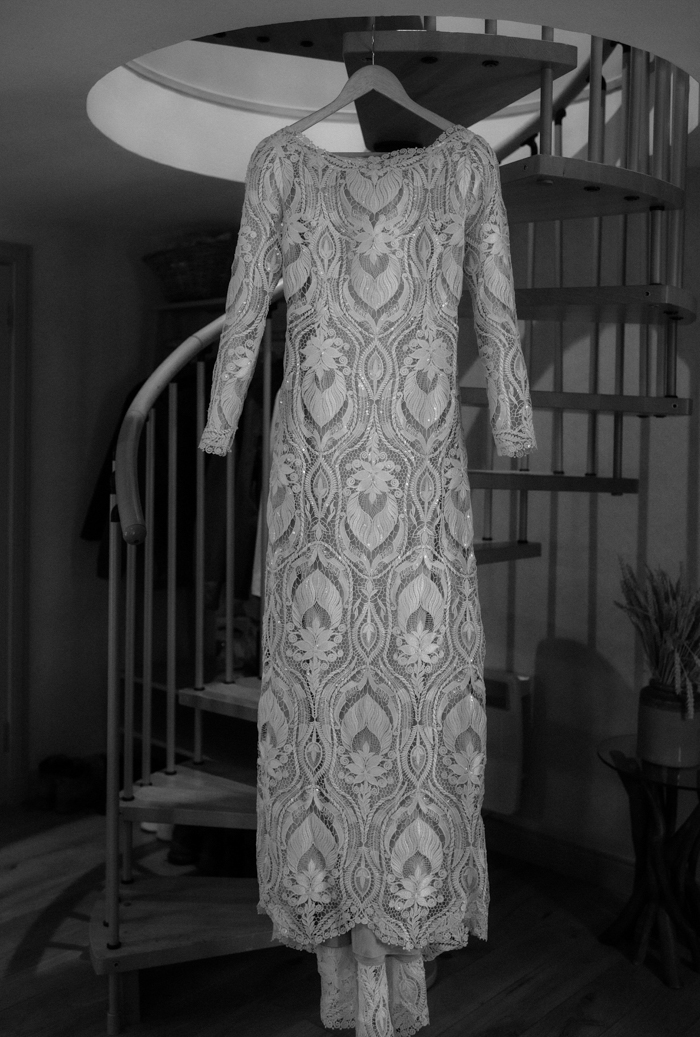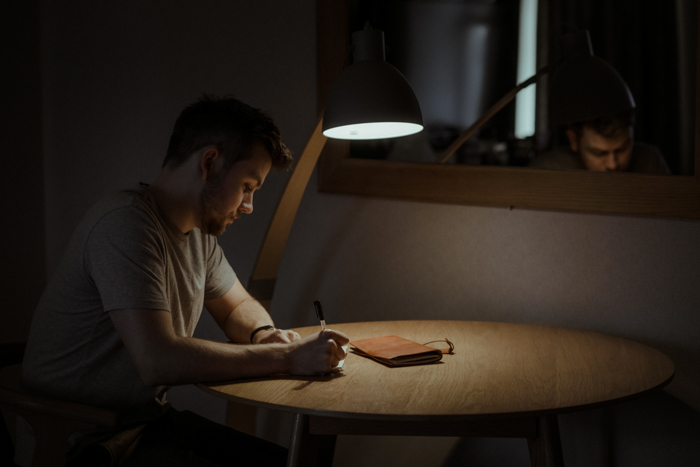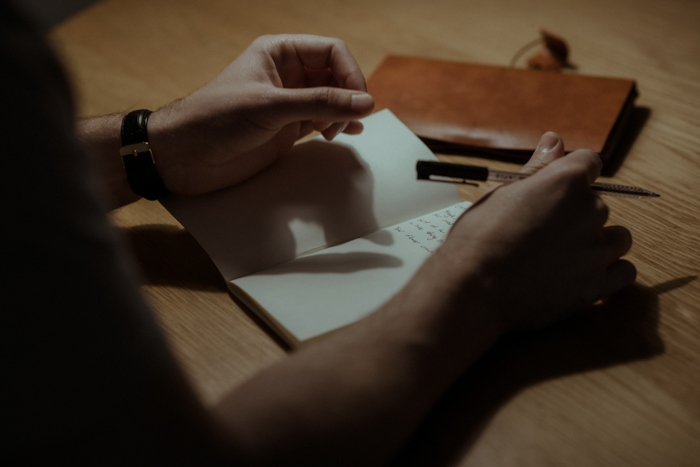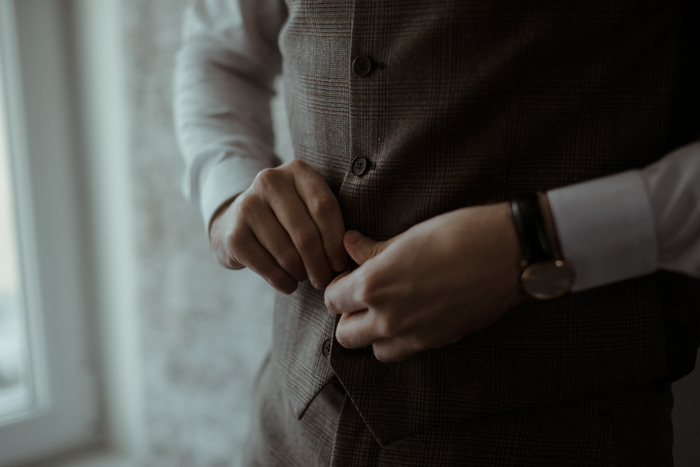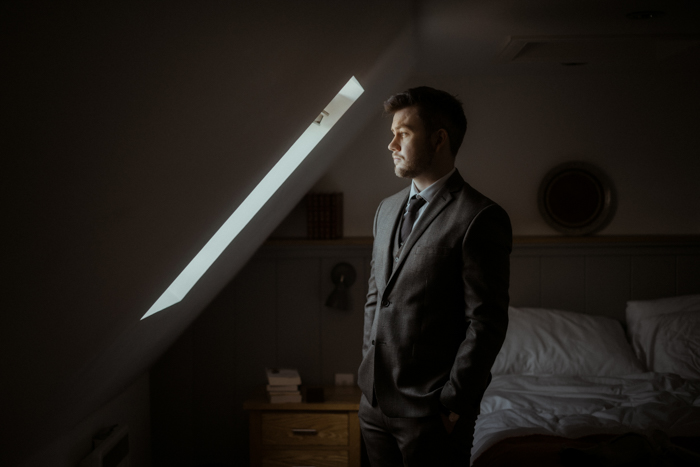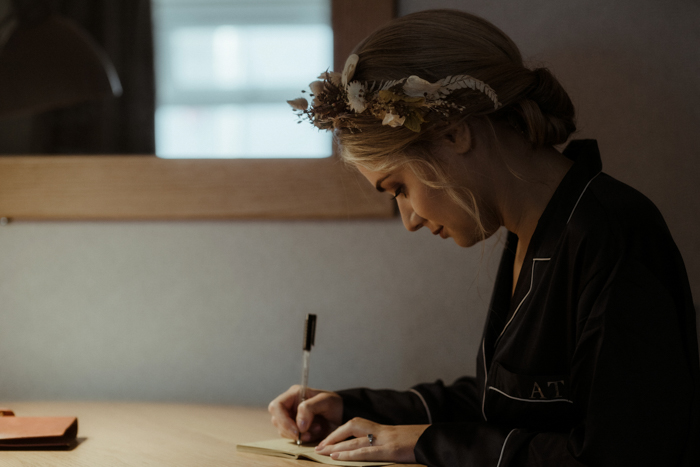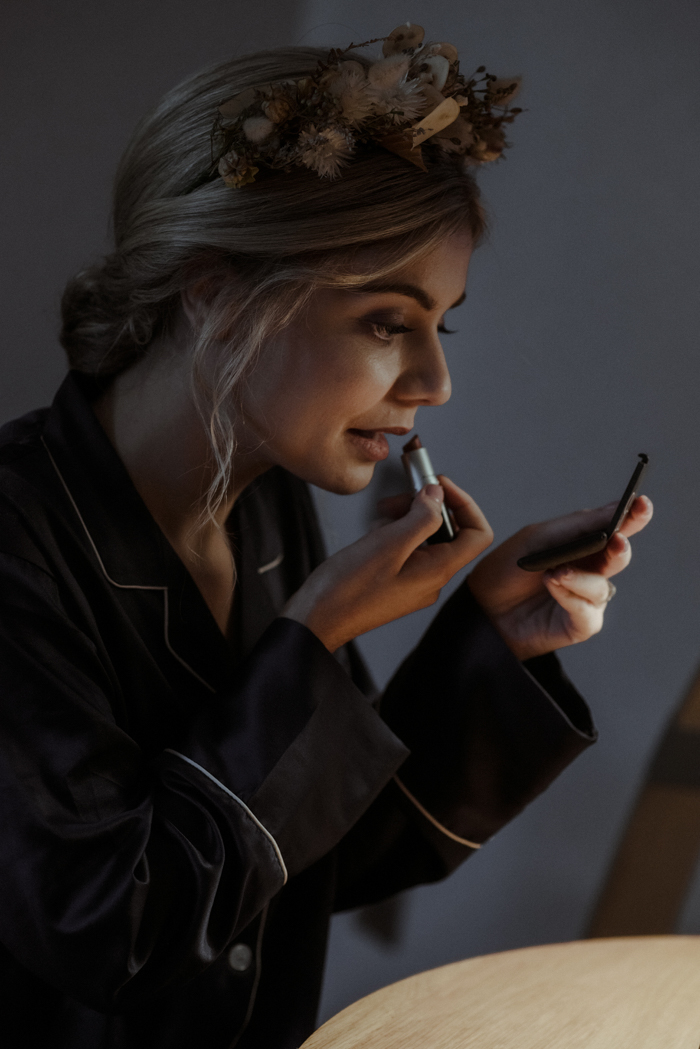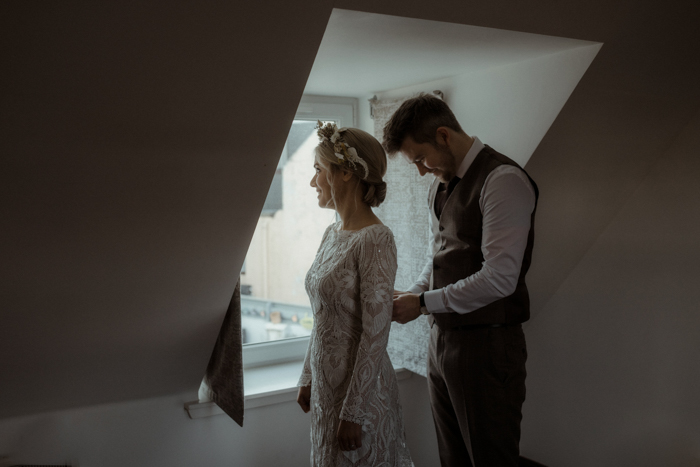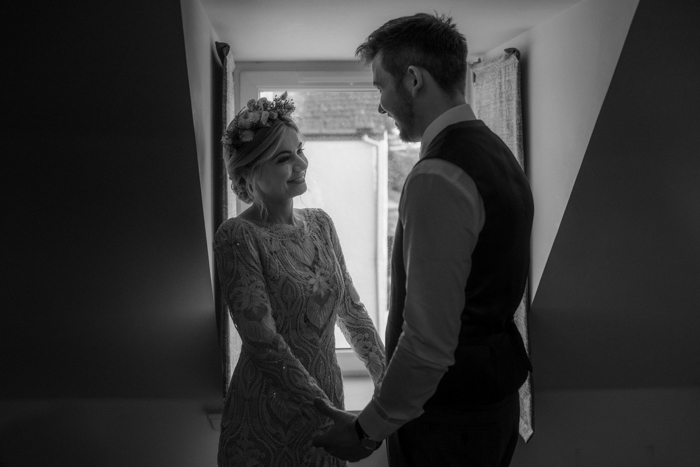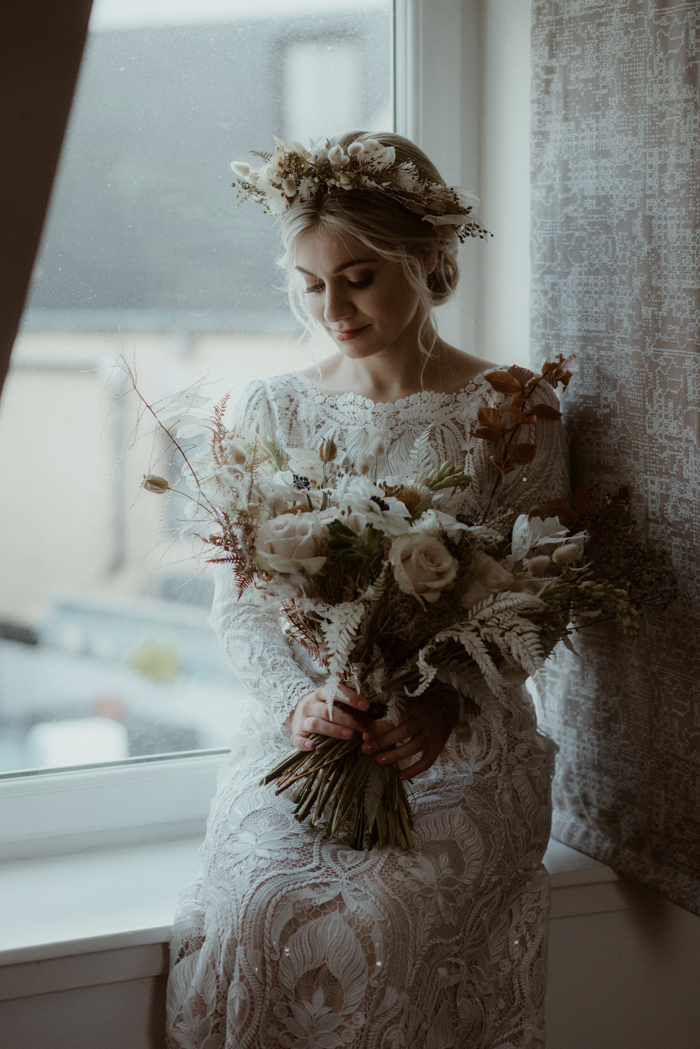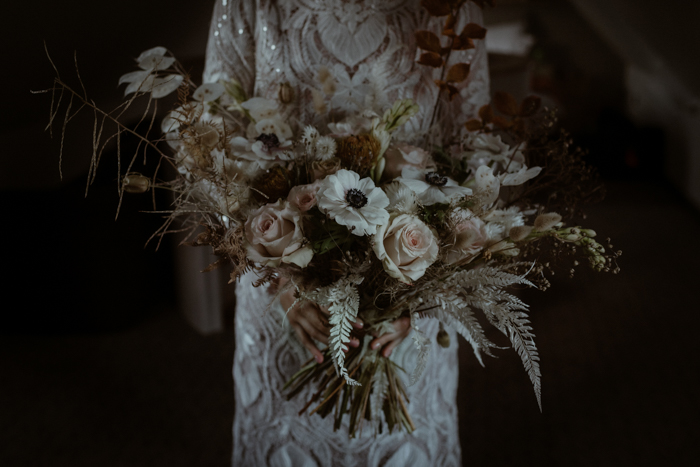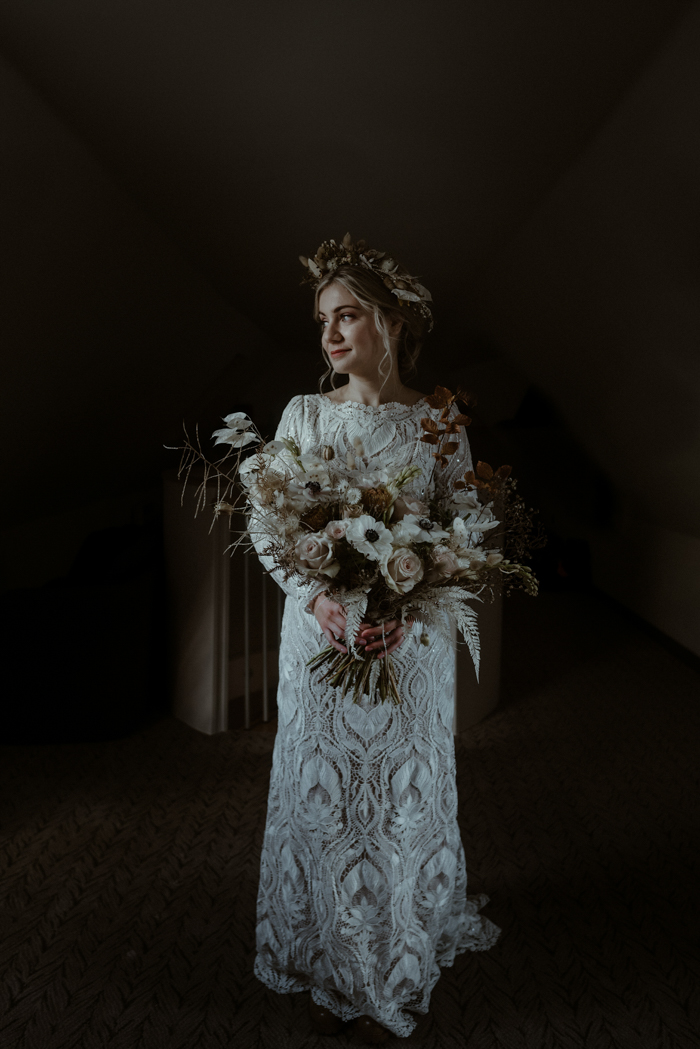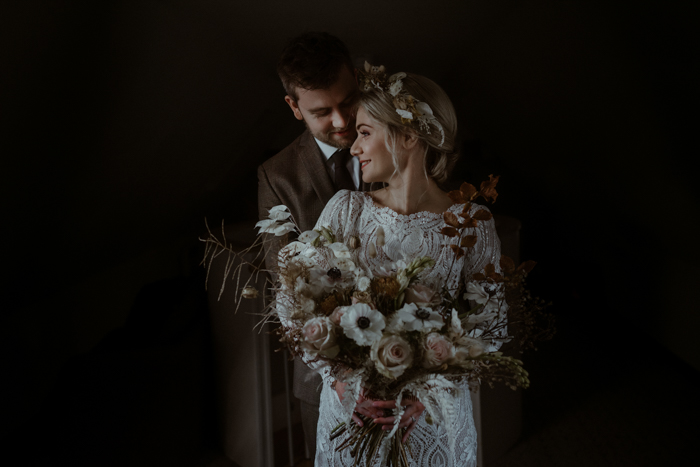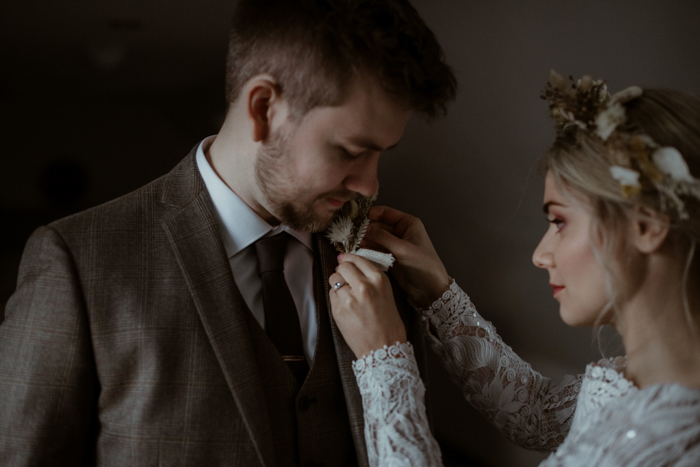 Only Wedding Advice From The Couple: Elope 
Elope! Only joking. But remember to stay focused on the two of you. That's what matters. It's old advice but it's true – consider what will make you happy. Don't let anyone convince you of what you need and don't worry about tradition if it doesn't suit you. That's long gone we say! The other thing is to spend your money on the things that will last. Rings and photographs – they are what you will keep forever.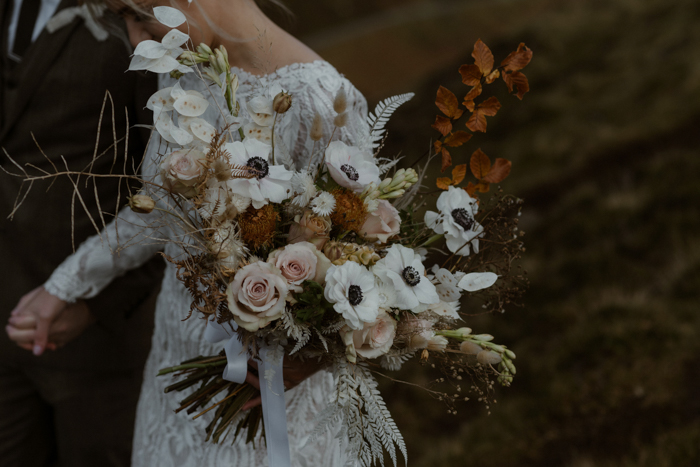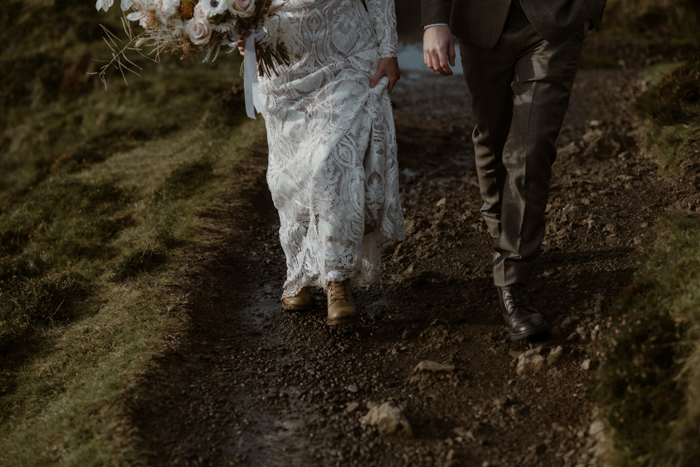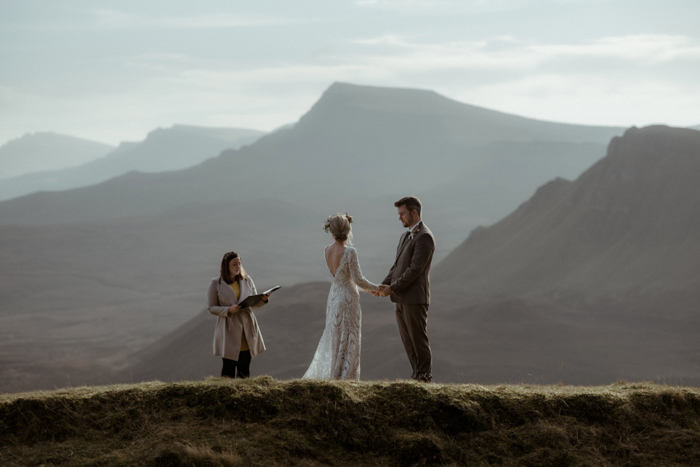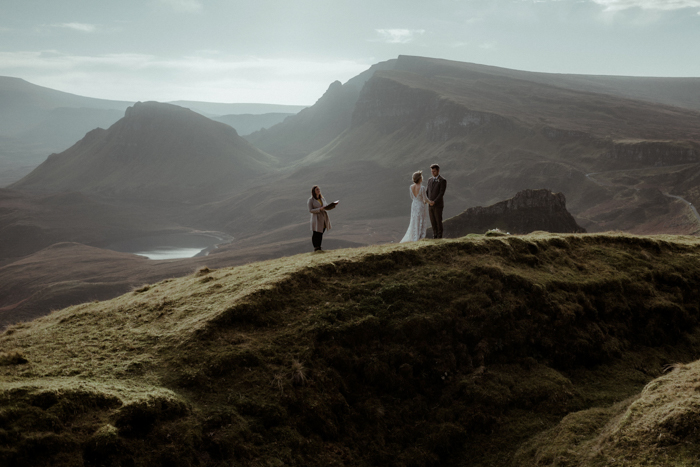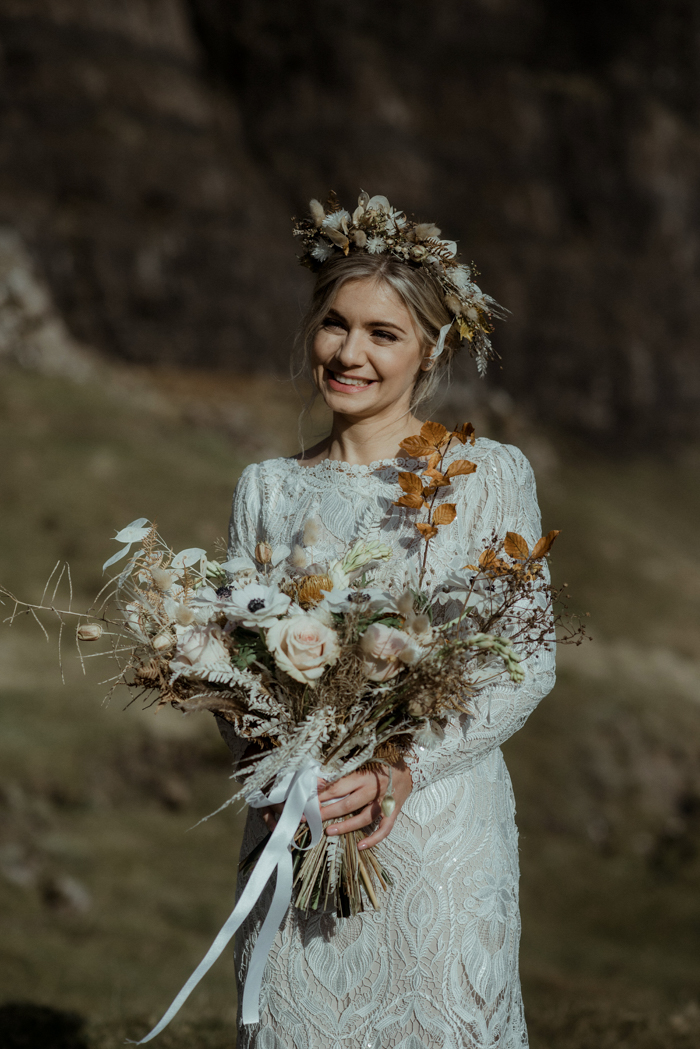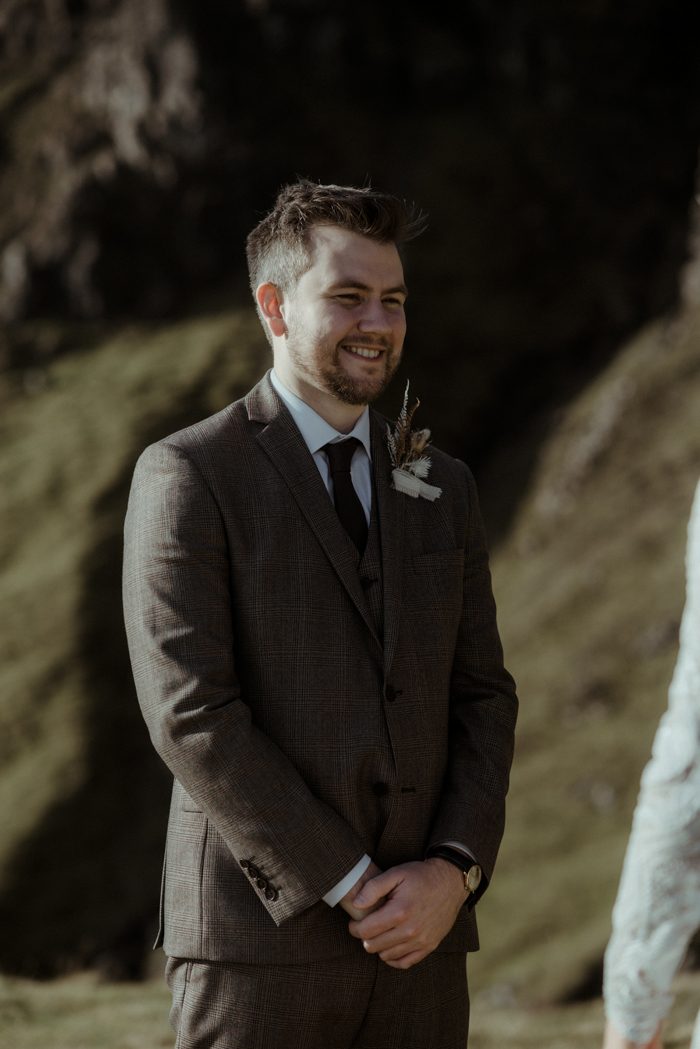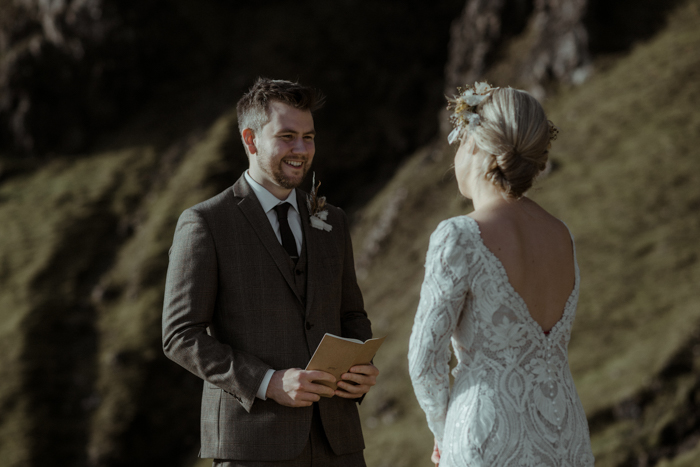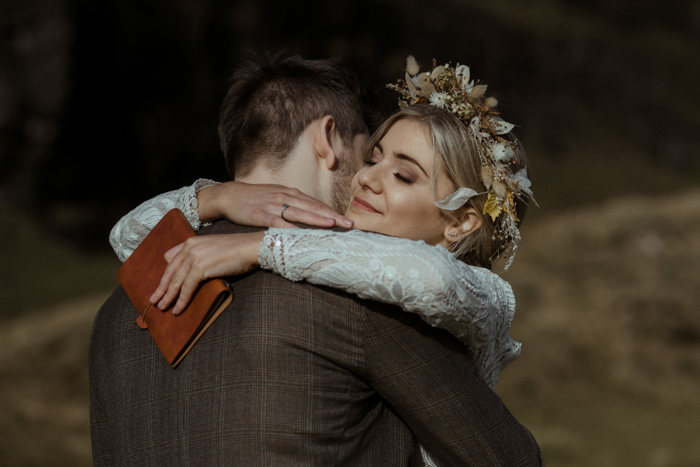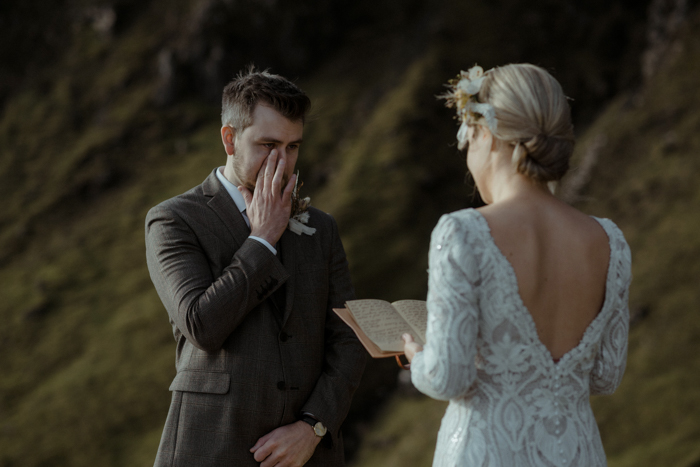 Vows As Powerful As The Views 
The vows! Standing amongst the epic scenery of the Quiraing and opening your heart to the person you love was very surreal. Ange was so overwhelmed that at one point she couldn't remember the mere five words she had to repeat during the ceremony! The emotions were so powerful and real.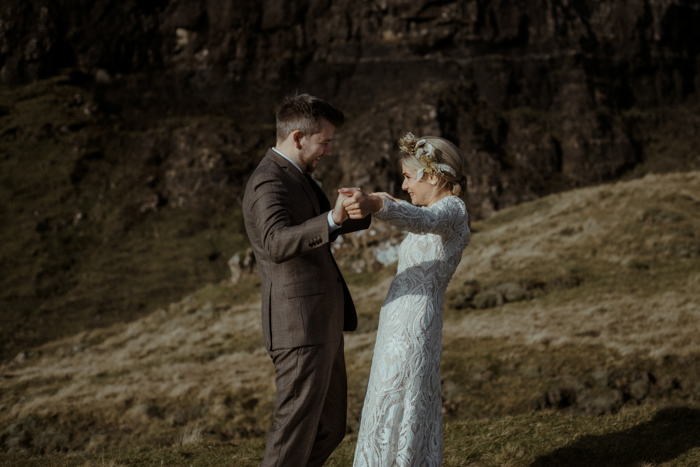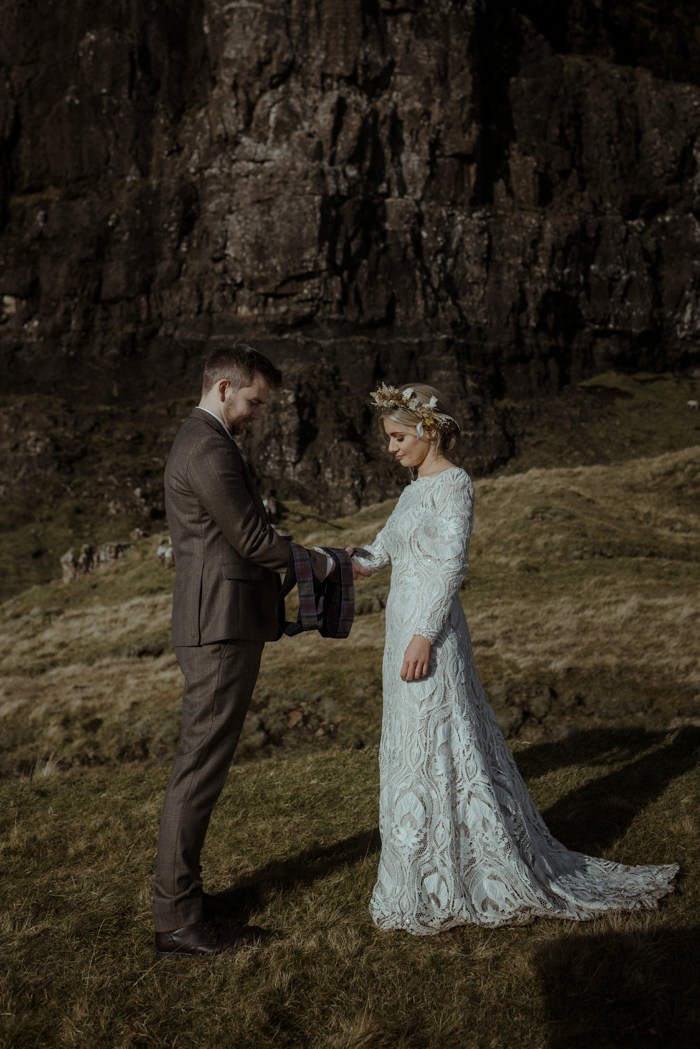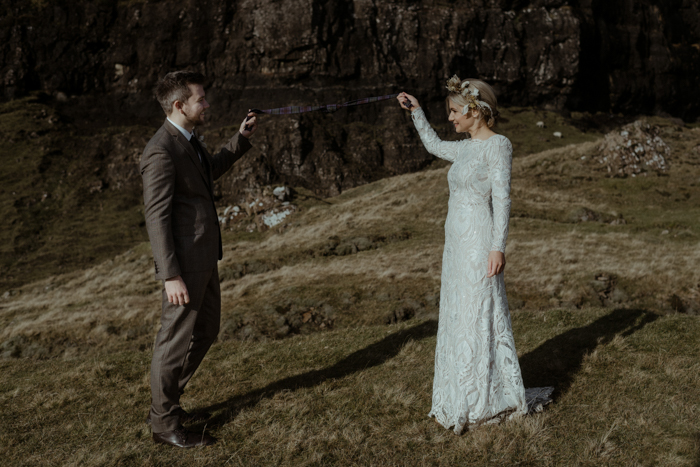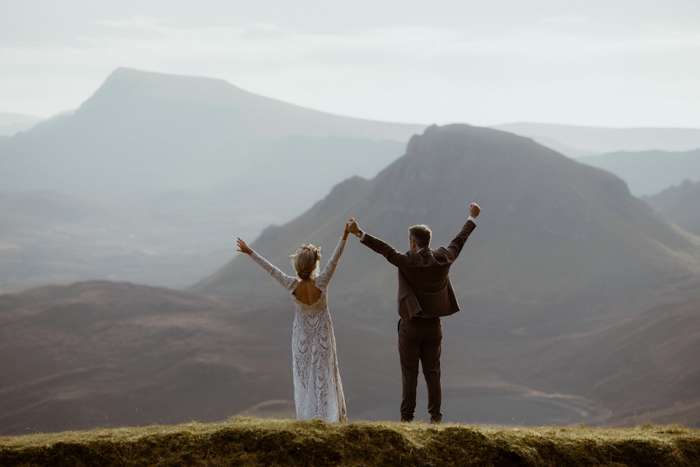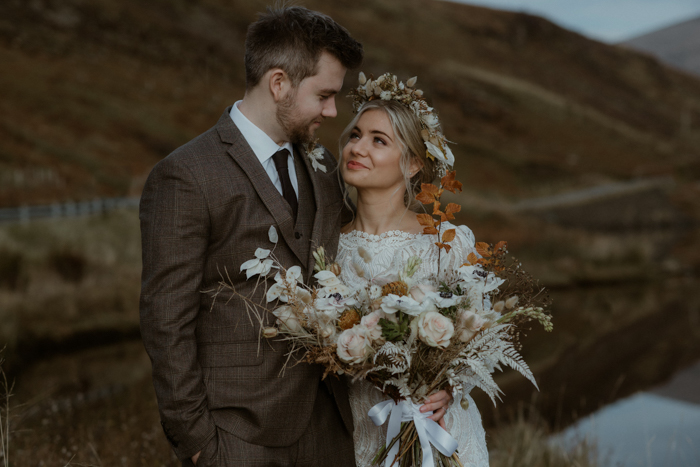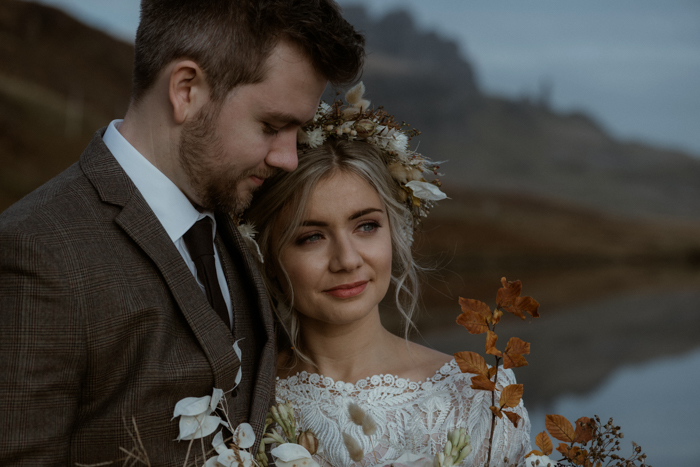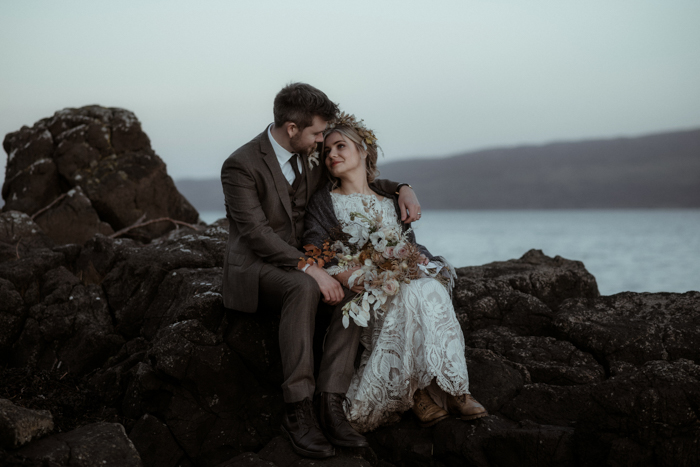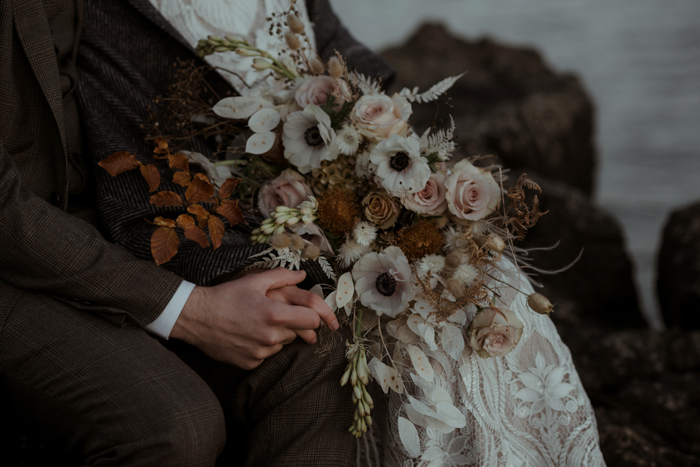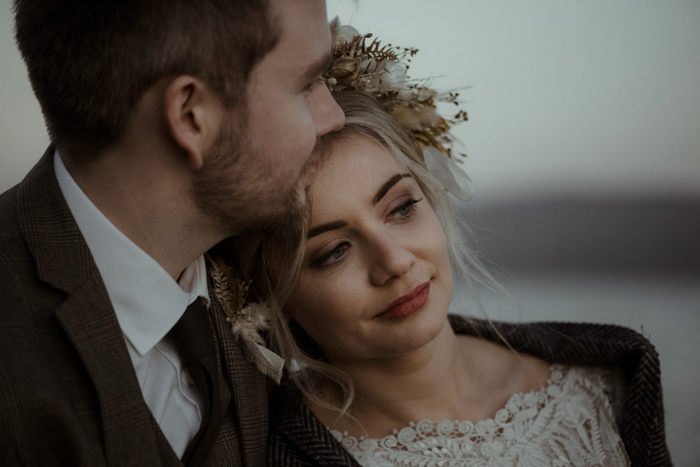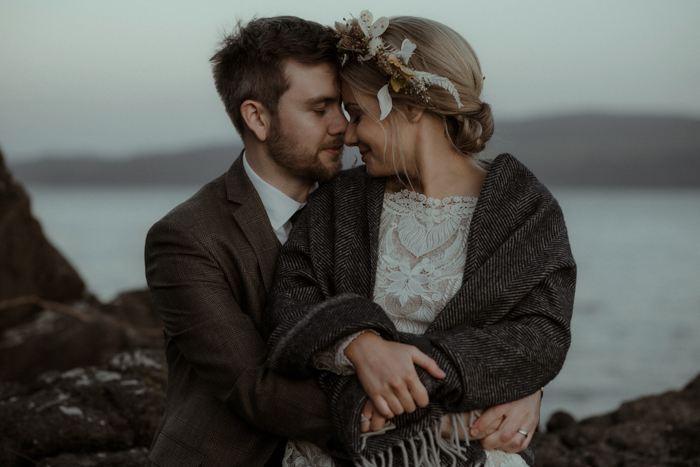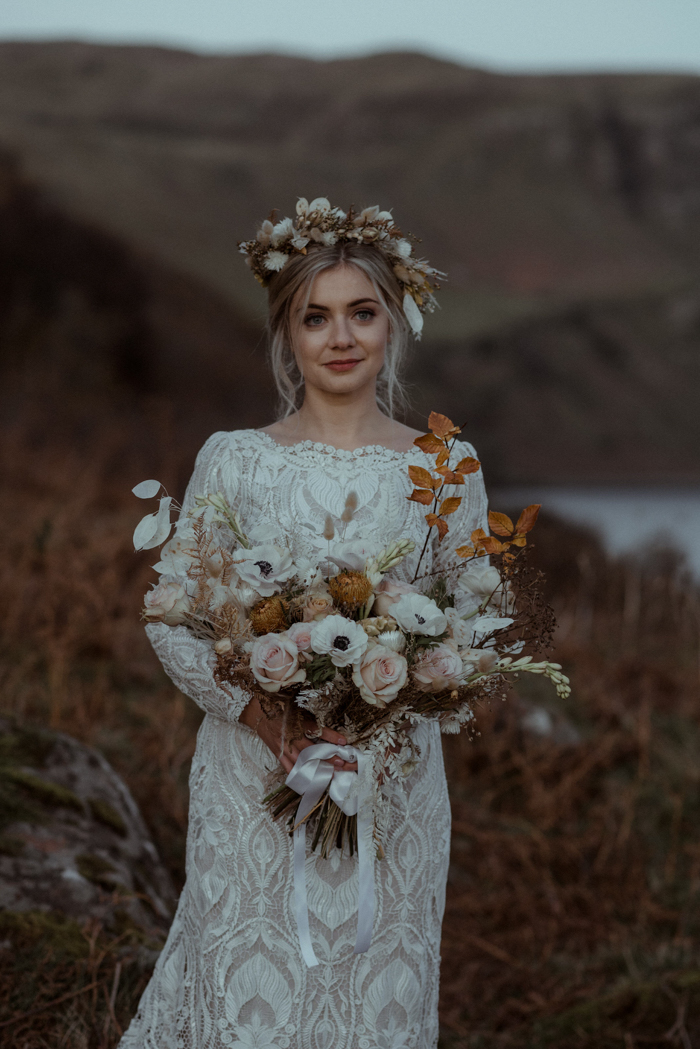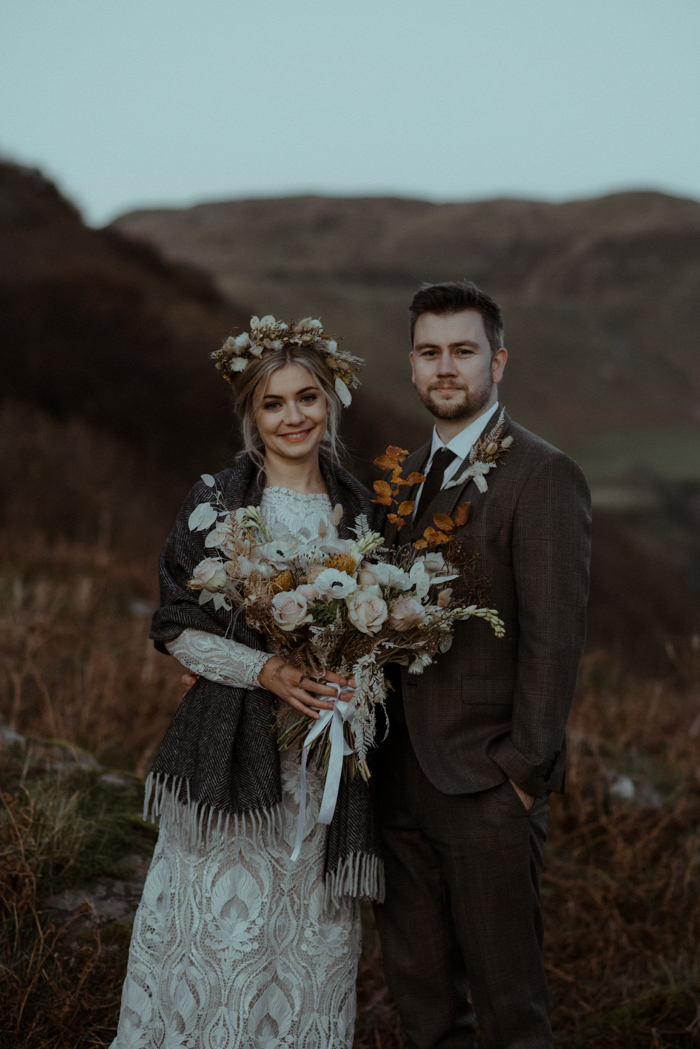 Involving Loved Ones In An Elopement 
As our families and friends couldn't be there we asked them to write a letter or card for us to open on the day. We sat in The Bosville having a drink and reading all these beautiful messages from our favorite people—it was like they were there with us. We just felt so loved. Our families also surprised us with a video of them all dressed up, each in their respective countries and homes, having a drink and giving us a wedding day message – it was so emotional. We were absolutely blown away!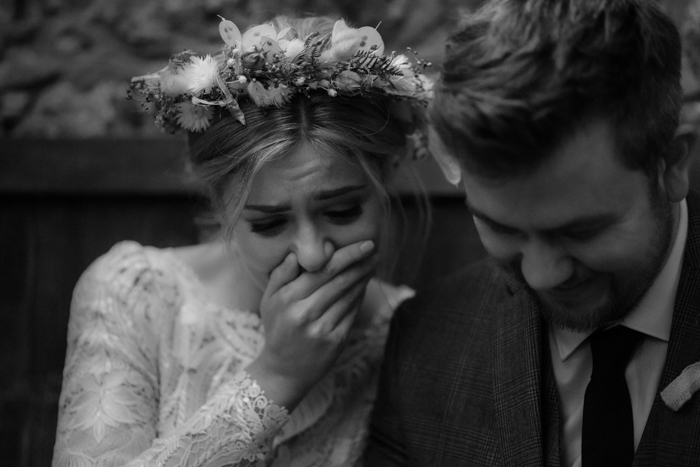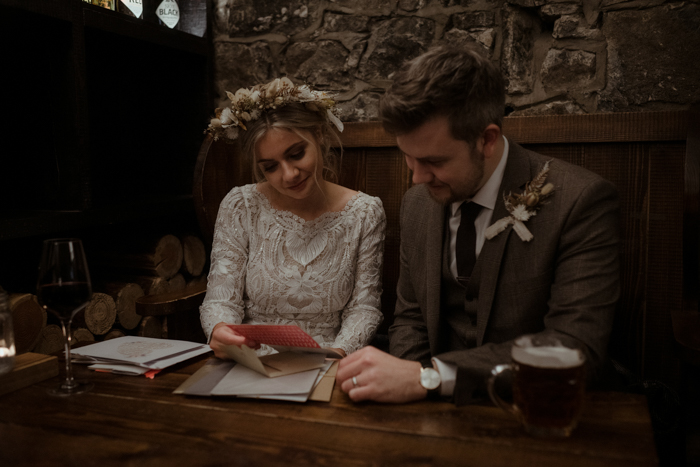 Congratulations to Angela and Mark on their beautiful Isle of Skye Elopement! If these sweet moments, captured by photographer The Caryls, have you dreaming of eloping but you don't know where to start—we've got you covered. Check out the ultimate elopement planning checklist that will kick-start your planning process and make it a breeze.
The post Gorgeous Mountain Range Isle of Skye Elopement appeared first on .