When two nature lovers tie the knot, you know the day is going to be full of incredible views and outdoor activities. Jessica and Jeff's Colorado mountain top wedding was that and then some. After falling in love with Telluride, the two knew they wanted to have a nontraditional summer camp style affair that celebrated their love for one another and the centennial state.
After welcoming 90 of their closest friends and family members at a cowboy-themed welcome party–complete with a saloon and cowboy hats–the pair said "I do" in a colorful and chic ceremony. With the help of planner and Junebug member K2 Event Co and florist Remi & Gold, the ski resort was transformed into a floral wonderland. The location was perfect for the summer.
As if that wasn't enough, their reception was complete with a barn, dancing under the night sky, hot chocolate chip cookies instead of a wedding cake, and a mini firework exit. We're so thankful that Jason & Daris were there to capture every whimsical detail. Get those Pinterest boards ready because you are not going to want to forget this one.
The Couple:
Jessica and Jeff
The Wedding:
Telluride Ski Resort, Telluride, Colorado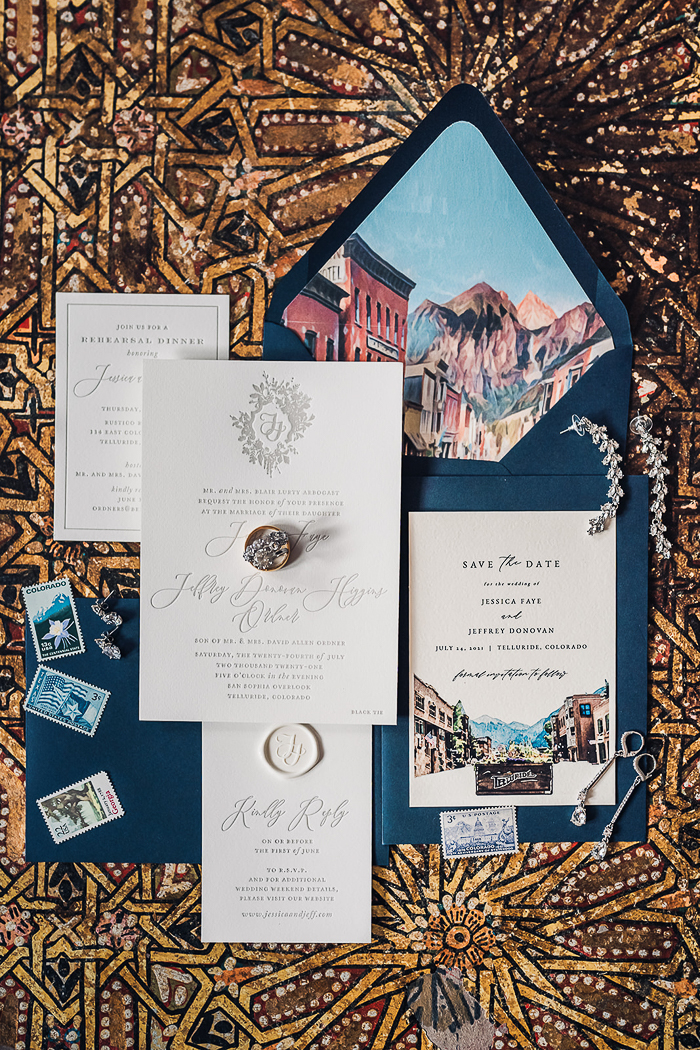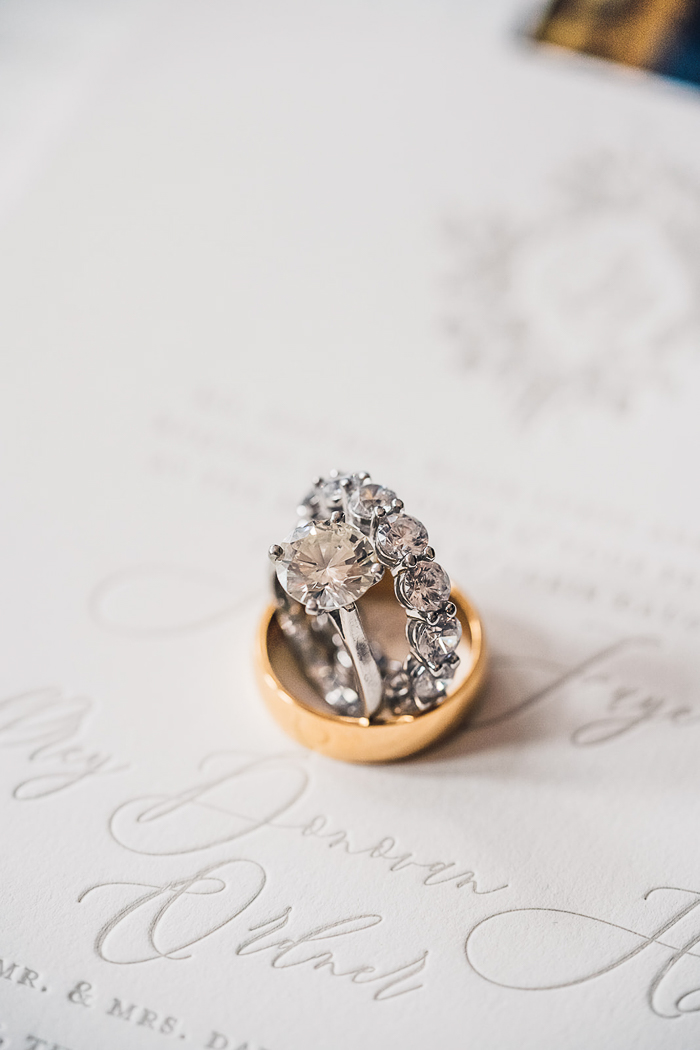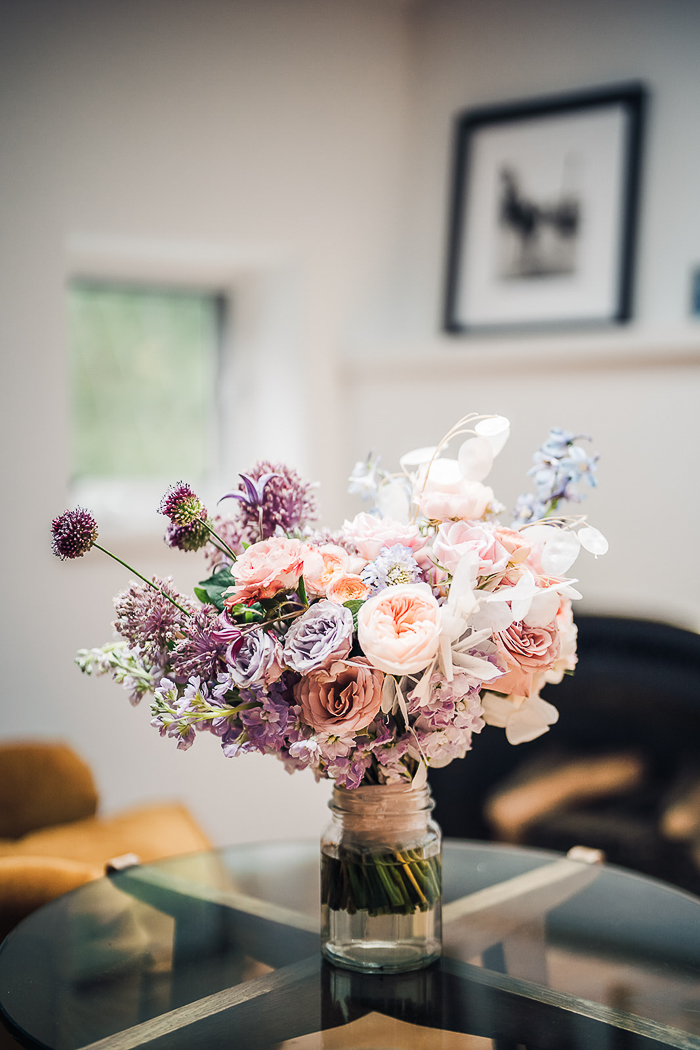 Three Different Bridal Looks
I wore a bohemian bridal look for the cowboy-themed welcome party. I took inspiration from a western bridal photoshoot created by Quigley Goode of 'Officially Quigley'. I fashioned my mother's 39-year-old wedding dress and turned it into the coolest fitted jumpsuit for our rehearsal dinner. It was so special to wear part of my mom's gown! And my wedding dress was the most fun, incredible dress I have ever worn. It is a modern Berta gown custom-made in Israel. It had a nine month production time and when I received it I still loved it every bit as much as when I first ordered it.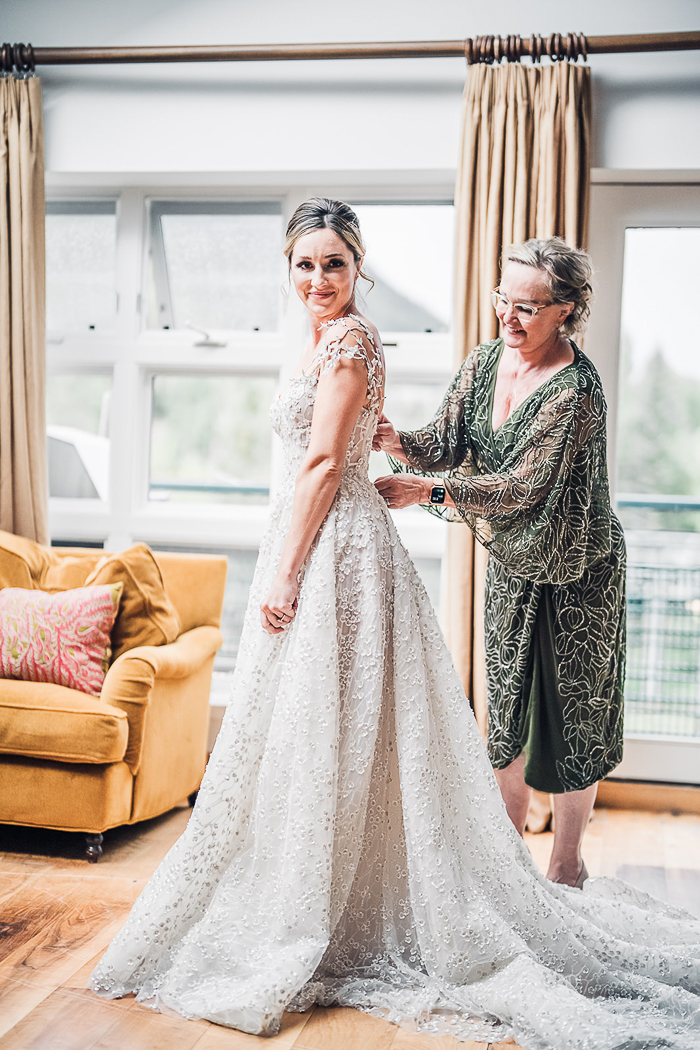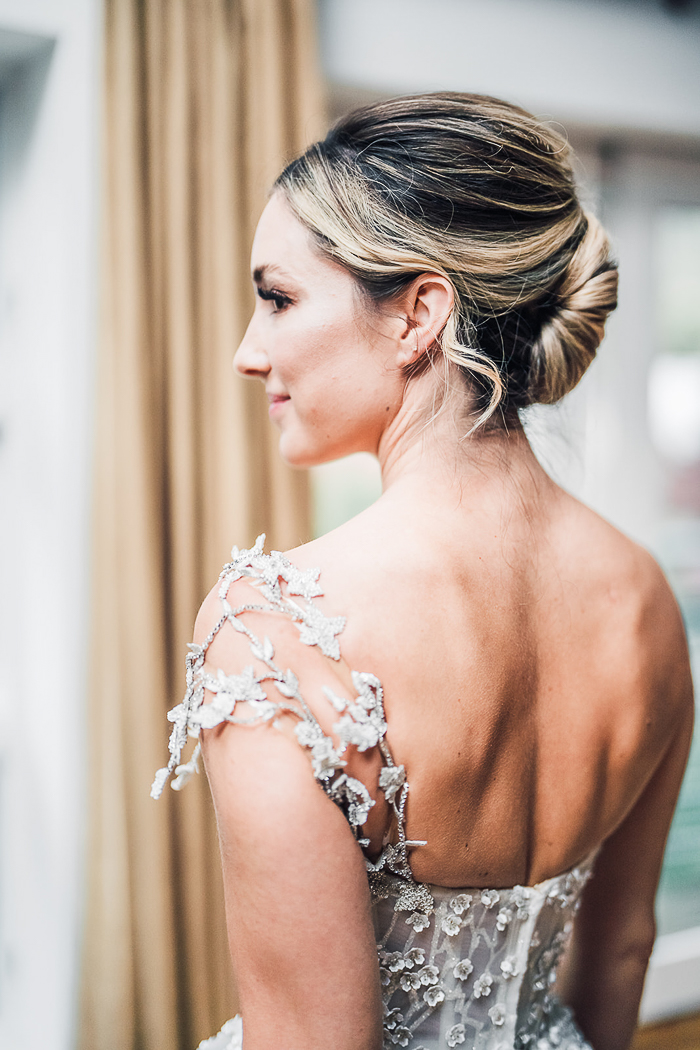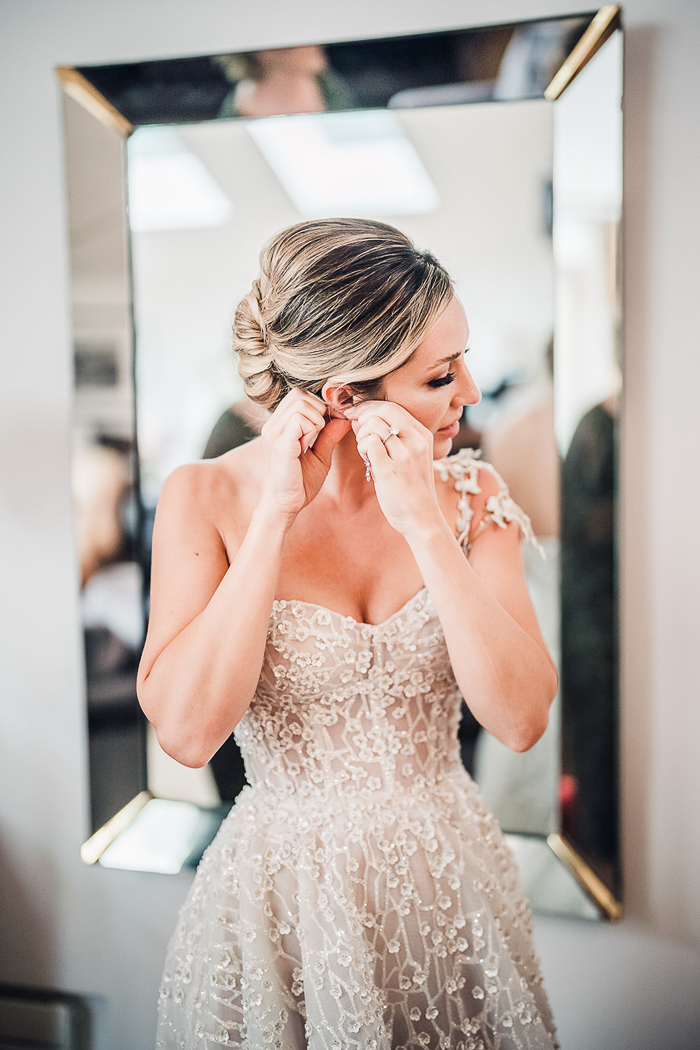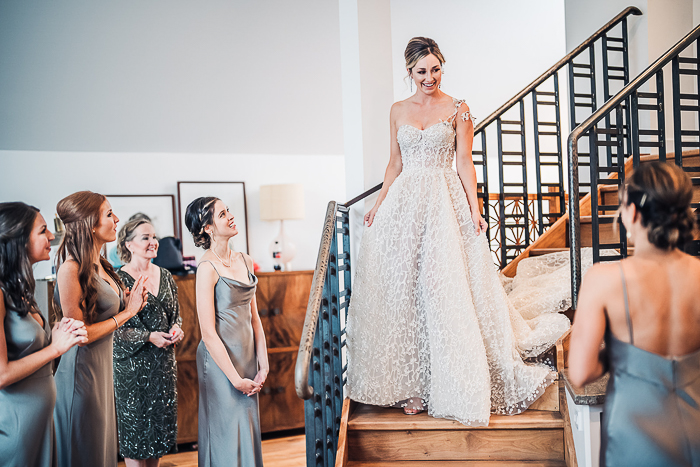 A Three Day Wedding Celebration
We wanted our wedding to feel like a retreat for our guests–three days of activities so that we had plenty of quality time with everyone, plus themed events to help everyone totally let loose and engage with each other. We also had all of our guests stay in the same hotel so that we could have breakfast together to enjoy each other's company every moment. It truly felt like a beautiful, playful, all-planned-out summer camp!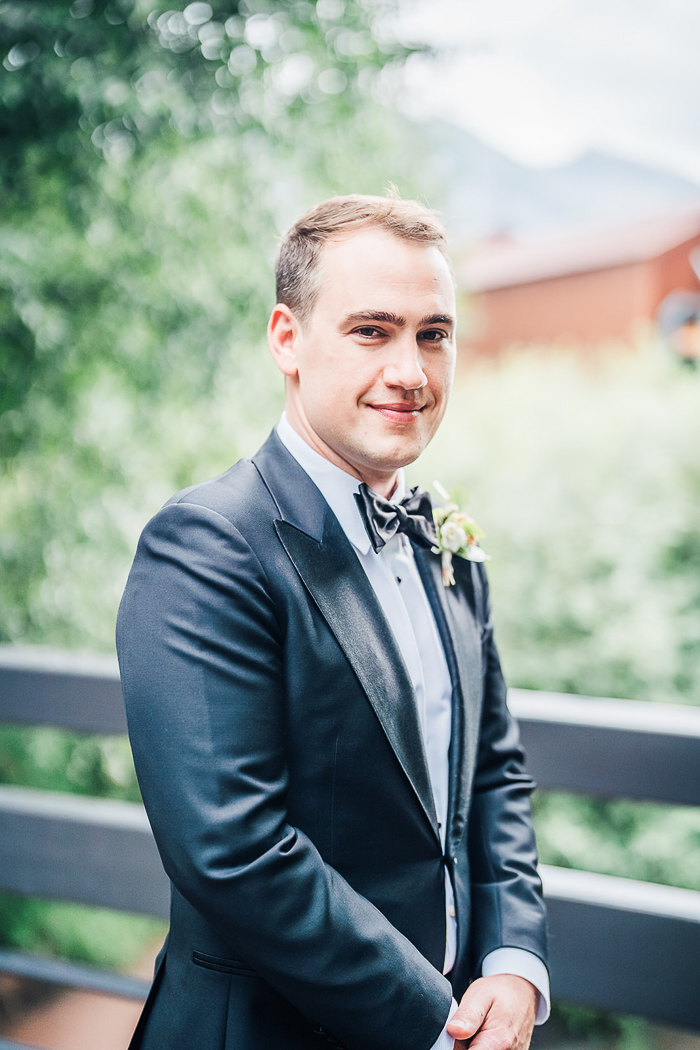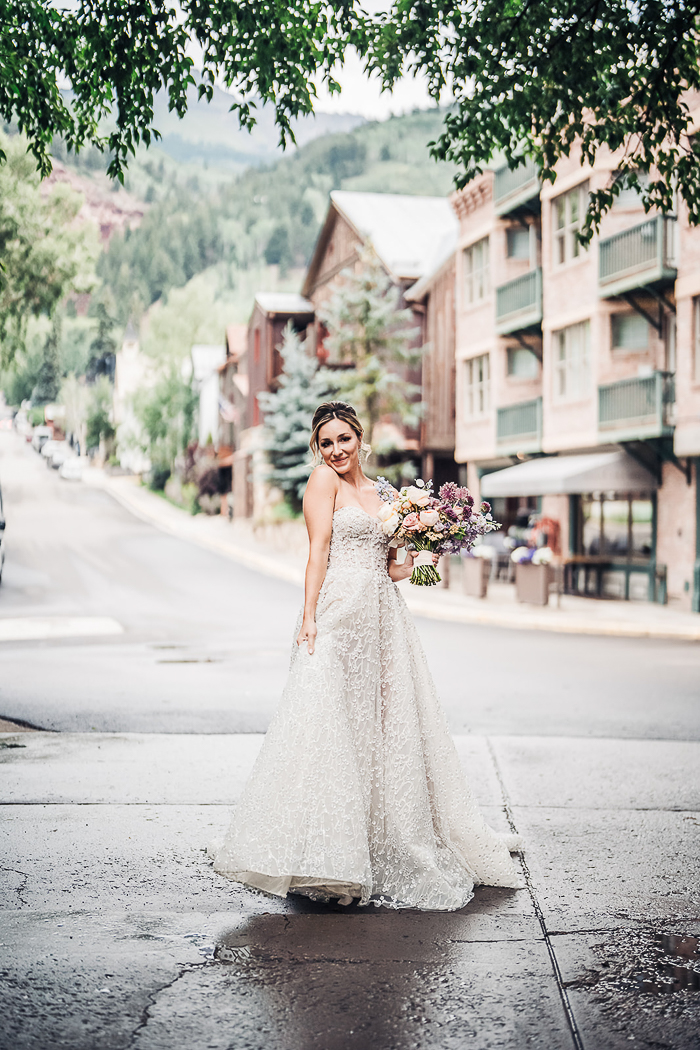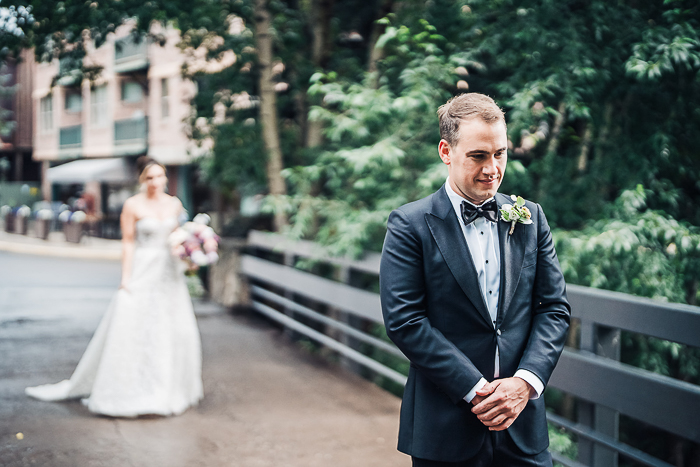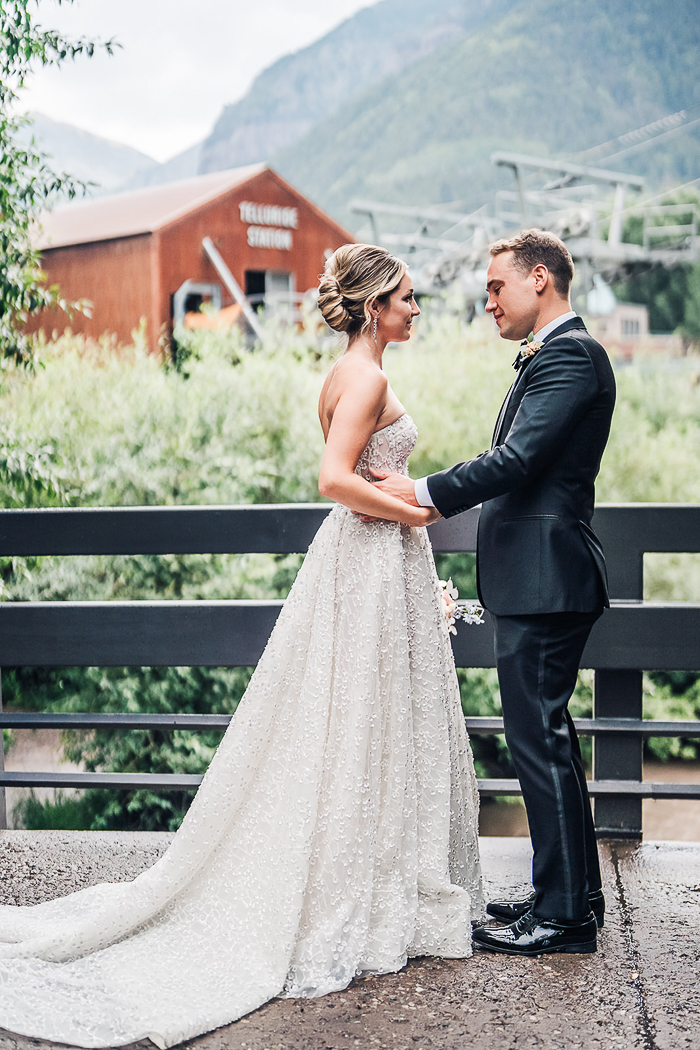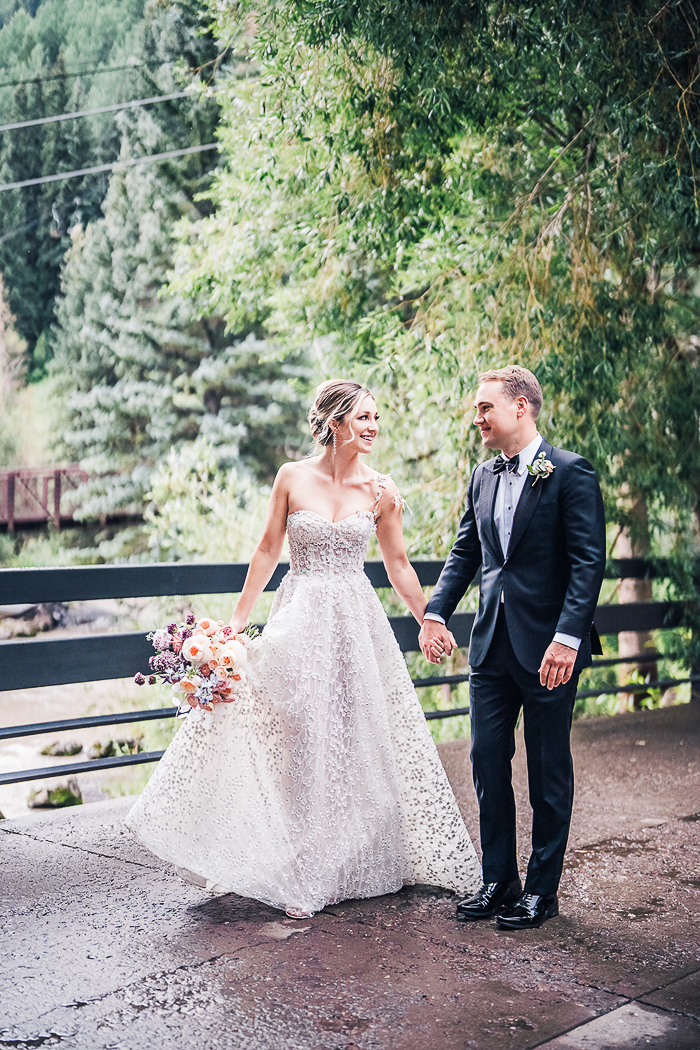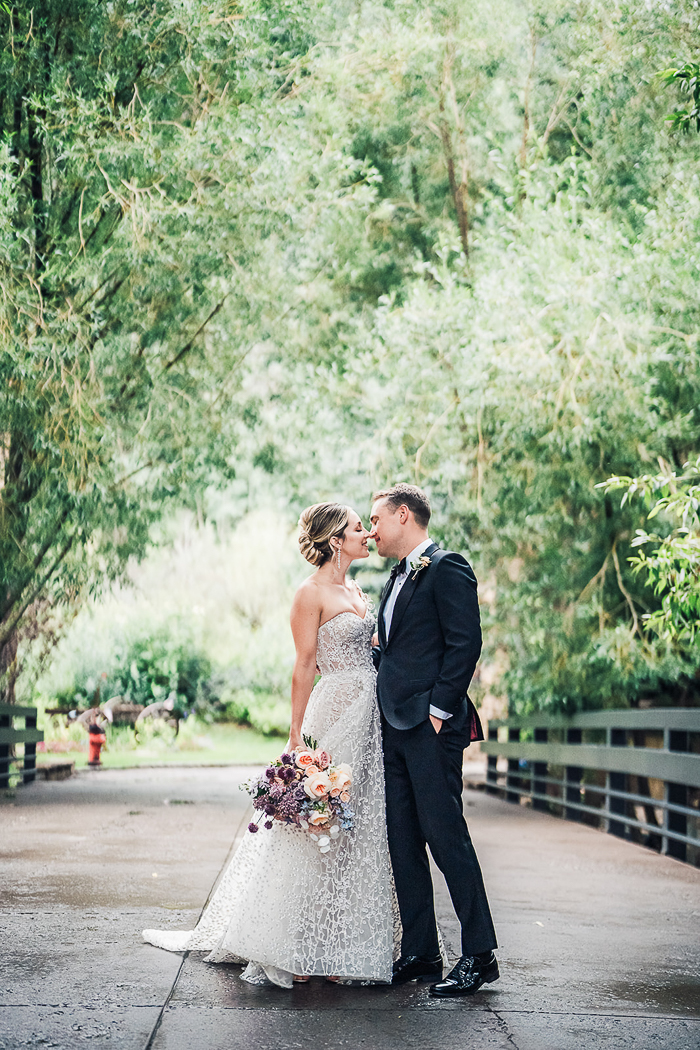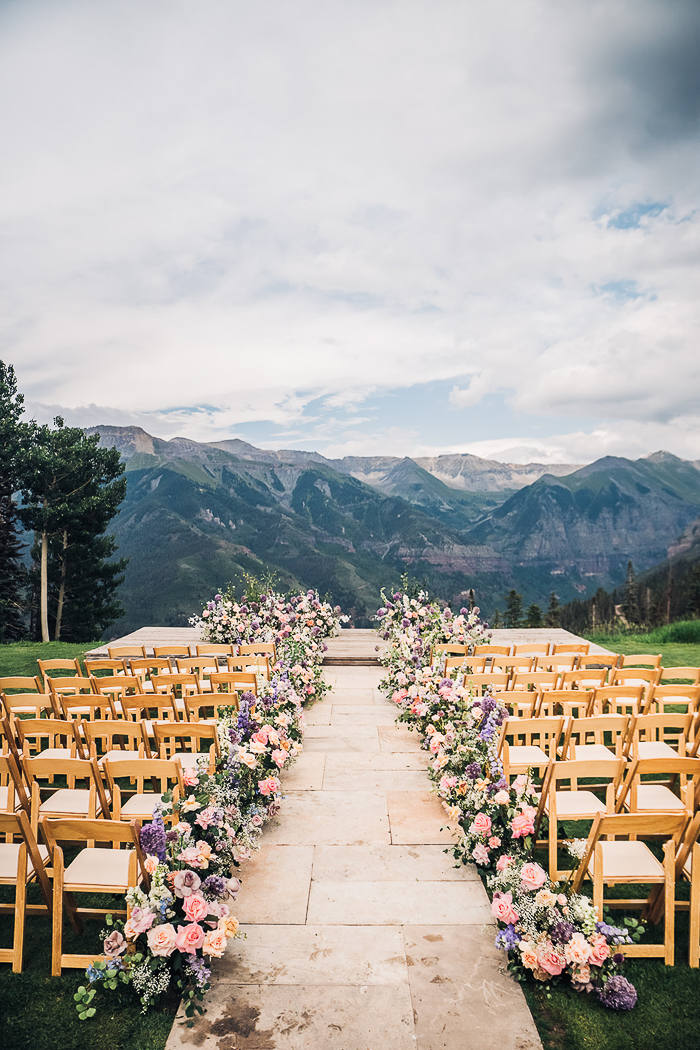 An Unexpected Health Scare Before The Big Day
My dad was unexpectedly in the hospital one week before the wedding–across the country, too. It looked like he might not be able to make it to the wedding in person, which would have been heartbreaking. Family members were trying to console me with the idea of doing a second ceremony later with him rather than postponing. I just couldn't imagine not having him there, so it was extra special to walk down the aisle beside him after that health scare.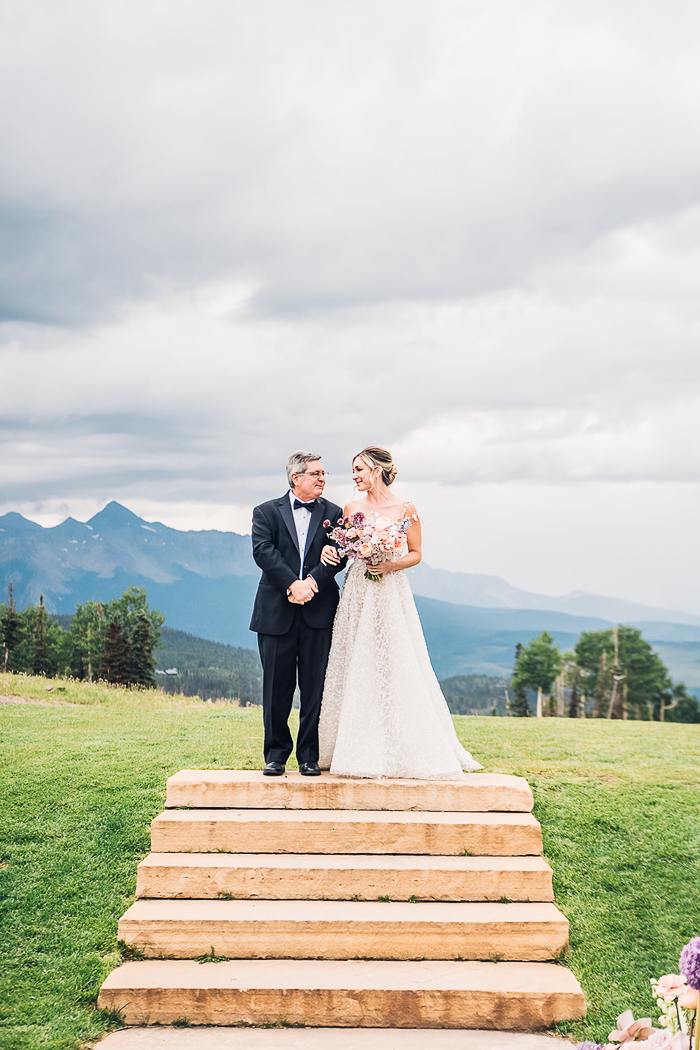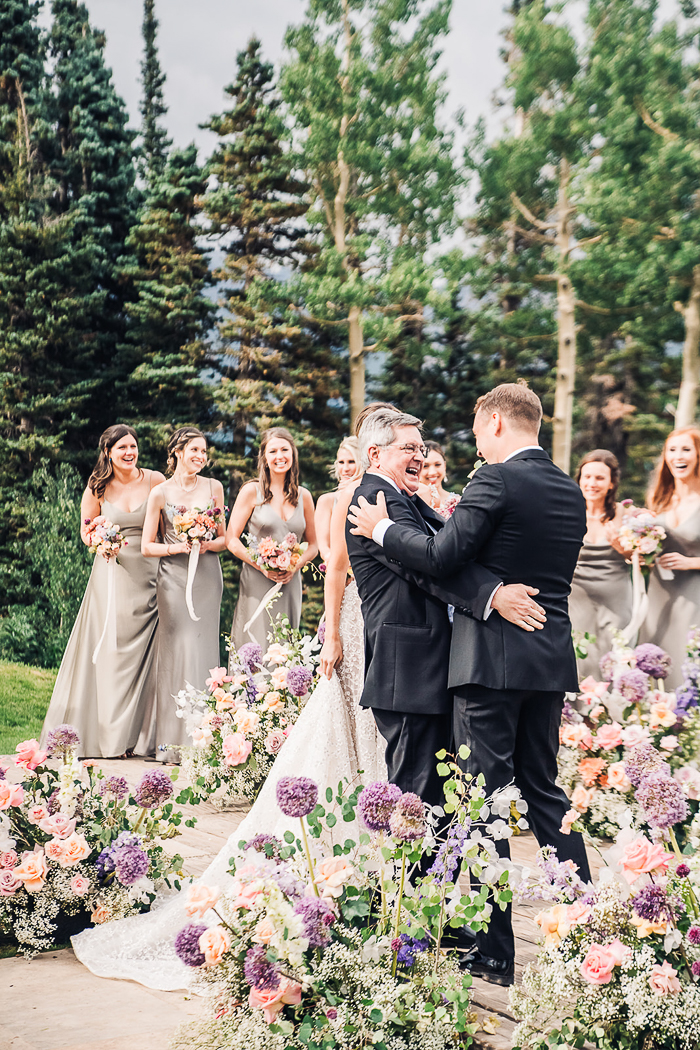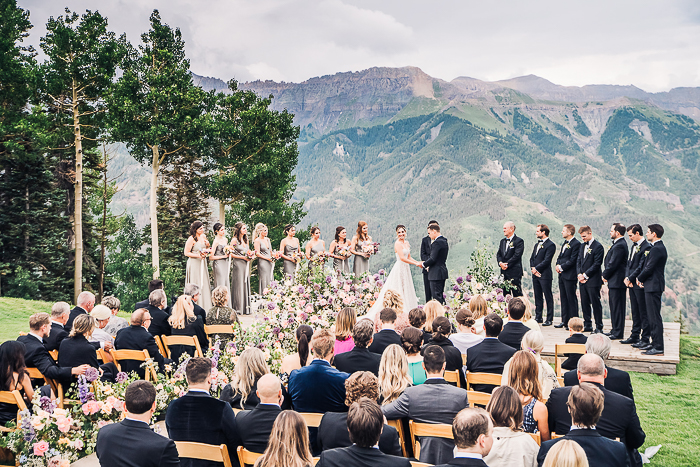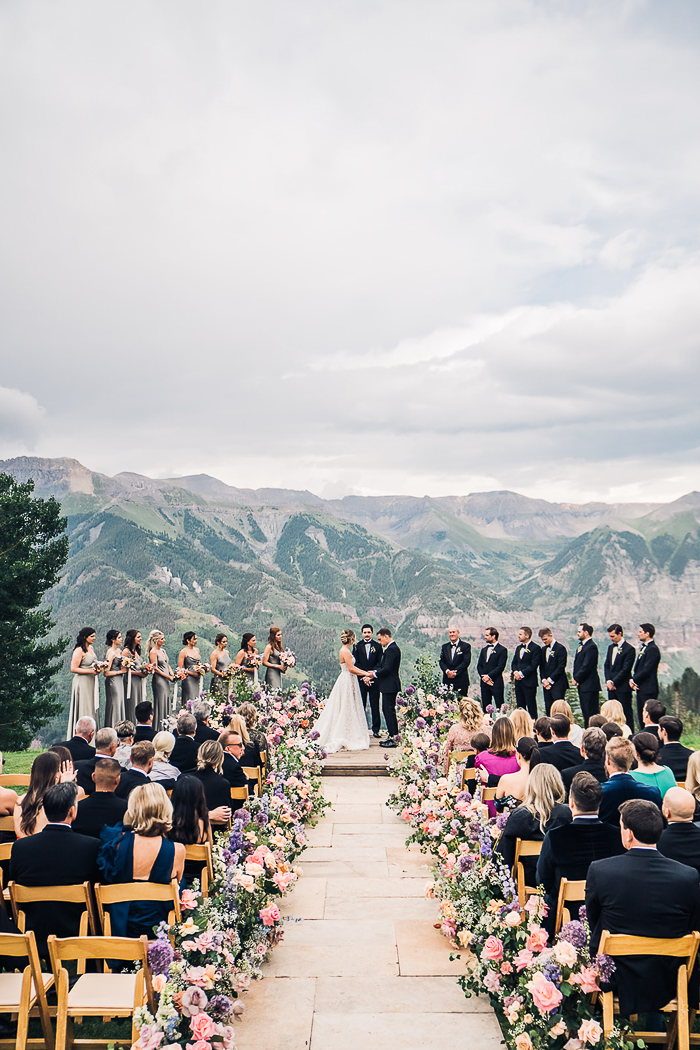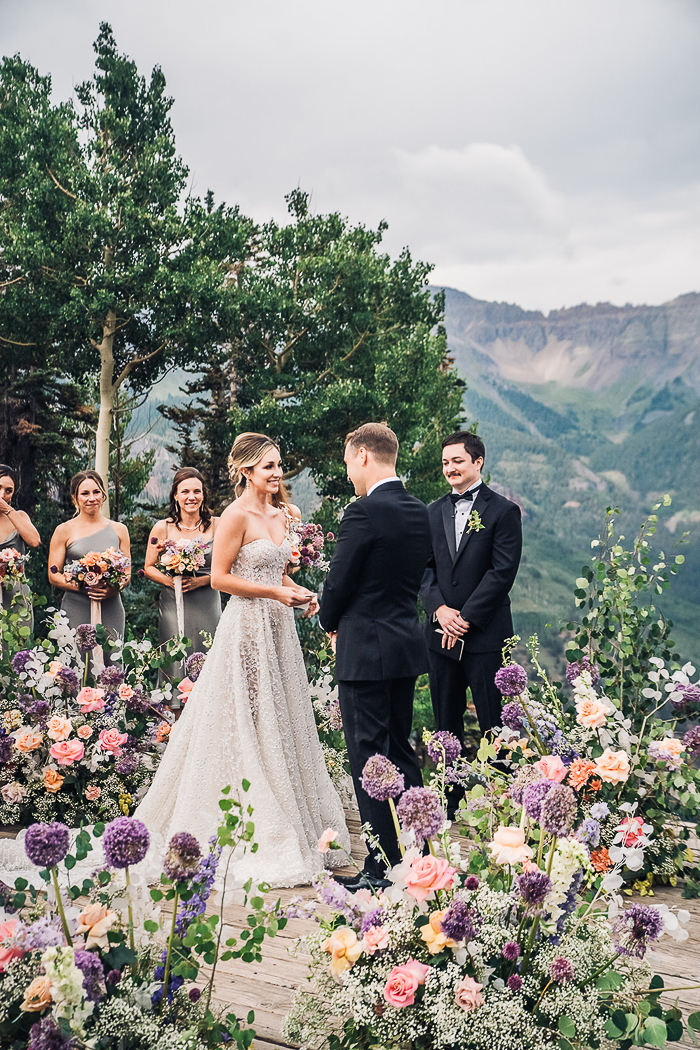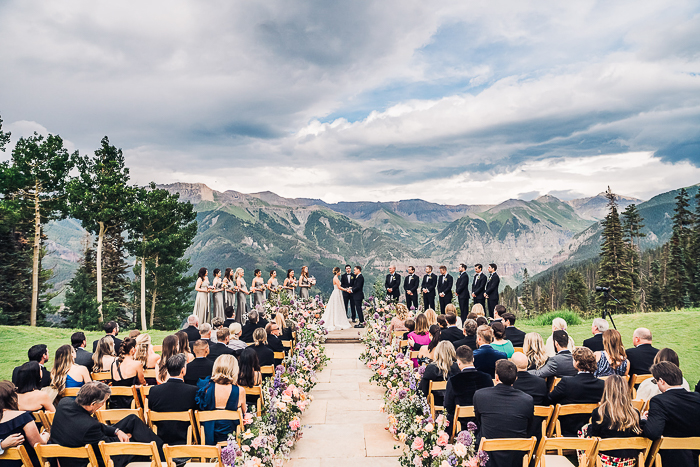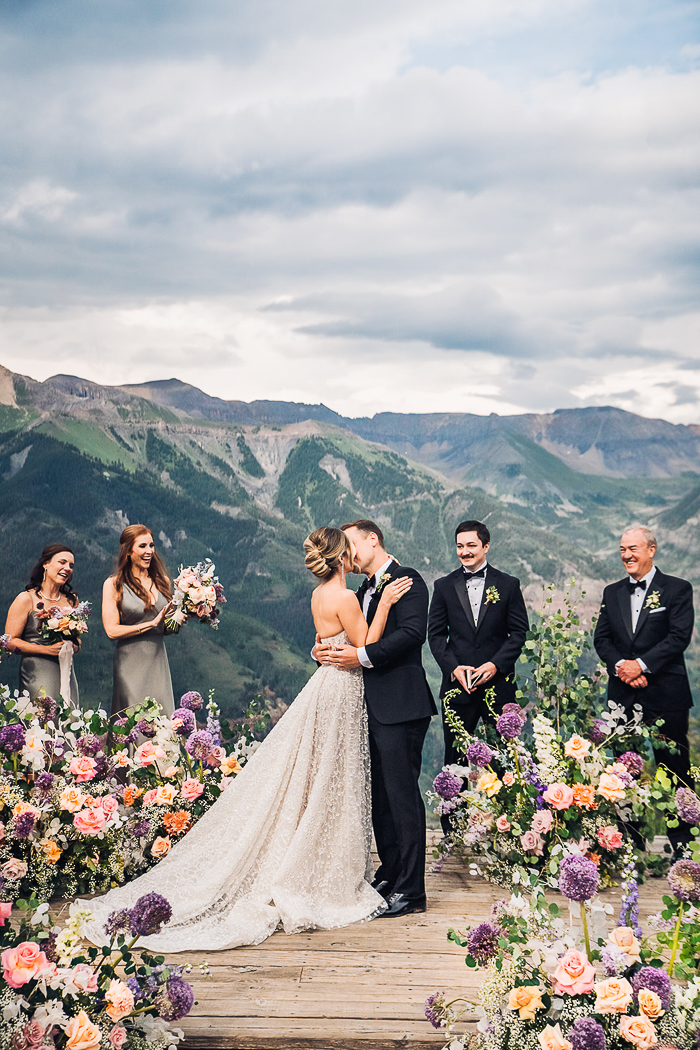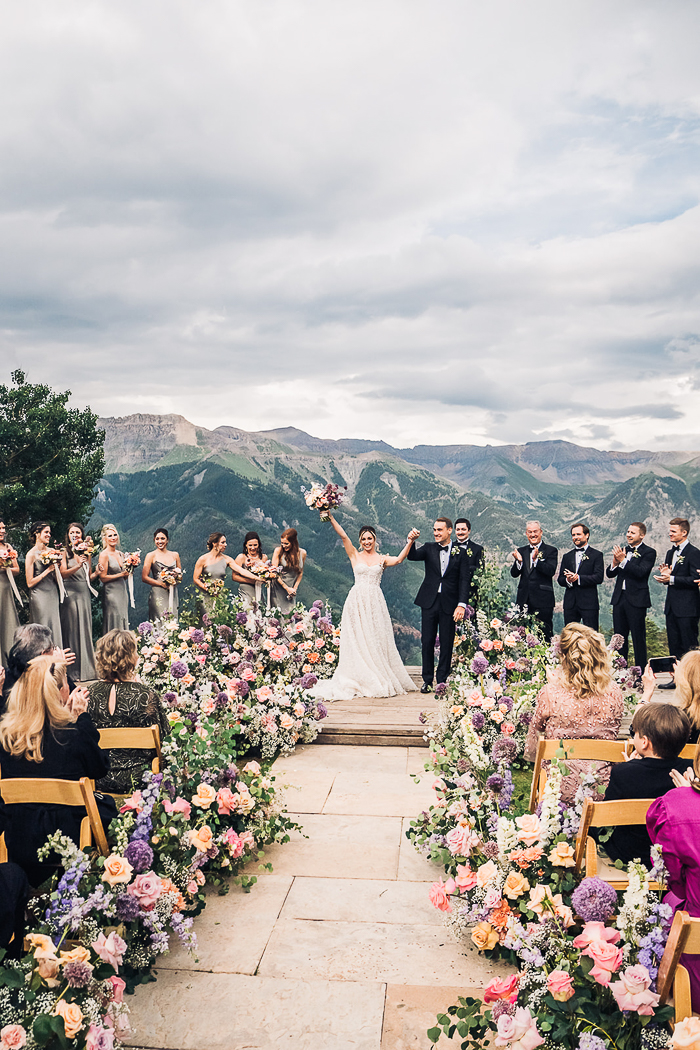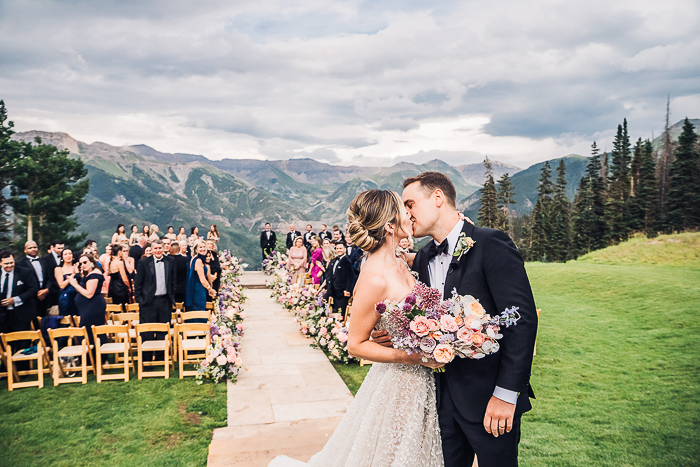 A Cowboy Themed Welcome Party & Elegant Wedding
Telluride has a great western and cowboy energy so we chose to capitalize on that with an authentic cowboy chic welcome party at the Last Dollar Saloon. With the photobooth, cowboy hats, bolo ties, saloon-style bar, and my bohemian bridal look, our dream was achieved. For the wedding day, the vibe was much different–with the most delicate and whimsical florals sprinkled in front of the grand, breathtaking mountain views. We had all of the guests ride the ski gondola up to our mountain-top ceremony. Jeff and I love to ski together and I always wanted to have our guests ride up in the gondola for our ceremony. To me, there is no view more spiritual than the mountains. It was just breathtaking!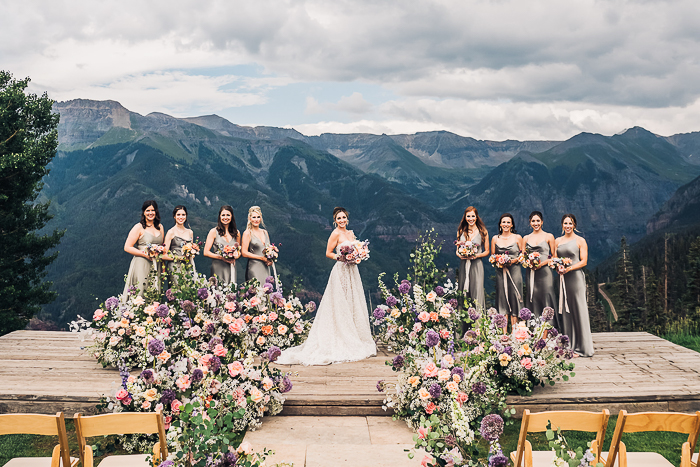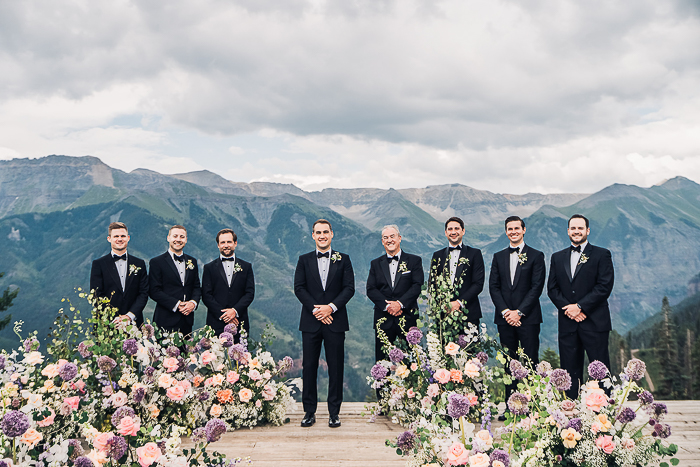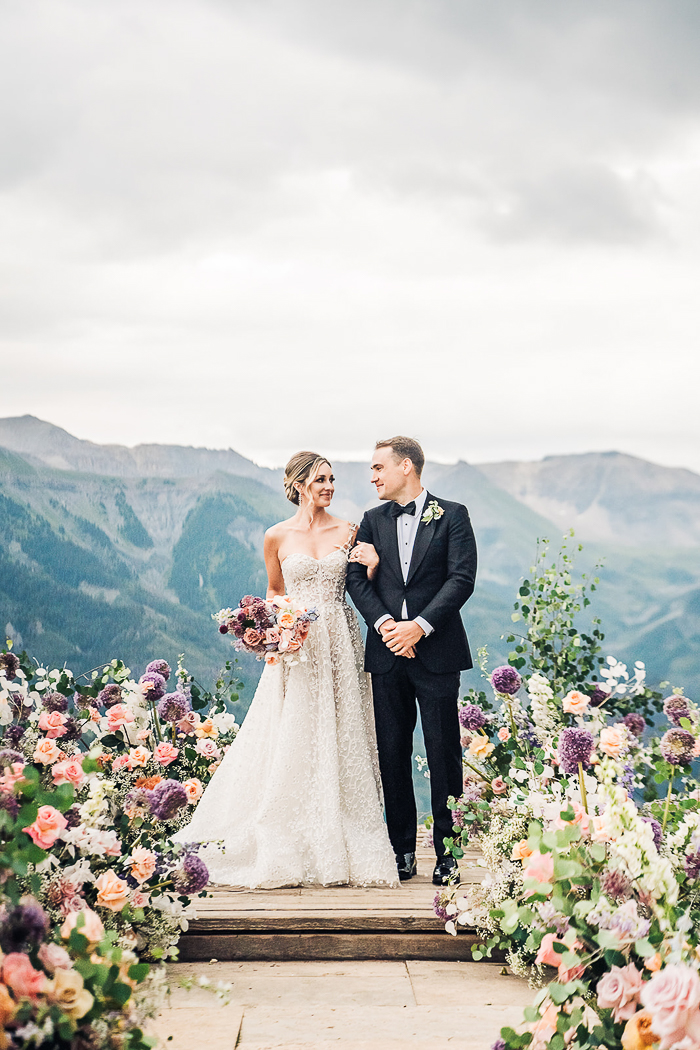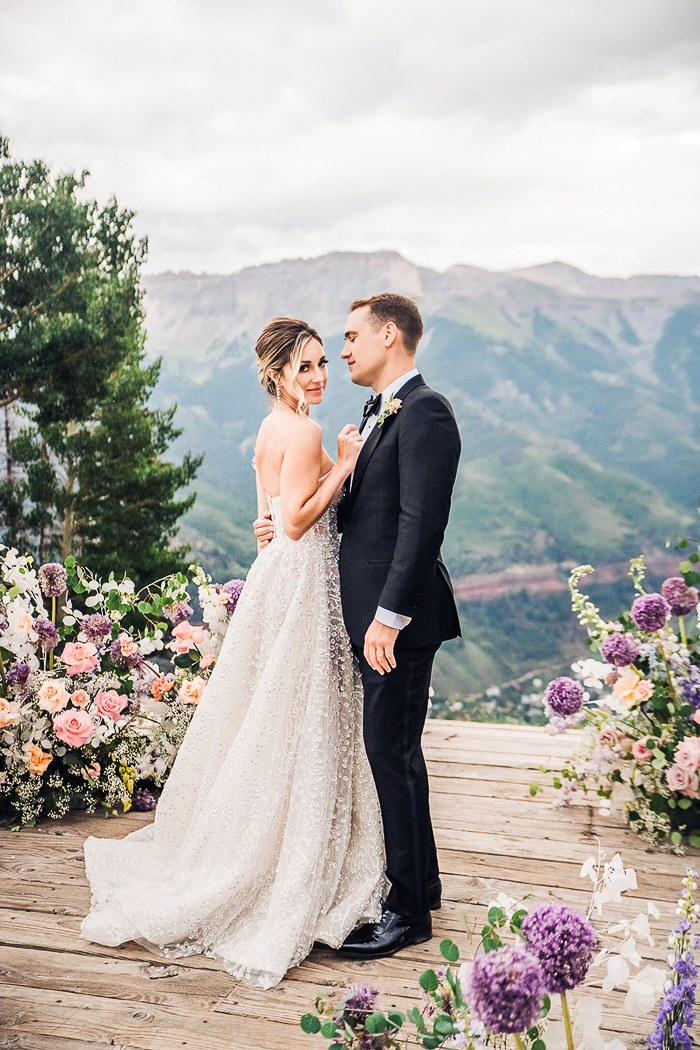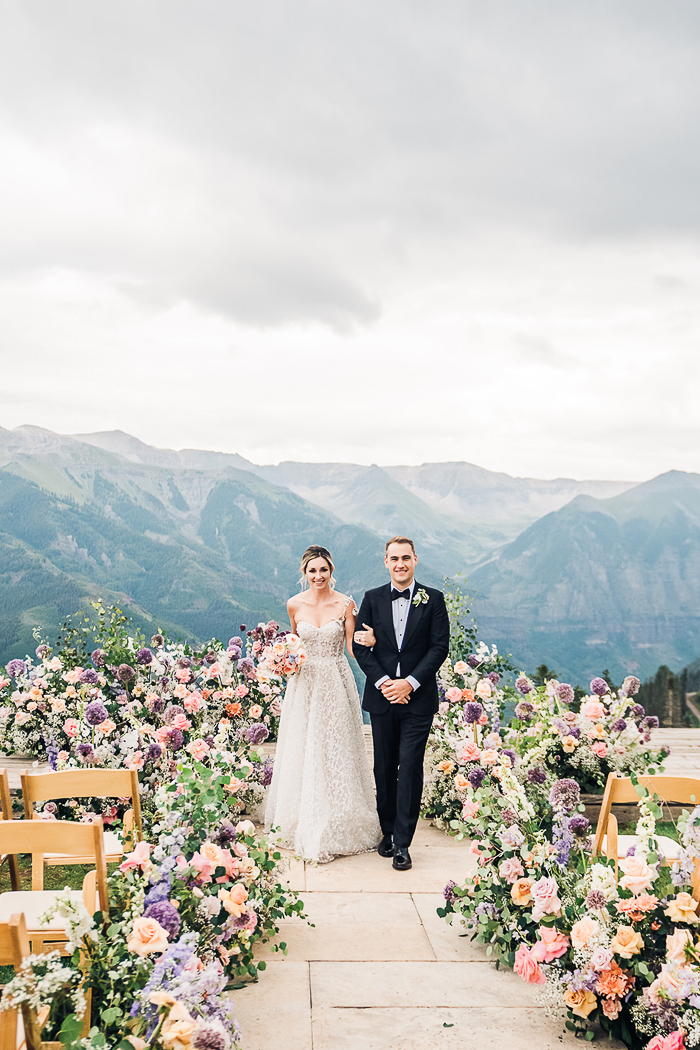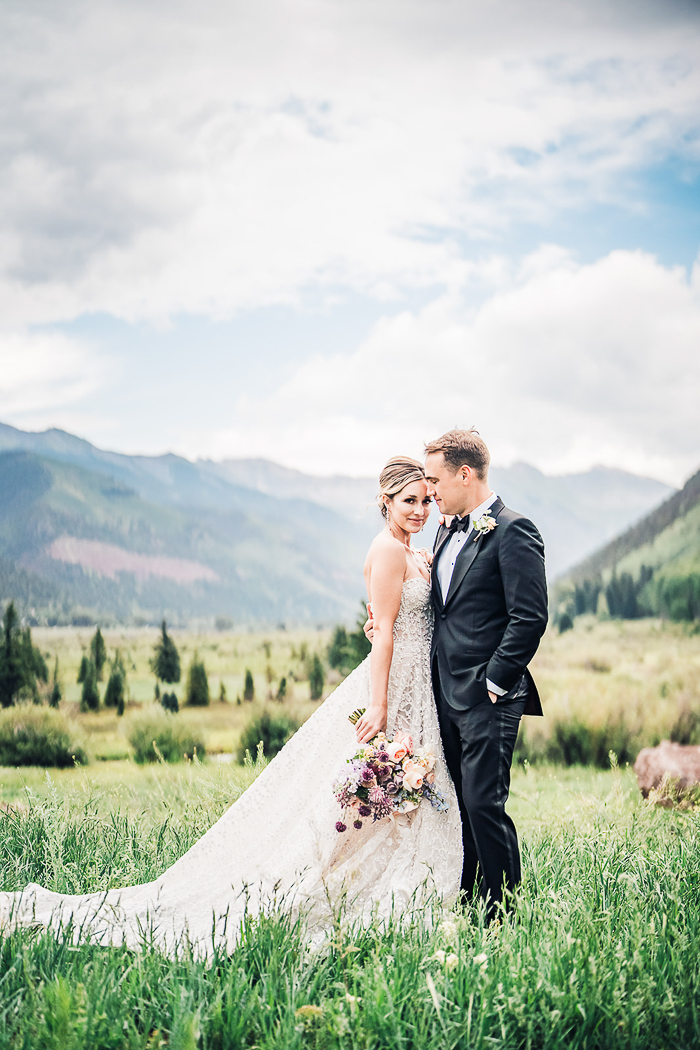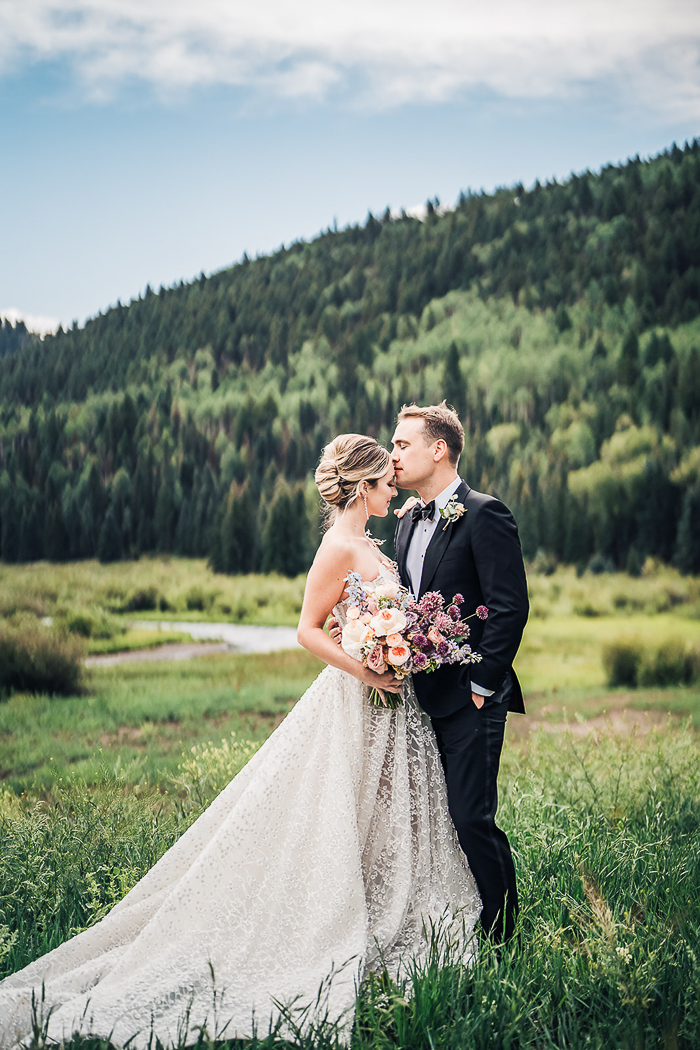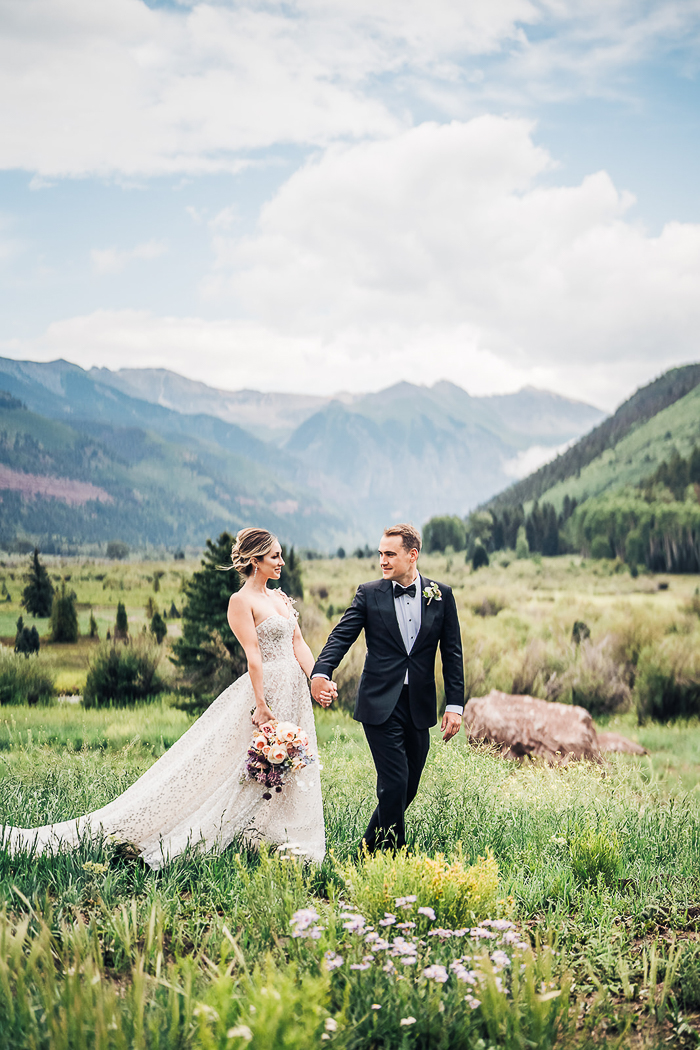 Skipping Traditions At The Mountain Top Wedding
I am proud that Jeff and I did not spend any time on traditional things that we felt were unnecessary for us. We did warm chocolate chip cookies instead of a cake, so we didn't need to take time to make a production of cutting the cake. We didn't do any floral on the tables, wedding favors, or an awkward garter-belt event. We each picked our 'splurge' items with our wedding budget in mind and then tried to keep everything else minimal.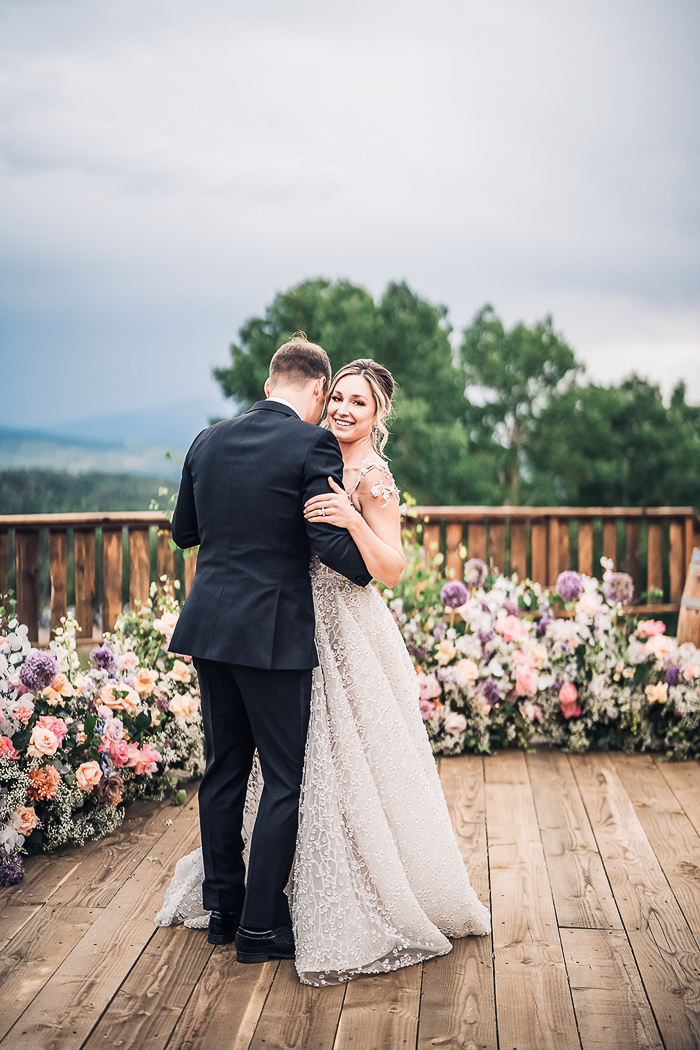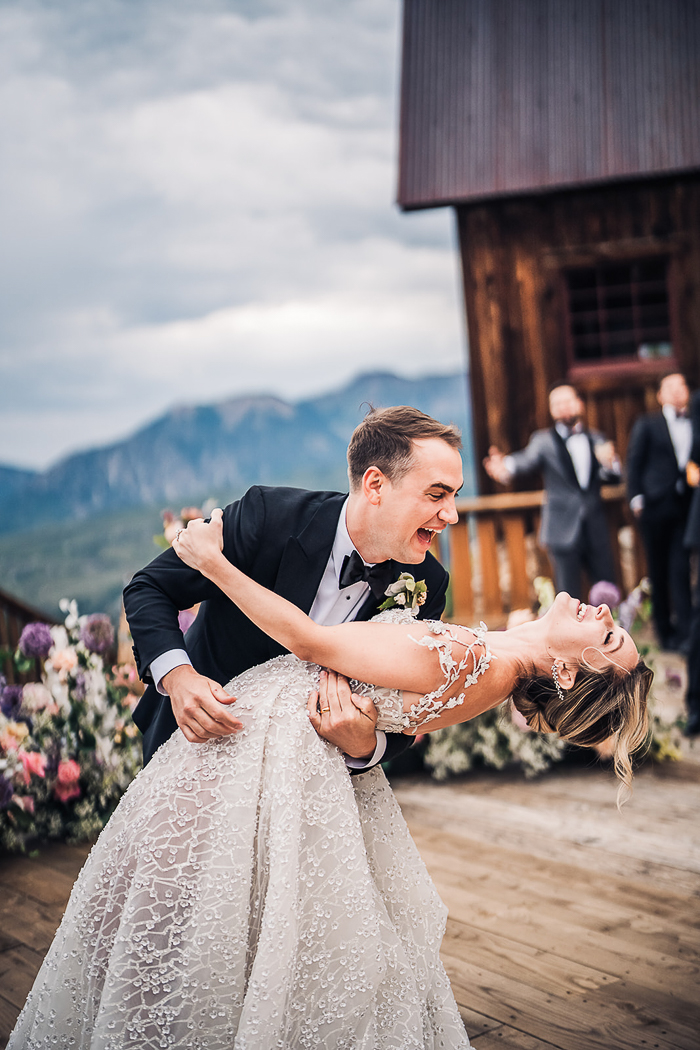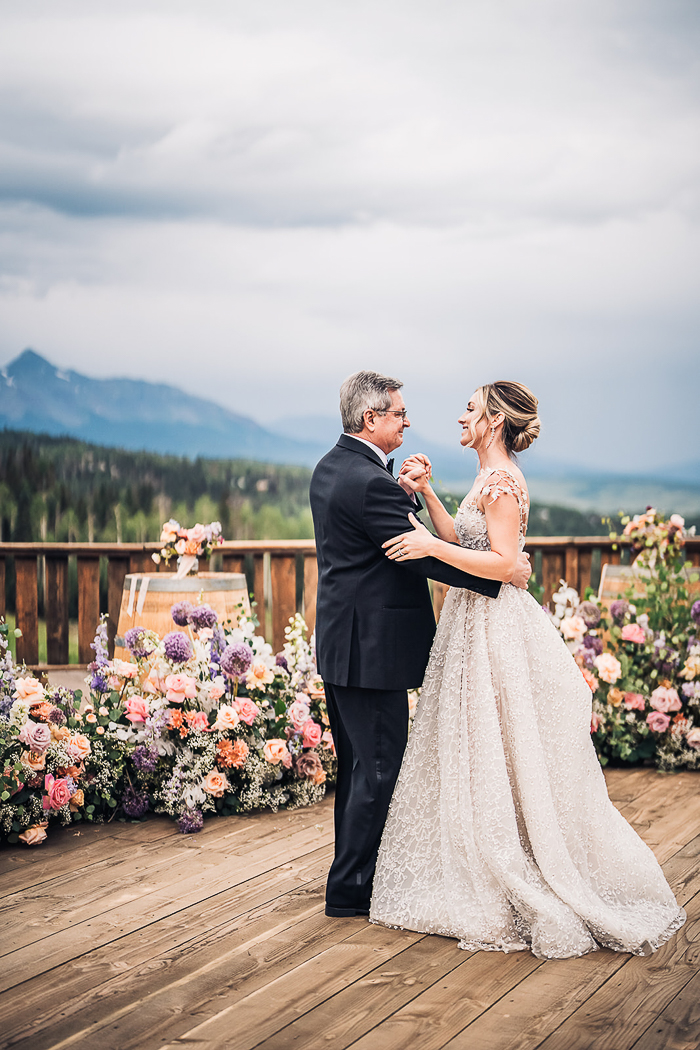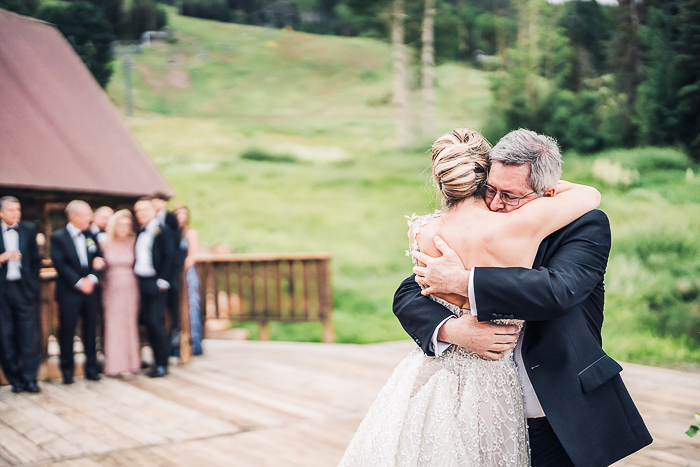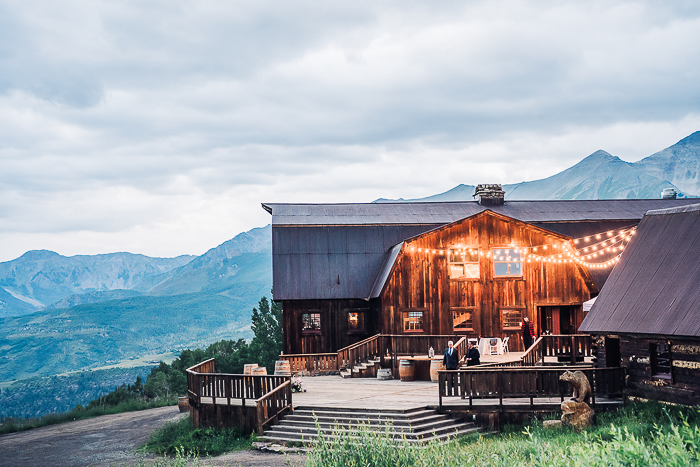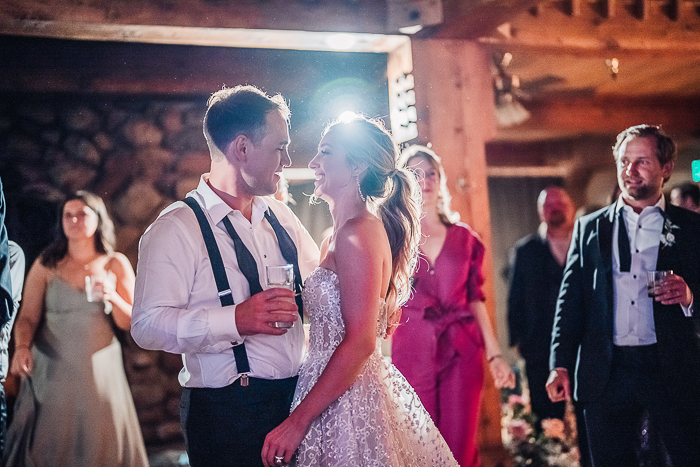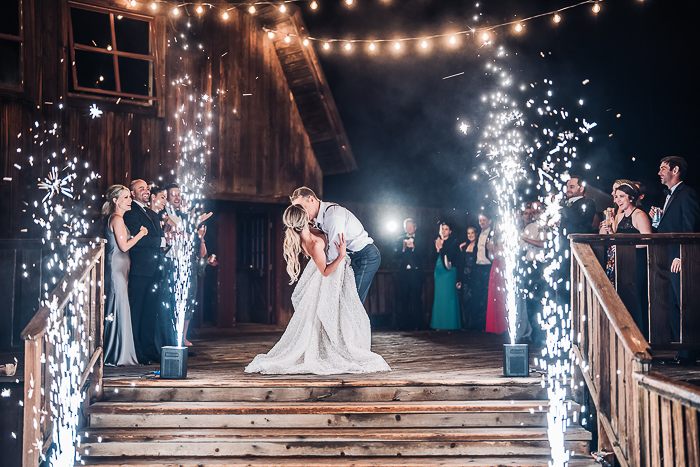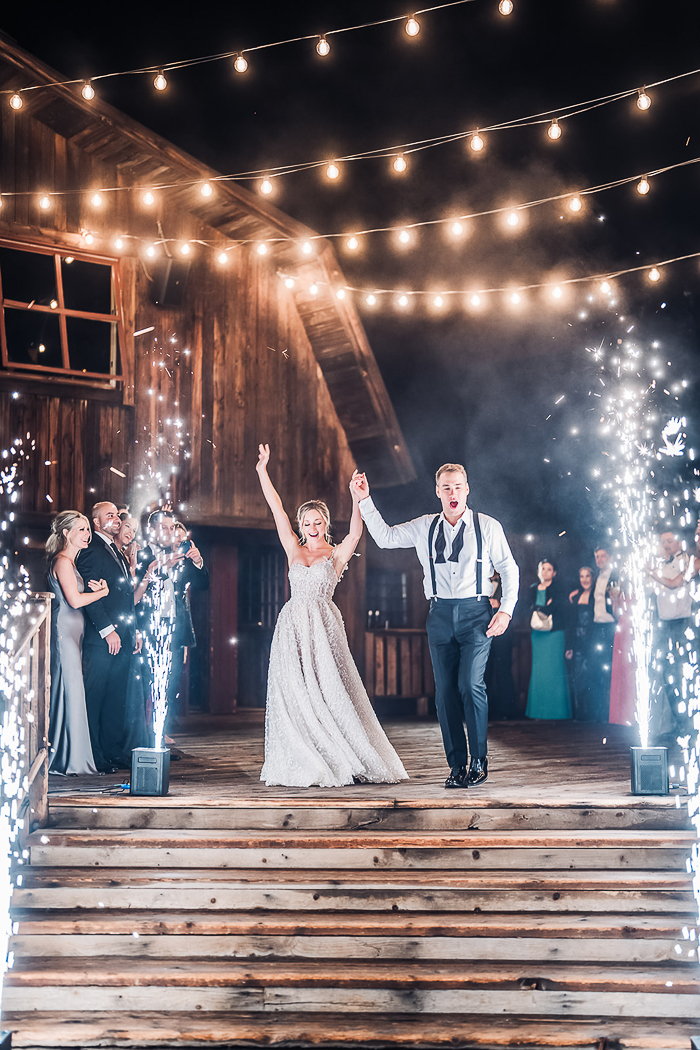 Congratulations again to Jessica and Jeff on their Colorado mountain top wedding! We're so thankful that Junebug member K2 Event Co helped the newlyweds plan their special day. And a big thank you to Jason & Daris for capturing every well-executed detail