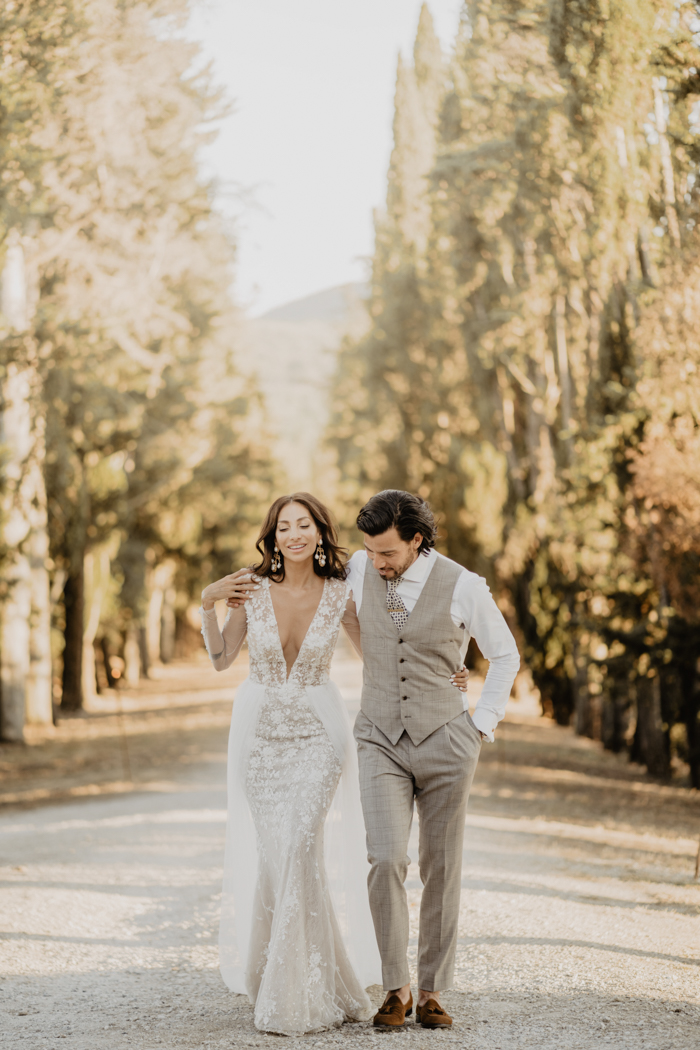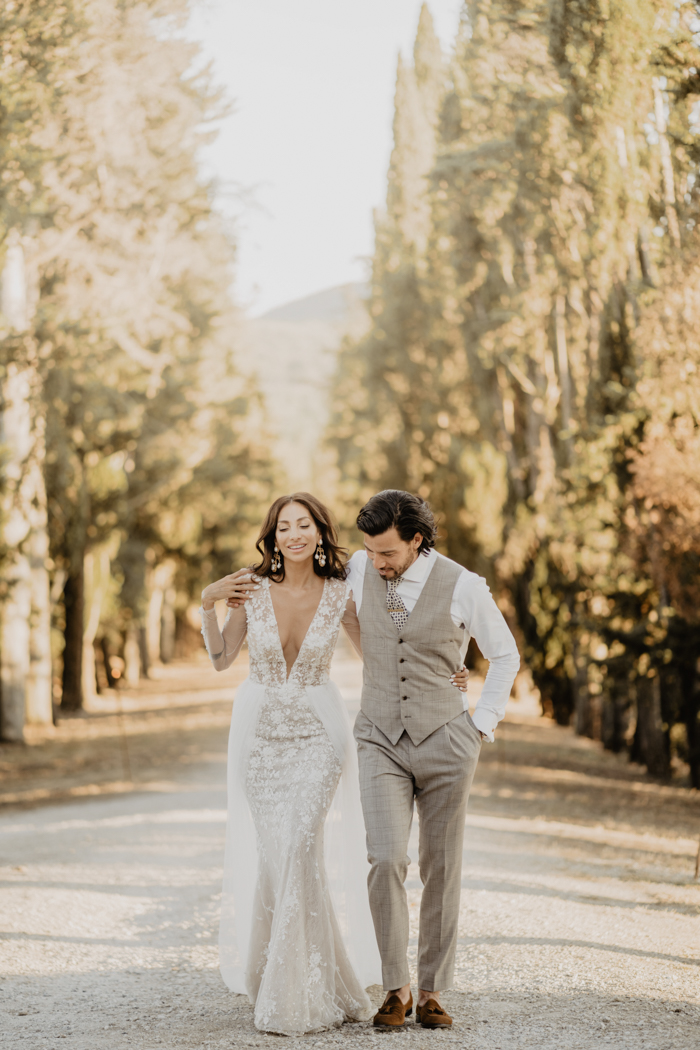 Bringing magic to life is no easy task, but wedding planner House of Luce did just that for Samara and Stephen. This Borgo Stomennano Italy wedding was every bit of luxury with baroque touches, a dark red color scheme, a flowing champagne tower, and sparkling chandeliers. There was even a bit of Dolce and Gabbana— and that is always a fabulous addition to any wedding.
While keeping the theme Italian-chic, this wedding is a Pinterest board in itself. Thankfully, David Bastianoni captured every inch of it. Don't let us spoil all the fun—  keep scrolling to be whisked away into by this gorgeous wedding at Borgo Stomennano.
The Couple:
Samara and Stephen
The Wedding:
Monteriggioni, Tuscany, Italy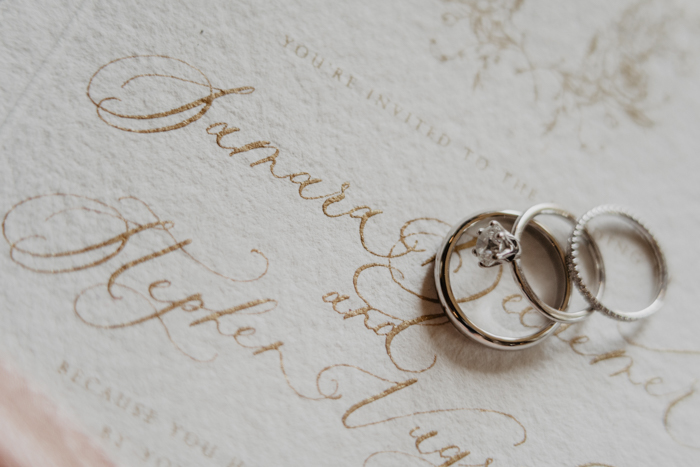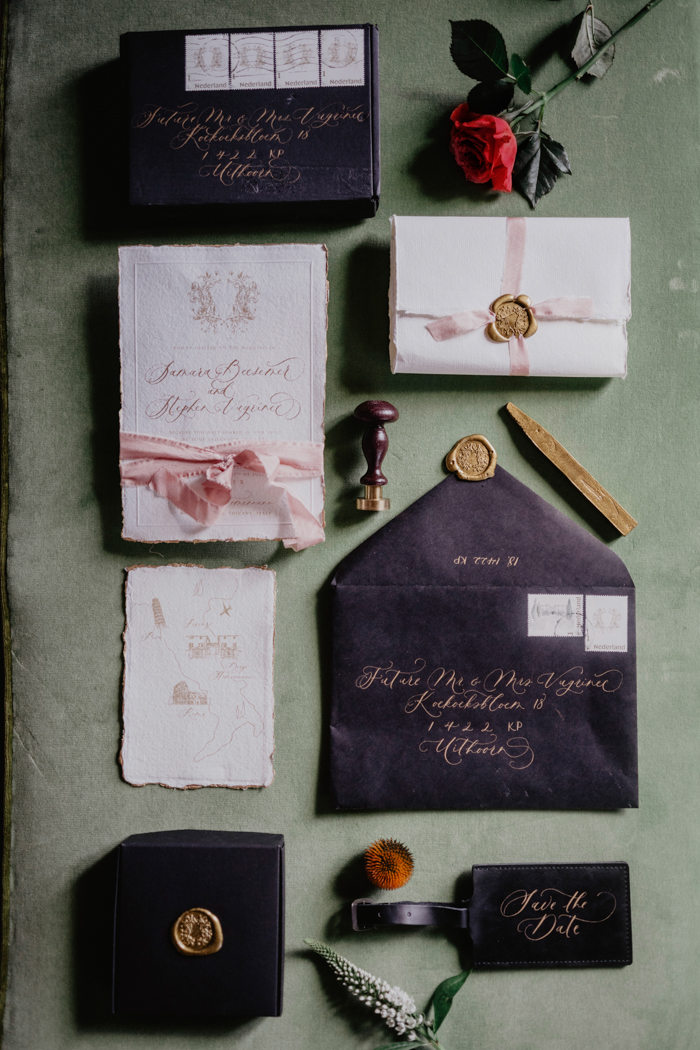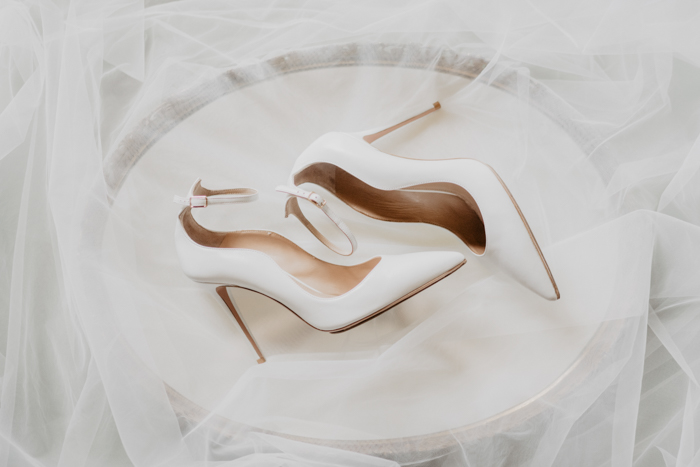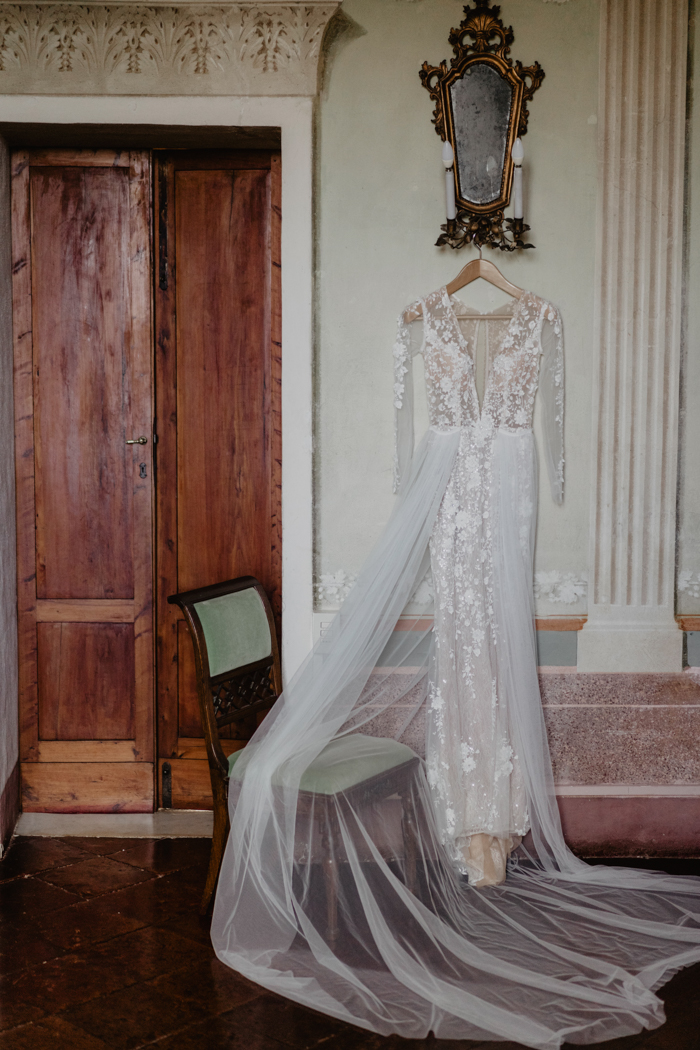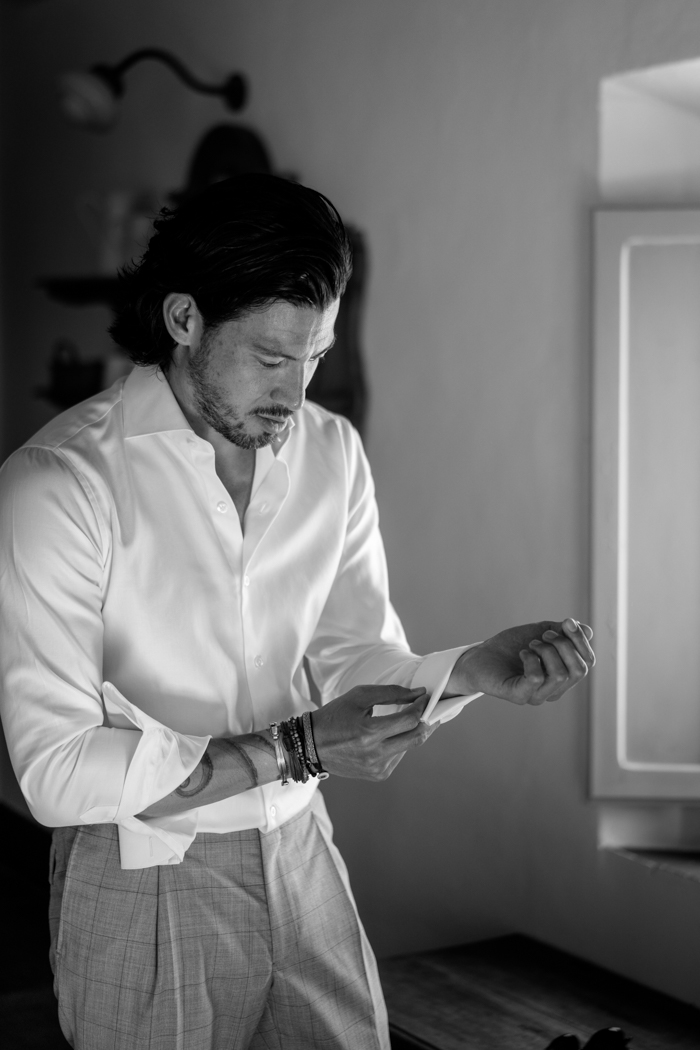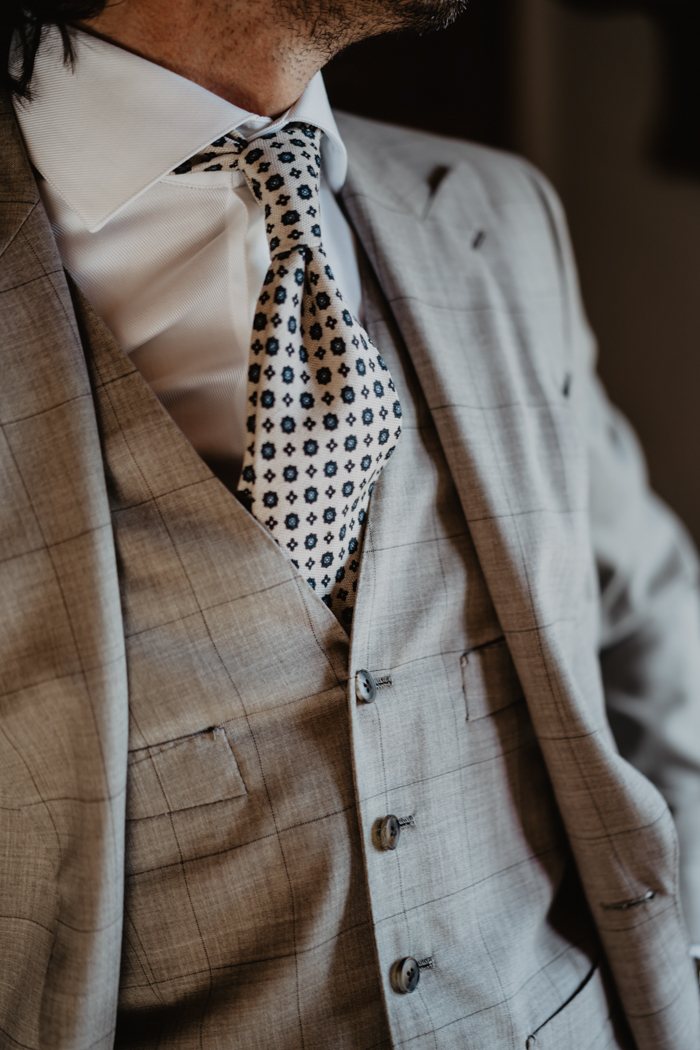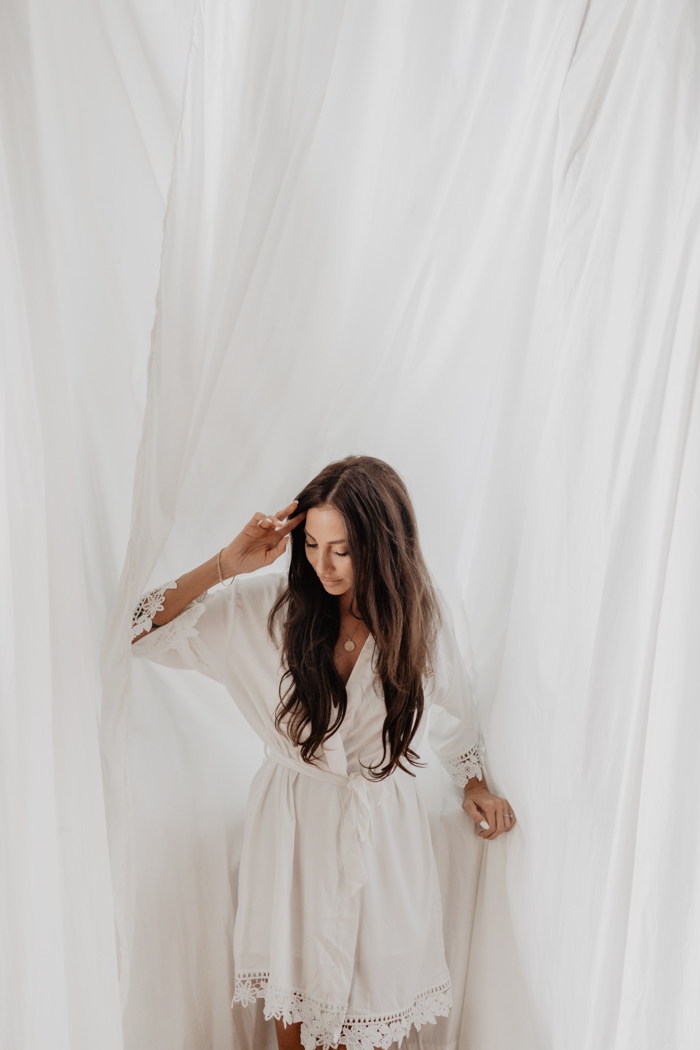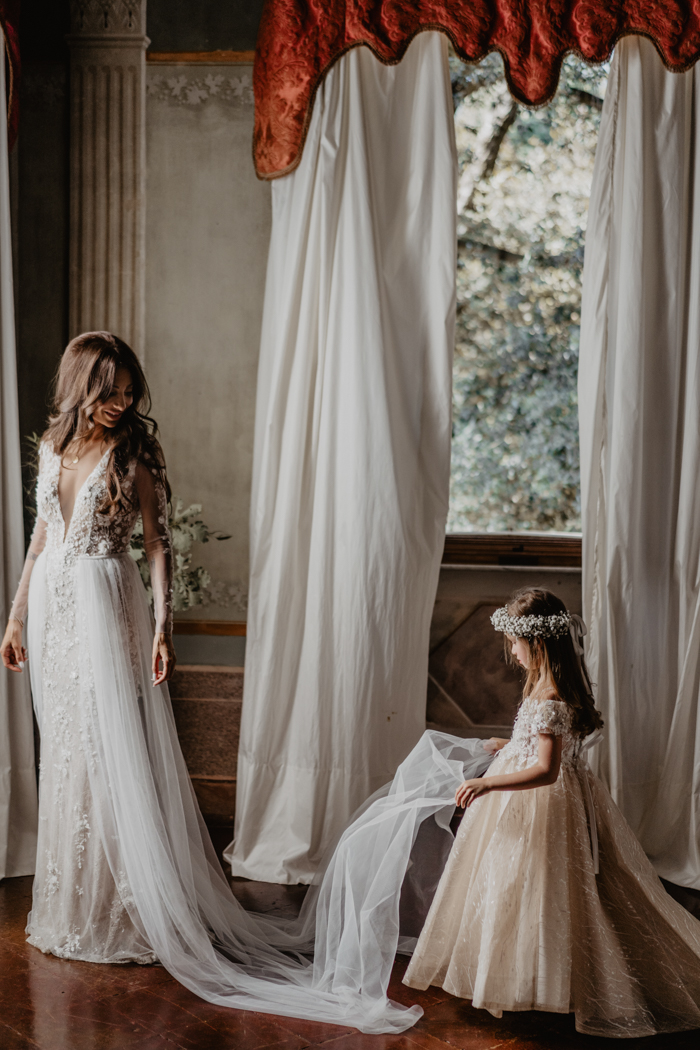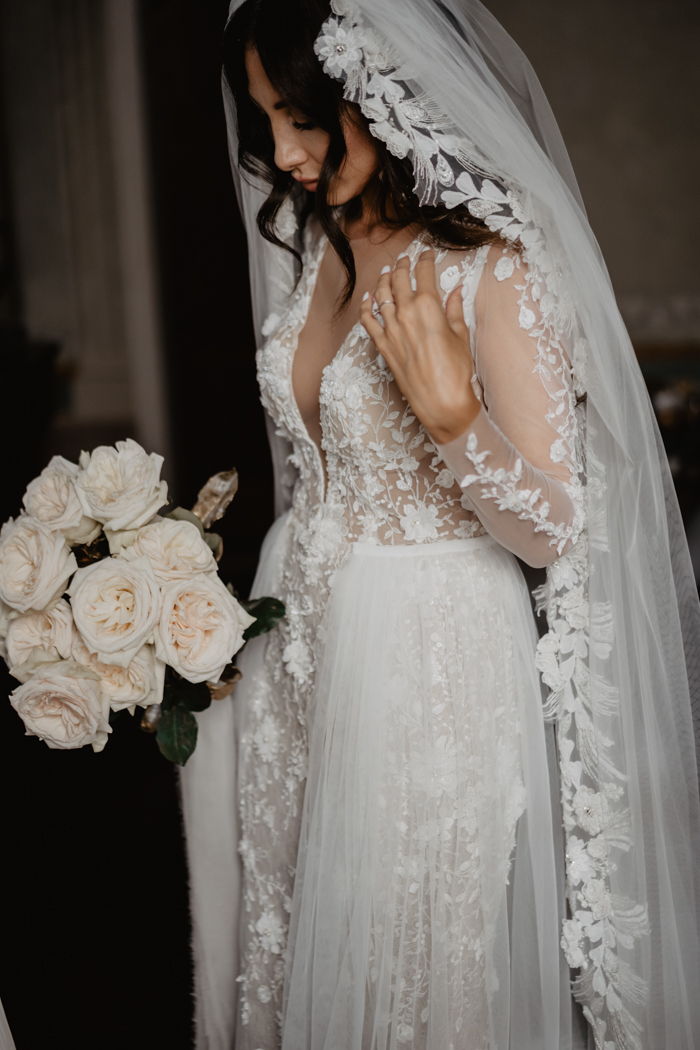 Why Did You Choose Borgo Stomennano? 
We wanted our wedding venue to be at a real Tuscan-style venue where you could experience the history. We didn't want it to be modern, but rather monumental and majestic. Being surrounded by vineyards, beautiful nature, and a feeling of peace and calm was important to us. Having a beautiful and impressive entrance, specifically a long driveway surrounded by typical cypress trees was a must have, too. We found all of our requirements in one place and were instantly sold. We really wanted the day to be a magical and beautiful experience for us and for our guests. Approaching venues with the idea that it would feel like a little holiday weekend all together—surrounded by our loved ones—where time stood still for a little while really helped in choosing.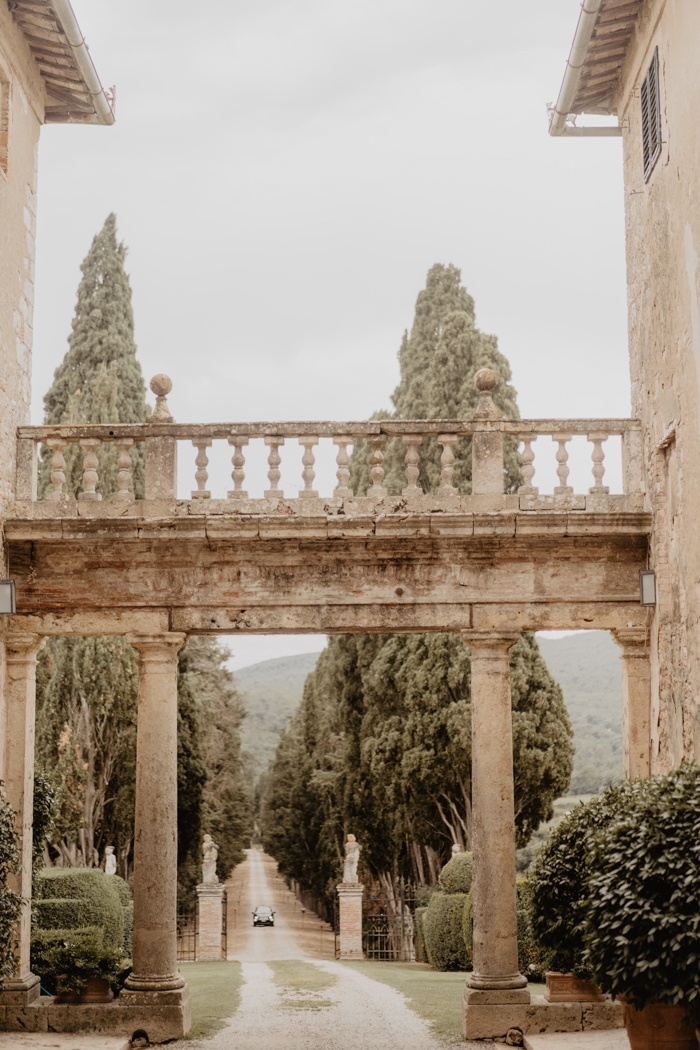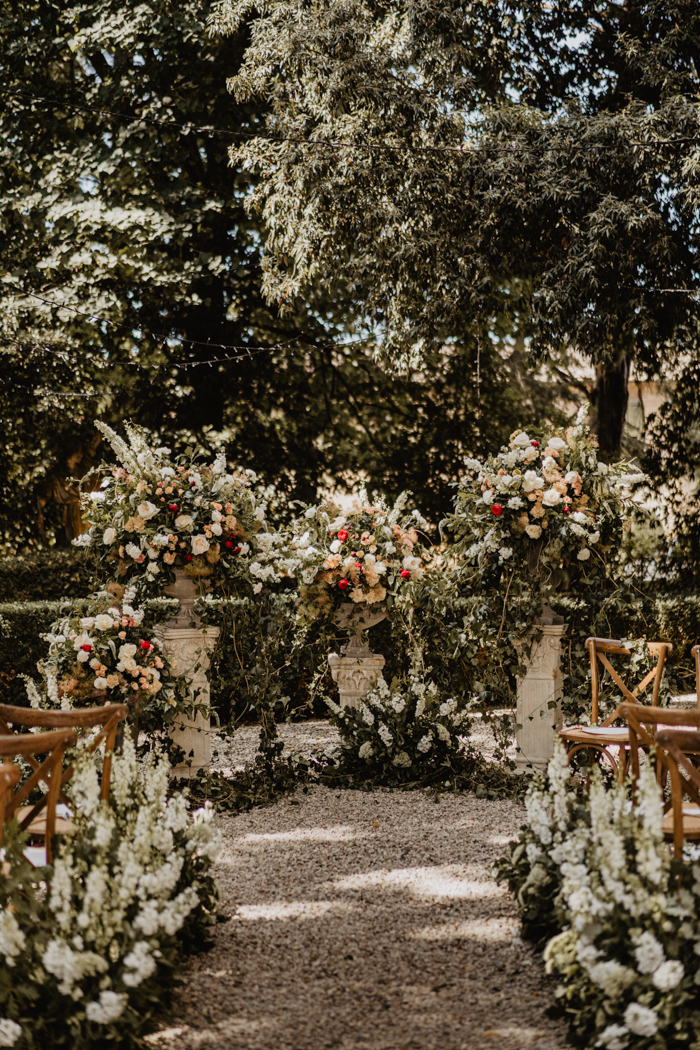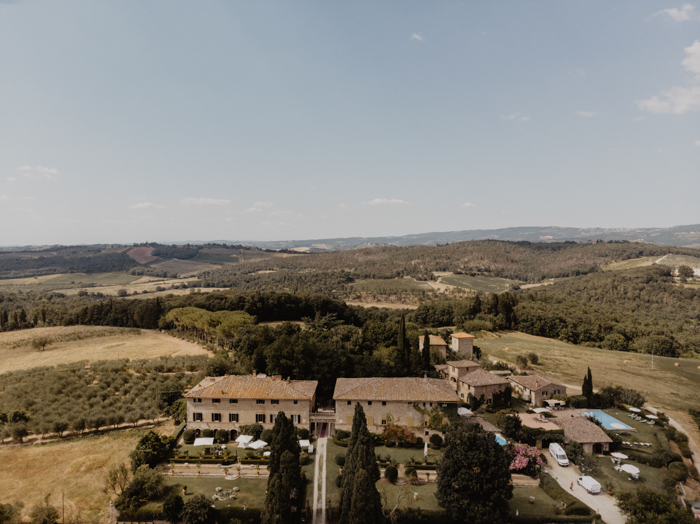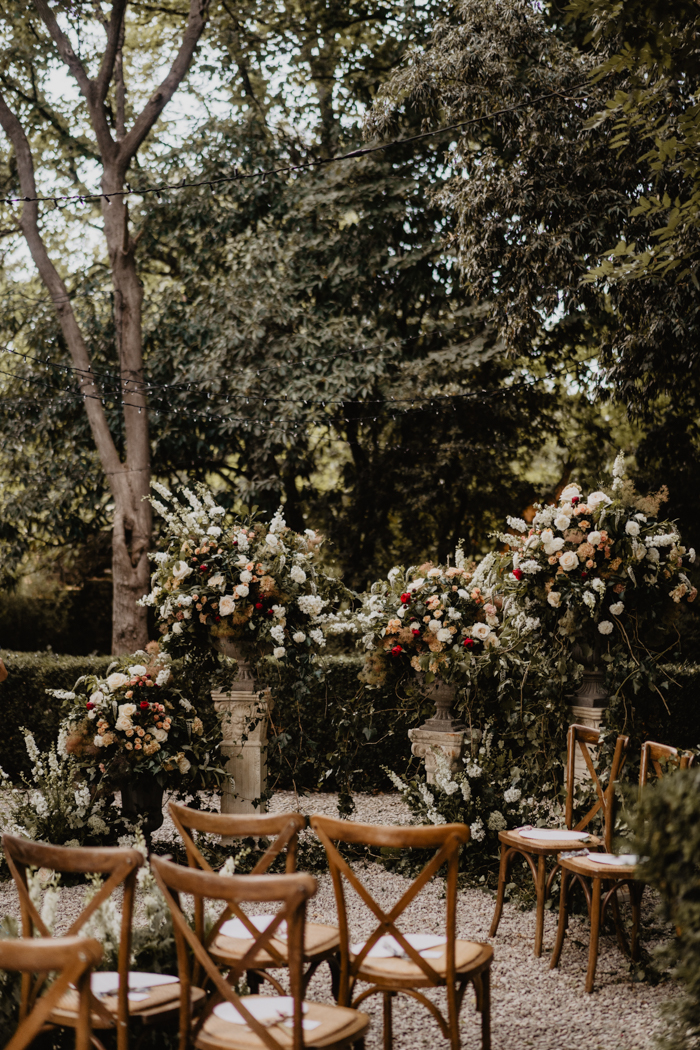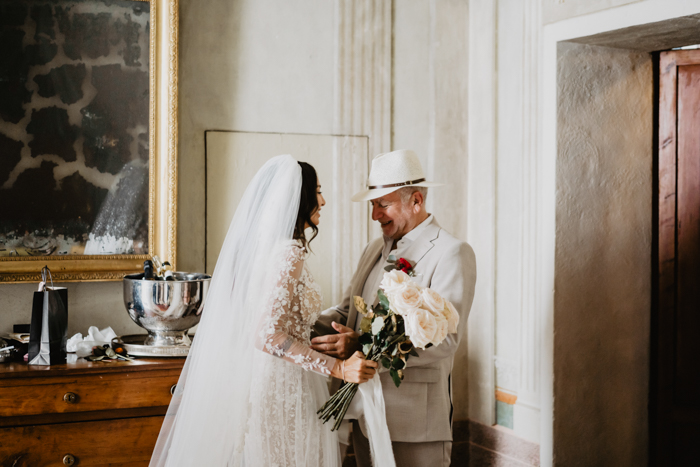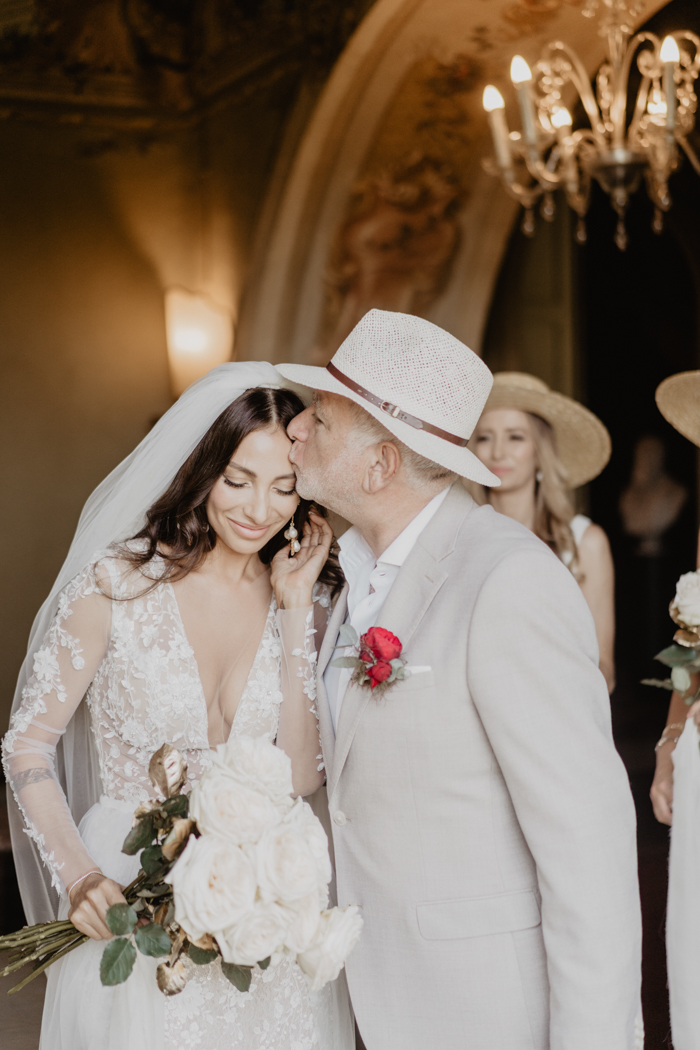 An Ode to Italian Fashion 
For the styling of the groom, bride, and wedding party, we liked to keep it Italian chic, elegant, and light. We wanted them to be in the same colors. My husband wore a handmade suit from Loro Piana made by Oger Amsterdam and shoes from Carmina. I had my crown custom made and designed by Mignonne in France and my earrings from Christie Nicolaides in Australia. I love baroque style and wanted it to match my wedding dress from Covers Bridal Boutique with wild pearls. My wedding dress was comfortable and light—which I loved—and was covered with appliqués of beautiful 3D flowers, paillette, and beads. It had three layers of lace, tulle, and sparkle. I hand-stitched real sweet water pearls and crystals onto the dress, as an extra special touch. I absolutely loved my matching cathedral length veil, which I wish I could have worn forever.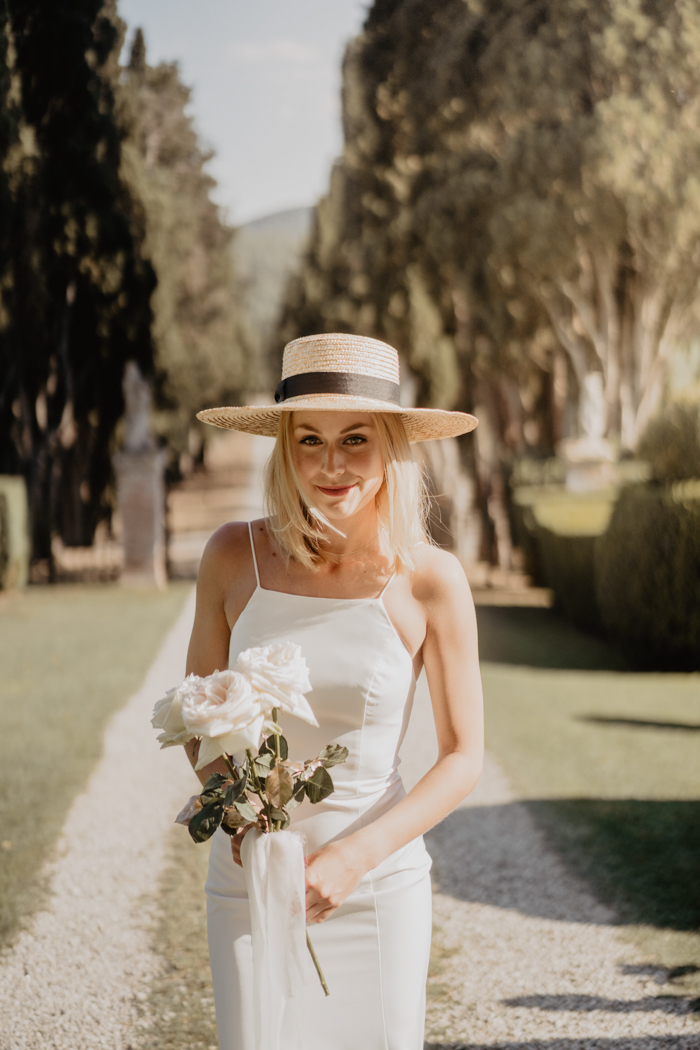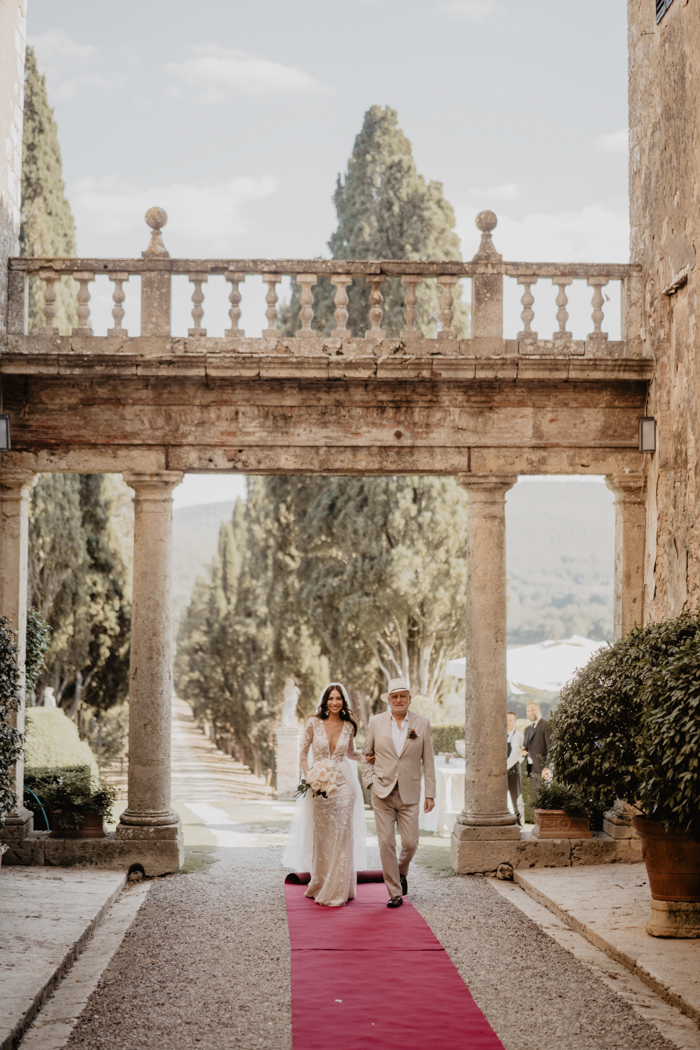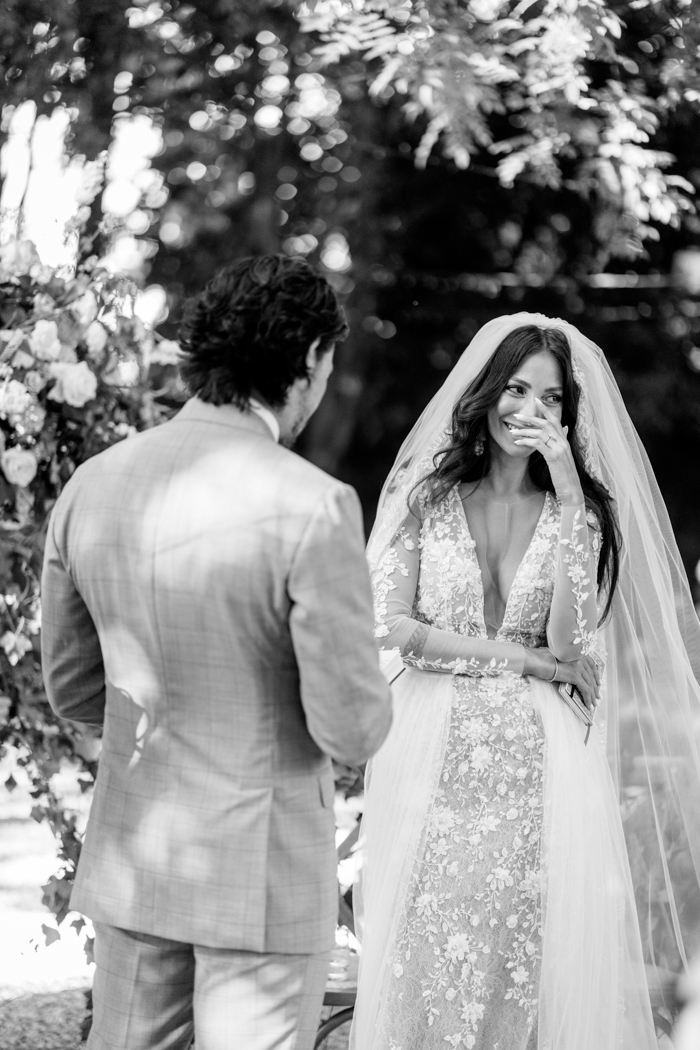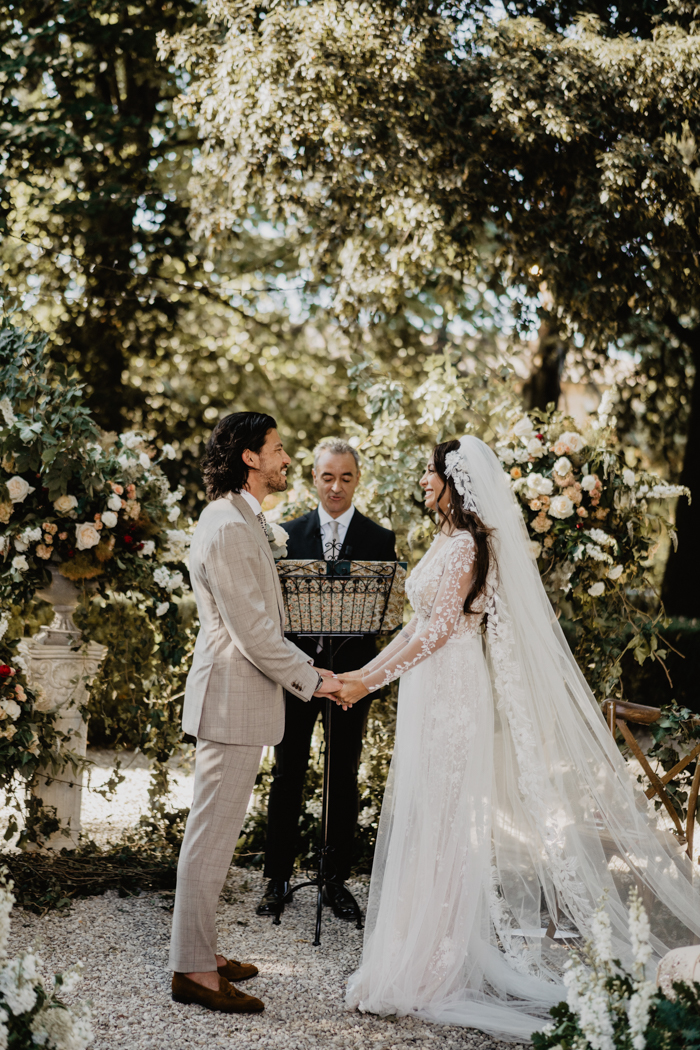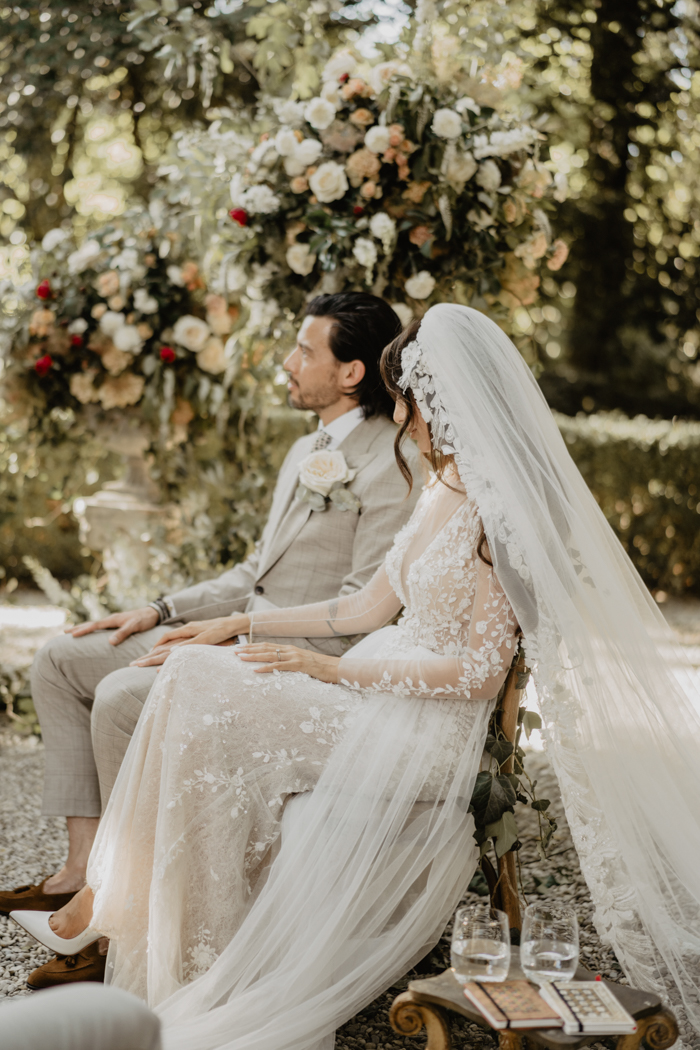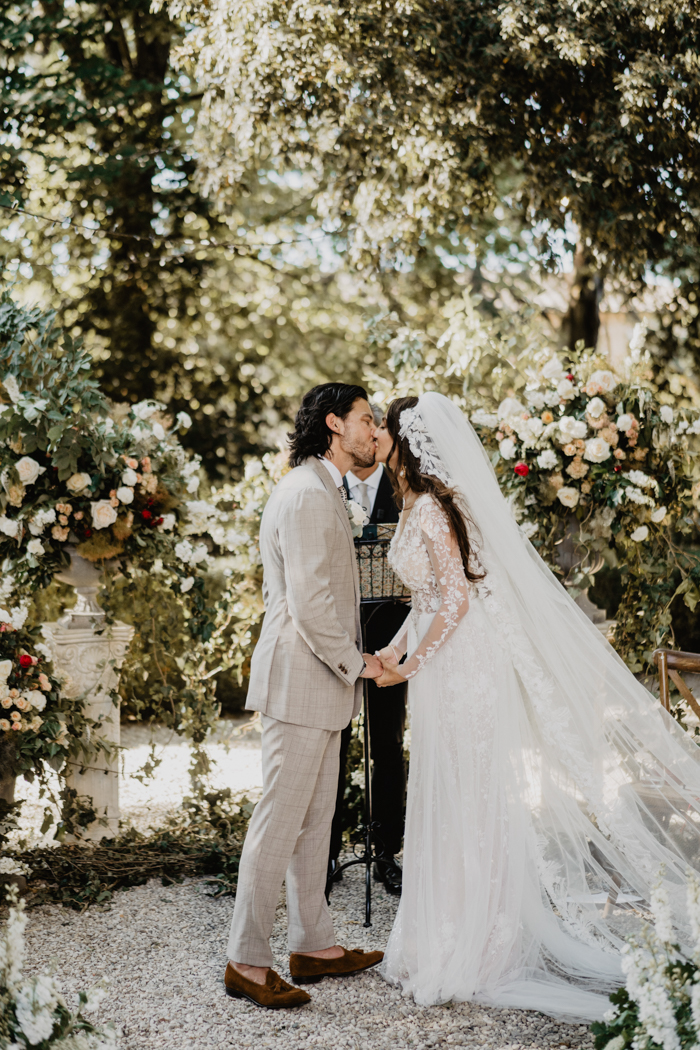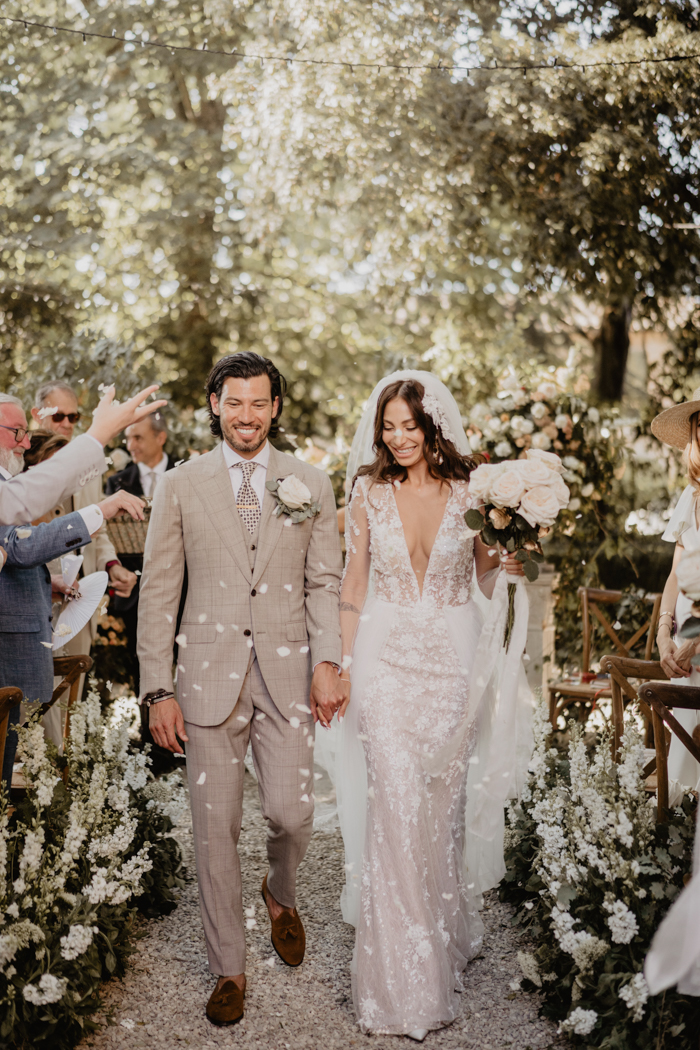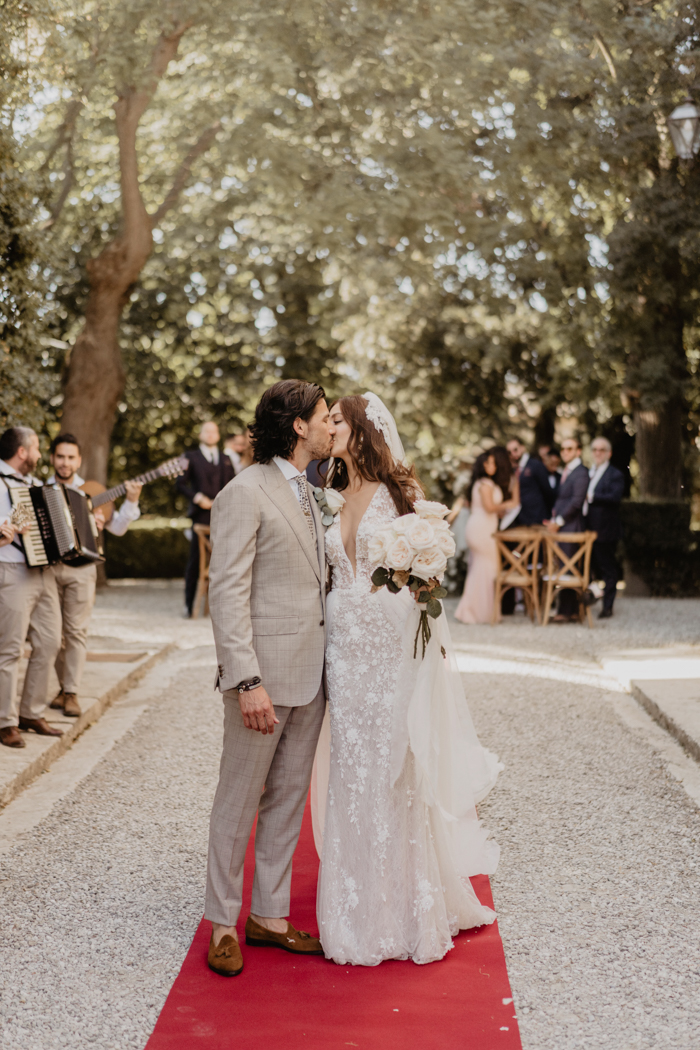 Welcome Wedding Gifts And Goodbye Recovery Kits
We had a welcome bag for each guest filled with lavender soap, mints, water, a welcome note, mini tic tac toe in a bag, jelly beans, and mosquito repellent spray. For the ceremony, we gave out fans for the guests to keep cool. As a goodbye gift, we handed out little "recovery kits" that were filled with cool bandaids, Advil, Alka Seltzer, a footbath tablet, candies, and a Vitamin C shot. For our parents, we gave them slippers, kimonos, and Cartier perfume. The bridesmaids got slippers and matching kimonos and the groomsmen got flasks, ties, and tie clips.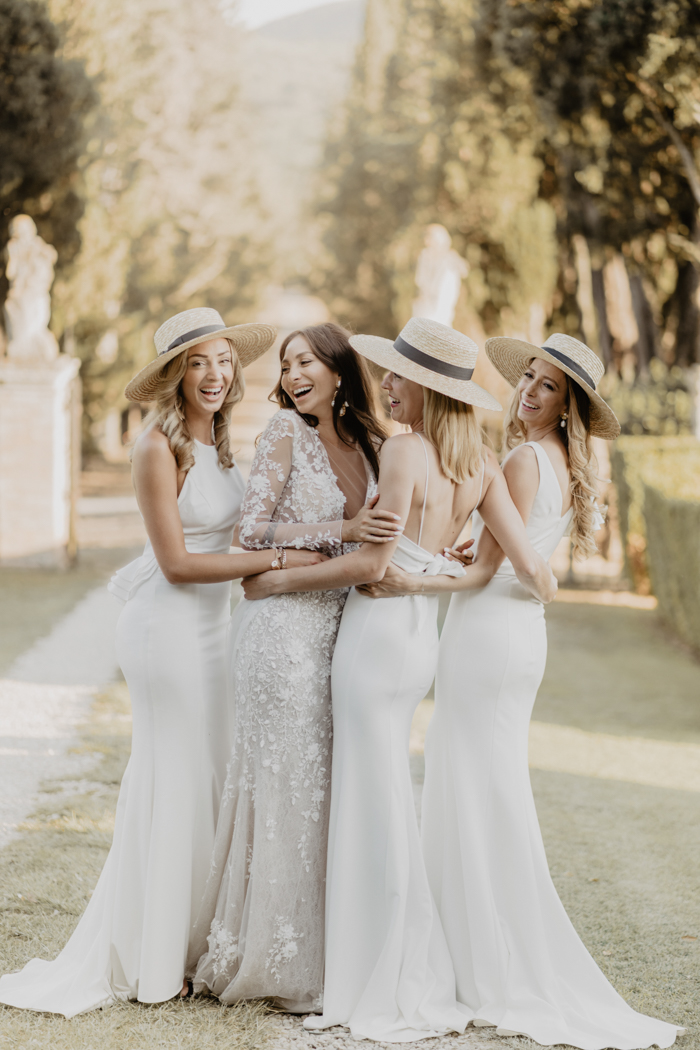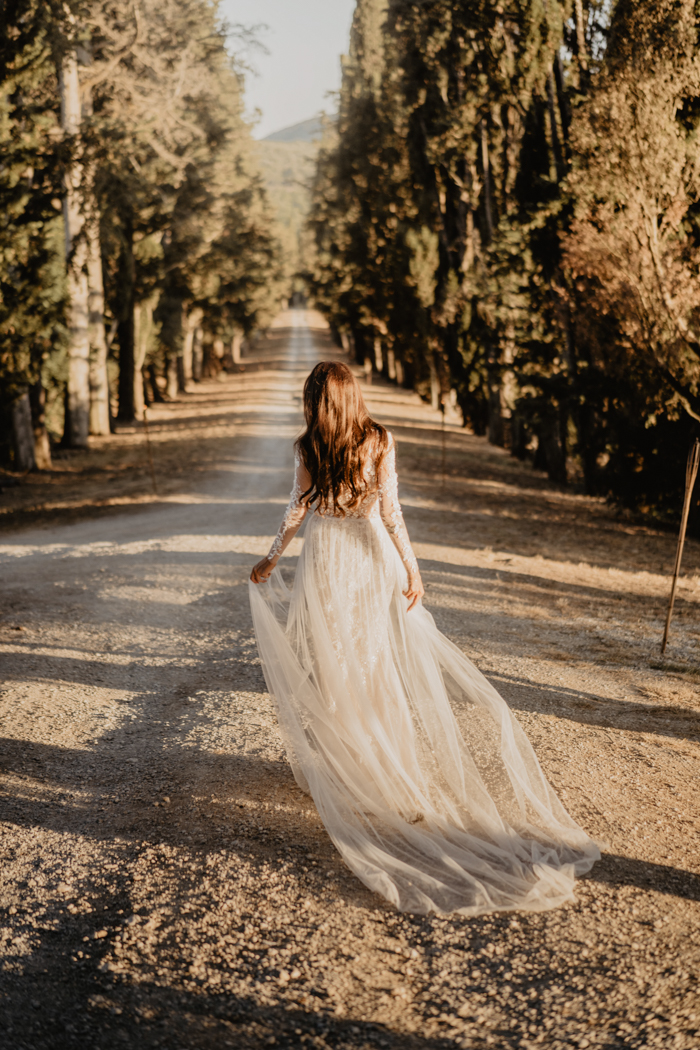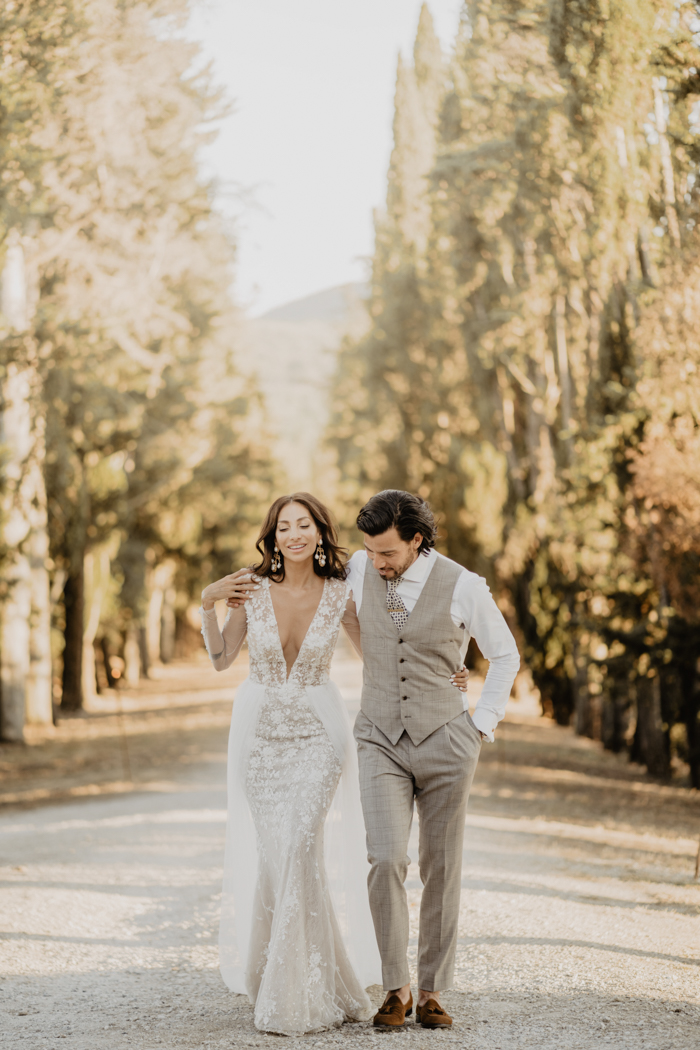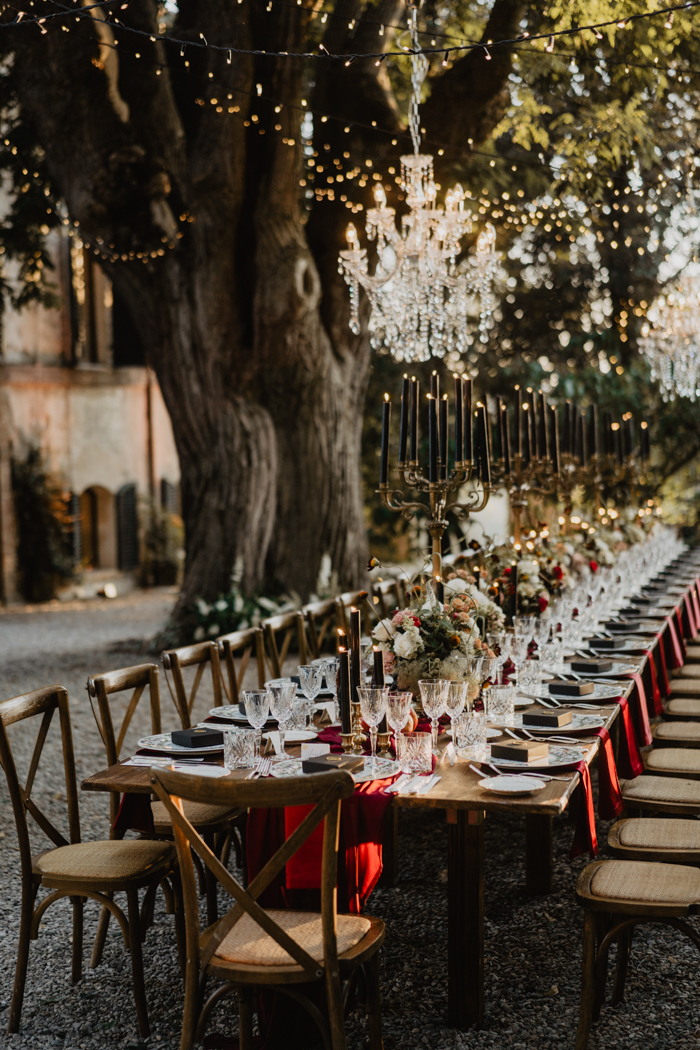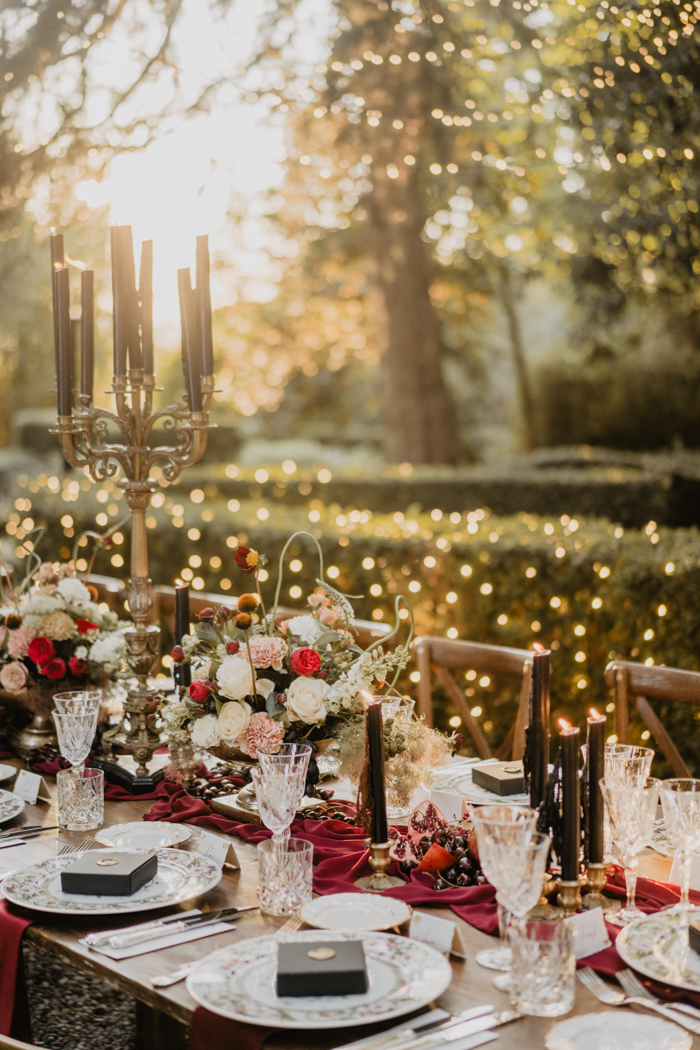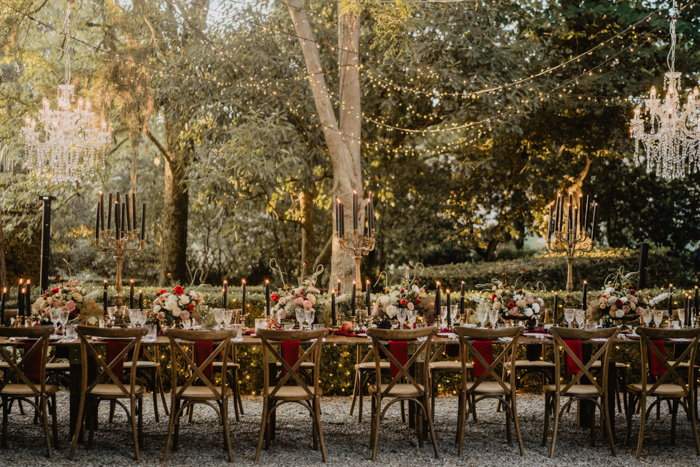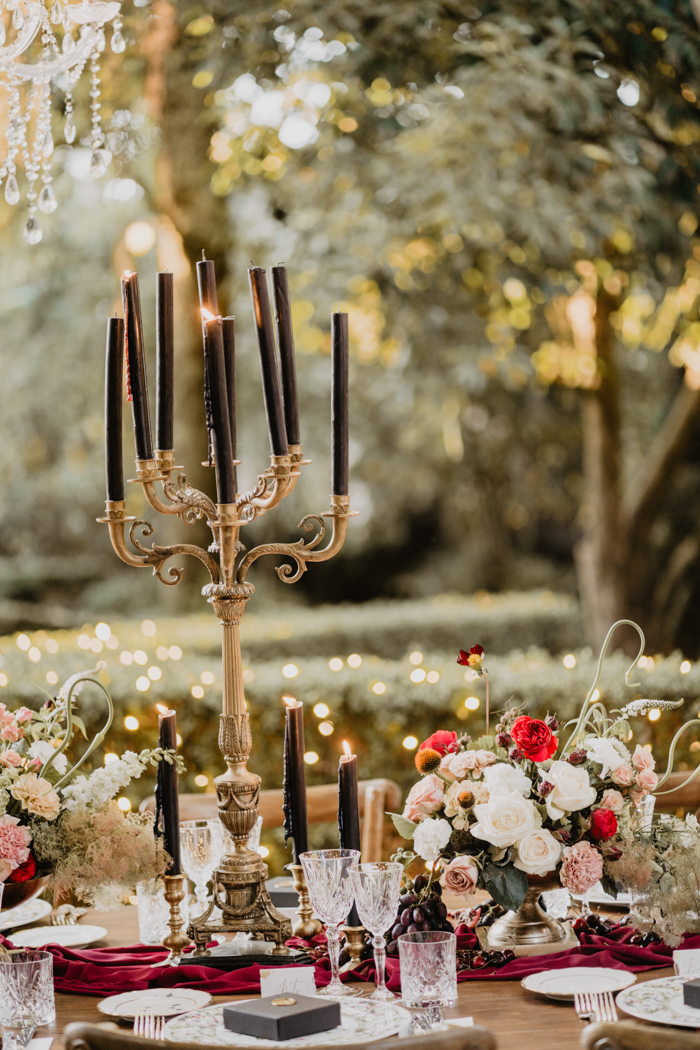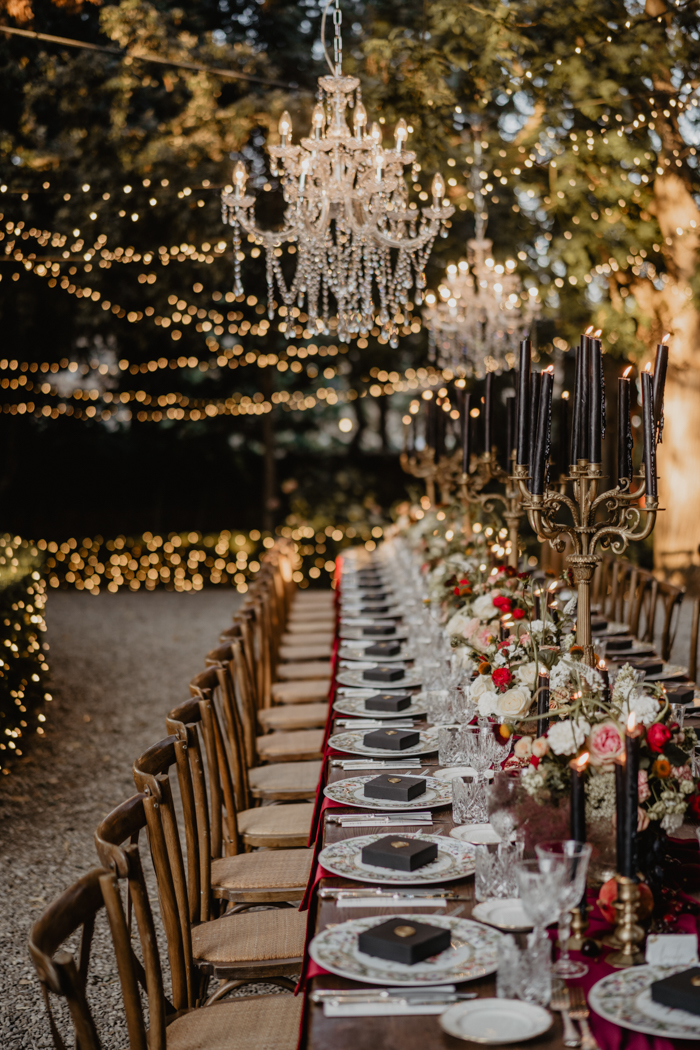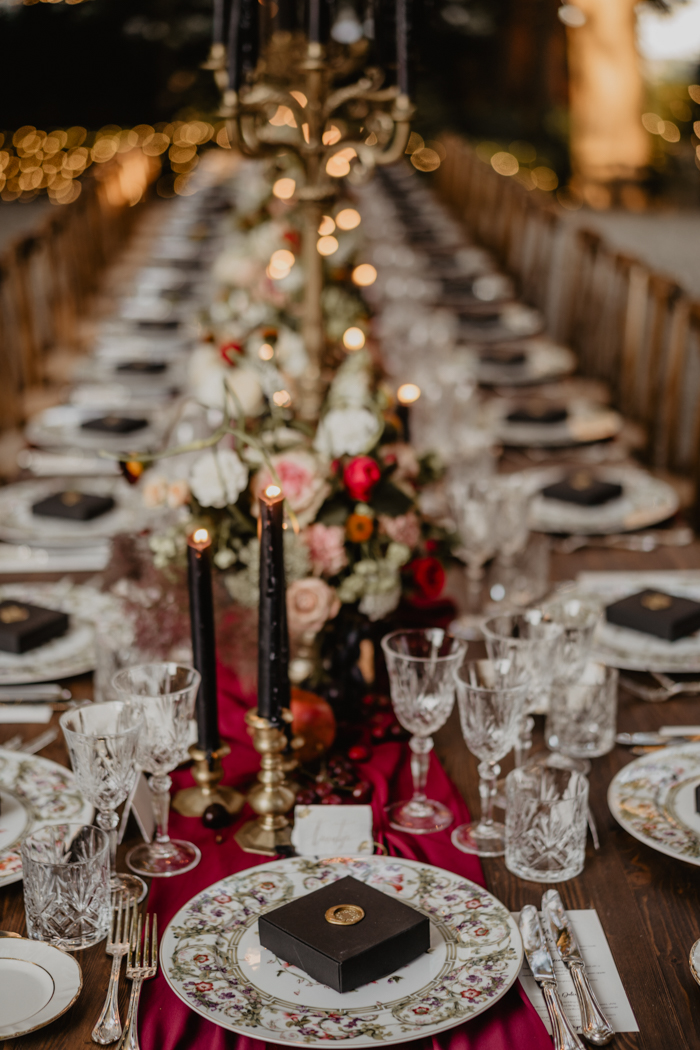 Wedding Advice for Brides-To-Be 
Start planning earlier than you think you should and don't use a wedding planner you don't absolutely love. A good wedding planner is everything! We switched twice before we found our dream wedding planner. I recommend investing a lot of time into searching and contacting many vendors to compare and have options to choose from. Don't wait too long—popular vendors get booked very quickly.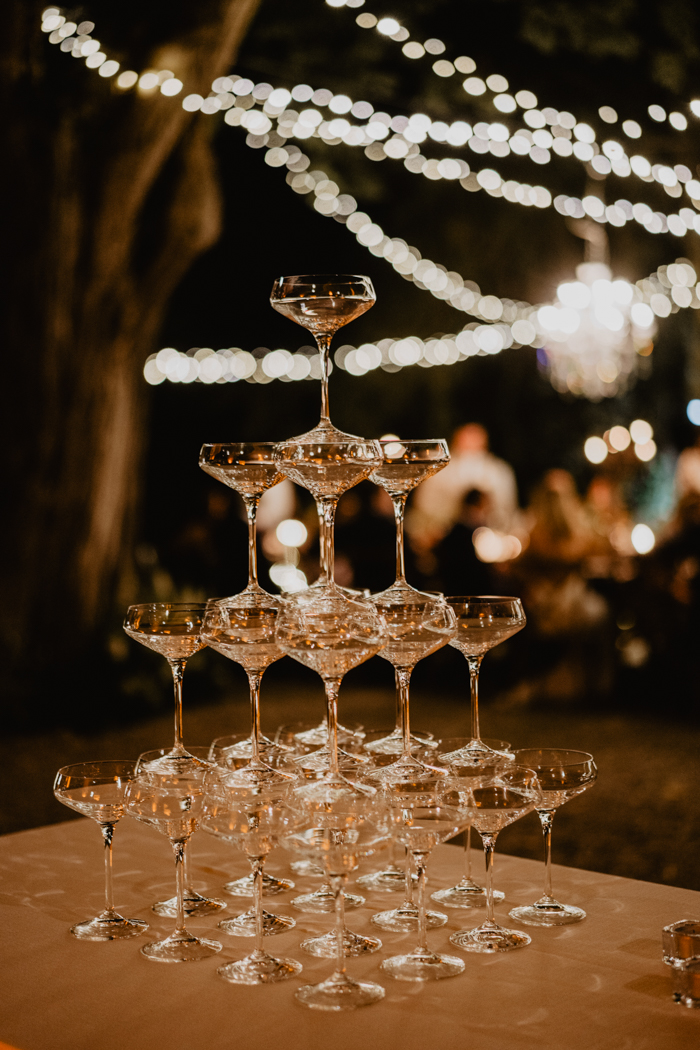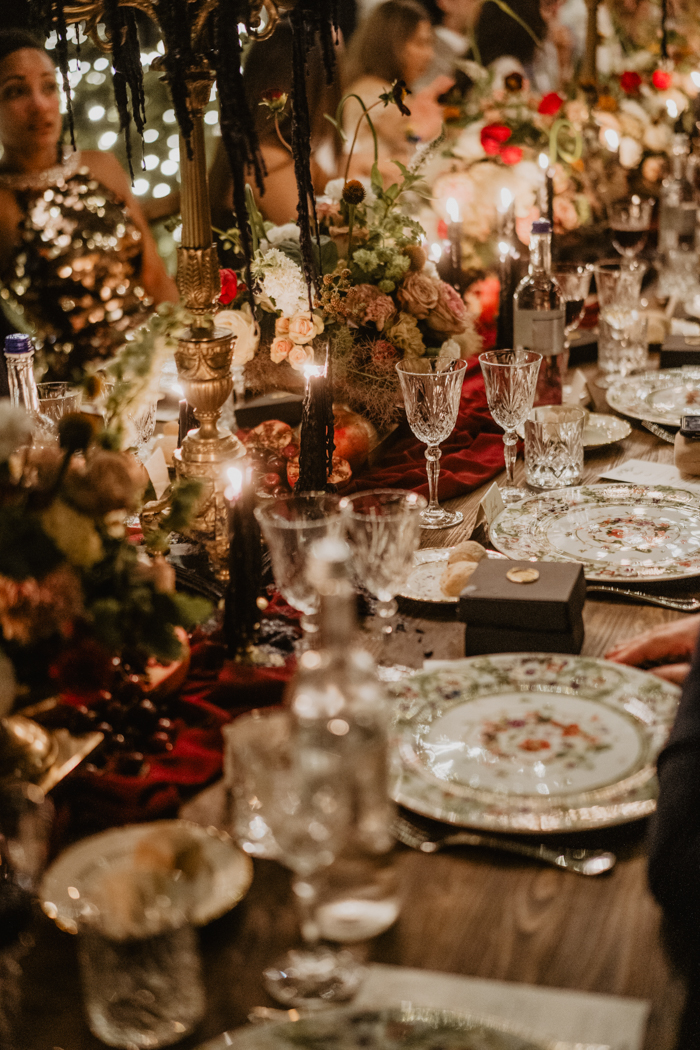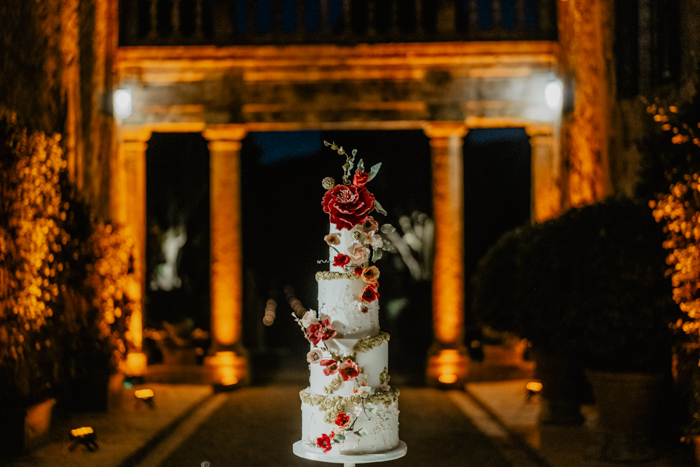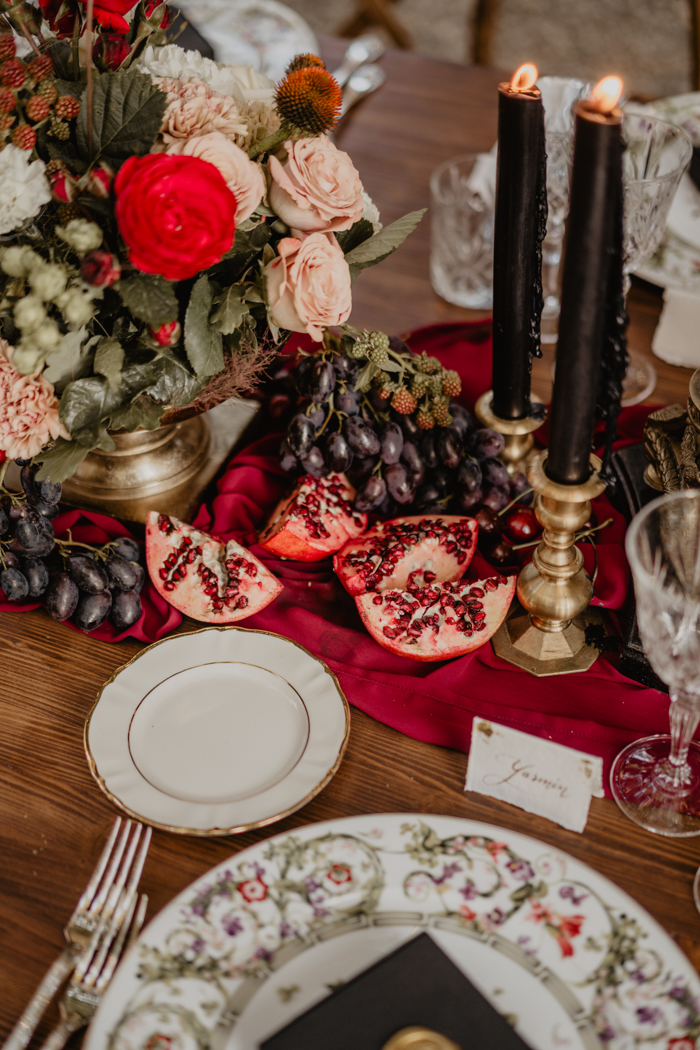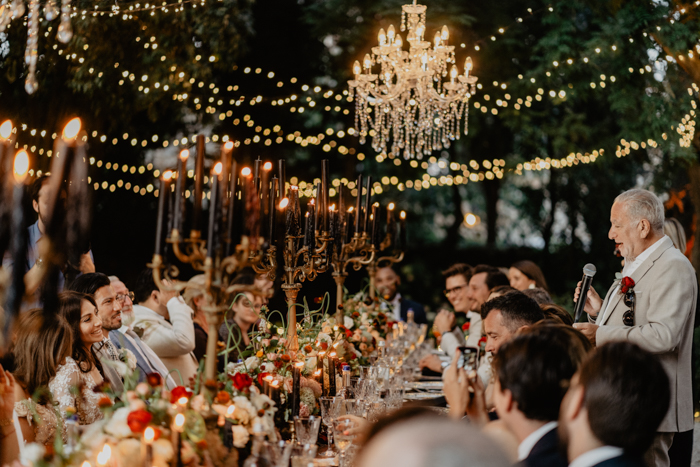 Congratulations to Samara and Stephen on their gorgeous wedding day! Big thank you to Lucette Sforza from House of Luce for sharing this incredible ceremony with us. If you're looking to throw an opulent destination wedding, get inspired by this wedding in Puerto Rico, or consider a cool city in the US! 
The post This Gorgeous Italy Wedding at Borgo Stomennano Takes Luxury to the Next Level appeared first on .