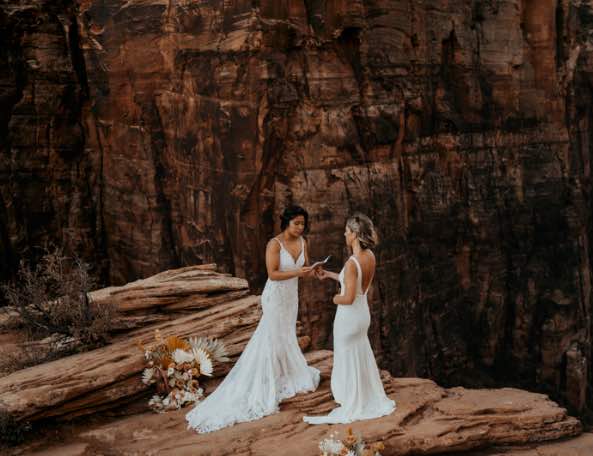 From wedding sizes to popular fashion, trends in the wedding industry are constantly changing. Couples are no longer bound to strict wedding day traditions. Your day is about authentically celebrating the union of your two lives. The best place to start when planning your authentic celebration? Your wedding venue. 
Selecting your wedding venue should be at the top of your wedding checklist. It becomes a determining factor for many planning details like guestlist size, decor, and dining options. Finding a venue that feels unique to your love can be intimidating.
Don't fret! There's no shortage of unique venues. If you're looking to forgo the traditional wedding route, we've got you covered. Here are the top unconventional wedding venue ideas that celebrate the uniqueness of every couple and every celebration style. 
Airplane Hangar Or An Airport 
Dying to take your love to new heights? Say goodbye to a traditional wedding venue and hello to an Airport wedding. Whether you're a lover of planes, adventure, or just looking for a way to stand out from the rest, look no further than an airport for your unconventional wedding venue. Talk about kicking off your marriage on an ultimate high. 
Your Family Home 
With weddings getting smaller and intentionality quickly becoming a priority, we've seen more and more weddings are taking place at home. Not only can this be a potentially budget-saving option, it also adds personality and meaning to any wedding day. Exchanging "I do's" surrounded by your loved ones, in your family home—a truly memorable place to host.  
Airbnb Wedding Venue
Airbnb is not just a popular travel housing option. From tiny homes fit for cozy elopements to large, jaw-dropping mansions and everything in between—Airbnb has something fit for every couple, no matter the wedding size. 
Sold on an Airbnb wedding venue, but need extra help finding one that fits your wedding aesthetic? We've taken the stress out of the search. Check out the best wedding venues in every state. 
Museum Or Art Gallery 
Built-in decor and free entertainment are just two benefits that come with hosting your big day at a museum or art gallery. Maybe you're a lover of art or maybe your first date was at a museum.  This could be a stunning, unconventional wedding space for couples looking to make their lovefest stand out. Not to mention, many museums and art galleries rent out space that is equipt for large or small weddings—there's no limiting your wedding planning possibilities.  
Use The Zoo 
Animal lovers, this one's for you. Take your wedding for a walk on the wild side and say "I do" at the zoo. If you're dreaming of an outdoor celebration, but looking for a unique twist a zoo wedding is the answer. 
A benefit to hosting a zoo wedding is the professionals provided to assist with bringing your big day to life. Not to mention, what better way to liven up your reception than with animal encounters. Your big day will be one to remember, not just for you, but also for all of your guests. 
Yachts For Unconventional Wedding Venues 
It's time to let your love set sail. If you're dreaming of exchanging vows with views, this one's for you. Whether it's your shared love of the water or your love for adventure, selecting a yacht or boat as an unconventional wedding venue can be a classy, romantic, and stand-out way to kick off your marriage. 
A National Park 
Nature is the most stunning backdrop, prove us wrong. Whether you're looking for a large outdoorsy lovefest or ditching tradition for an elopement-style ceremony, hosting a national park celebration is full of endless possibilities. For couples dreaming up a secluded wedding venue that doesn't lack views, this is perfect for you. 
With so many stunning national park options, it can be hard to pick just one. Here are nine of the prettiest U.S. national parks fit for any style wedding. 
Your Favorite Coffee Shop Or Bakery 
Coffee, food, and baked goods—oh my! Maybe you had your first date at a cute cafe. Maybe you and your significant other are lovers of coffee. Whatever your reasoning may be, we don't blame you for wanting to host your wedding in one of these unconventional locations. 
An Urban Brewery or Distillery 
Planning your wedding around the reception bar? Raise your glasses to this final unconventional wedding venue option. A brewery wedding is fit for you. Breweries and Distilleries are full of endless fun possibilities—from wedding size to decor options. If you're searching for even more ways to personalize your big day, create a signature cocktail or work with the brewmaster to create a special beer. 
If you're ready to ditch the traditional wedding path you're still in luck. There's no shortage of unique wedding venues that will reflect both you and your significant other. After picking out the perfect jaw-dropping venue it's time to move to the next item on your wedding planning checklist—deciding on a wedding size and crafting your dream guest list.
The post Unconventional Wedding Venue Ideas for Unique Couples appeared first on .