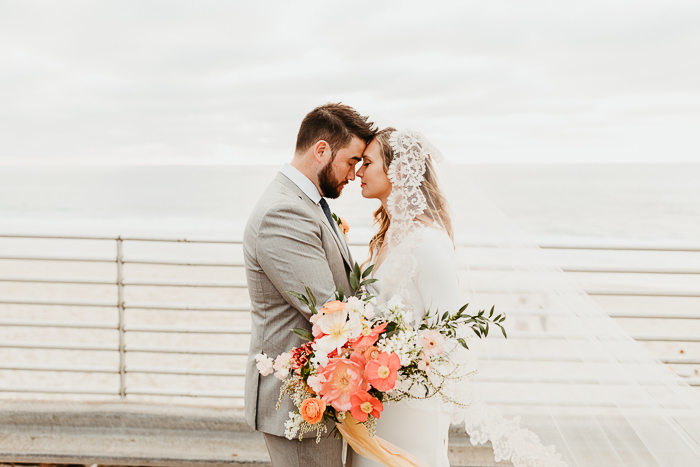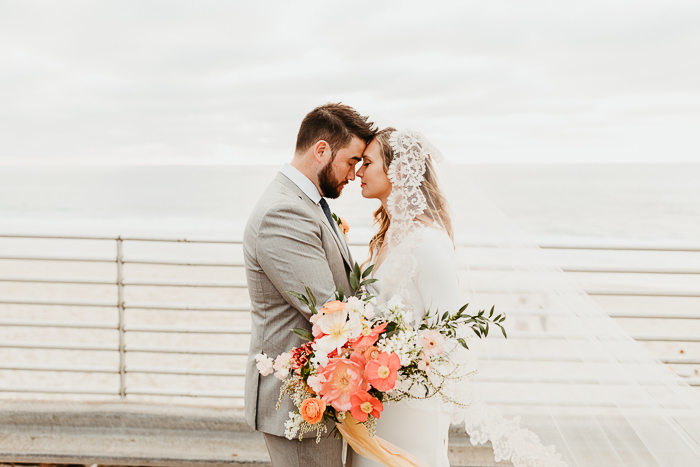 Lauren and Alex's flower-filled La Jolla wedding at Darlington House is proof that weddings can break every tradition from the location to your color palette. Although the wedding was in February, the couple opted for bright tropical hues, and it turned out better than imagined. With the help of planner Plan Prep Party, the couple turned the historic home into a colorful wonderland thanks to the abundance of flowers arranged by Fox and Flora and their floral linens.
The two covered their wedding in a custom escalator logo–their last names combined are "escolater"–created by LovelyBones Paperie, and we can't get over how unique it is. From corn hole to cocktail "graffiti" to a custom cake topper—it was everywhere. Talk about making your wedding your own!
We're so glad that Junebug member Kami Olavarria was there to capture every personalized detail of their day from the simple yet sentimental bridal fashion to the ceremony featuring the couple's furry friend.
The Couple:
Lauren and Alex
The Wedding:
Darlington House, La Jolla, California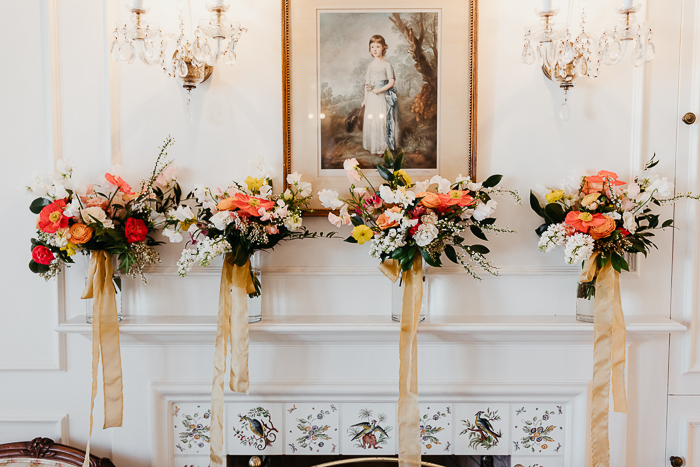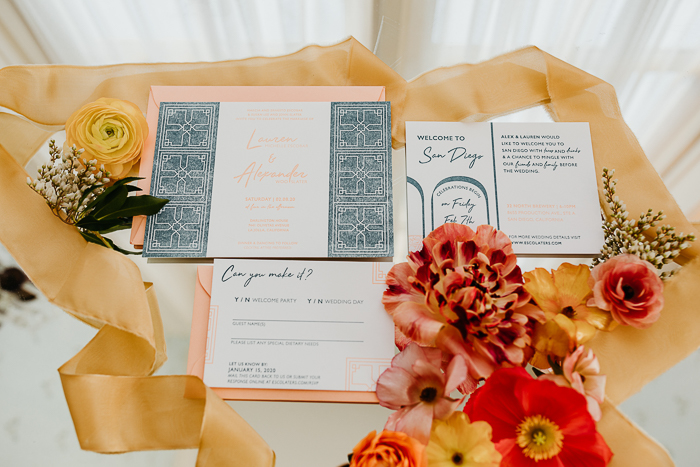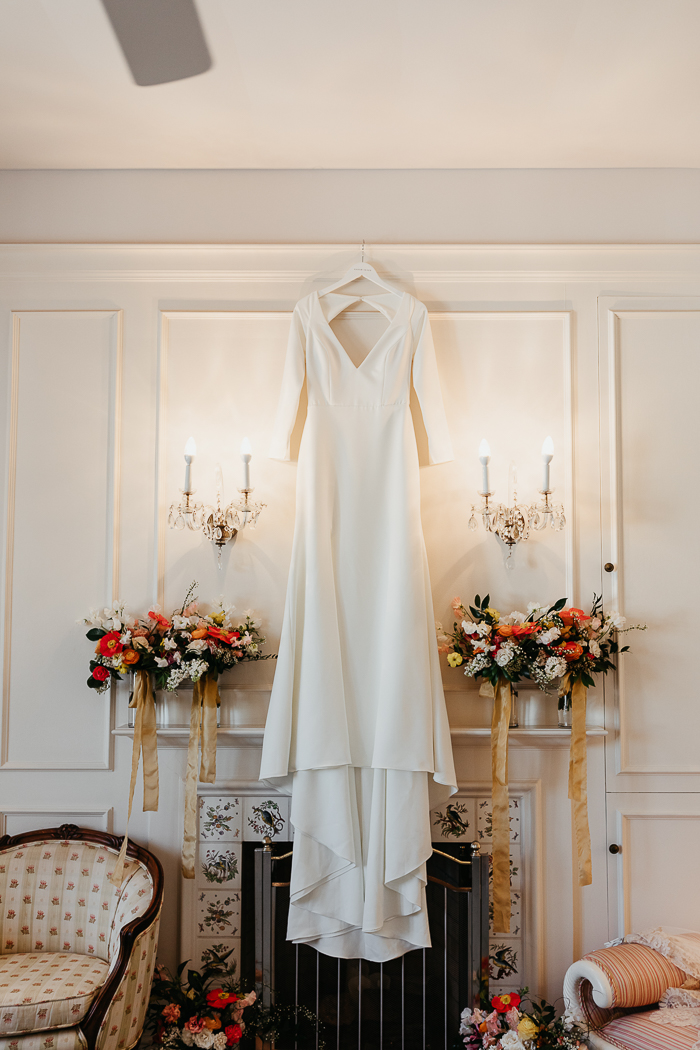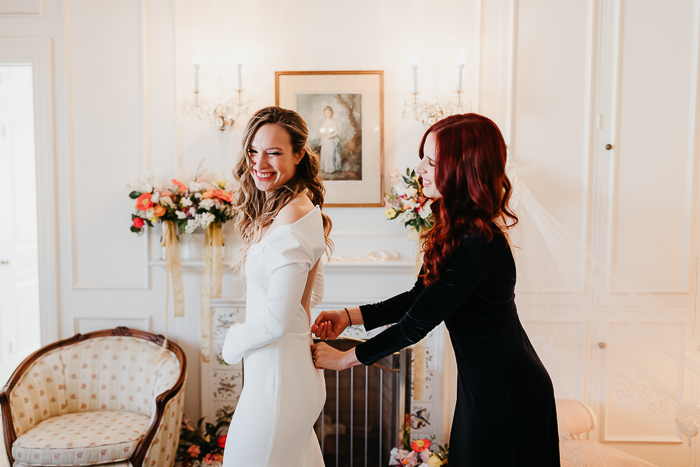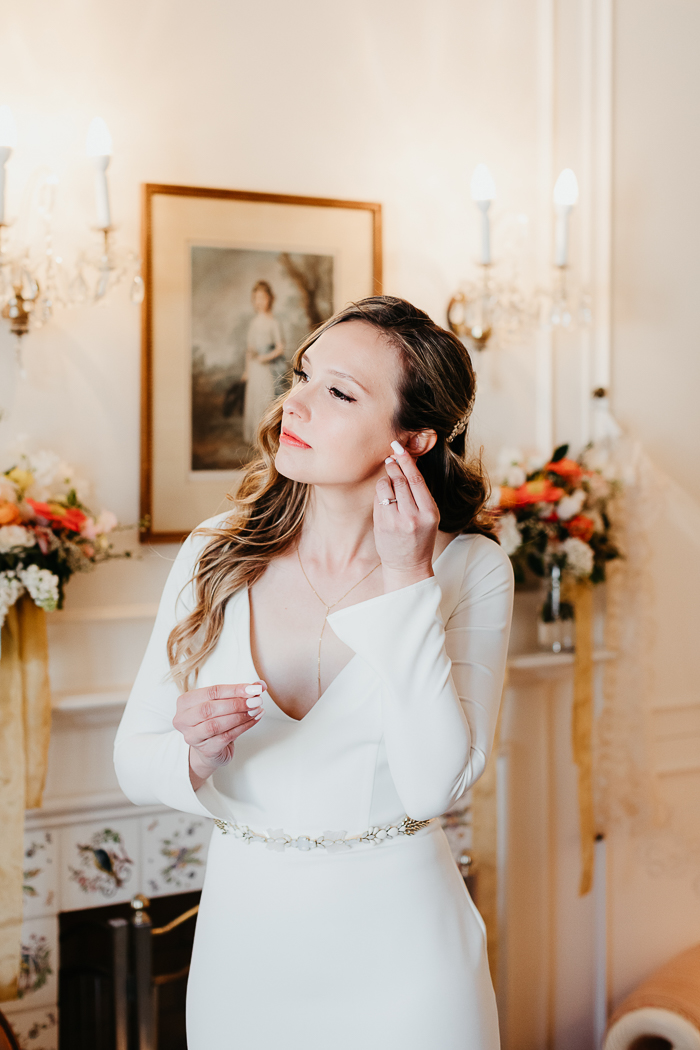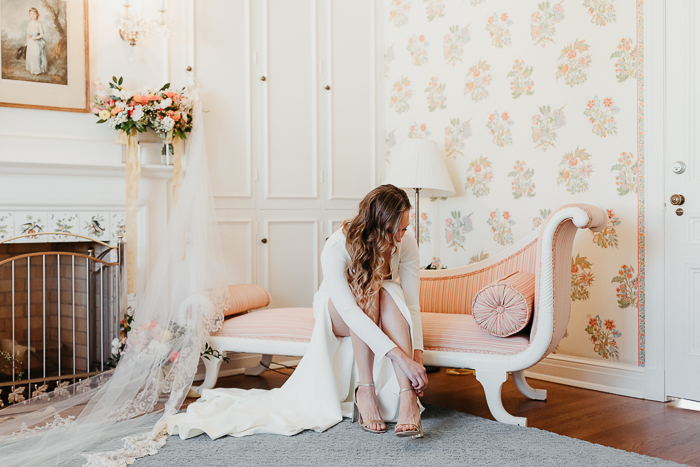 Bridal Fashion Featuring Lace From Mom's Mantilla
My veil was custom-made using the lace from my mom's mantilla that she wore when she got married in the 70s. I updated it to have more length in the same mantilla-veil style. If I didn't have my mom's lace, I probably would have considered no veil, but I'm glad I had one, so it felt more "bridal." I've never liked poofy dresses, and I even remember wearing a sleek ivory dress for communion. Once I found Sarah Seven, I knew it was for me. The dress's construction felt like a work of art, and there was something elegant about how minimalistic it was that I loved.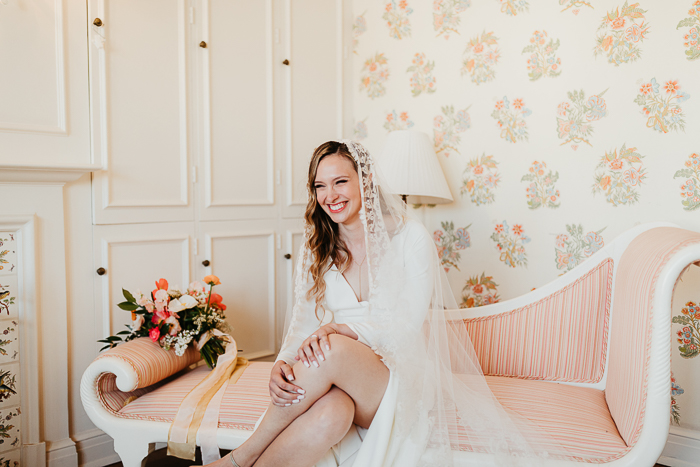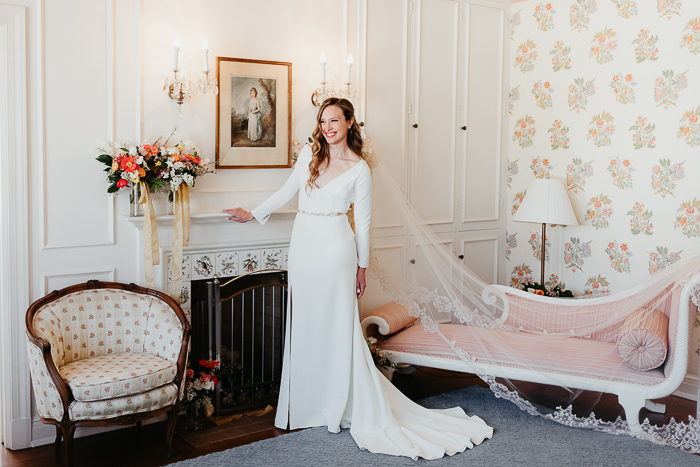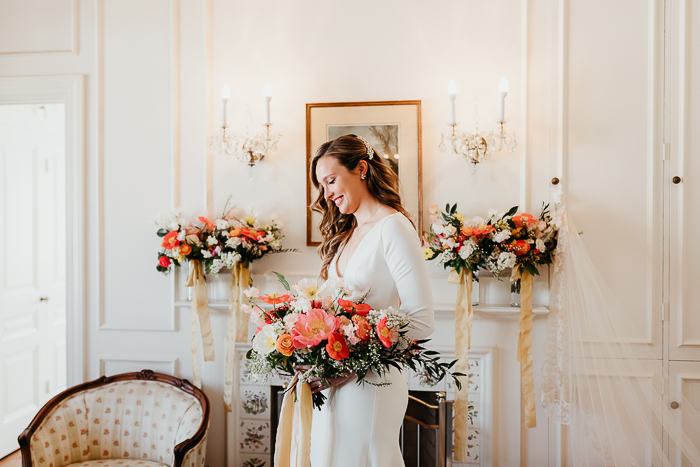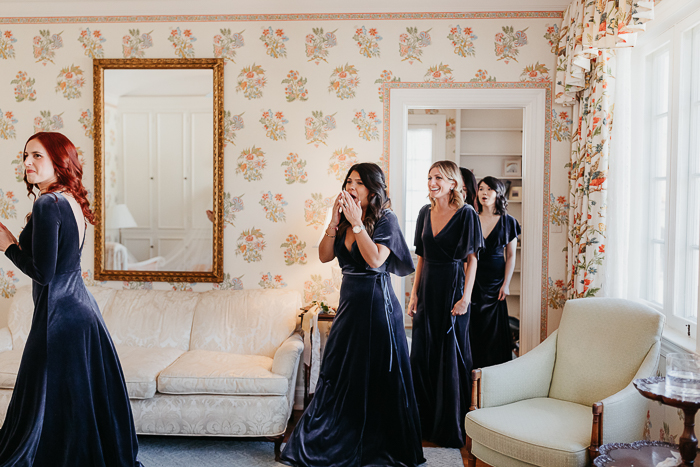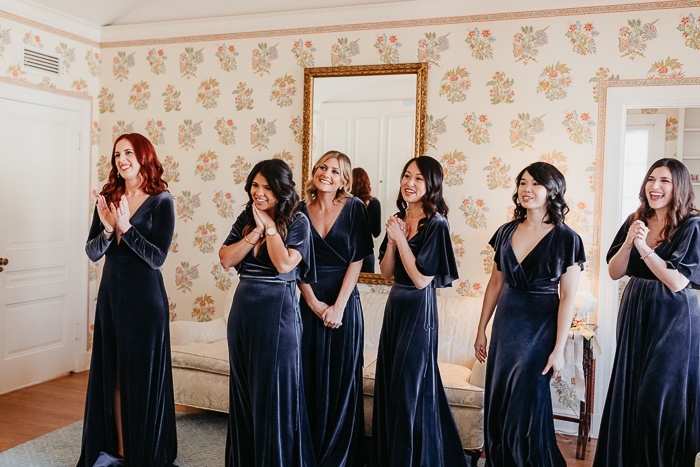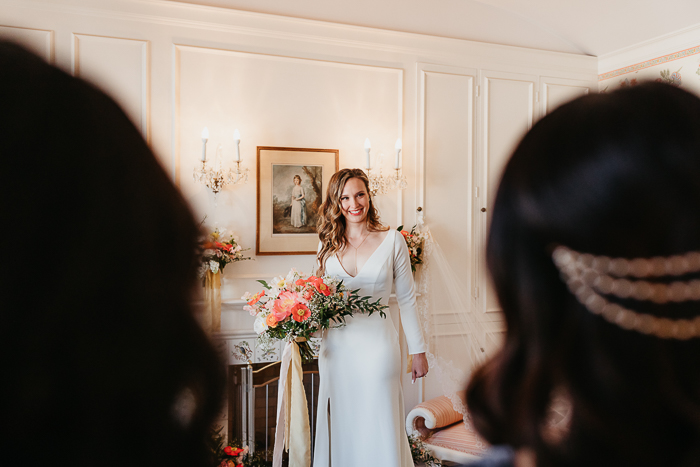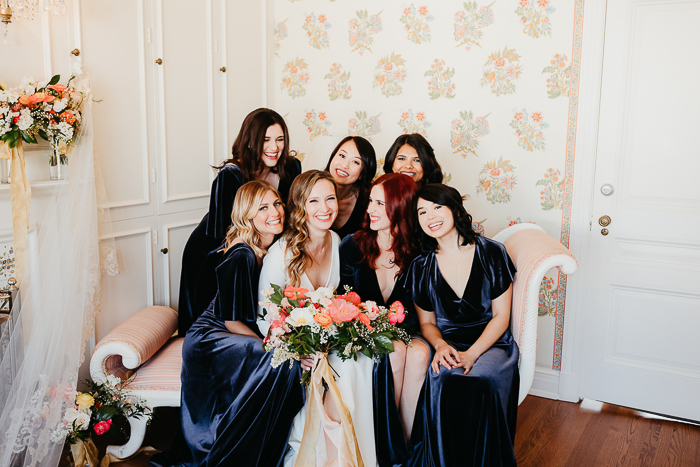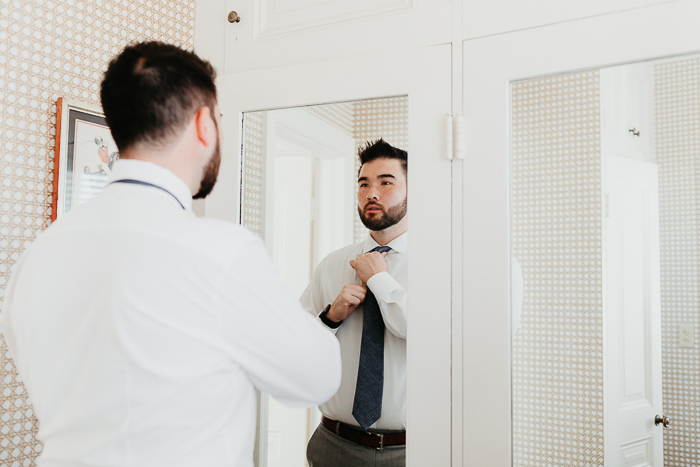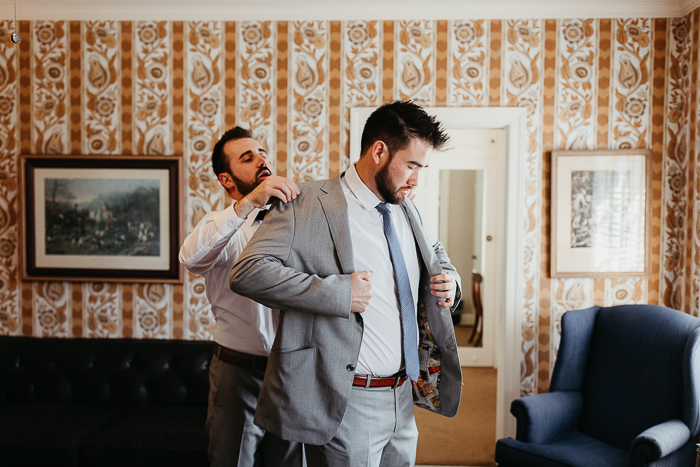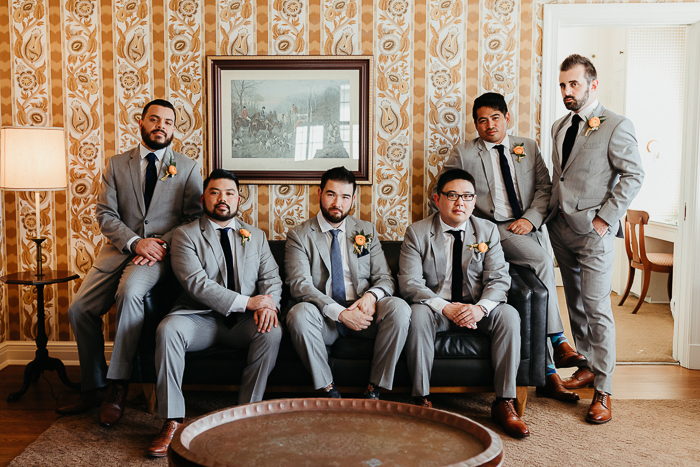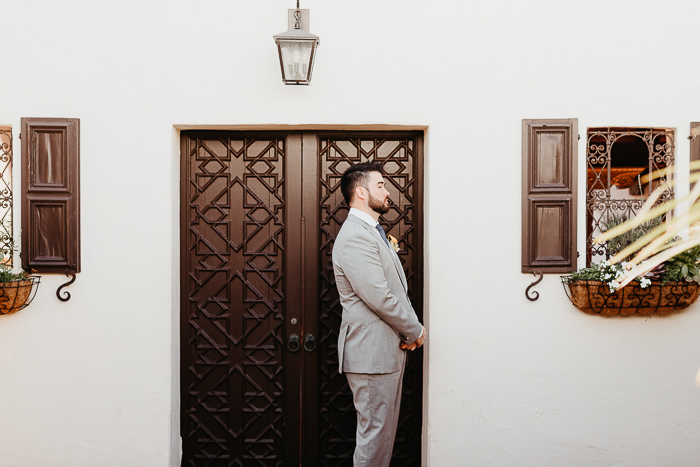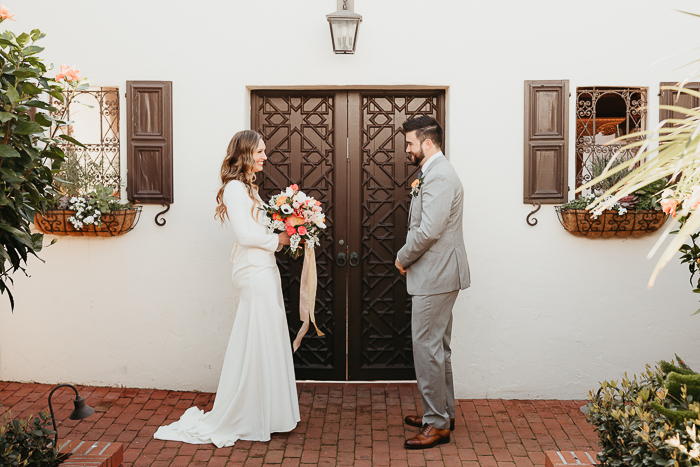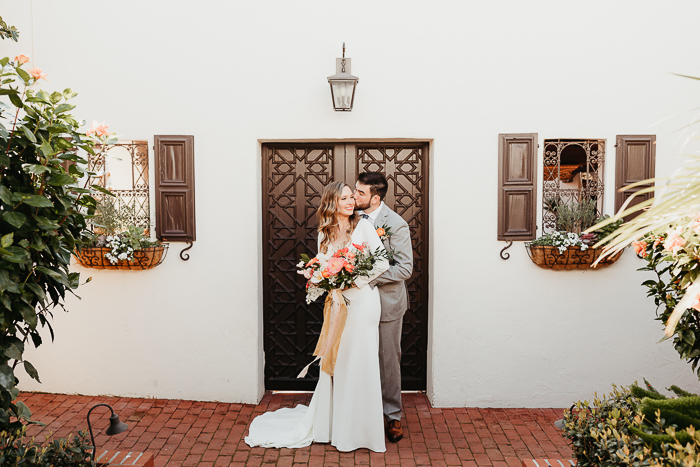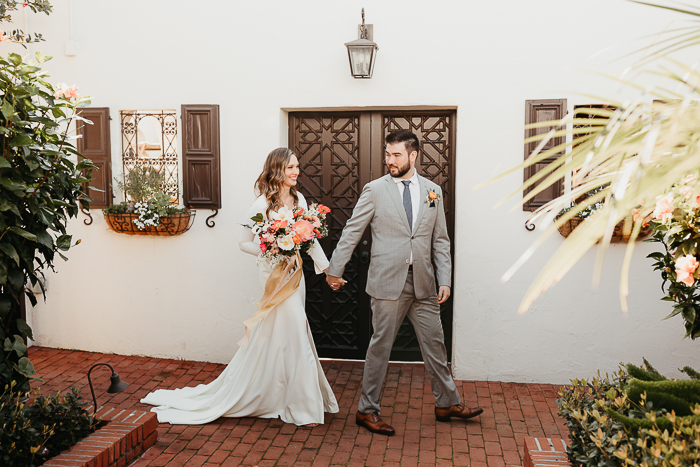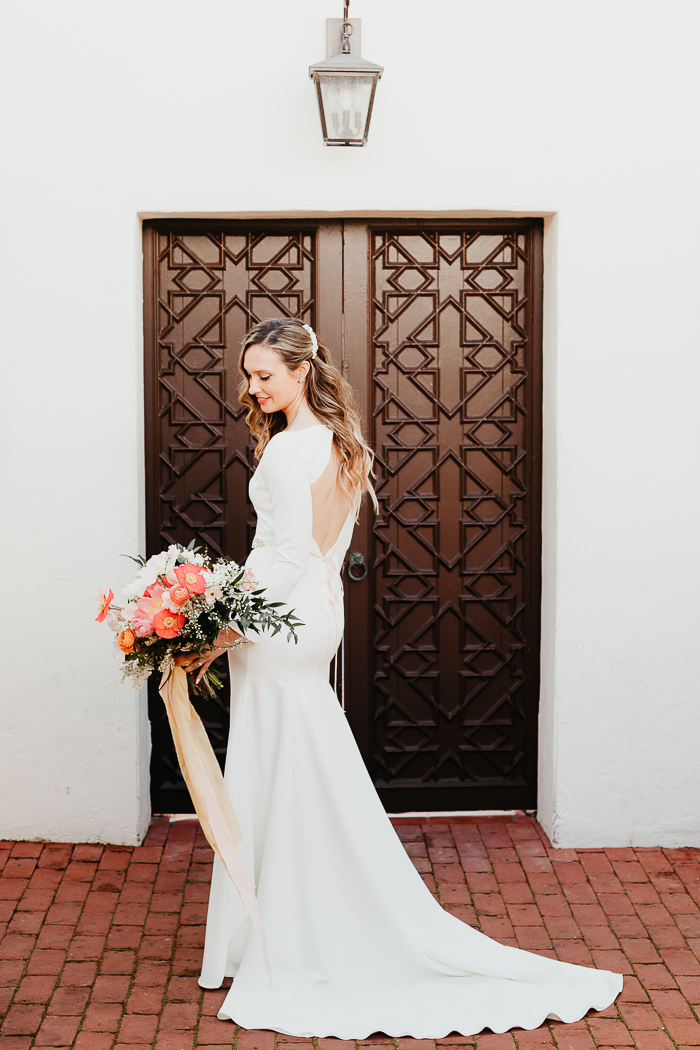 Why The Darlington House
We were looking at places that had an outdoor area and didn't feel like hosting in a ballroom. We chose Darlington House because it felt like we had a party in someone's mansion backyard.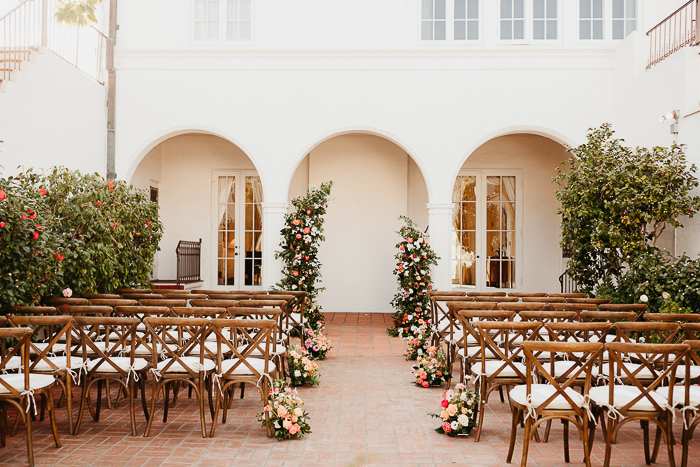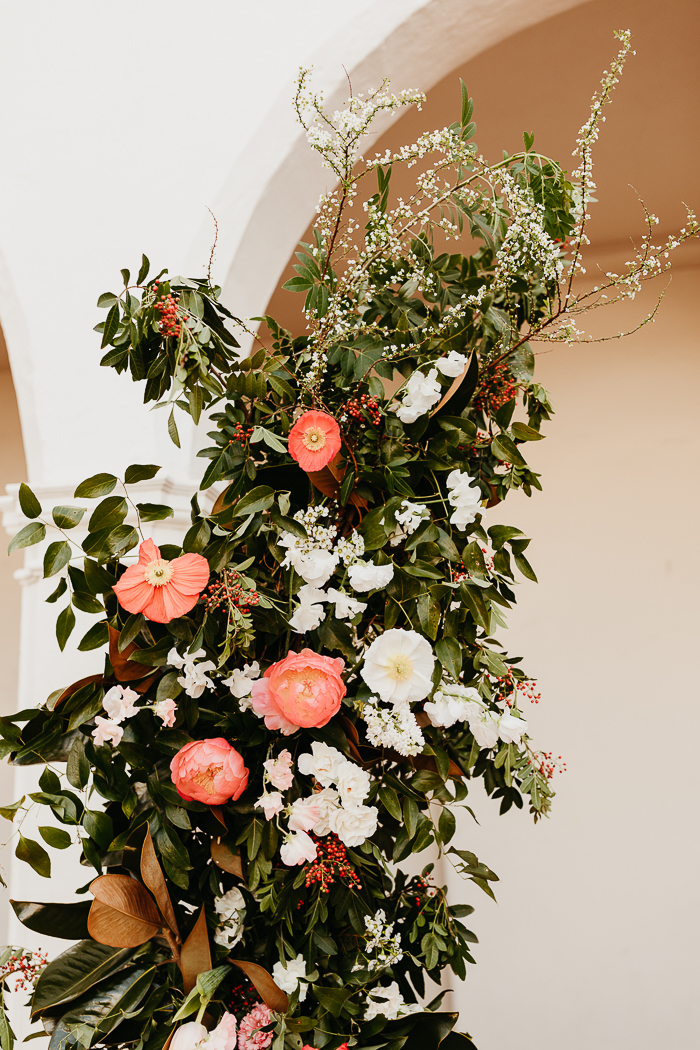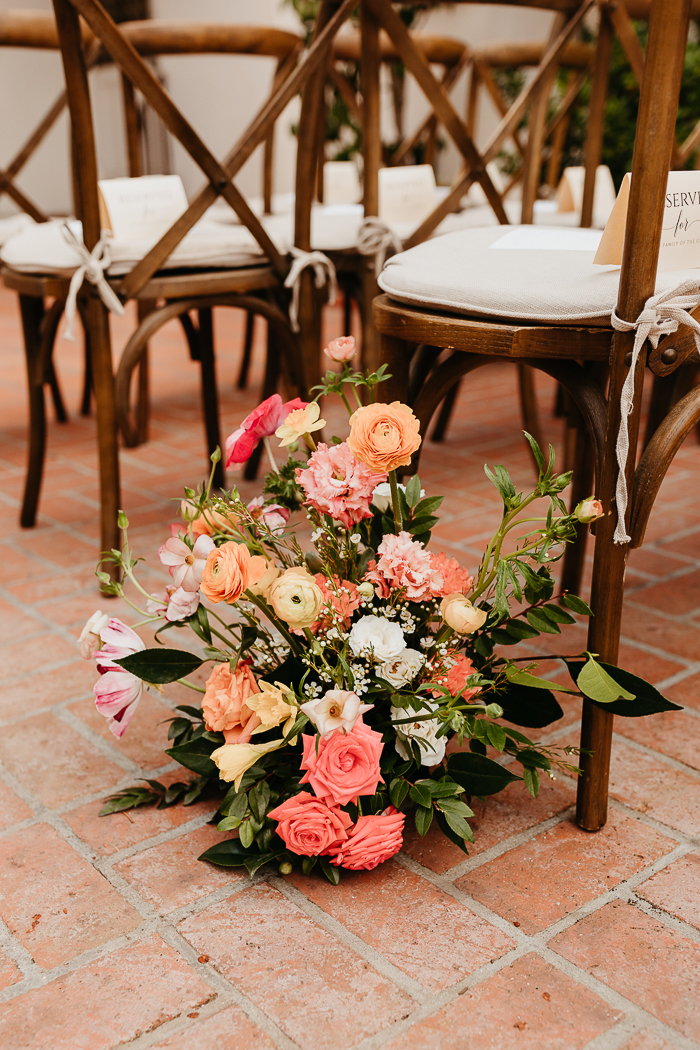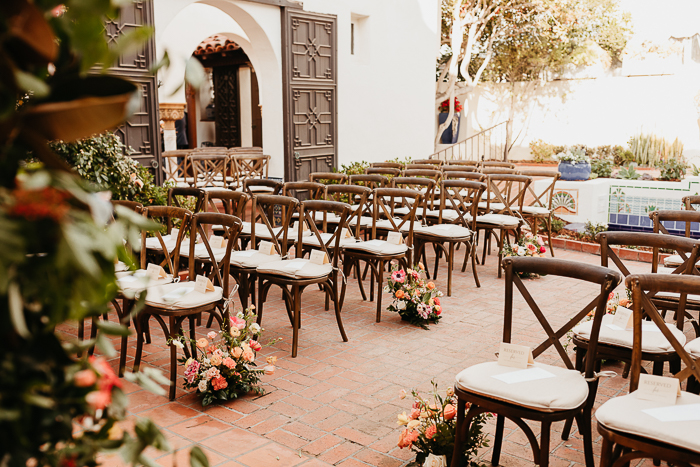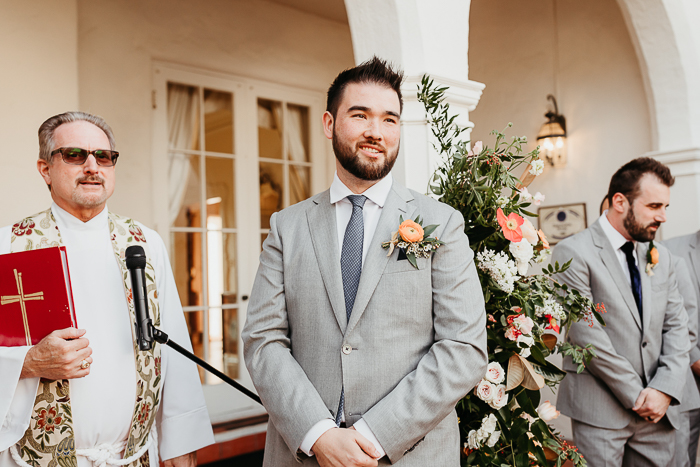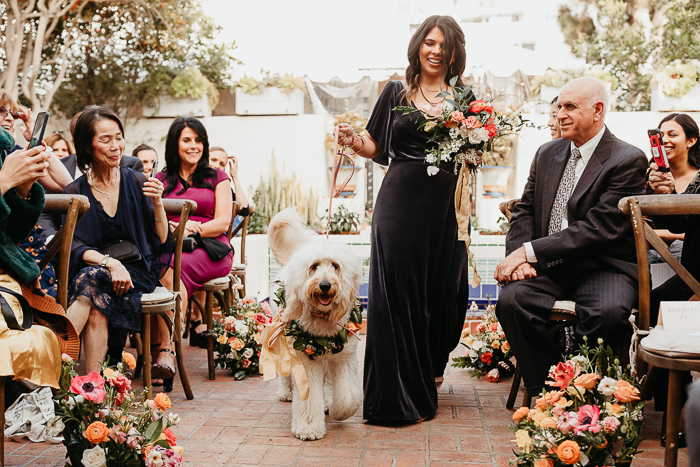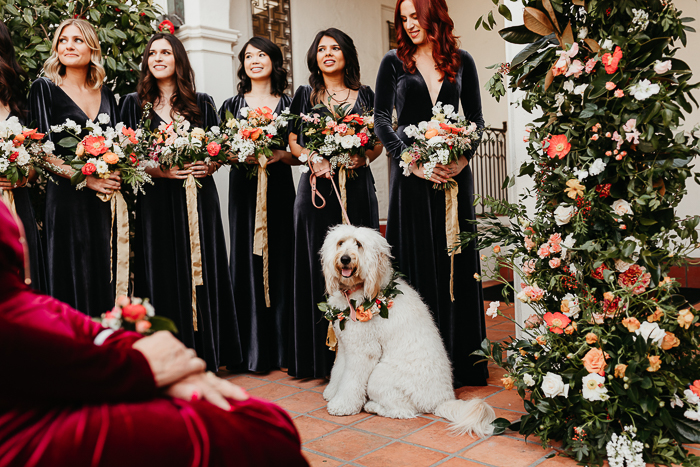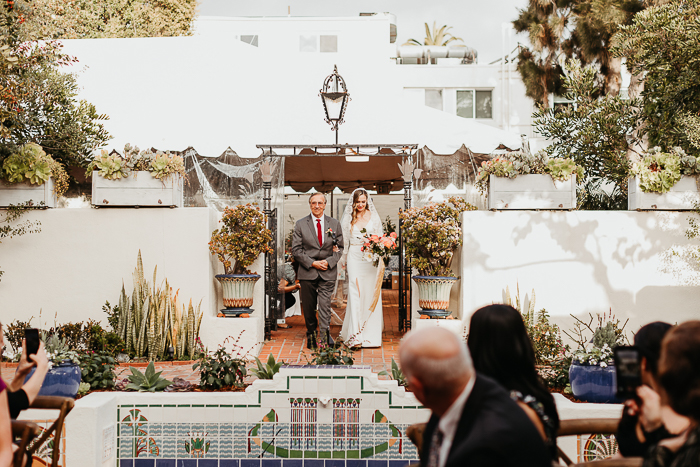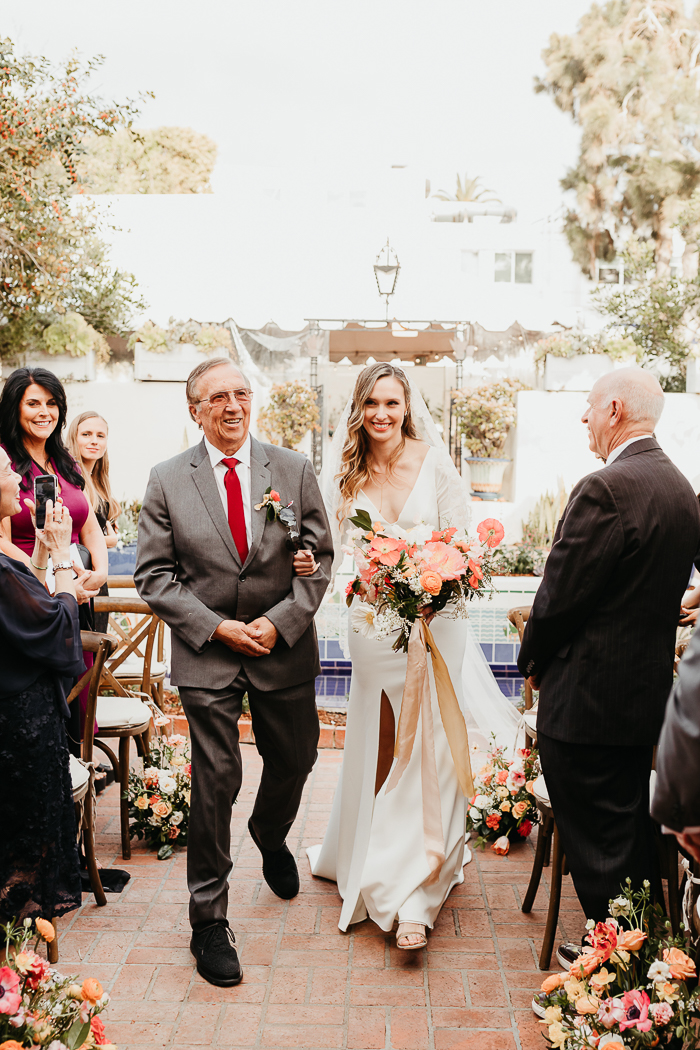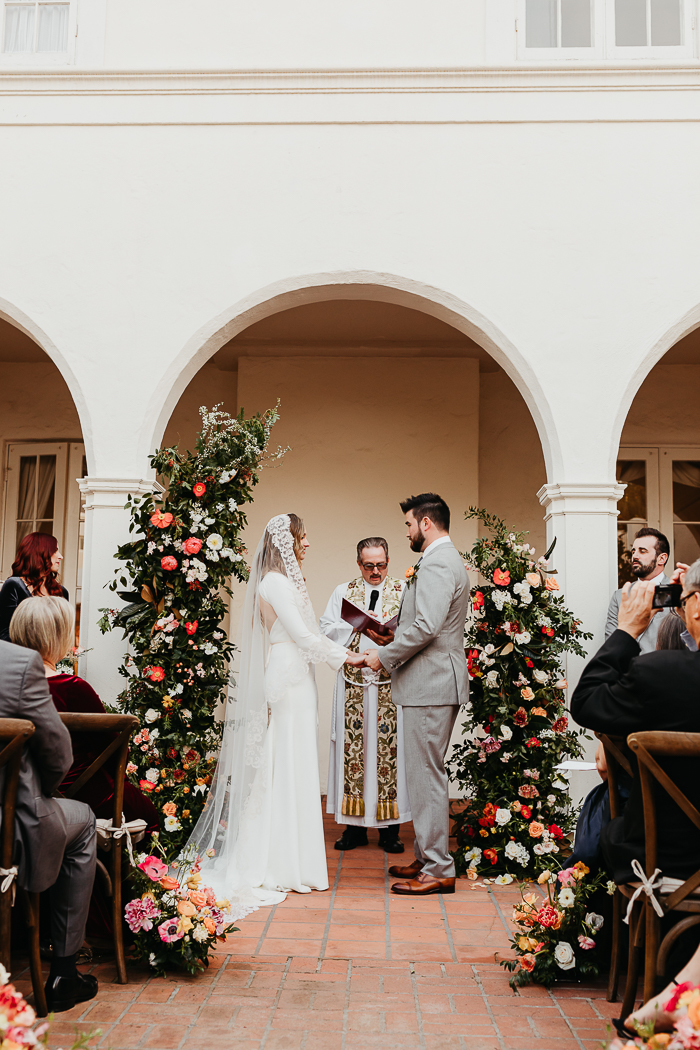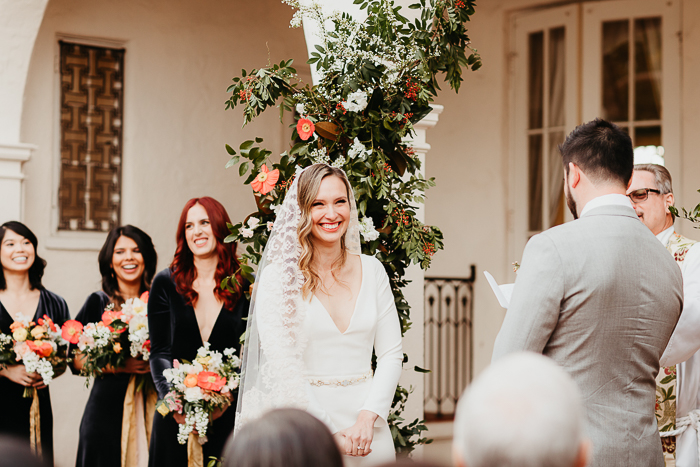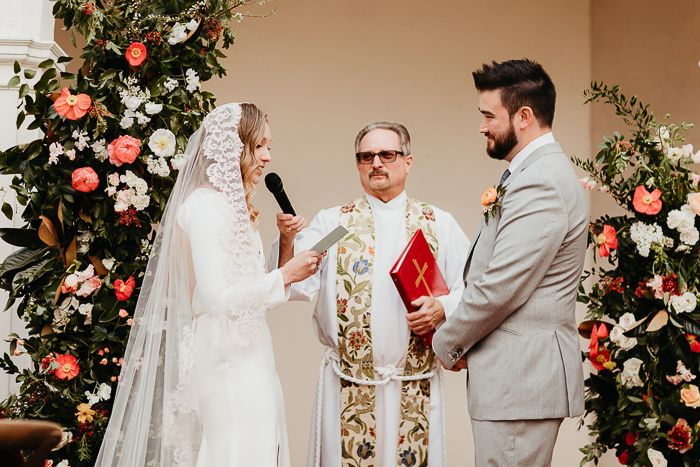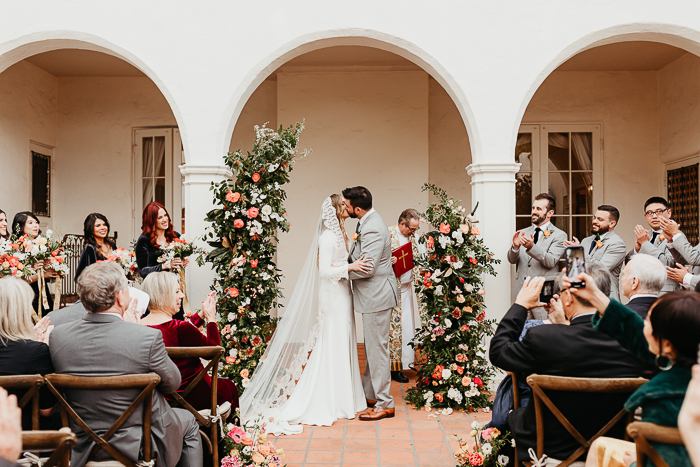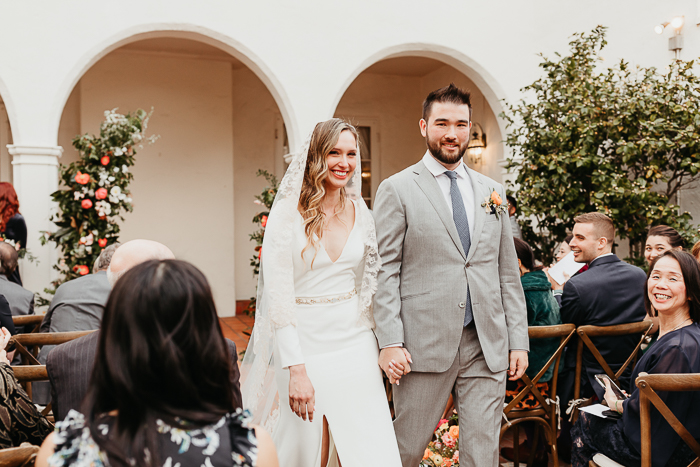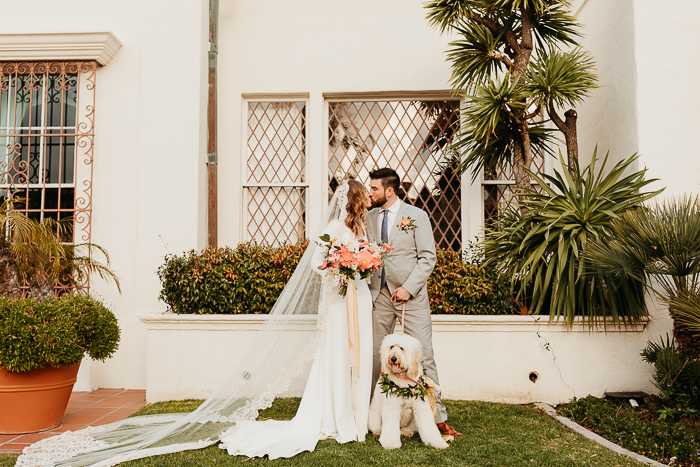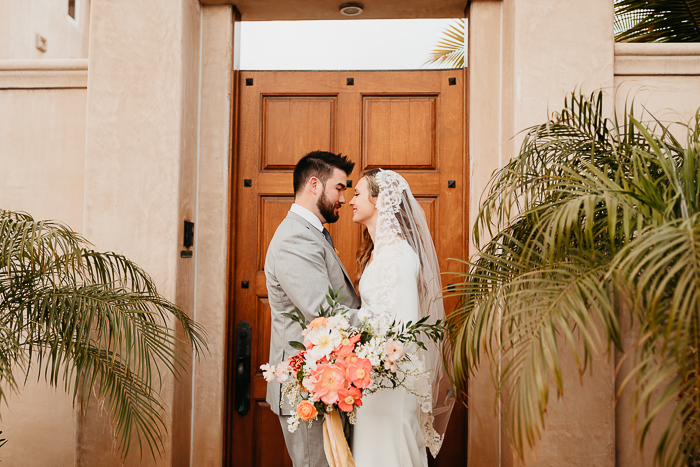 Wedding Advice From The Bride: Make a Wedding Email
Having a separate wedding email helped so that multiple people could have access to information. I also had a separate Instagram account I used to follow a million wedding accounts which helped me access the information when useful, but shut it off when feeling overwhelmed. I also dabbled in the subreddits "r/weddingplanning" and "r/weddingswap," where strangers are very helpful!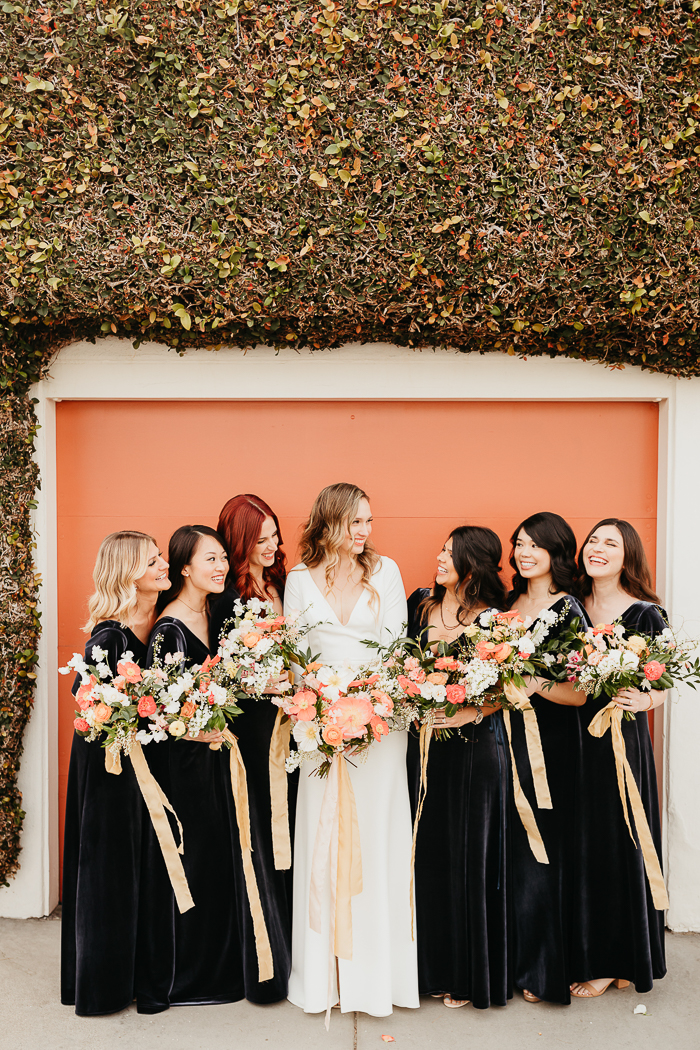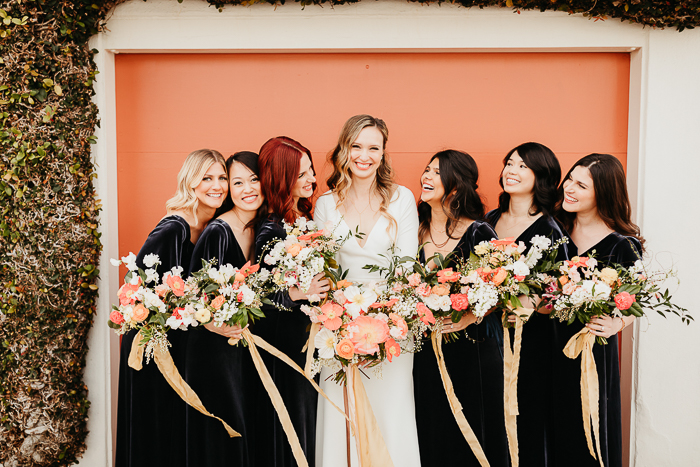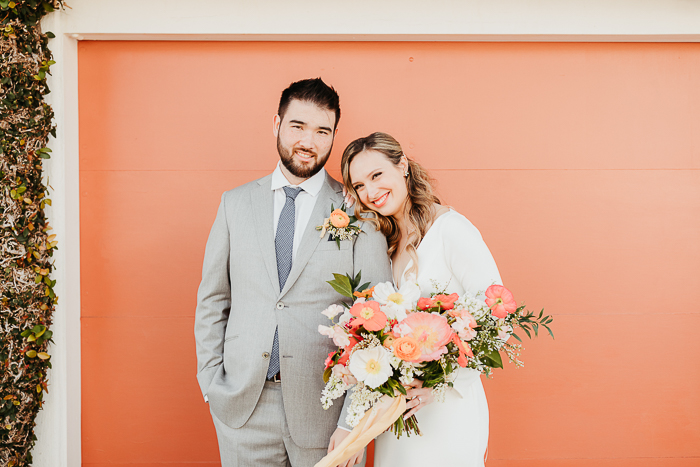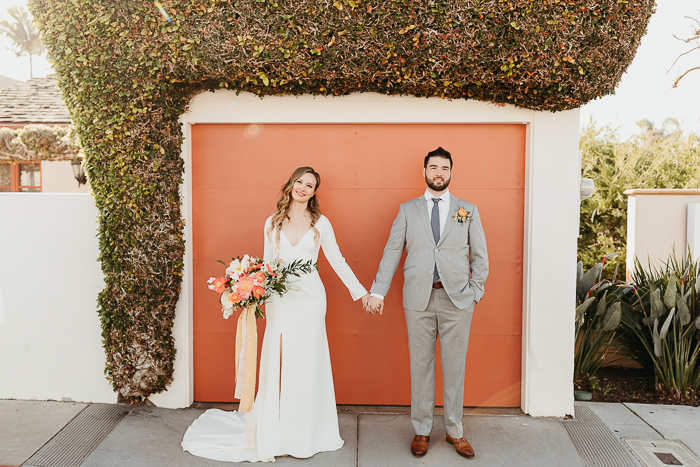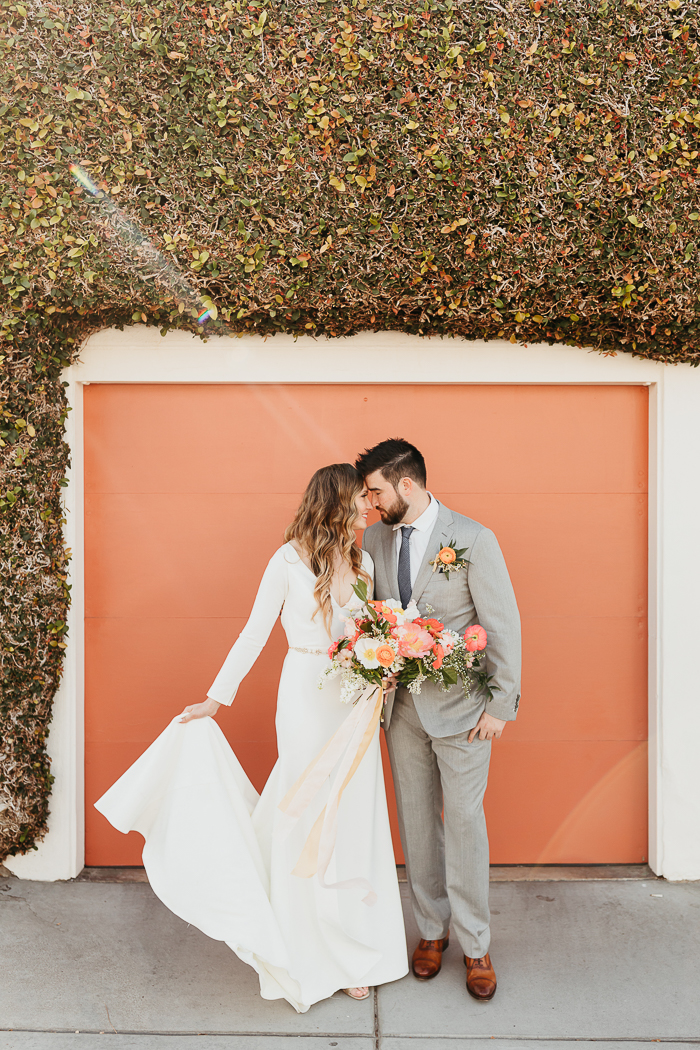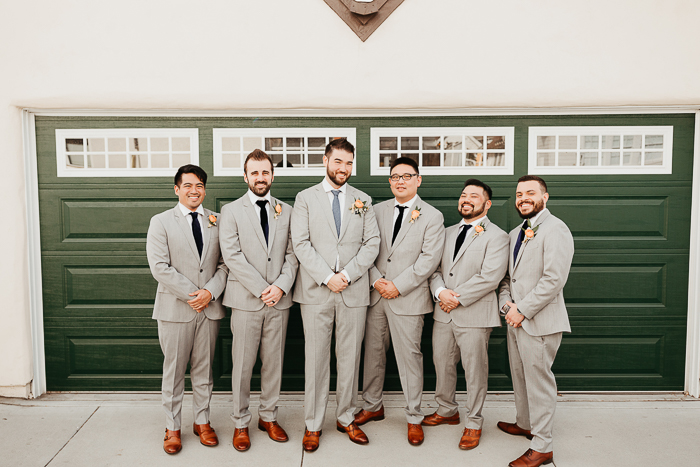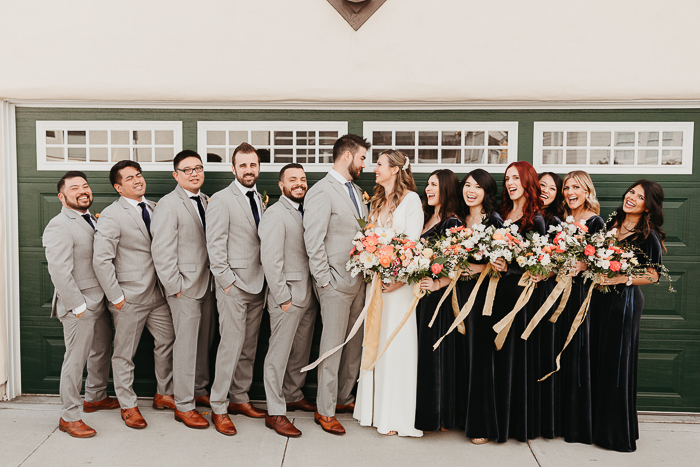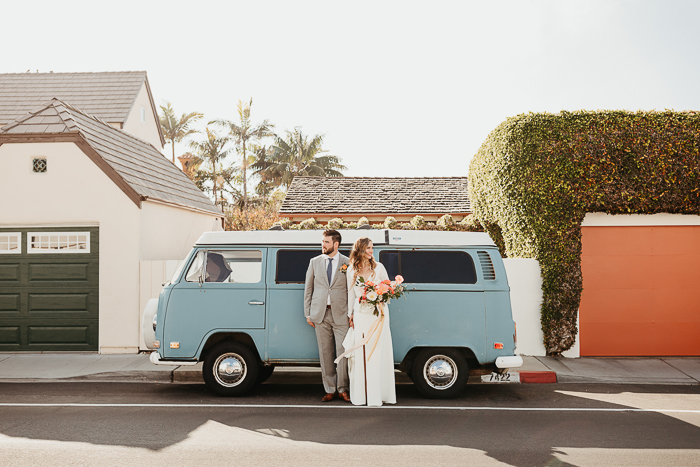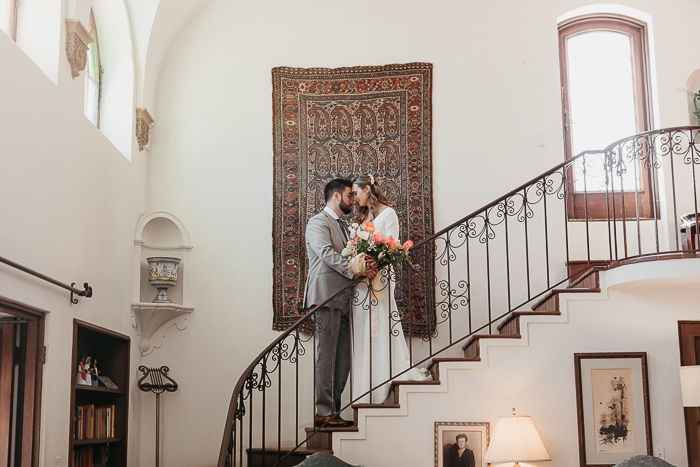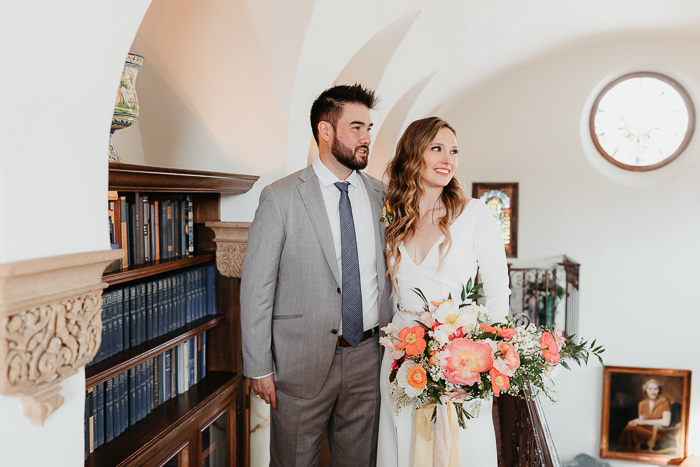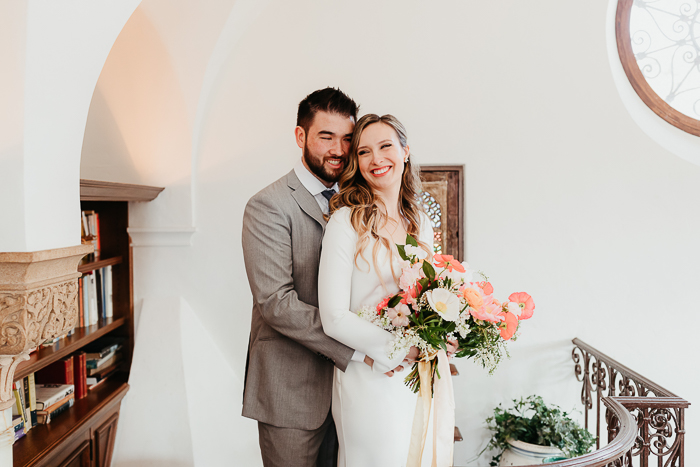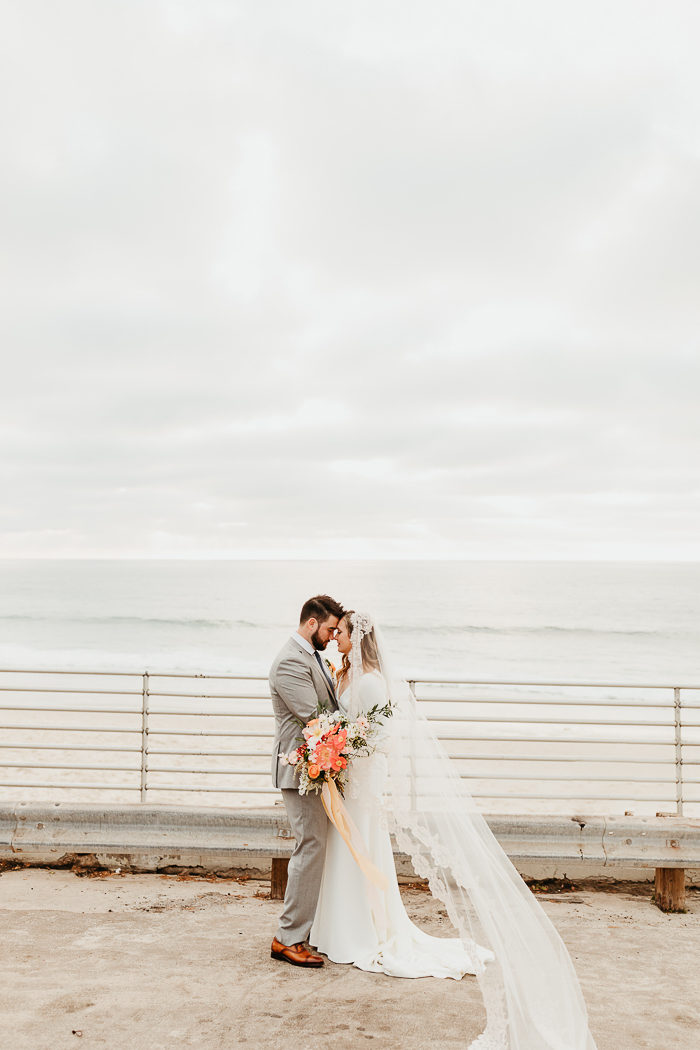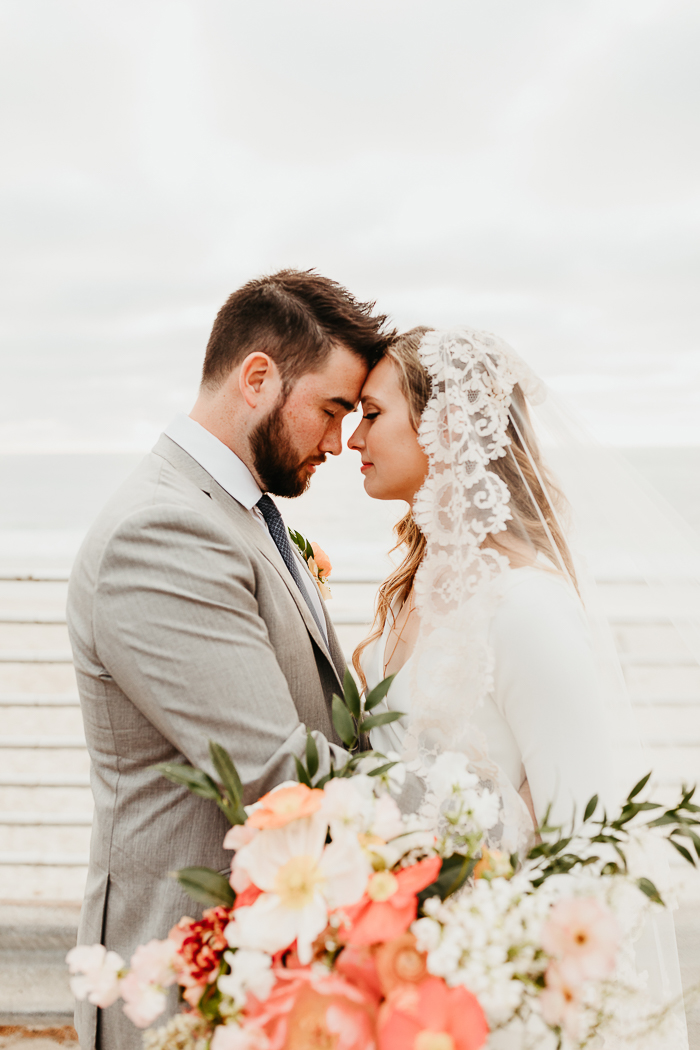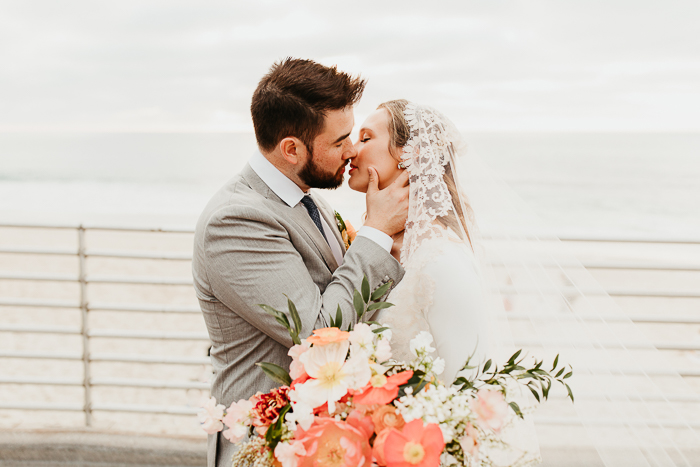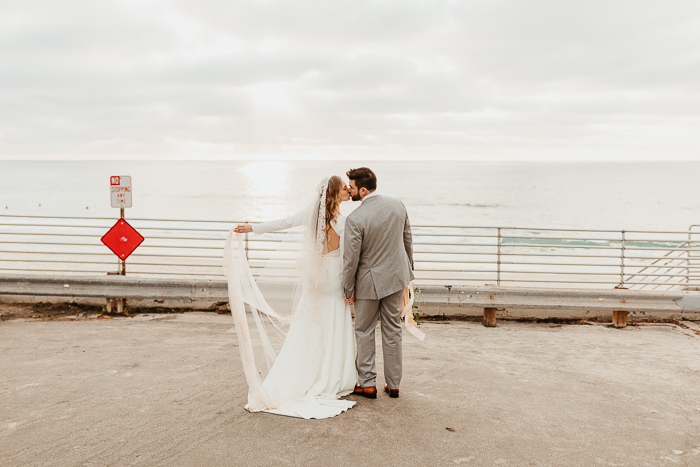 Bright Tropical Colors For A Winter Wedding
I had thought I wanted a simple palette with some tropical elements since we were getting married in the "winter" in California. But the more I looked at simple palettes and bouquets, the more I felt they were repetitive and not me. Slowly I ventured into more bright bouquets with a mix of textures. They felt more "like me" even though it wasn't necessarily "winter colors" for February. I've always been a big fan of coral—something about how it feels tropical and classy. My colors everywhere else in life are teal and mint. I wanted something I could bounce those colors off of here and there but not be overwhelmed because they can come off pretty strong. In the end, I ended up with summery colors and it felt right.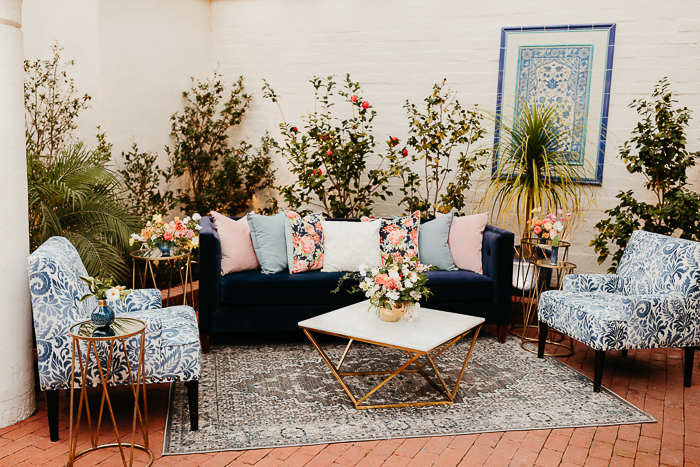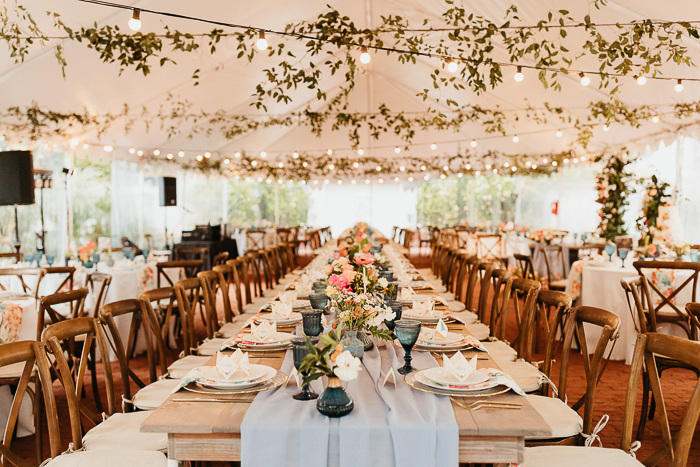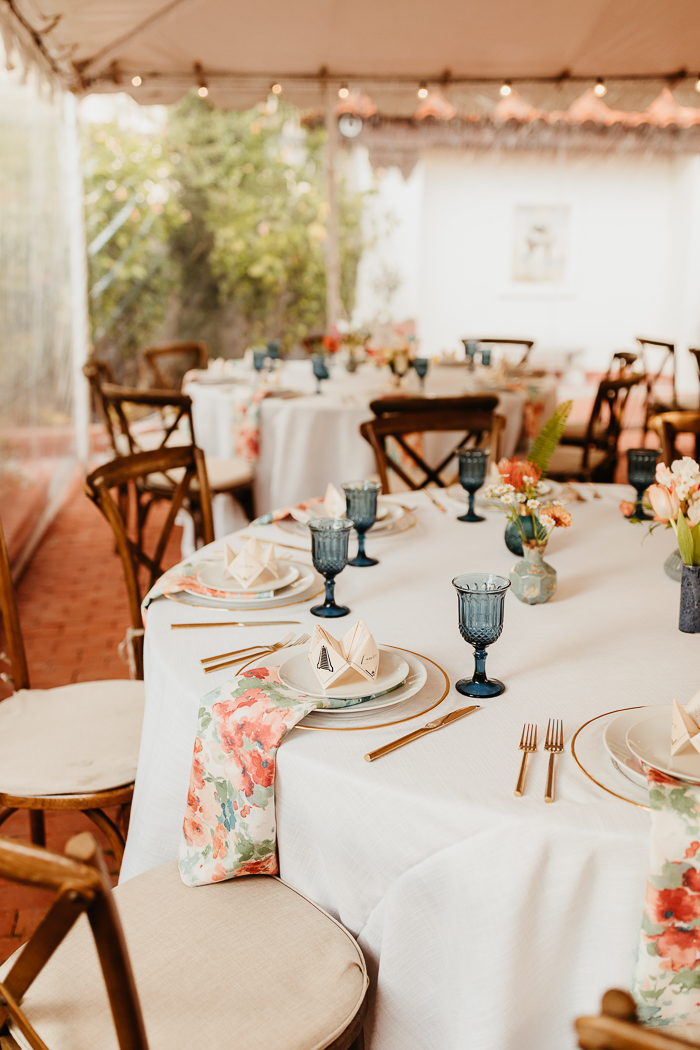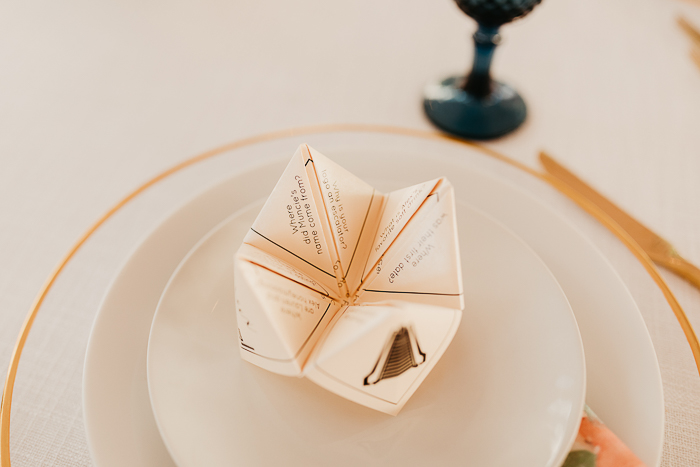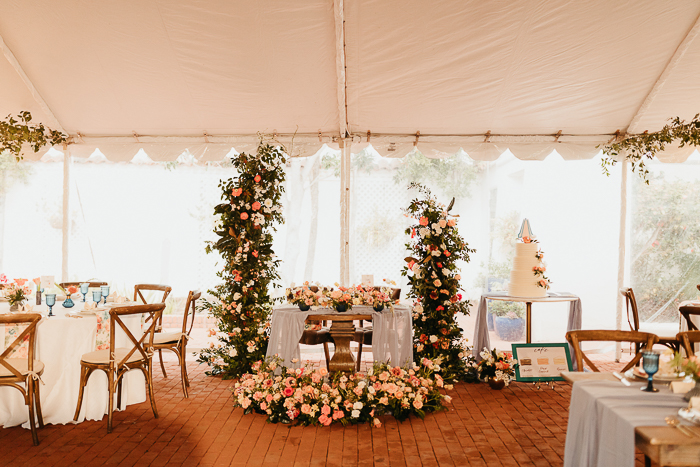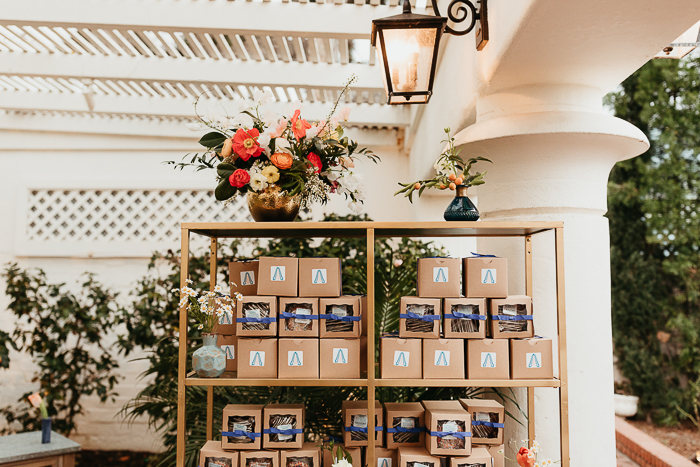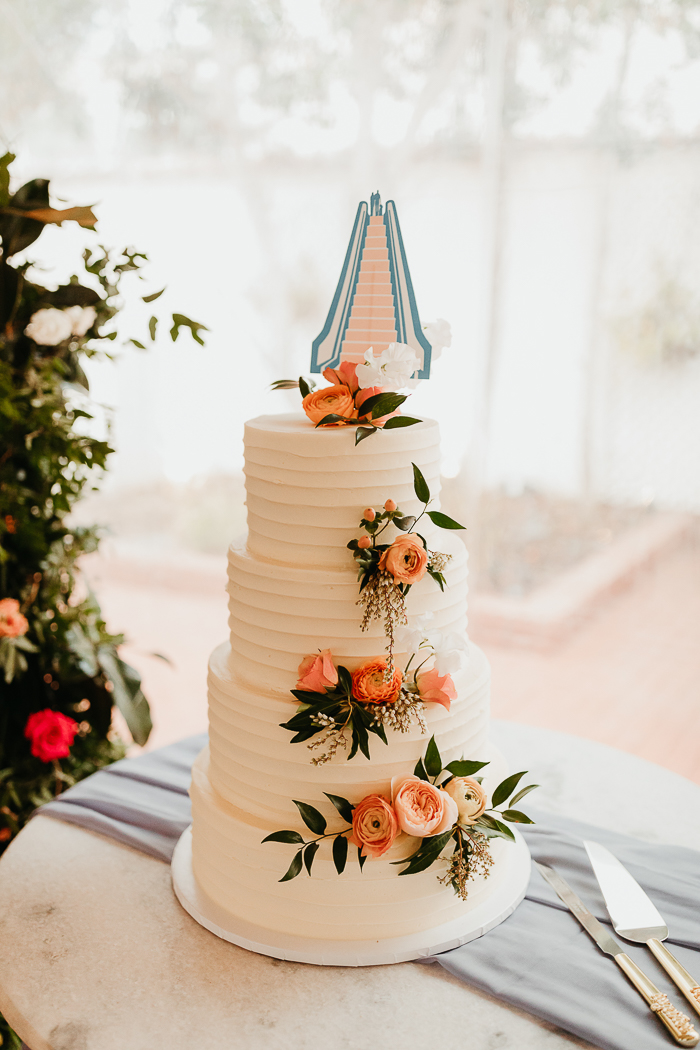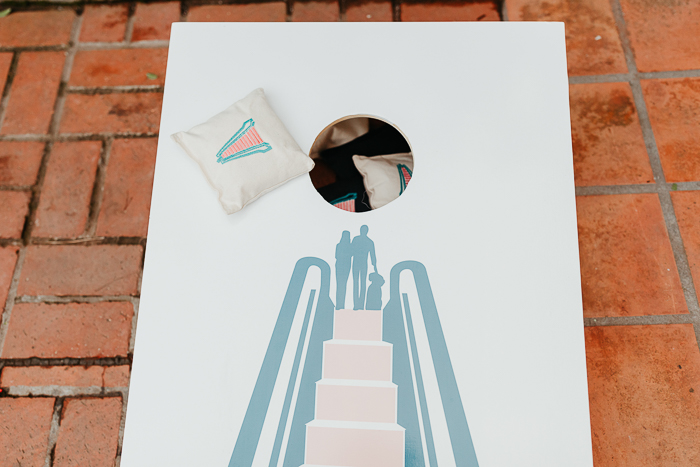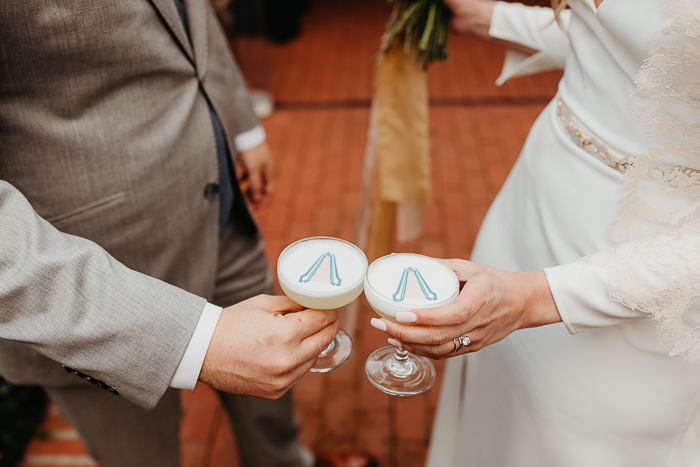 A Custom Wedding Logo
Our last names are Escobar and Slater and when combined it is "Escolaters," so we ran with that. Mycalia at LovelyBones Paperie–who designed our save the dates–created an "escolater" logo for us and I got it printed everywhere. Corn hole covers and bean bags, cocktail "graffiti," the cake topper, a wax seal for envelopes, a sticker on our favors, printed on our menus–it was a lot but felt like a special touch.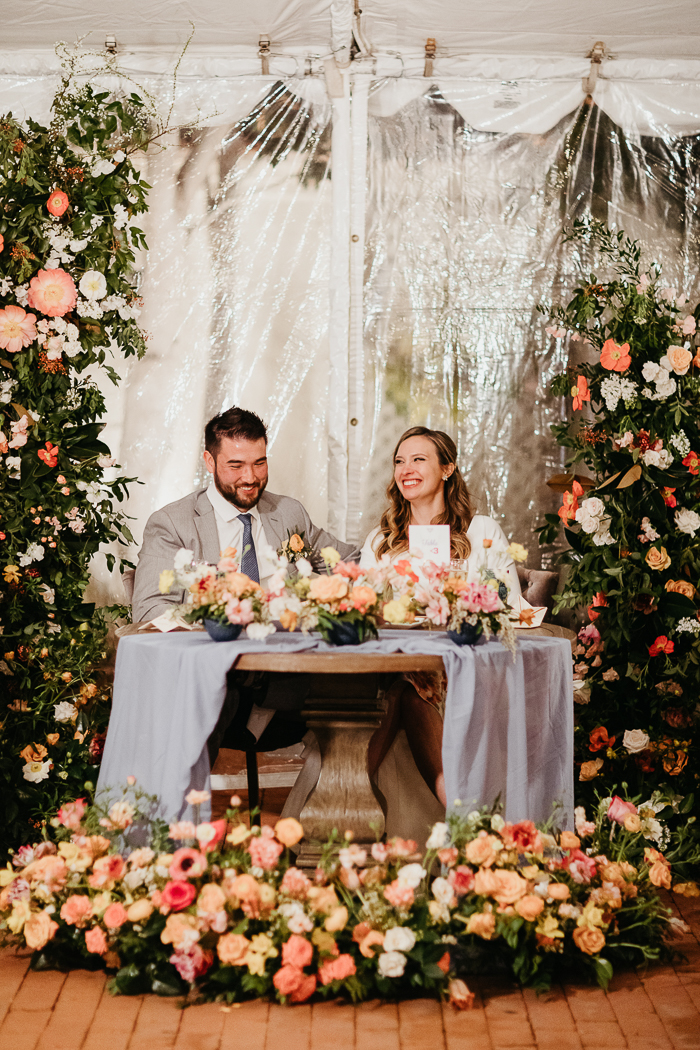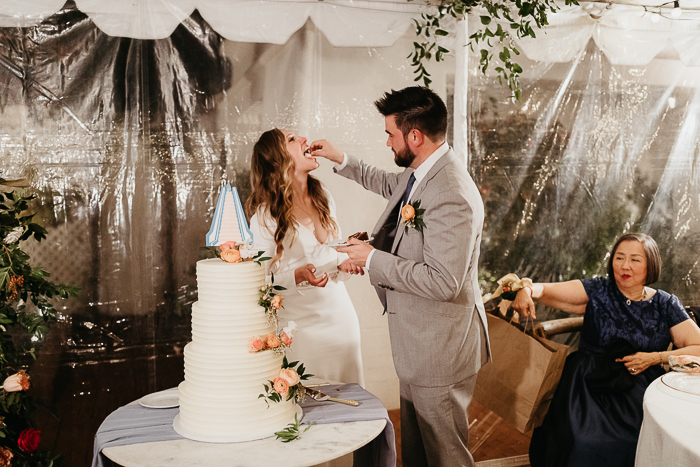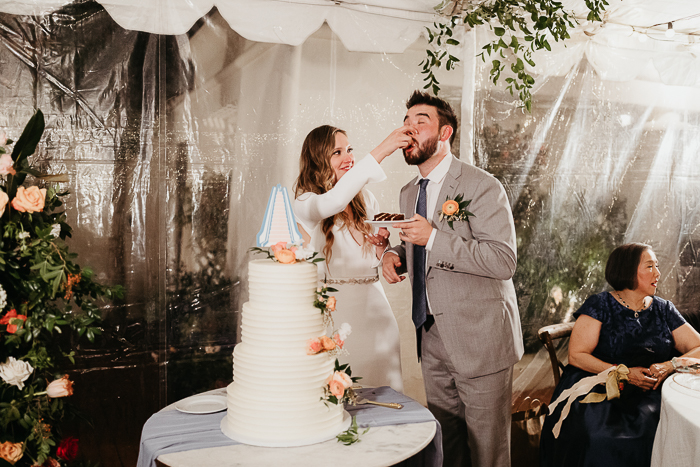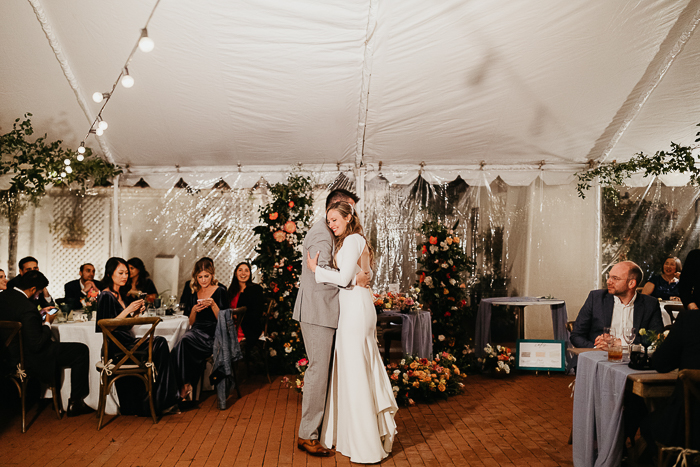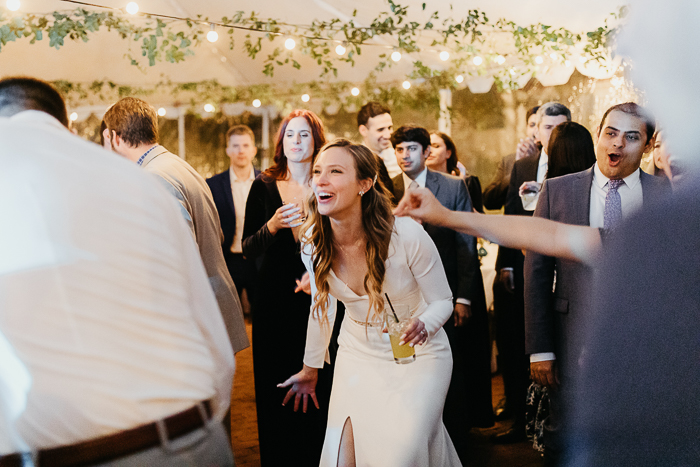 Congratulations again to Lauren and Alex on their flower-filled La Jolla wedding at Darlington House! Big thank you to Junebug member Kami Olavarria for capturing the beauty of their day and sharing it with us. To see more of Kami's work, check out her profile in our directory of best wedding photographers in the world.
The post Flower-Filled La Jolla Wedding at Darlington House appeared first on .