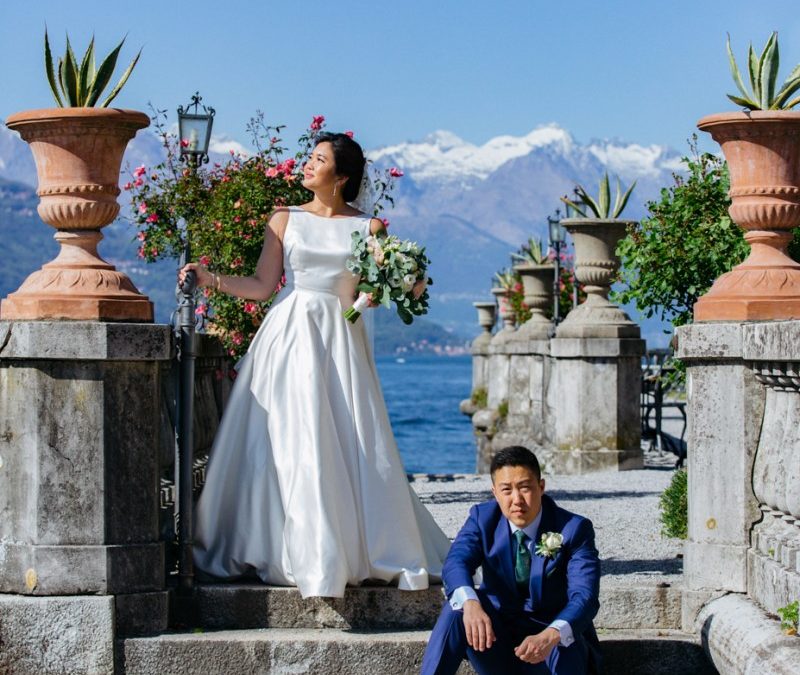 After starting to look into a large wedding in California wine country that rapidly ballooned in guest count and price, Lianne and Dan actually did what a lot of couples consider when confronted with so much wedding planning stress: they eloped instead. Way before micro-weddings were our new normal, Lianne and Dan invited about thirty of their closest friends to join them at Villa del Balbianello on Lago di Como in Italy.
Lianne, always hoping for an elegant and romantic wedding where guests could drink really good wine, learned about Lake Como from a friend who mentioned it on a whim and was shocked that an international destination elopement would be so much cheaper than the lavish wedding just hours north of her Los Angeles home.
The most important parts of the day were good food, good wine and dancing with a classy, intimate and fun vibe, so she enlisted the help of Aurora Fallini, a local planner and the mastermind leading Lake Como Weddings and Events which specializes in foreigners eloping at Lake Como.
They faced a few extra hurdles that only come with a destination wedding — like having to have your dress be your only carry-on for an international flight and then misplacing it the day before in a foreign country — but still had the time of their lives. But Lianne and Dan were no strangers to travel in their relationship, dating long distance for two years before getting to move in together in Dan's native LA.
Lianne, who grew up in Hawaii and has Japanese and Chinese heritage, and Dan who is Korean made traveling together one of their favorite activities, and were so excited to share that experience with their family and friends who came to Italy with them, visiting other parts of the country outside of Milano before and after the wedding with some of them before their honeymoon.
Lianne also had the peculiar experience of knowing for certain her husband would get along with his in-laws since Dan had worked with many of Lianne's family members before the couple met, and even tried to set them up.
Some highlights of the day included getting ready in the Kennedy suite at the Grand Hotel Villa Serbelloni in Bellagio (named after the former President who always stayed in that room when he visited Italy), and getting a tour of Lake Como by boat (the easiest way to cross from Bellagio to Lenno).
The ceremony was officiated by one of Lianne's best friends from college, and the party that lasted late into the night including choreographed and free form dancing, many toasts to the happy couple, and a cake smashed into the groom's face.
Lianne shares:
In looking for wedding locations my friend mentioned lake como (I had never heard of it before) and once I saw a pic of the venue it was a done deal that I was going to get married there. Dan spent the morning of our wedding scootering around the lake drinking beer.
Omg Dan lost my dress the day before the wedding (we found it). I knew for a long time I wanted Justin McCallum to be my photographer but I wasn't sure I would be able to convince him to go to Italy (which turned out to be easy)

Italian Elopement Vendors
Let's see all the photos from this Italian elopement