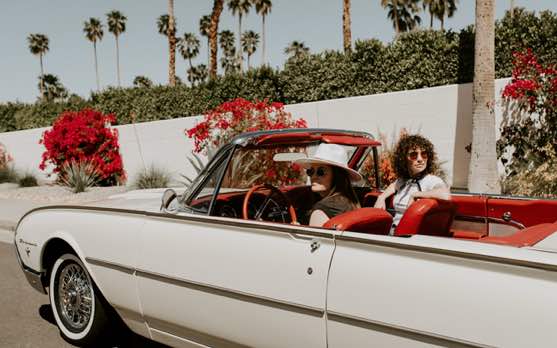 When it comes to honeymoons, no rule says you have to jet set to a far-off destination. Whether you're saving up money to pay off debts, buy a house, or you're just not ready to travel, there are still many ways to celebrate being a newlywed with your new partner. 
From low-key plans like spa days to adrenaline-rushing activities like a hot air balloon ride, these creative honeymoon ideas give you the chance to soak in the feeling that is being newly married without having to hop on a plane!
Camping or Glamping
If you and your new spouse are big adventure lovers, this one's for you. Whether you pitch a tent or you opt to go glamping, there's nothing better than getting out and being one with nature. Camping gives you the chance to sleep under the stars (so romantic), hike, swim, tube, or just kick back and relax with your favorite book in a hammock. Just don't forget to pack the s'mores!
Spa Day
Although you may not be traveling, a honeymoon can still be all about treating yourself for all of the hard work that goes into wedding planning. A spa day will leave you feeling relaxed, and you'll walk away a brand new person. Complete the experience with massages, manicures, pedicures, facials, and more.
Take A Cooking Class
Is there anything better than a home-cooked meal? Spend quality time together and whip up a meal to remember at a cooking class. Whip up homemade pasta, a cultural fusion, or the dessert of your dreams–there are so many options to choose from. Plus, you'll be able to keep the recipe and make it a regular meal throughout your marriage.
If you'd rather someone do the cooking for you, you can also hire a private chef to come to your home and prepare a meal for the two of you. This way, you can sit back and relax with a glass of wine.
Go To A Music Festival
If you've ever attended a music festival, then you know how exciting it is to watch some of your favorite music artists with your friends. It's even better with your spouse! Make new memories with your spouse and find a  music festival with artists you both love. A weekend spent listening to good tunes, dancing, and soaking up the sunshine–what more could you want?
Take Massage Classes
Are you looking to spice things up a bit? While you could get a couple's massage–which we're always a fan of–why not bring the heat home? Melt offers online massage courses that teach you how to finesse your hands and focus on the areas of tension for the ultimate relaxation experience. All you need is oil, your partner, and a computer.
Spend A Day At An Amusement Park
We wholeheartedly believe that we're all children at heart, and there's no better way to showcase our playful sides than a day at an amusement park. From arcade games with prizes to roller coasters that will have you screaming your head off, this is such an easy and fun way to celebrate your love.
Volunteer
If you and your new spouse would rather spend your time helping others, a volunteer day is one of the sweetest and most thoughtful ways to celebrate your love while giving back. It's a creative way to create memories and create a long-lasting impact on your community. 
Help plant a community garden, spend the day at the humane society playing with pups, or put together care packages for the homeless. Follow up your hard work with a nice dinner, just the two of you, and talk about everything you felt and learned during your creative honeymoon experience.
Rent A Vintage Car And Drive Around Town
Did you know that you can rent vintage cars and drive around town like you're a 1950s movie star? Throw on those cat-eye sunglasses, headscarves, and loafers and hit up the city in the vintage car of your dreams. We highly suggest a convertible if the weather is permitting.
Take A Hot Air Balloon Ride
Adrenaline junkies, this one's for you. Take your love to new heights–literally–by going on a hot air balloon ride. It's a great way to see your city from a new perspective and gain a sense of peace. If you really want to kick off being newlyweds, find a company that puts together a celebratory breakfast and champagne toast for you before take off.
Honeymoon Wine Tasting And Brewery Tour
Looking for a boozy way to commemorate your wedding day? Head over to your local winery or brewery and make a day of tasting and snacking. There's nothing quite like drinking the day away under the sun while snacking on charcuterie boards or pretzels.
Rent A Boat For Your Honeymoon
You don't have to live near the ocean for this one. Whether you're on the coast or you're a short drive away from a lake, renting a boat is a fun way to soak up some sun and get out on the water. If you're looking for some exercise, opt for a two-person canoe or kayak. If you're all about chilling out, see what your options are for jet skis or pontoon boats. 
Go Horseback Riding
Are you and your significant other outdoor enthusiasts? Animal lovers? If so, combine the two loves with horseback riding. You get to spend time out in the fresh air while enjoying the company of some of the most beautiful creatures on Earth.
Golf
Want some friendly competition? We got you covered. Hit the golf courses for this one. If mini-golf is more your speed, go for it. Or make your way to your local golf course for some serious game time. No matter what your golf skill is, this is a fun way to challenge yourself and have a playful rivalry—the loser has to buy the winner a milkshake!
Creative Honeymoon Helicopter Ride
If you don't mind the expense, enjoy a trip in the skies. That's right, take a helicopter ride together. This gives you a chance to get a birds-eye view of your city, a national park, or a big nearby landmark. Find a sunrise or sunset option and watch the world transform in front of your eyes for some added romance.
Skydiving
Maybe roller coasters, hot air balloons, or helicopter rides aren't enough for you. Take the ultimate plunge together and jump out of a plane instead. Skydiving is a surefire way to get your adrenaline rushing and celebrate taking the leap of marriage together.
Go Down Memory Lane 
One of the most romantic things you can do together is stroll down memory lane and revisit spots that were important to you while dating. This could be a park, a restaurant where you had your first date, or even the place where you got engaged. The options are endless.
Rent a Cabin
Escape the heat during the summer months or hit the slopes in the winter months by renting a cabin for a creative honeymoon getaway. There's truly nothing more serene than being surrounded by nature and the sound of the wind gently blowing through the trees.
See a Broadway show
Switch up your typical Netflix and dinner routine by opting for a Broadway show instead. Check out your nearby theater and see what shows are playing for a night full of music, dancing, and entertainment.
Take A Pottery-Making Class
If you've seen Ghost, you've probably always wanted to go on a romantic pottery-making date. It's a cool way to express your creative side and get closer to one another. Plus, you get a cool souvenir to take home with you, and there are sure to be laughs along the way.
Want something a little more lowkey in the comfort of your home? Check out our guide on how to put together the perfect staycation honeymoon!
The post 19 Creative Honeymoon Ideas For Every Couple appeared first on .