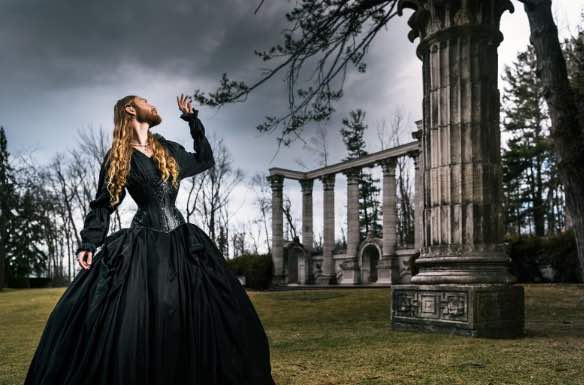 Here at Offbeat Bride, we're no newbs when it comes to gender nonconforming wedding attire. We've featured a bride who wore a corset and tuxedo. We've featured transfemmes in purple gowns and amazing black lace wedding dresses. We've featured non-dress outfits for brides, masculine suits for women, trans men, and other handsome AF folks, and photoshoots with brides and grooms wearing matching dresses. Seriously, have you spent time in our genderqueer and transgender wedding archives? They're deep.
But this photoshoot? THIS photoshoot?!? It sets a new standard for what's possible with nonbinary wedding outfits.
Most notably, we've got the gorgeous model, Myles Sexton, posing in a sleek black corset from Starkers Corsetry, paired with an enormous puffy full-length ball gown.
…This silhouette is everything! Myles is so perfectly serving the delicious mix of masculine and feminine, with his long curly hair and impeccable beard. We've got the perfectly shaped hourglass figure with that corset, and the explosive joy of that skirt. Keep scrolling for more — and wait until you see the second look! It will redefine groom gear for you.
Ok, ready for that second nonbinary wedding attire look?
Myles tossed off the skirt, and paired that corset with some leather pants — I'm getting Gareth from Labyrinth vibes!
Vendor list for this nonbinary wedding outfit styled shoot
If you want even more nonbinary wedding outfit inspo, we're here for you:
These posts are angled a bit more towards the transfemme version of nonbinary identity, but be sure to check our genderqueer and transgender wedding archives for lewks for all folks of all identities — masc, femme, and "none of the above, thank you for asking."