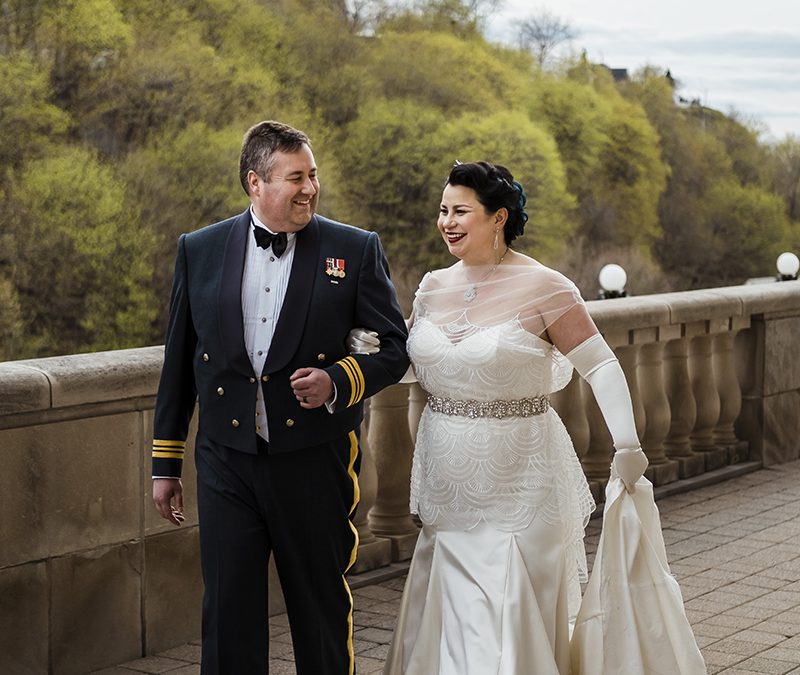 Offbeat partner: Beth
Offbeat partner: Mitch
Date and location of wedding: Chateau Laurier, Ottawa, Ontario, Canada — May 11, 2019
Our offbeat wedding at a glance: Mitch and I had talked about having a wedding for years but because we kept being posted to remote places away from family and friends, we kept putting it off. When we were moving to Ottawa, we decided "This is it! It has to happen now!" However, that still meant that ALL of our families and some of our friends had to travel to make it to the wedding (I'm American and my family lives across the US, and Mitch's family lives in Alberta). We decided on our venue because it was in the perfect location in downtown Ottawa (and overlooking Parliament), so all of our guests could fly in and have access to a huge variety of places without having to drive.
We also love the history of CP hotels, fabulous food, and, it turns, out, everything expensive, so it was easy to go with a general vintage/art deco ballroom theme but difficult to decide where to cut to stay on budget. In lieu of a rehearsal dinner the night before, we invited everyone for a scavenger hunt downtown as a wedding meet/greet and finished with dinner and drinks at an art deco brasserie.
Tell us about the ceremony:
Our ceremony was quite simple. Mitch was not a fan of anything resembling a ceremony and vows, and it was most important to me to celebrate with the people closest to us (most of whom we don't see often) and that everyone has a good time. Mitch let me get away with a 10-minute long ceremony, which would be concluded with a champagne toast.
Our dogs are a cornerstone in our relationship, so it was important to have Riley and Penelope at the ceremony with us. We were so lucky that close friends wrangled them for us before and after the ceremony. My cousin, who we are both good friends with, officiated the wedding and did a lovely job. It was short, sweet, and hey, champagne!
Tell us about the reception:
After the ceremony, we had a receiving line with me and Mitch and our puppers. There were treats set up so everyone could give us hugs and give the good dogs nibbles.
Speaking of nibbles, we had too much food at the reception. There were hors d'oeuvres during cocktails, and then we sat down to a plated four-course meal, followed by a dessert bar in lieu of a wedding cake, and late-night snacks to end. It was all so delicious, but almost nobody had enough room to even hit the dessert table.
Following dinner, we had a band play jazz and blues standards and vintage covers a la Postmodern Jukebox. Our first dance started as "Our Love is Here to Stay" and changed mid-tune to a vintage-style Rickroll.
Looking back by the end of the night, I was thrilled that our wedding felt like such a success. Not because every detail was undeniably "us," not because we had the most amazing food, gorgeous venue, and flowers, great music, etc., but because our primary mission was fulfilled: everyone close to us had come together, helped out, became friends, and had a fabulous time enough that strangers commented on the fun we had. The smiles and the laughs from our incredible network of people are still our greatest takeaway from that day.
What was the most important lesson you learned from your wedding?
To stay on budget, and because I am a crafty bitch (and a bit control freak), I DIYed almost everything at the wedding. The theme really should have been "Opulence! I MADE EVERYTHING!!!"
I bought my strapless dress at a sample consignment store but sewed a bodice overlay with an art deco pattern to wear for the ceremony and remove after, and sewed in my own bustle. I made my necklace and earrings. I made the vintage telegram save-the-dates, the invitations, and the programs (filled with fun goodness from Offbeat Bride).
I printed paper with the sheet music of our wedding song and made more than 500 paper flower decorations. I created all of our signs with vinyl lettering on mirrors, made the felt flower collars for the puppers' ceremony garb, and instead of table numbers, I reprinted vintage concert posters from the '20s and '30s and then put in a bio with quirky trivia about each musician on the back of the frame.
The problem: for several reasons, I never decided on whether to hire a day-of coordinator. In the end, I just felt I ran out of time, and I enlisted my sister and cousin to help with setup and running the schedule for the night since they both have backgrounds that lend well to event management. To be honest, it was still a LOT, but I had many friends and family members pitch in to make everything come together, and I'm so grateful. I couldn't have done it without them, and many of my fondest memories are from that.
Vendors
Florist: Capital Florist • Photographer: Darren Brown • Favours: Peace by Chocolate • Band: The Gatsby Gang
Gallery