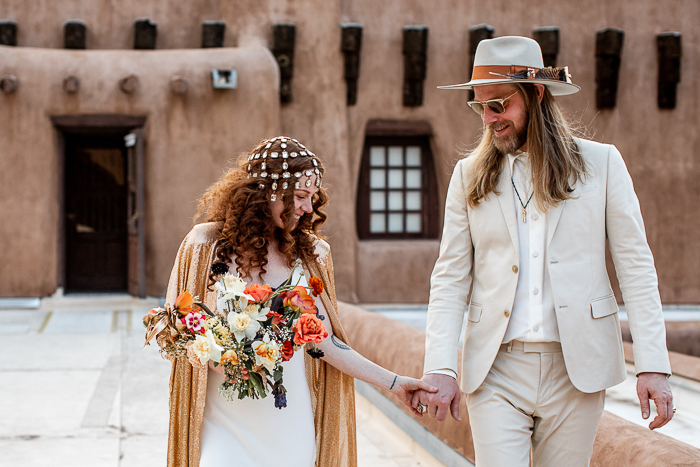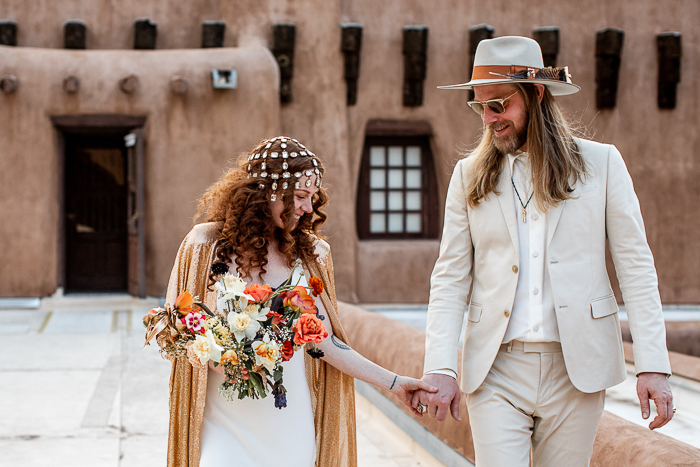 After reserving a spot at the couple's dream venue in Texas, Kari and Dylan were forced to change their plans when they couldn't find accommodations for their guests. After stumbling upon the New Mexico Museum of Art, they knew it was fate. Their photographer Lilly Red was able to capture the couple's disco-inspired attire (featuring a Gucci headpiece, gold chain mail cape, and Stenson hat—talk about rock n' roll), the simple yet stunning adobe architecture of the ceremony, the parade around the plaza complete with a mariachi band, and the neon-lit festivities at Meow Wolf. Surrounded by friends and family, this couple's wedding day was heartwarming and party all wrapped into one!
The Couple:
Kari and Dylan
The Wedding:
New Mexico Museum of Art,  Santa Fe, New Mexico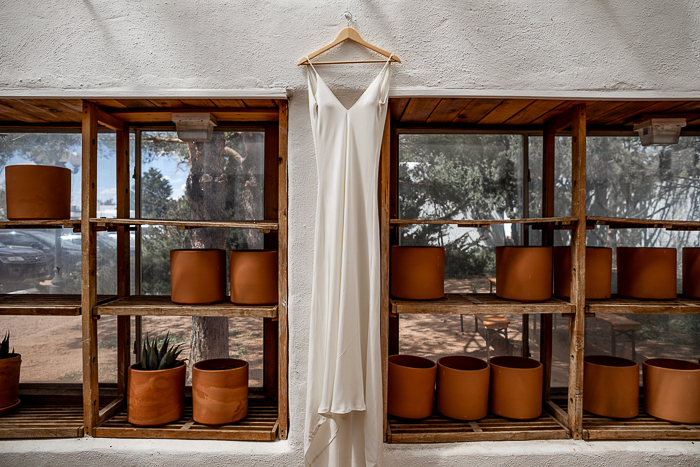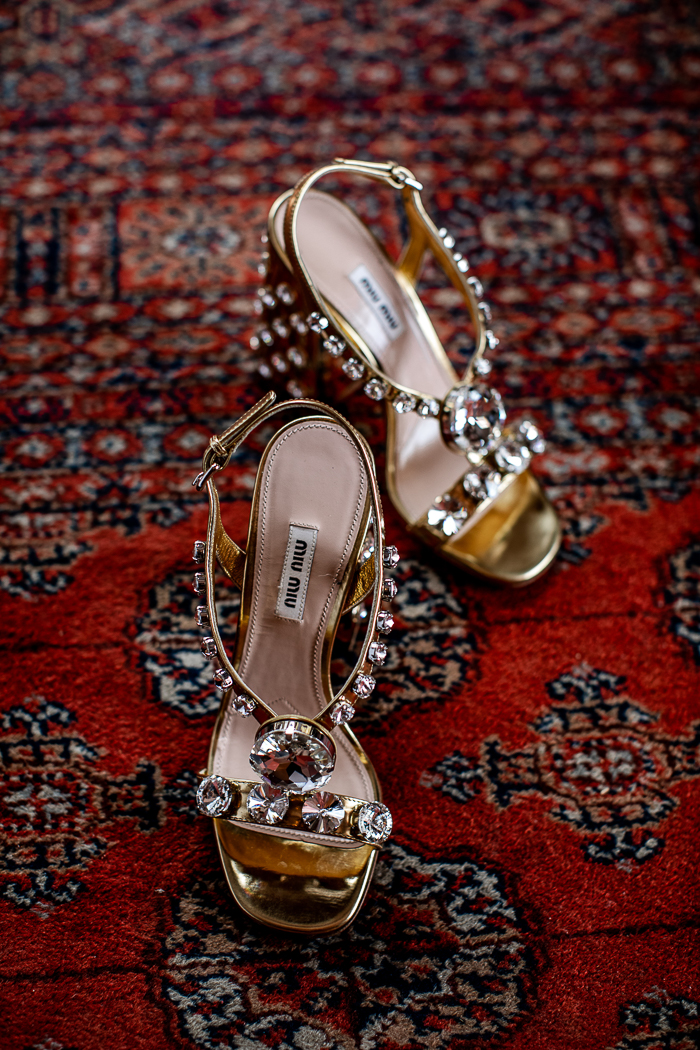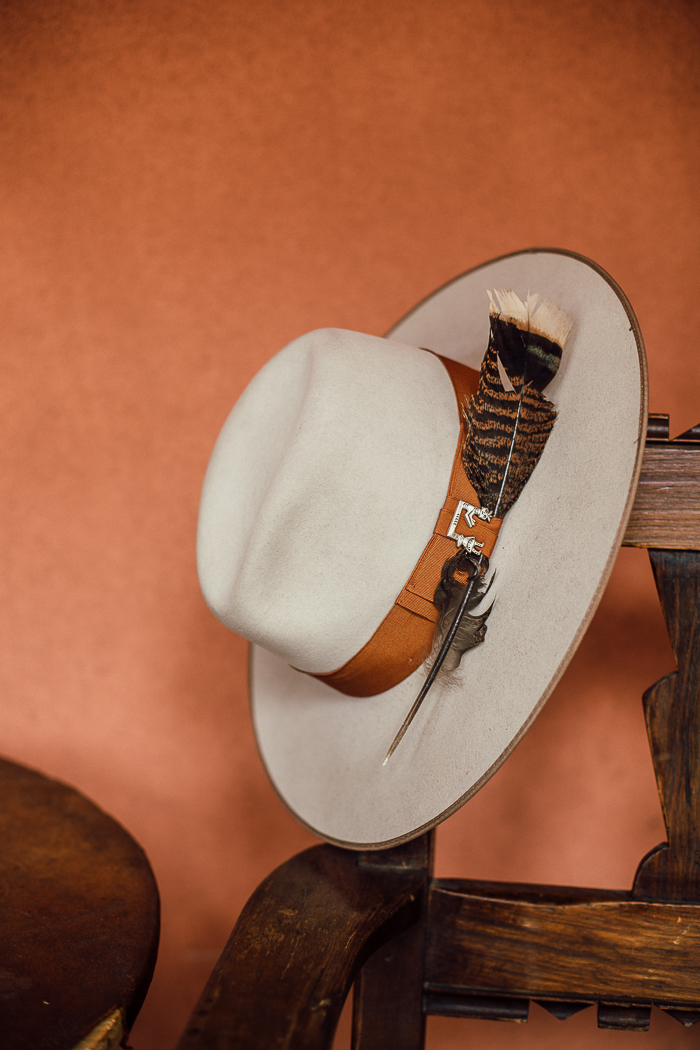 Shop similar hats: The Mojave Bolero Hat ($192.19); The Tower Off White Felt Hat ($192.19); TAU Amsterdam Ivory Felt Hat ($136.16)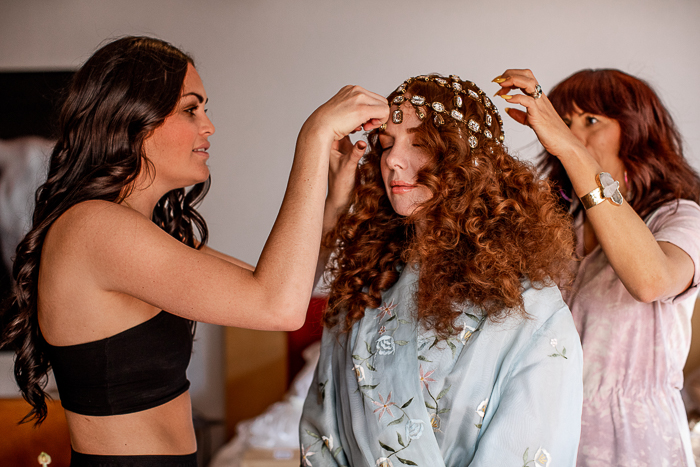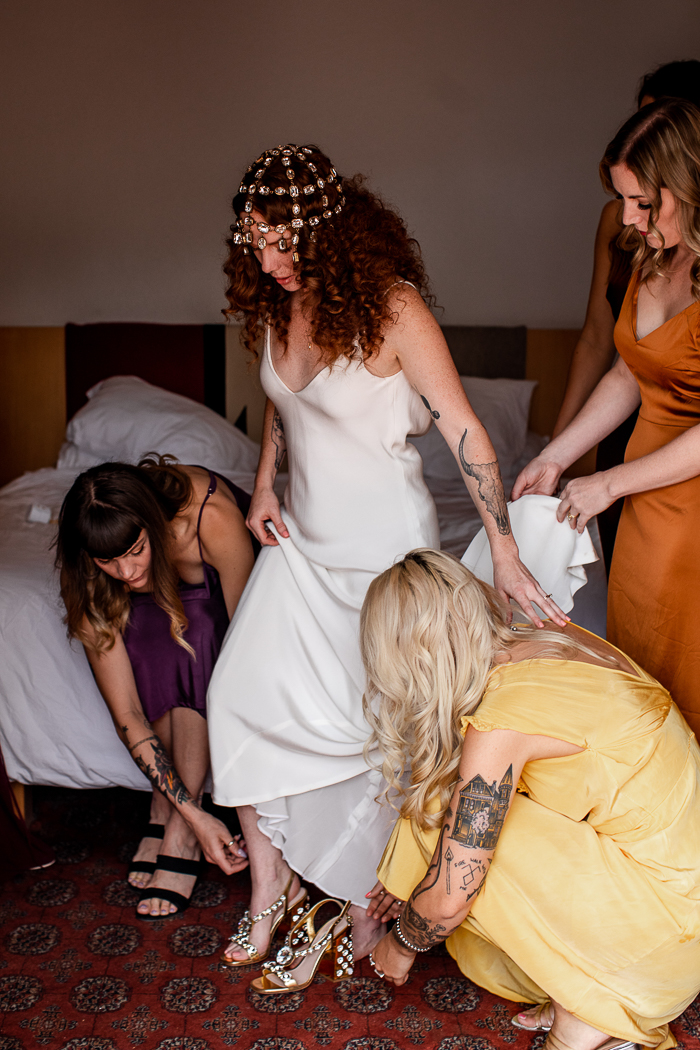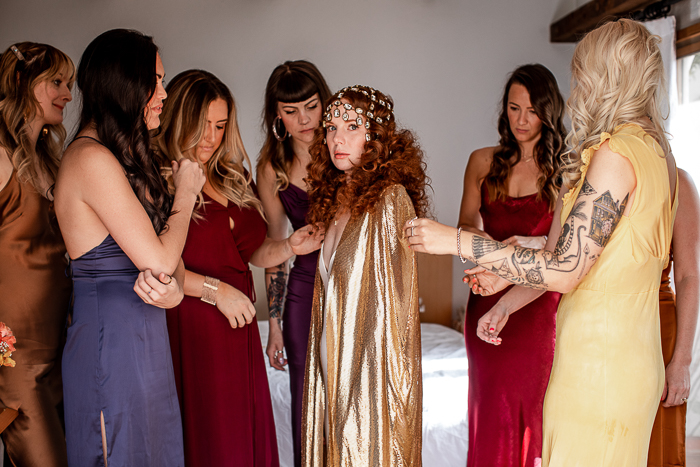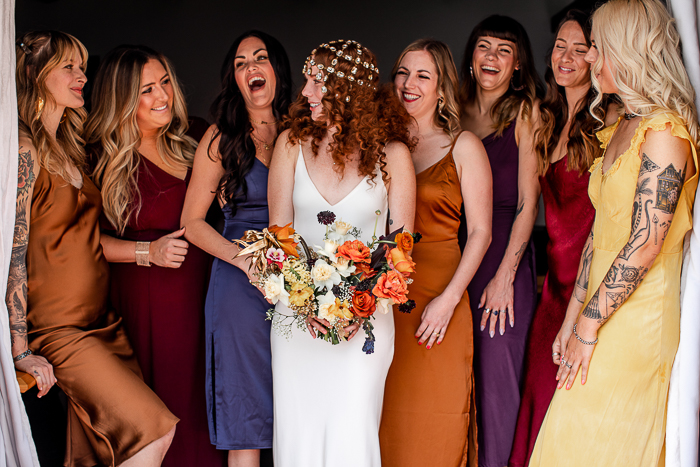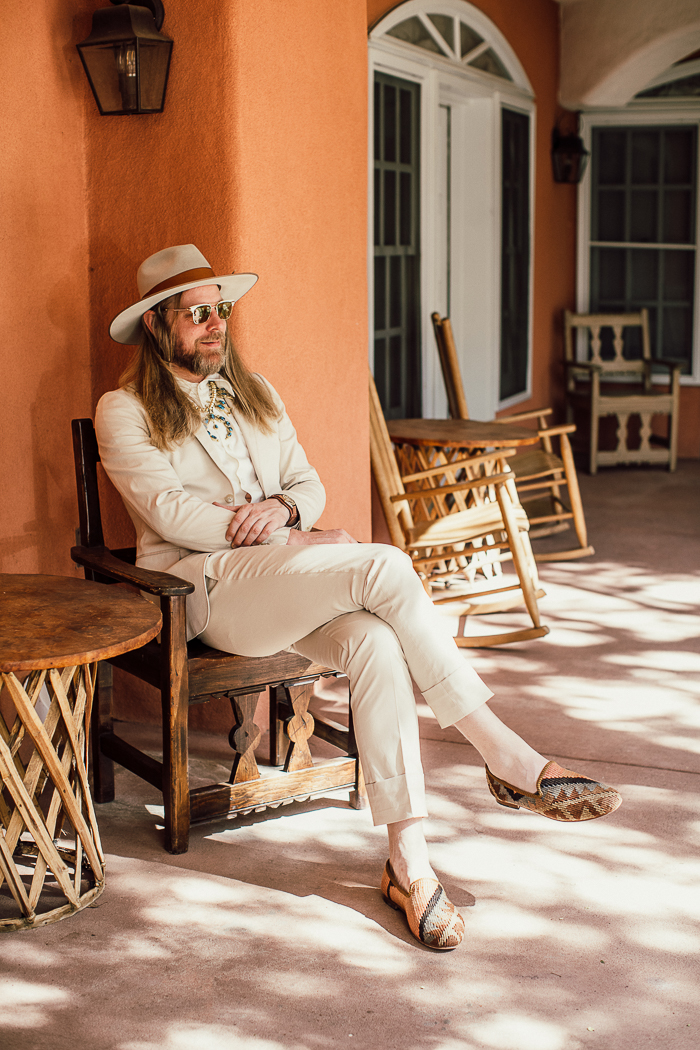 The bride wore a disco-inspired Gucci headpiece with a simple slip dress from LOHO Bride in San Francisco, while the groom topped his Gucci suit off with a classic Stetson. "We wanted it to feel like a party, not a traditional wedding," says Kari. Her friend, designer Daisy Hartmann created a gold chain mail cape to go over the top of her gown. Meanwhile, Dylan borrowed an 18-carat-gold squash blossom necklace from the same jeweler that made their wedding bands. "Santa Fe is all about trust," says Kari. "They let him walk out of the store with it (they didn't even take his credit card!), knowing he would return it afterward."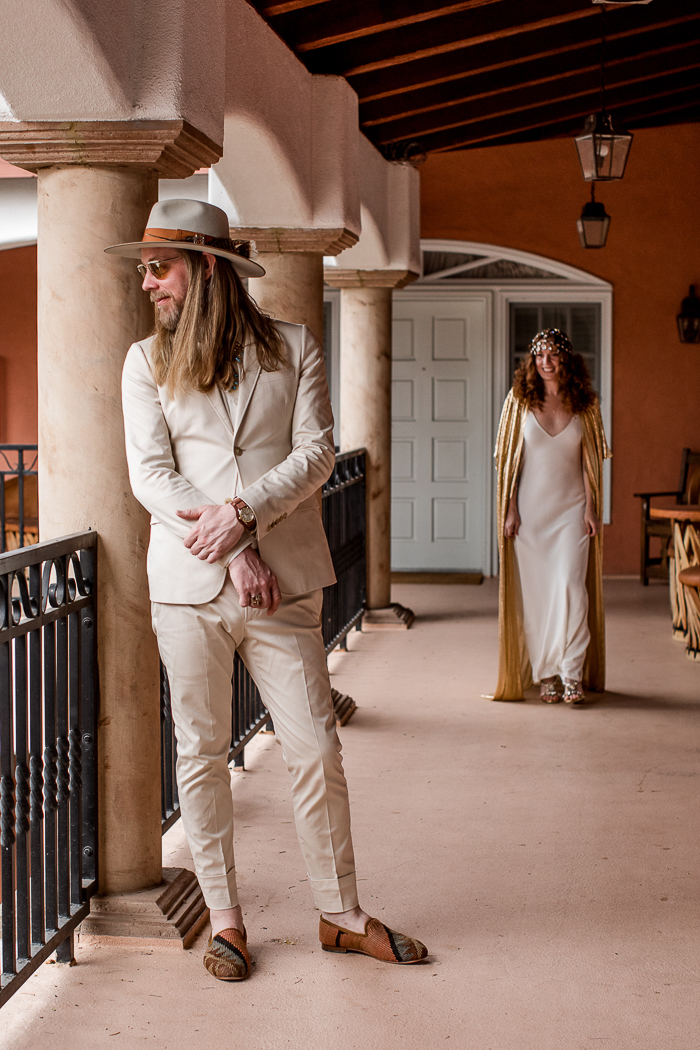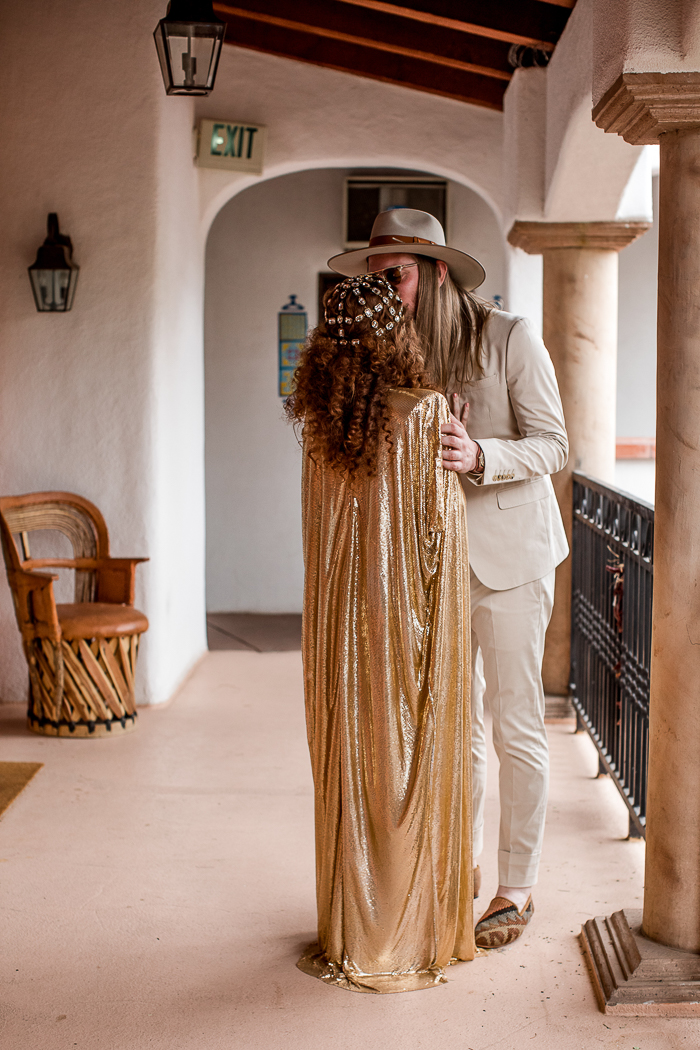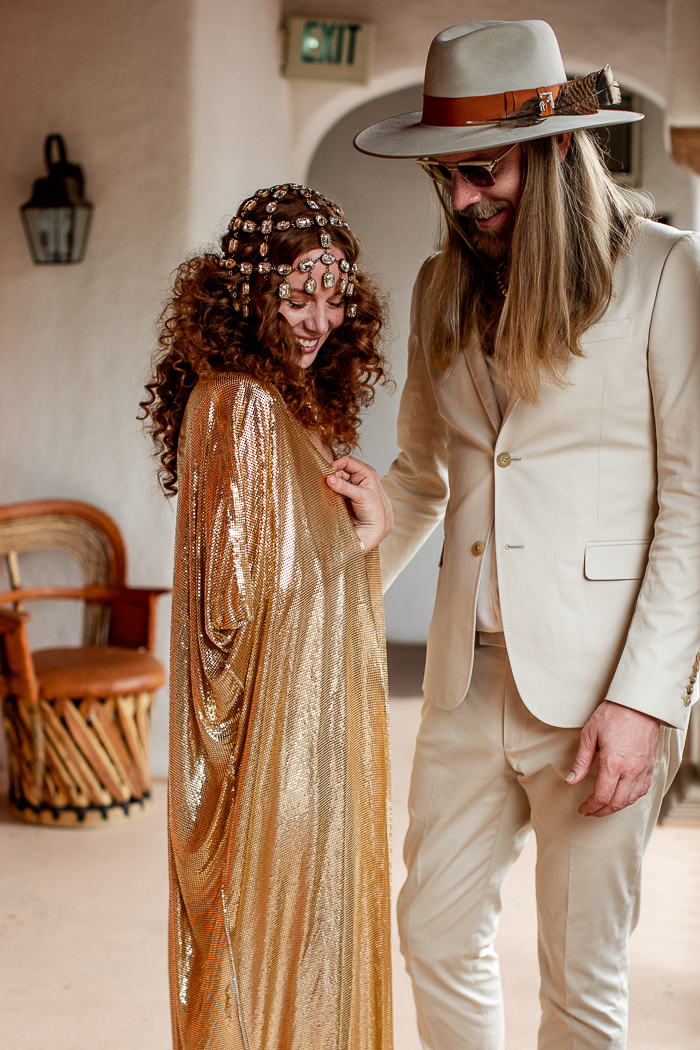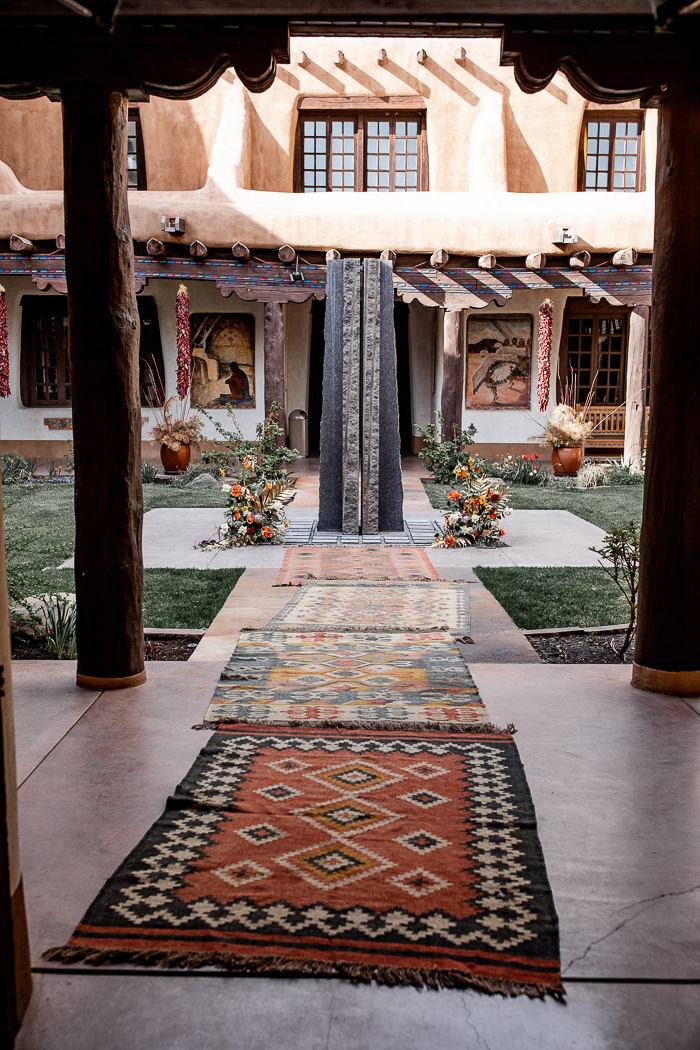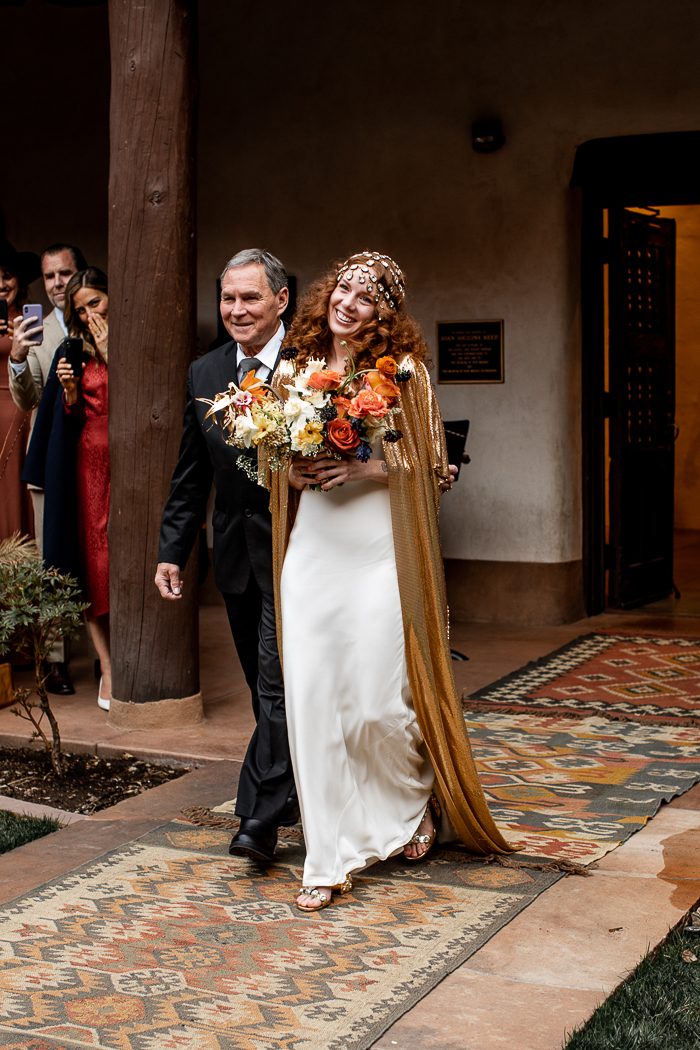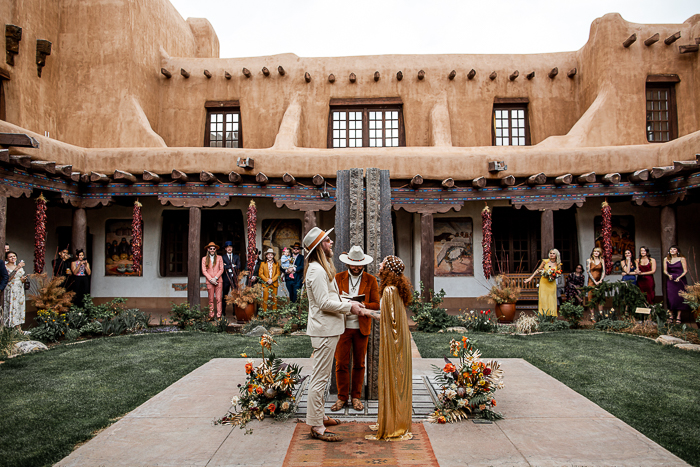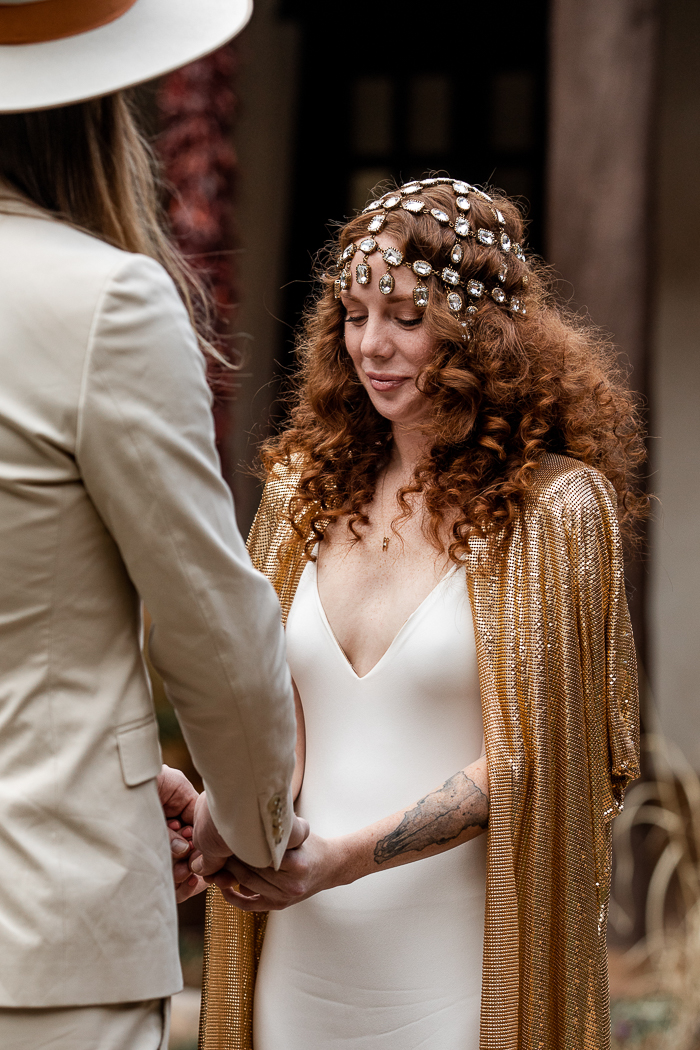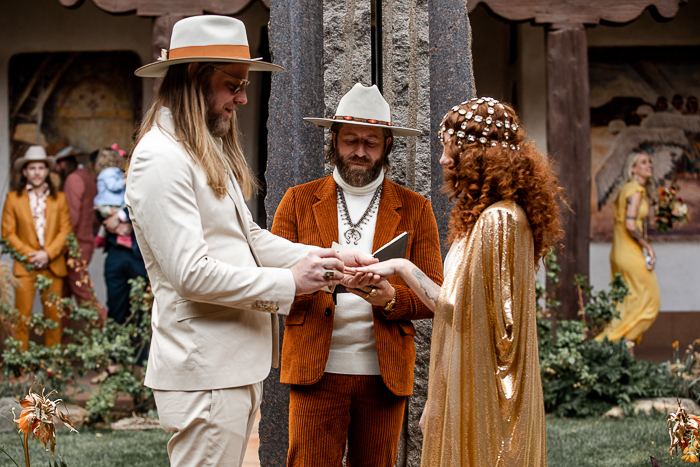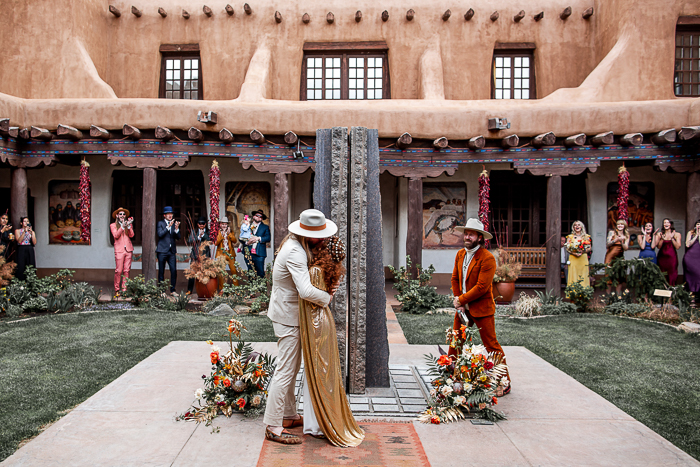 When the guests checked into their suites at nearby El Rey Court, the couple welcomed everyone at the hotel's mezcal bar, La Reina. "There was no sit-down dinner or rehearsal," shares Kari—just good drinks, a taco truck, and speeches. The fashion was the main event: Attendees donned leather jackets, wide-brimmed hats, and snakeskin suits (anything with a little Southwestern flair was welcome).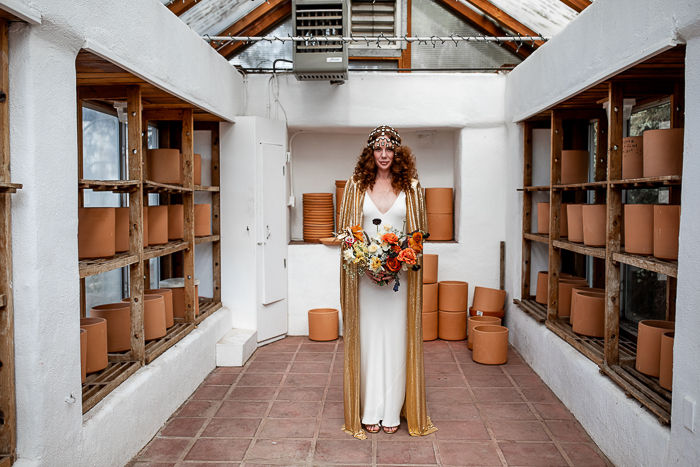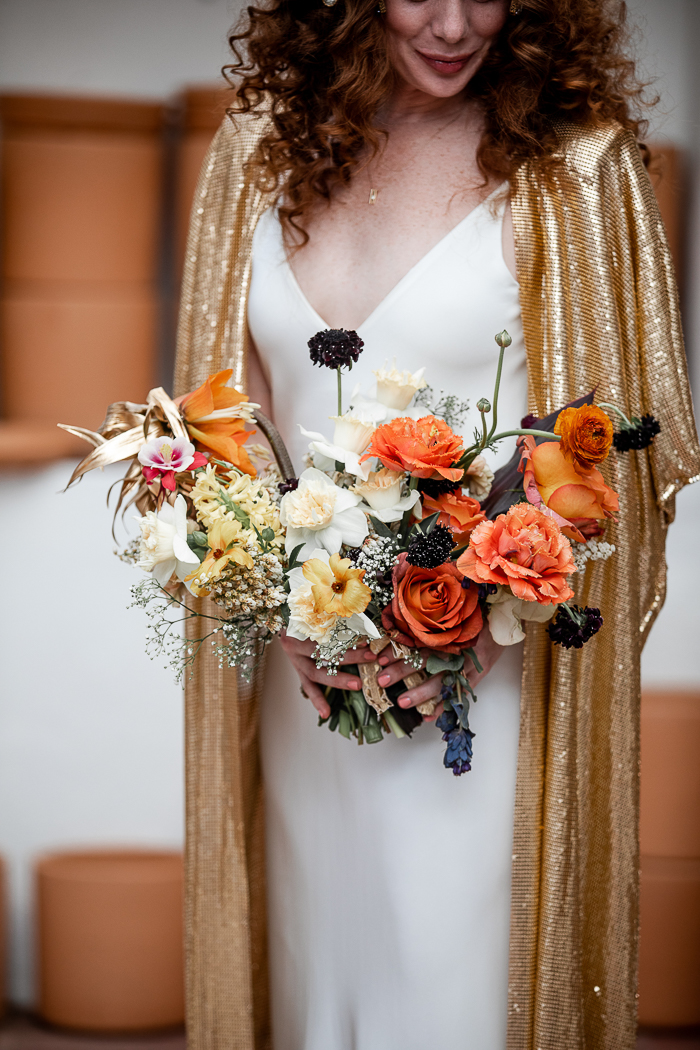 Shop similar bridesmaid dresses: BHLDN Malynn Dress ($168); Anthropologie Bias Slip Dress ($120); Show Me Your Mumu Verona Cowl Dress ($168)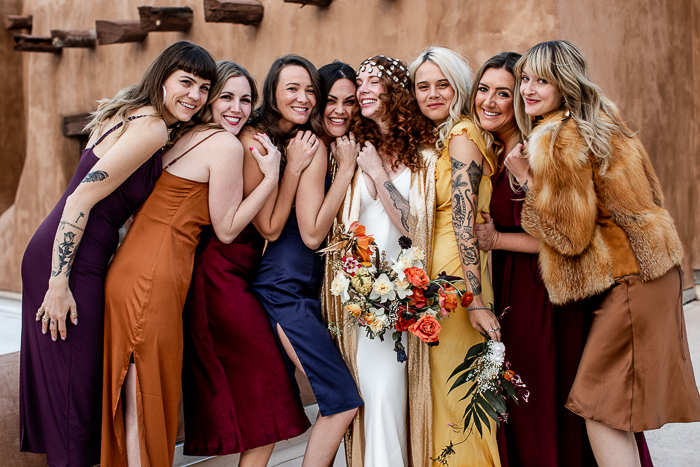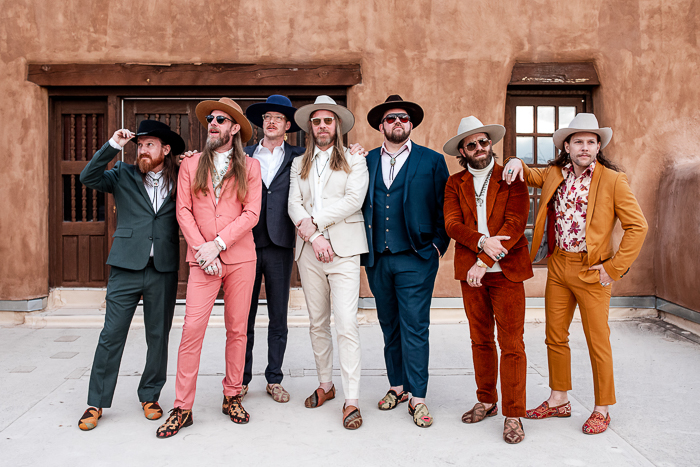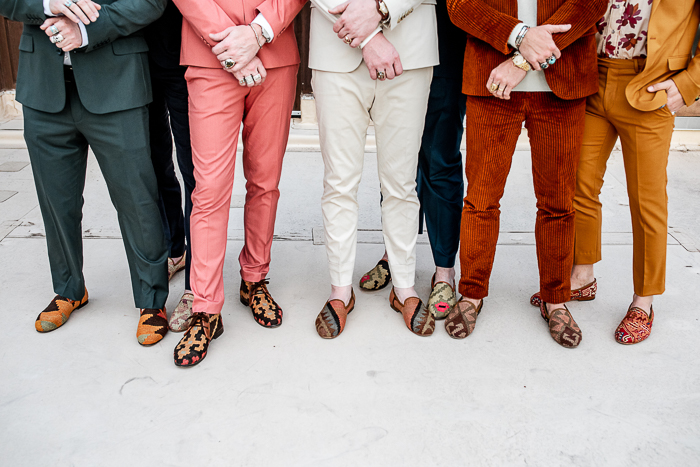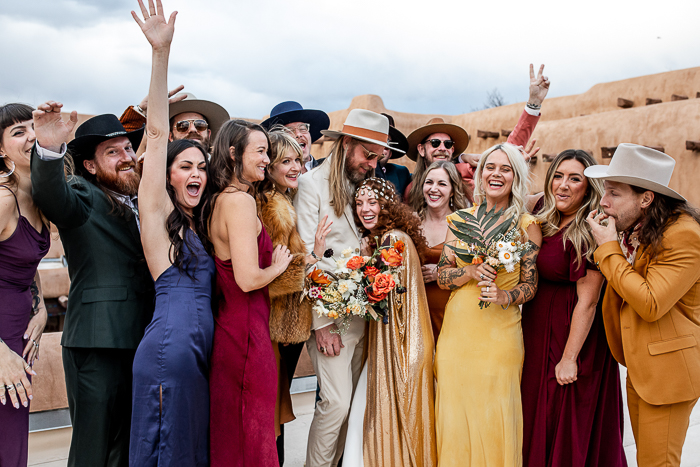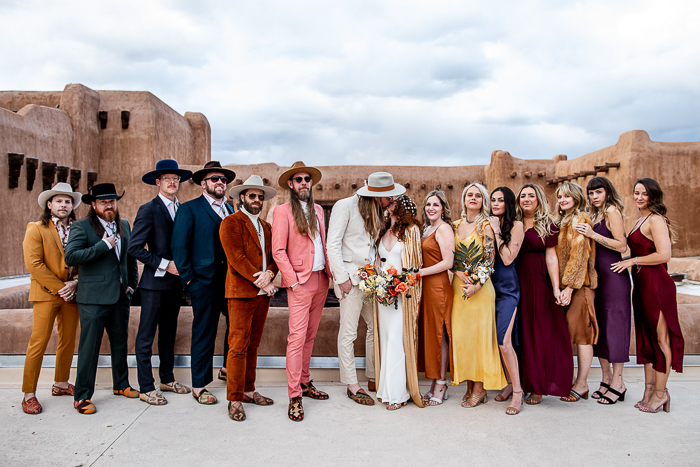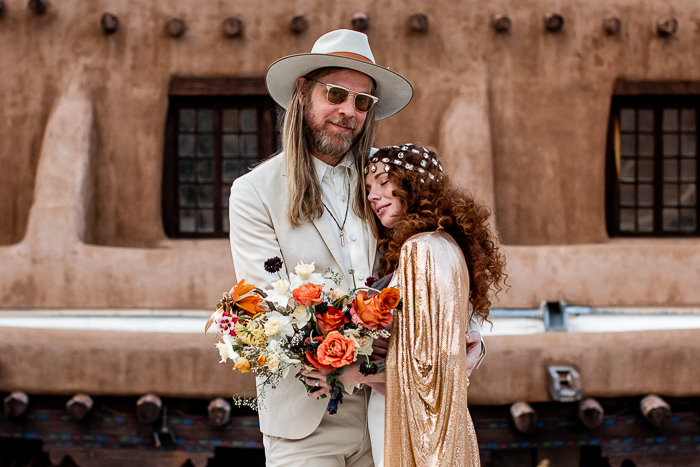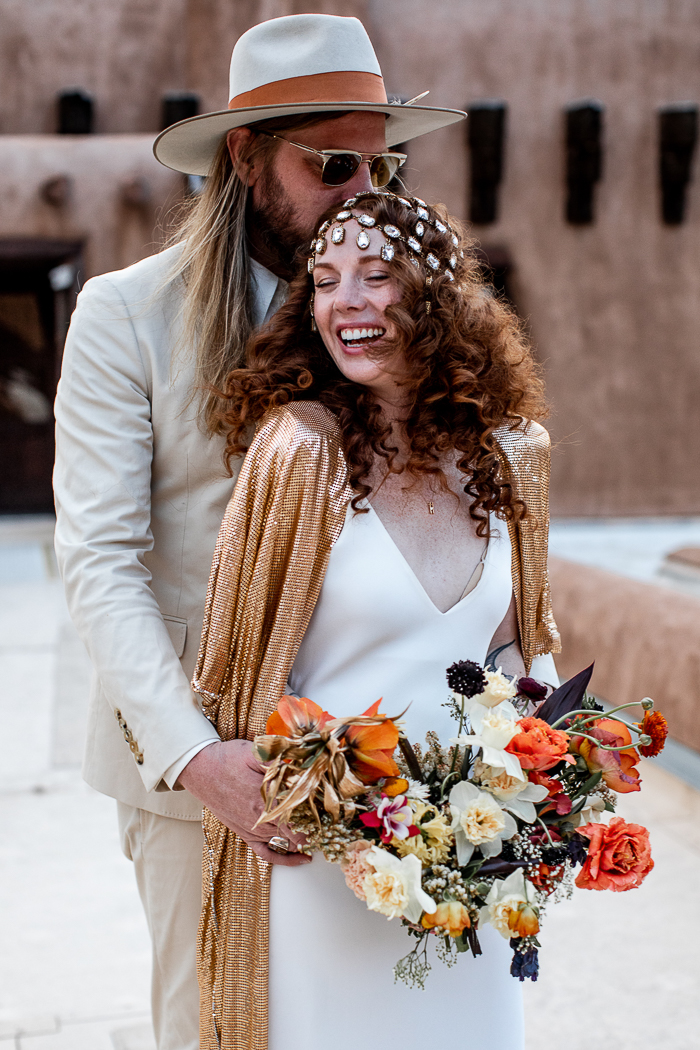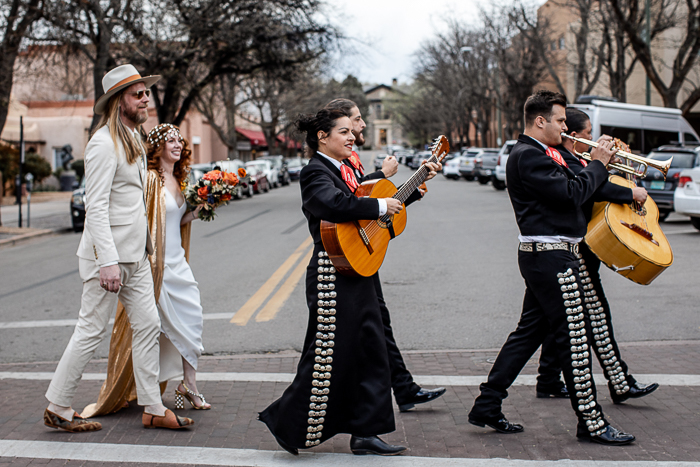 "The best advice I received was to find time together to feel the joy and love," shares Kari. "When we were at Meow Wolf, that's what we did: We climbed up to the top balcony where we could overlook everybody dancing, eating, and drinking. It was so special."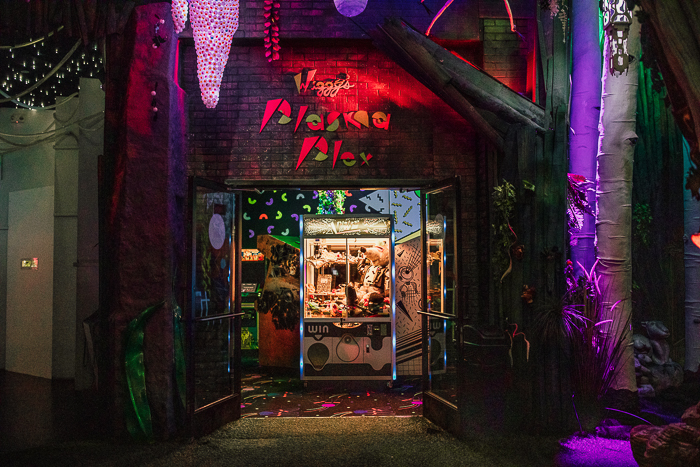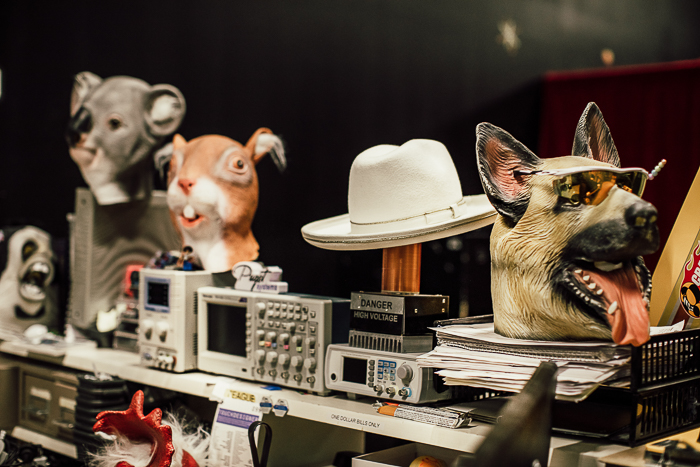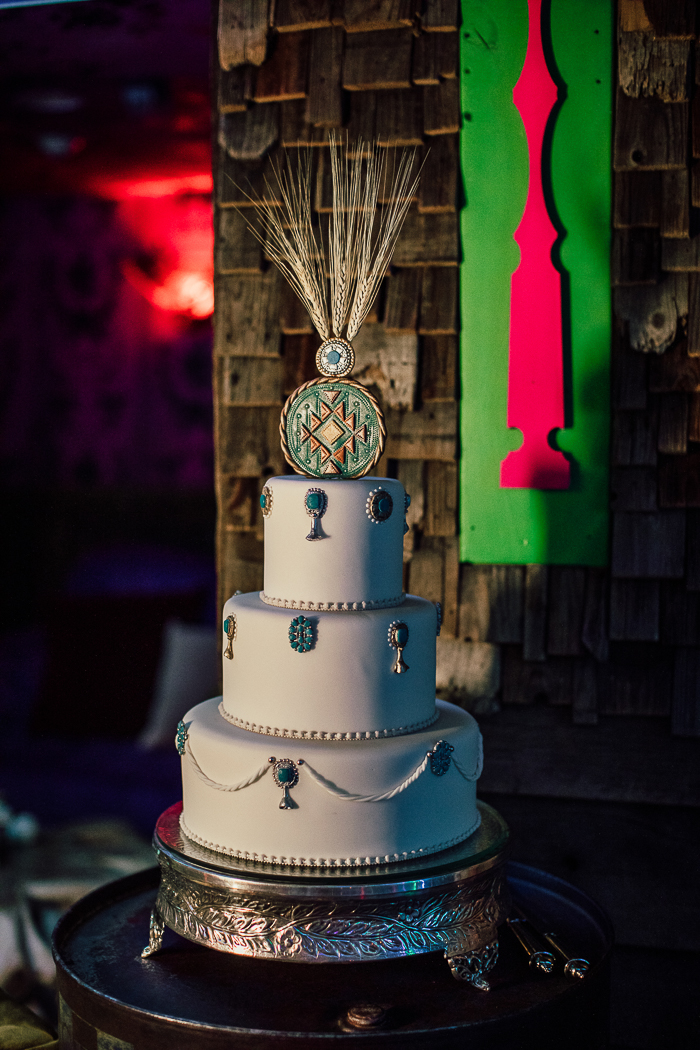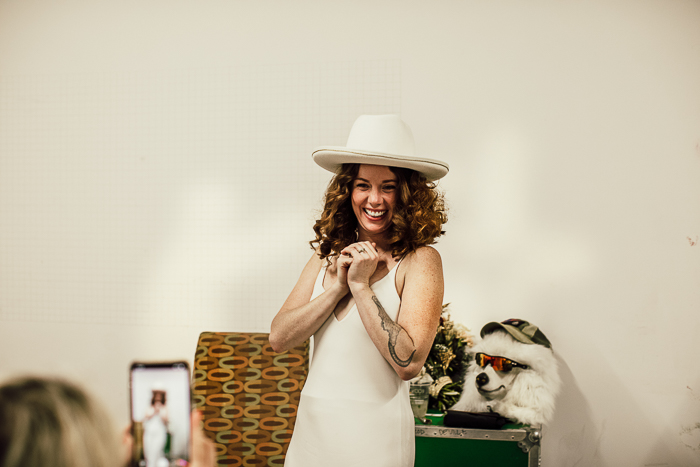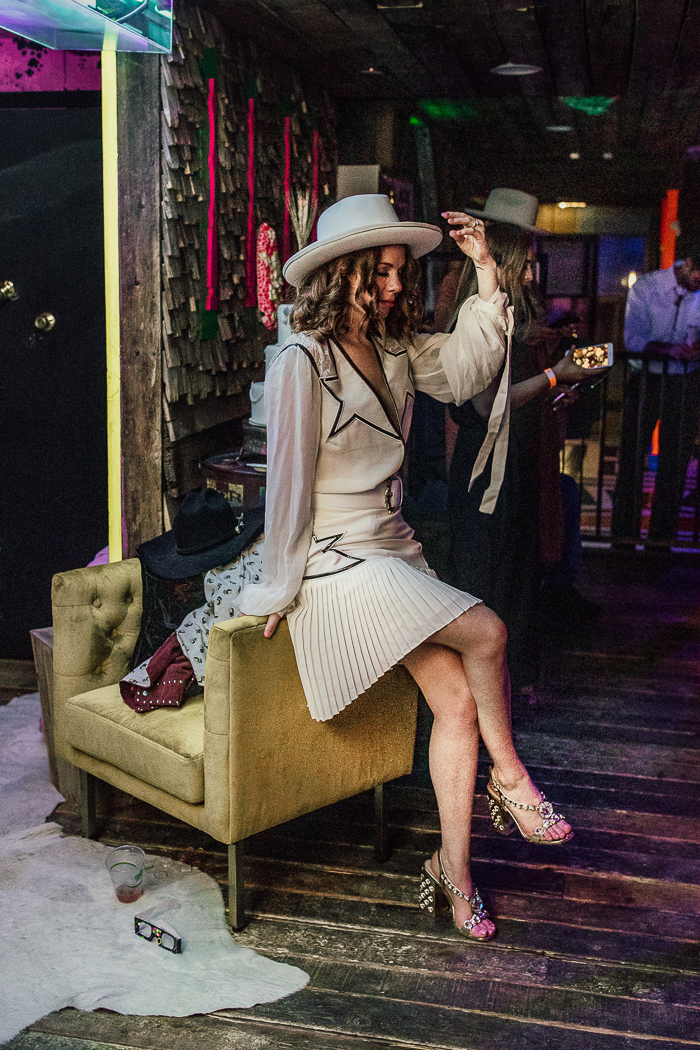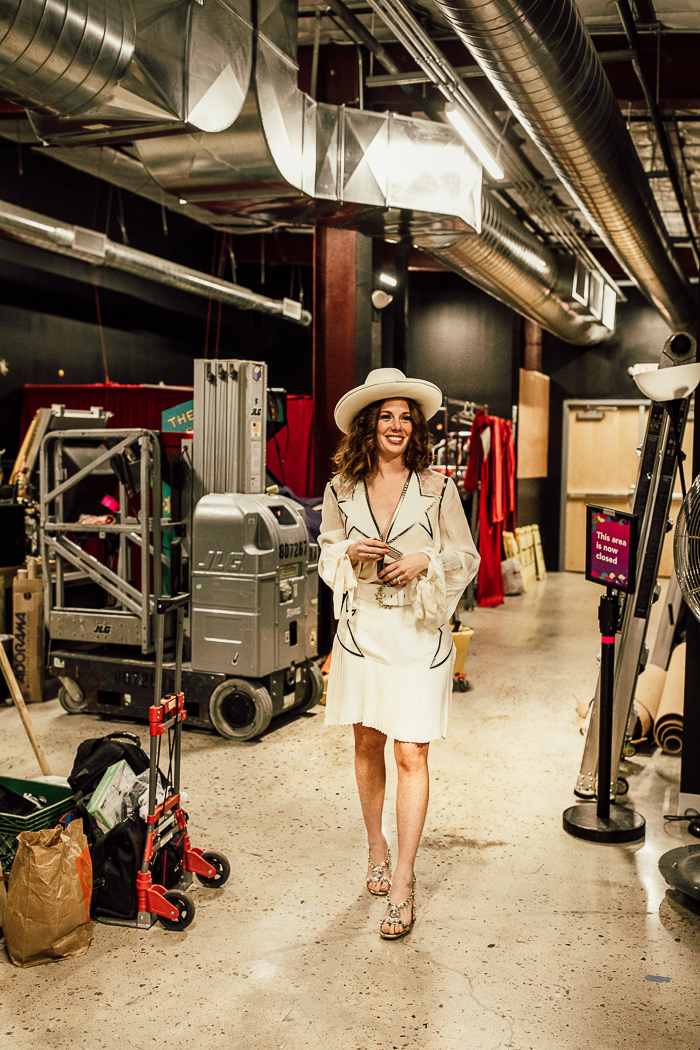 She chopped off her hair for the reception. "It was a fresh beginning," says Kari. "I was a whole new woman." Instead of doing a first dance, she hopped up onstage with her harmonica for a duet with Dylan of "A Heart of Gold."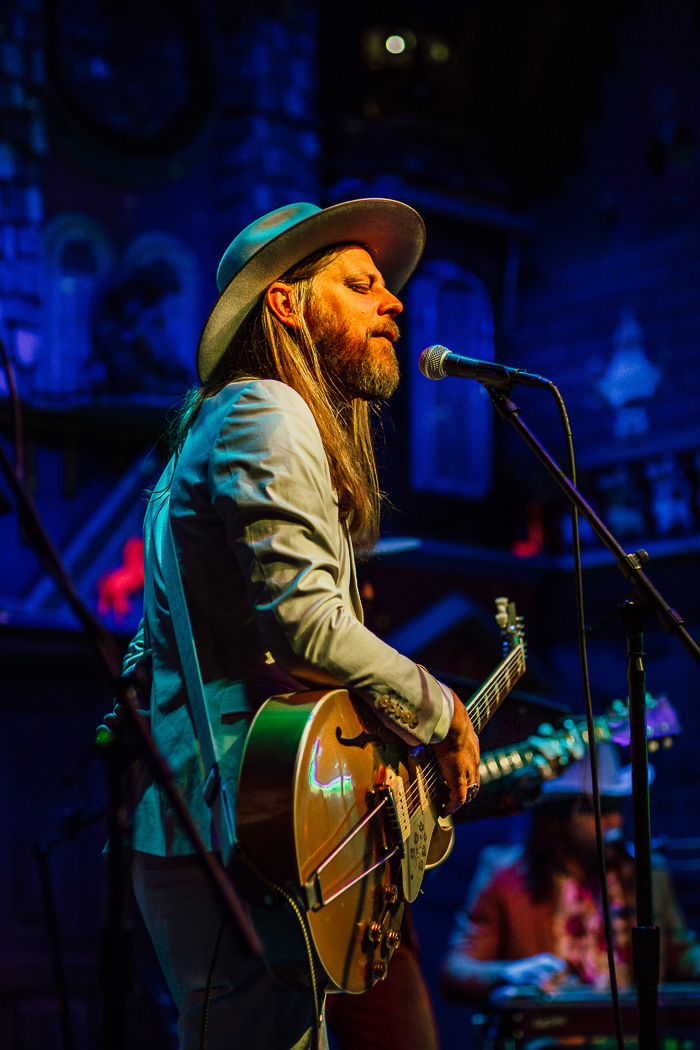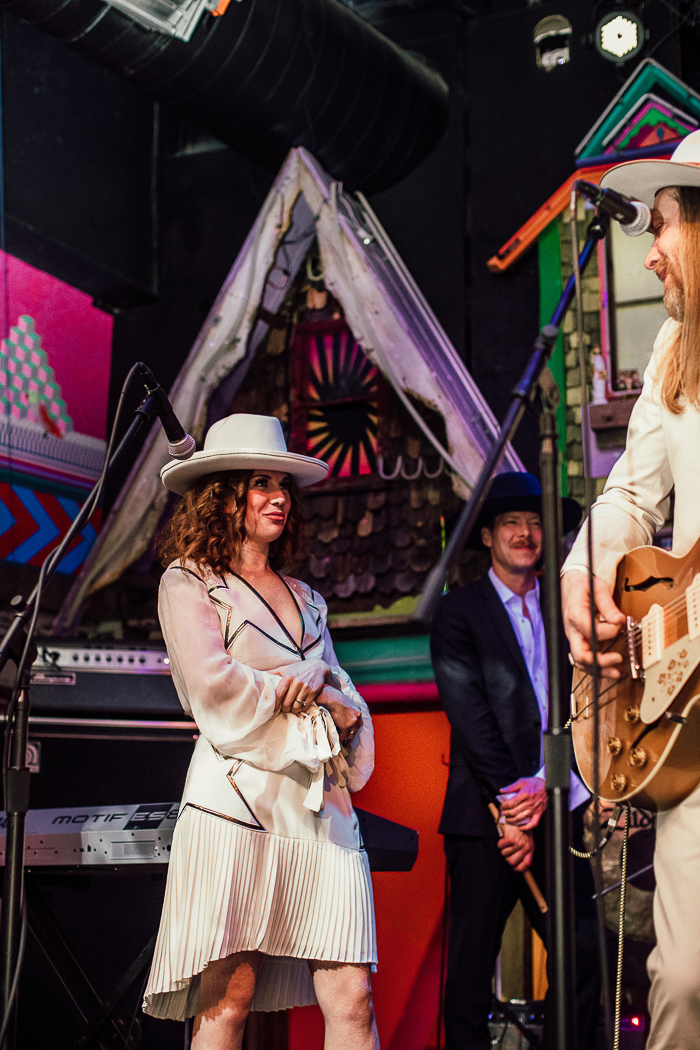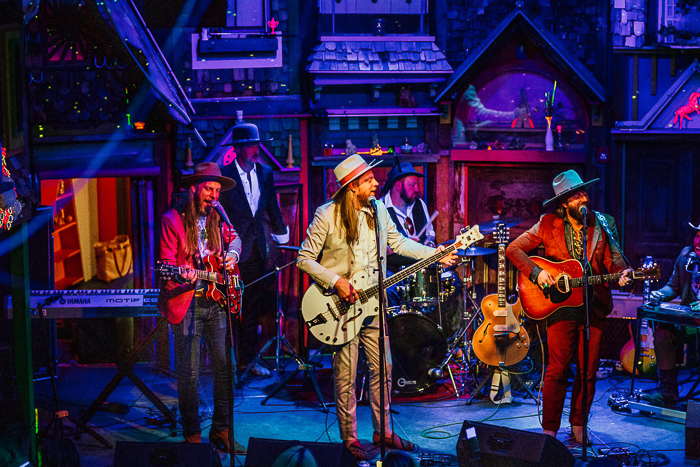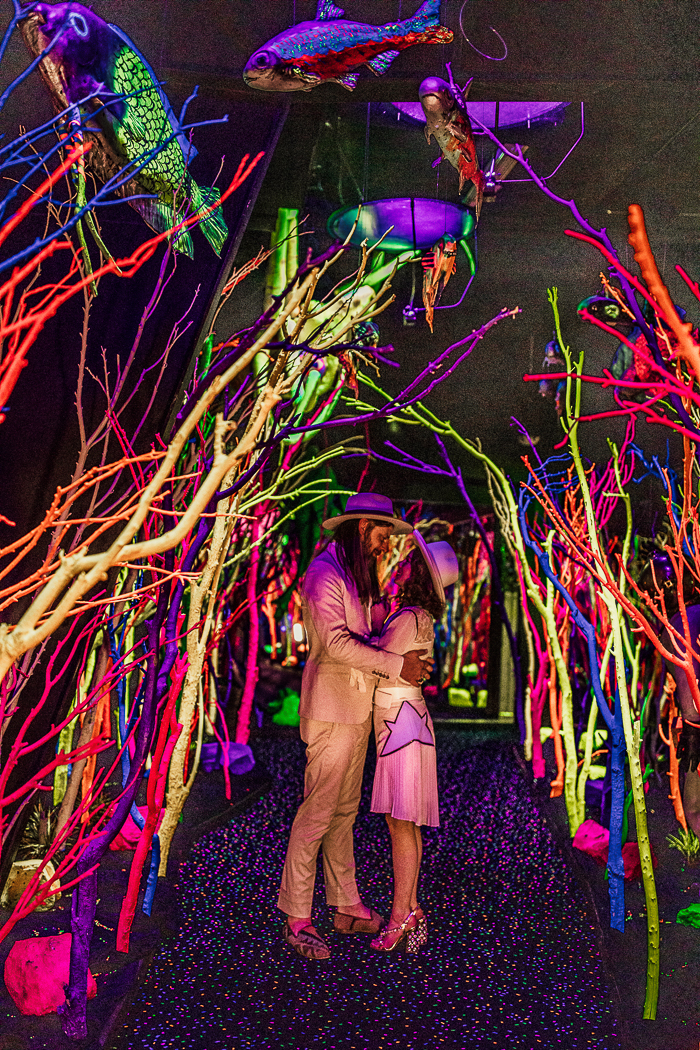 Congrats to Kari and Dylan on their unbelievably creative New Mexico Museum of Art wedding! Big thank you to Lilly Red for sharing the beautiful photos! If you're looking for more southwestern inspiration, check out Andrea and BC's Enchanting Southwestern-Inspired Abiquiu, New Mexico Wedding on Rio Chama!
The post Unbelievably Creative New Mexico Museum of Art Wedding appeared first on .