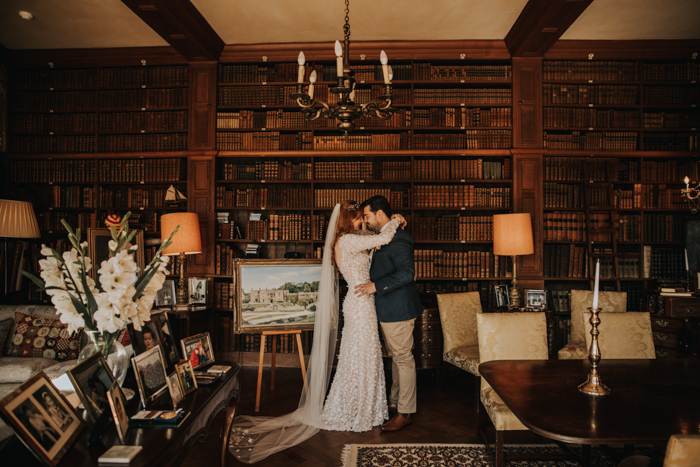 Maisie and Ques were engaged during the pandemic and, after watching others schedule and reschedule their weddings or opt for elopements, the two decided to quickly tie the knot. Two weeks before their wedding, the United Kingdom announced that wedding numbers would need to be reduced from 30 guests to just 15. The change was set to kick in weeks before their planned wedding date. 
Maisie pulled her wedding forward and reorganized the event—in one hour. They had their wedding ceremony at a venue built in 1609, Tissington Hall with a reception in the rose garden. Maisie looked stunning in her gown with thousands of flowers stitched in. 
We're so glad Natalie J Weddings was there to capture this intimate Tissington Hall wedding. Keep scrolling to see the perfect English micro wedding planned in an hour.
The Couple:
Maisie and Ques
The Wedding:
Tissington Hall, Peak District, England
Incorporating Themselves Into The Wedding
We wanted our wedding to represent us both as individuals and as a couple. I wanted people to walk in and say "oh that's so them." We didn't cater to anyone else but us—it was a day dedicated to Ques and I, the way a wedding should be, and I actually believe our guests enjoyed it more because of that. There was no worrying about what other people wanted. We stayed true to ourselves completely and it paid off. 
A Tissington Hall Wedding Memory
After we were married and we'd just had a few moments to ourselves, we were announced into The Carriage House for our Tissington Hall wedding and we walked into the room to see all the faces of the people dearest to us, all bursting with love. It was quite surreal as we'd hardly seen anyone for most of the year after being in lockdown. That image sticks in our minds and we talk about it all the time. 
Building The Dream Wedding Team
When I selected the vendors I wanted to use, I made sure I had a good connection with them all. I believe that every detail for your wedding is important, no matter how small. It's the finer details that bring it all together. So don't just pick someone for the sake of it. For example, even our cake was carefully selected for its style. I didn't just pick a cake because we needed to have one, I'd followed BAKE Ashbourne for ages. I knew she was the lady for our wedding cake because she suited our style. The same goes for every wedding vendor we used. 
Get Organized Early On
Being super organized helped me a lot, I had lists, schedules, apps which all came in handy when Boris Johnson changed lockdown restrictions which made me move the date last minute! We were very lucky that we found a venue with a wedding planner. Fiona, the wedding planner at Tissington Hall saved my life. She saved me from having wedding and personal meltdowns numerous times. 
Personalized Wedding Favors
We had beautiful personalized boxes made by The Cross Eyed Fox who I found on Etsy and filled them with a packet of wildflower seeds. I adore flowers and wanted guests to take these away and plant them and see them grow. We also included delicious Macaroons (inspired by Marie Antoinette) made by Petit Pithivier from Etsy—but local to Derbyshire. She also included a couple of vegan cupcakes for our vegan guests. 
Working with Natalie J Weddings
Natalie was an absolute dream to work with. I feel honoured that she took our booking. I was totally fangirling when she arrived. She just knew everything, had so much advice to offer, and was so professional. Natalie whizzed around all day and looking back on the photographs I can't even remember her being there snapping half of them, she wasn't intrusive at all. Everyone felt comfortable around her and she was just perfect. 
Congratulations to Maisie and Ques on their beautifully intimate Tissington Hall wedding! Special thanks to Natalie J Weddings for sharing it with us. If Maisie and Ques' intimate wedding has you feeling inspired, you're in luck. Whether you have a small or large guest list, we can show you how to make it an intimate affair to remember.
The post Intimate English Tissington Hall Wedding appeared first on .