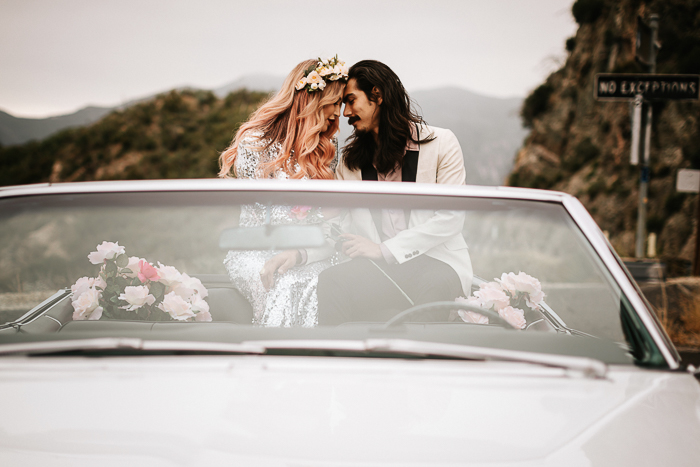 Congrats on your engagement! Whether the question was popped over the holidays or you've been dreaming of a winter wonderland engagement shoot all along, we know that looking cute and staying warm are equally important when it comes to your winter engagement photos. We've rounded up a whole slew of stylish couples whose cold-weather looks make the perfect winter engagement photo outfit ideas.
Before diving into these winter engagement photo outfit ideas, we've got a few tips for getting dressed for your upcoming winter engagement photos:
Pile on the layers to highlight movement

Create contrast with neutral colors in light and dark tones

Wear rich textures like wool, corduroy, and knit for visual interest

Show skin in subtle, unexpected ways to give your look a little edge

Choose shoes that make a statement

Top off your outfit with a hat
From plaid to winter coats to beanies to glamorous dresses, there are outfit ideas for every style out there. So, what are you waiting for? Happy browsing!
Winter Engagement Photo Outfit Ideas
There's nothing more classic than a skirt and a turtleneck and a soft camel coat. Both looks can be easily layered so you can bundle up if you want to stay extra warm. They're also timeless, so you won't look back on the photos in 20 years and think, "what was I thinking?"
SHOP THIS LOOK
Are you and your partner super trendy and fashion-forward? If so, then you'll love this edgy look. Just keep in mind that outfits like these do better indoors or in places where the weather doesn't get as chilly. Engagement photos are all about capturing your love with your future forever partner, and if you're uncomfortably cold, it's going to show in photos.
SHOP THIS LOOK
Talk about handsome! These two paired tweed blazers with loafers and we think they look utterly dashing. This is a great example of mixing colors within the same color family for an overall cohesive look. Whether you love jewel tones, pastels, or neutrals, coordinating outfits will have you looking like the perfect pair.
SHOP THIS LOOK
Take a trip to the past with this 70's inspired look. Think wide-leg jeans, colorful jackets, velvet, floral prints, striped sweaters and shirts, and lots of red, yellow, and orange hues. Put it all together and you have a look that is totally rad.
SHOP THIS LOOK
If you know the weather is going to be frightfully cold, there's nothing wrong with bundling up. We love that this feminine printed puffer is paired with combat boots to give it a slight edge. And let's face it, you can never go wrong with a leather jacket and white sneakers. You'll be looking carelessly cool.
SHOP THIS LOOK
This ensemble is another great example of what to wear for an indoor shoot. The floral jumpsuit paired with a wide-brim hat gives off a carefree boho look, while the camel coat paired with a button-up is a perfect mix of dressed-up yet comfortably casual. And can we talk about the fact that they're wearing the same boots? We love the subtle matching.
SHOP THIS LOOK
Neutrals pair oh-so-well with the white powdery snow and these knitted outfits look extra cozy. If you're going to opt for a dress with no tights or leggings, we highly recommend wearing a sweater dress that is going to provide you some warmth. And don't forget to bring a nice warm jacket that you can throw on in between photos.
SHOP THIS LOOK
This look screams cuddling up in a coffee shop–and we love it. Sherpa denim jackets are an easy way to stay warm and add a casual touch to a dressy skirt. The hat and the brown hooded jacket give this overall look a relaxed boho look perfect for an easygoing couple.
SHOP THIS LOOK
Are you and your significant other homebodies? If so, consider doing a cozy at-home session! Not only do you get to shoot in the comfort of your own home, but you can also wear sweatpants–it doesn't get much better than that. Get a matching sweat set and whip up some pancakes while you capture the cutest photos.
SHOP THIS LOOK
Puffer jackets, big scarves, and beanies–it doesn't get much more wintery than that. We love that these two wore matching jackets yet incorporated different accessories. If you're committed to shooting in the snow, bring along a thermos of hot chocolate to help keep you warm–and it'll give you something to do with your hands.
SHOP THIS LOOK
Are the two of you outdoorsy? Then consider a look like this. Plaid is a print that is flattering on everyone, and it'll never go out of style. Pair it with a muted color, like this brown sherpa jacket for a laidback yet fashionable look.
SHOP THIS LOOK
Who says you can't dress a little sexy for your engagement photos? We love the big city vibes paired with the leather skirt, sheer blouse, bodycon dress, and over-the-top fur. Just keep a warm running car nearby!
SHOP THIS LOOK
It's a well-known fact that black is the most flattering color. It also photographs really well. If the look feels too dark for you, brighten the fit up with a bold red lip and colorful accessories.
SHOP THIS LOOK
This is another great example of a lowkey, yet put-together look that will have absolutely everyone feeling comfortable. The beige stripes of her dress match flawlessly with his chocolate-colored pants, and all of it comes together to complement nature's natural color palette.
SHOP THIS LOOK
It's not very often that we get to dress up in colorful dresses with our hair and make-up done. Why not use your engagement photos as an excuse to get glammed up? Bright red pops against the stark white snow, so you'll stand out like the star that you are.
SHOP THIS LOOK
Are you the kind of person who's always rocking band tees and chucks? Then stay true to who you are. You don't have to get dressed up if you're not comfortable. The band tee and chucks paired with the leather-trimmed jacket is an effortlessly cool look all around.
SHOP THIS LOOK
Now that you've got your engagement outfit picked out, be sure to check out these 8 tips for nailing the engagement photos that will have you feeling photo-ready in no time!
The post Stay Warm With These Winter Engagement Photo Outfit Ideas appeared first on .