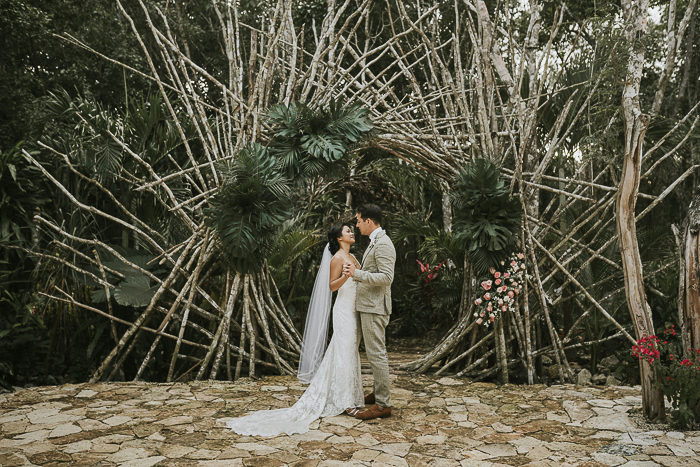 Mini mezcals, Mexican wedding cookies, and lush tropical backdrops? Count us in. Chiara and Eric's lush Tulum jungle wedding at Espacio Chechen is the perfect combination of killer style, neutral tones, and a whole lot of fun. We're utterly obsessed with the décor put together by Arlenis Ruiz and we're so glad that Conie Suarez Bravo was there to capture it all. We love what Chiara had to say about her special day:
"I found all my vendors through Instagram, it is such a great tool when planning a destination wedding. Originally, our venue was supposed to be beachside but that fell through a month before the wedding. Fortunately, our amazing wedding planner already had backups. I was unsure about it having to be in the jungle and then also having to change the decor and floral that I already ordered. But all the vendors were flexible and I was able to change it right away.
I wanted to feature the lush greenery of the venue so I decided to keep the florals and decor minimal. Our caterer served a delicious taco bar and tres leches cake with a figurine of our puppy on top. I surprised my husband with a churro cart at the end of the night and unbeknownst to me, he also had a surprise lined up. He asked one of our guests to sing our first dance, River by Leon Bridges and it was so beautiful. By the end of the song, all of our guests who have never heard it before were singing along. Truly the best day."
Despite the hiccups the couple endured, the day turned out beautifully. Get your inspiration boards pulled up because you're going to want to save this one!
The Couple:
Chiara and Eric
The Wedding: 
Espacio Chechen, Tulum, Quintana Roo, Mexico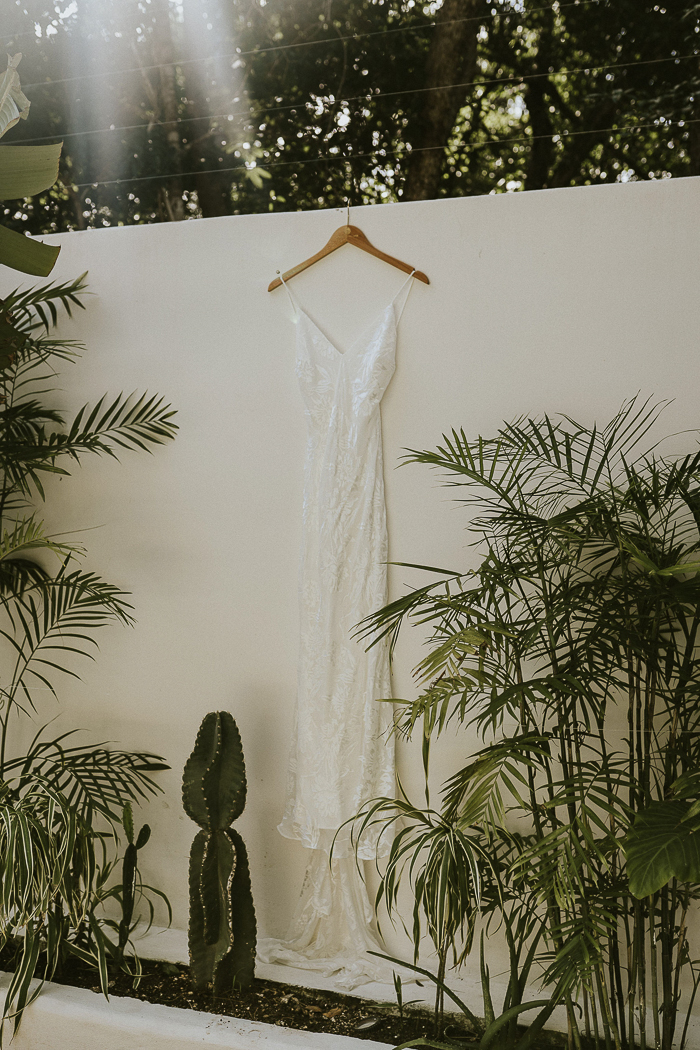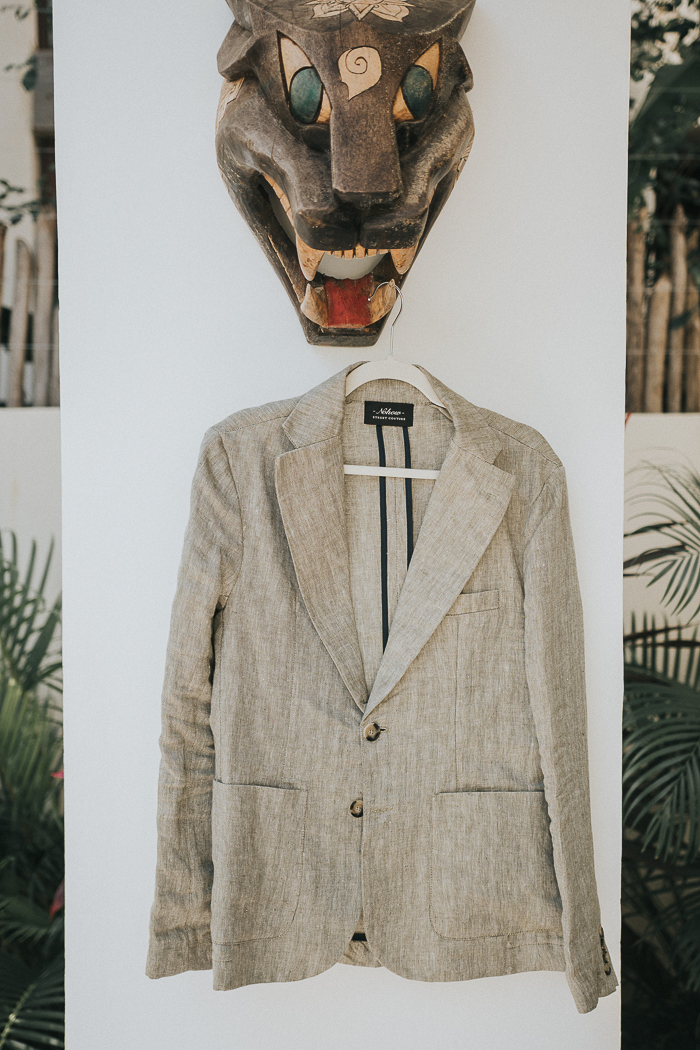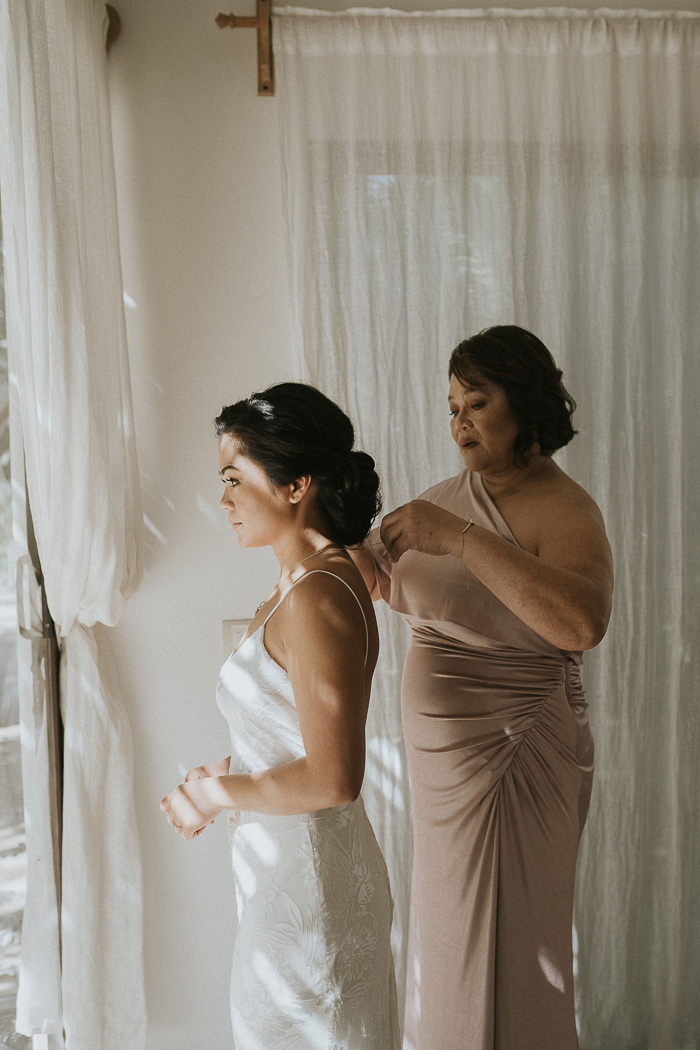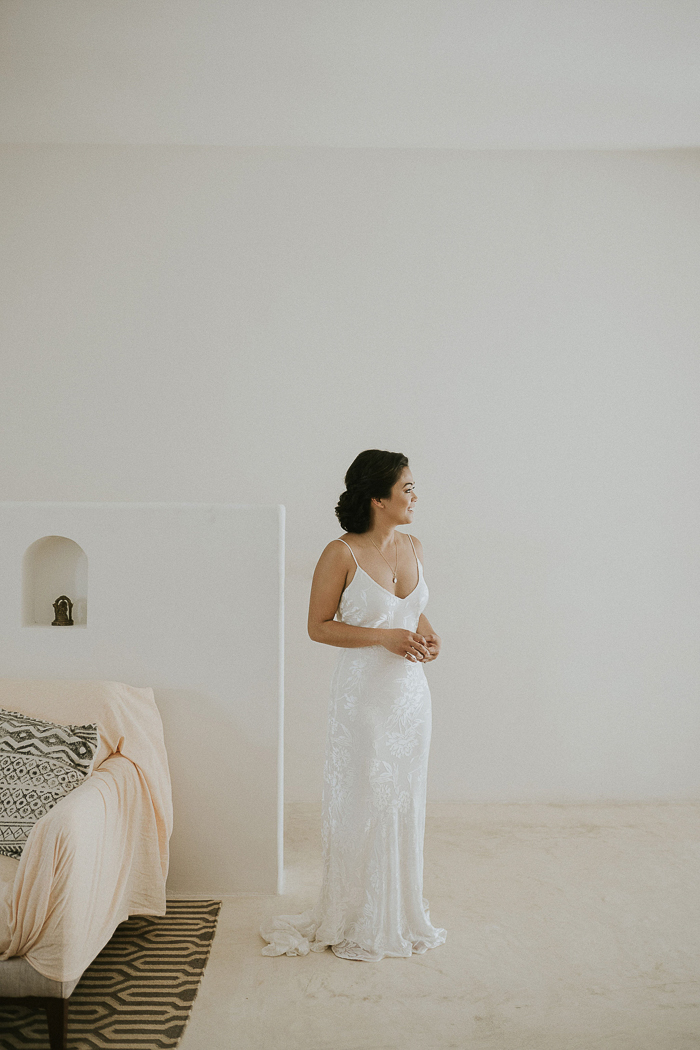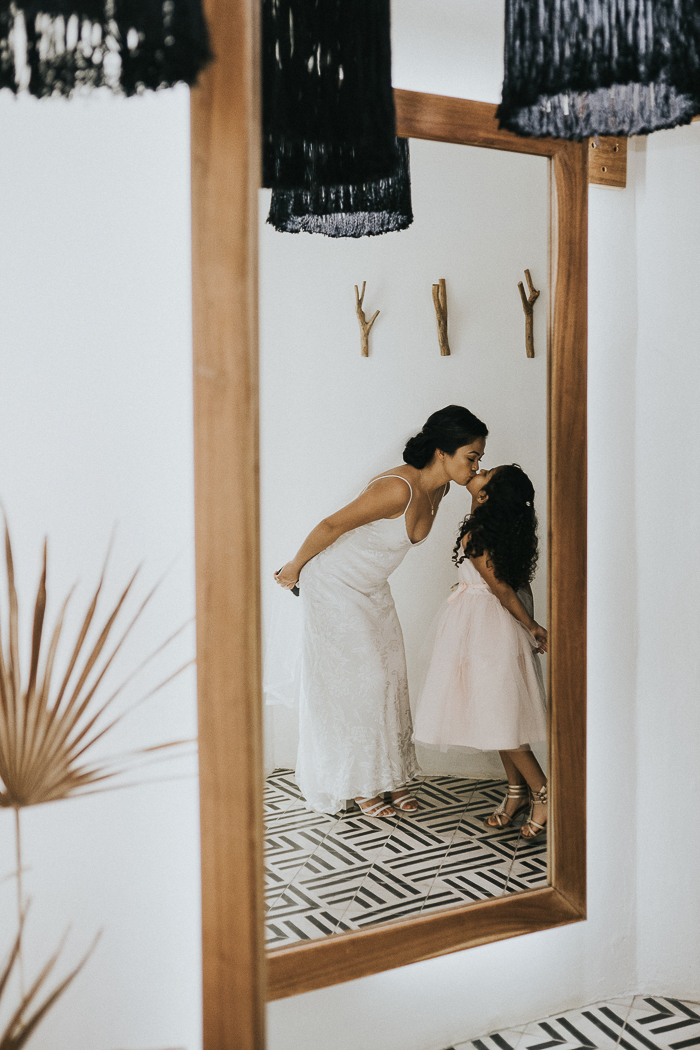 The Grace Loves Lace Dress and Pearl Necklace
I have always loved Caroline Bessette-Kennedy's wedding dress. It was simple, elegant, and timeless. Grace Loves Lace's "Loyola" dress was the third dress I tried on and it instantly reminded me of her dress. I tried on around 20 dresses after that just to shop around but I could not stop thinking about the Loyola dress. I also loved the fact that she kept her hair and accessories minimal. I only wore my wedding ring and a pearl necklace from Mejuri. The pearls were a tribute to my late grandmother, Cornelia, who helped raise my siblings and me in the Philippines. She would take my sister, Kristine, and me to the flea market on the weekends, and even though money was tight, she made it a point to buy us little pearls. The necklace was my homage to her.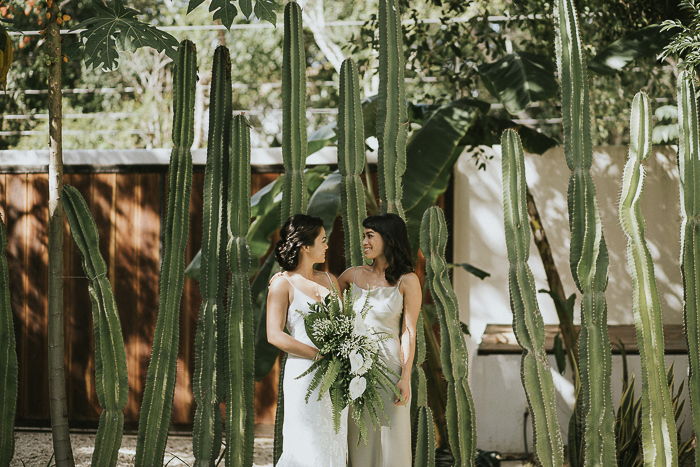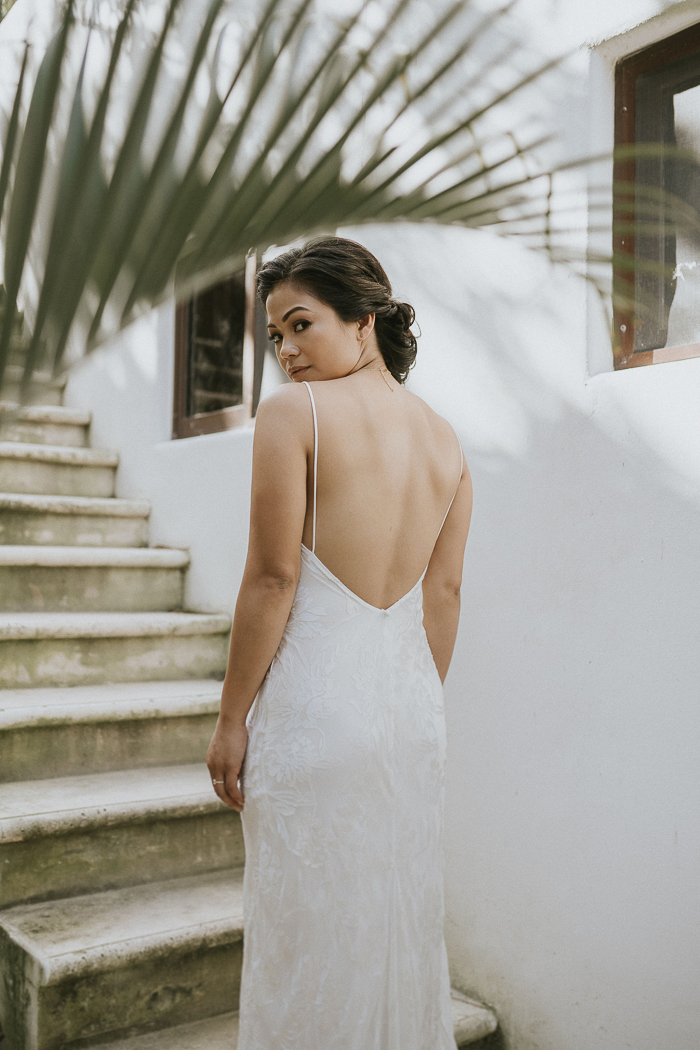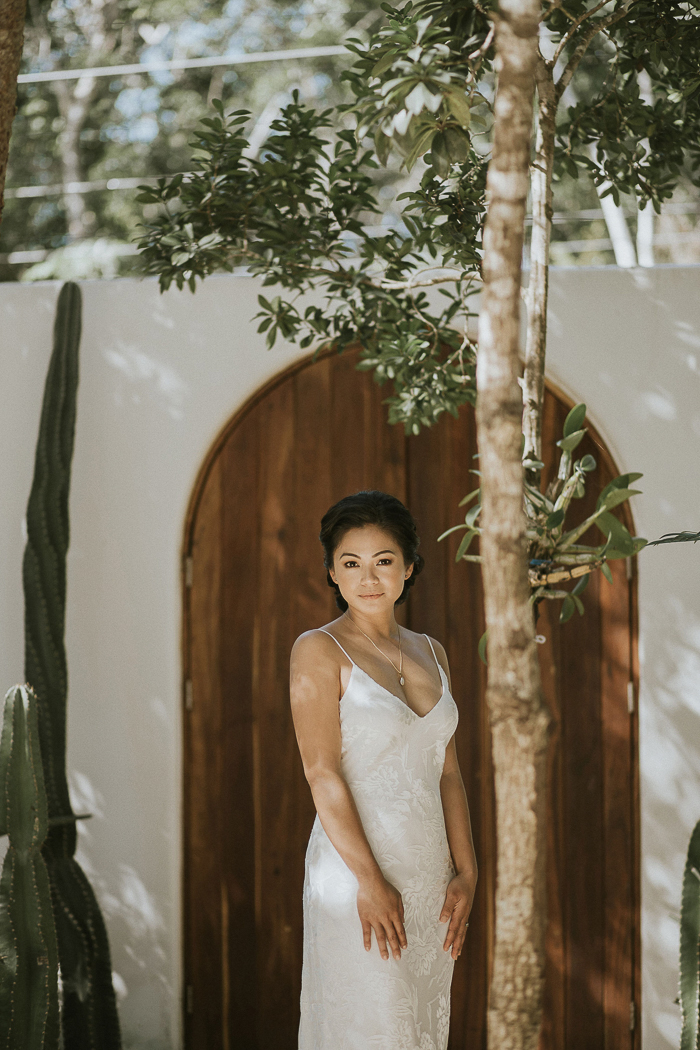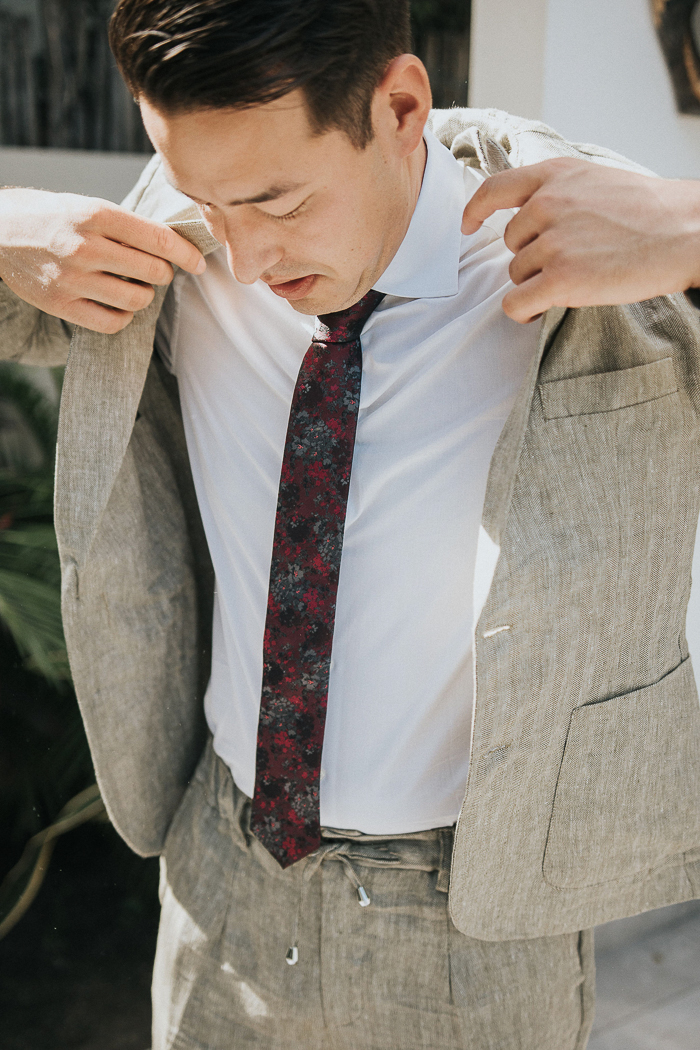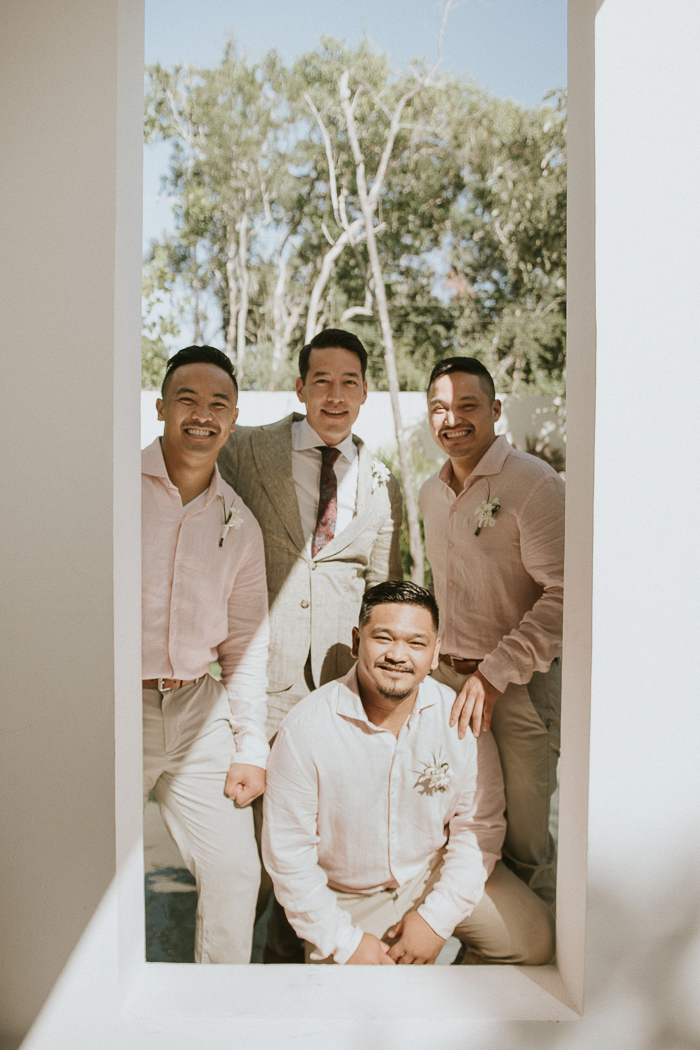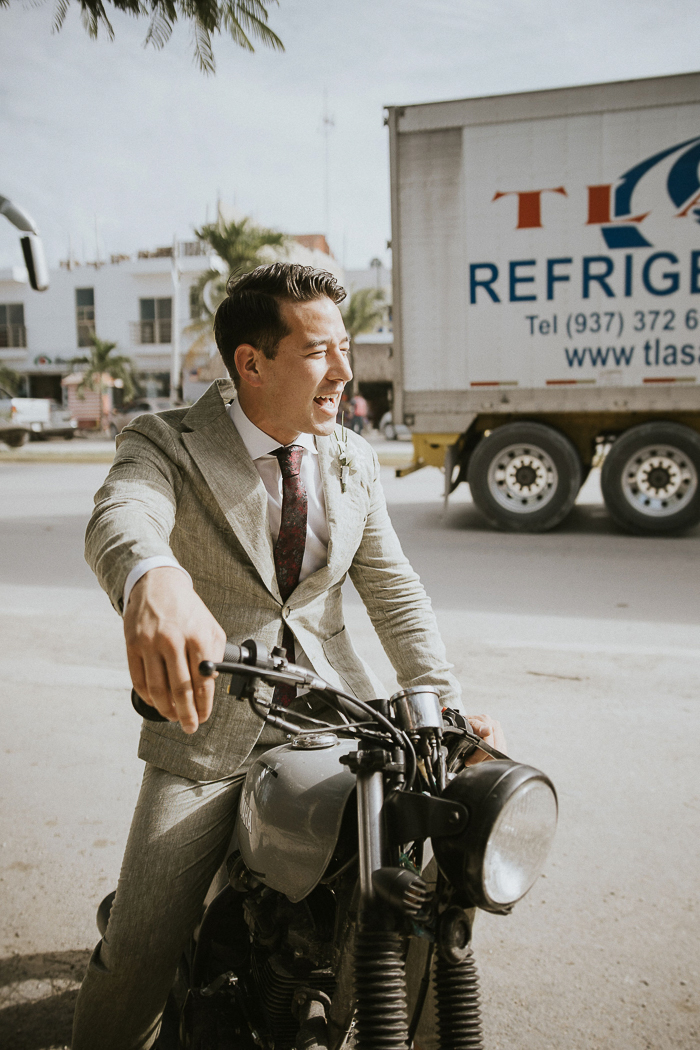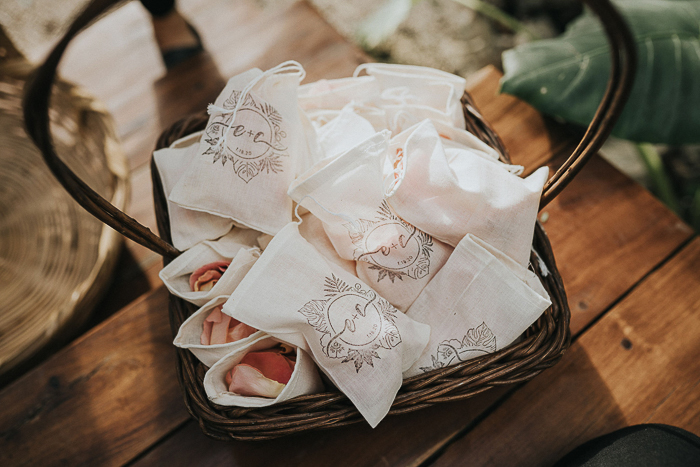 Shop similar custom stamps: Custom Wedding Stamp ($16.99); Custom Rubber Wedding Stamp ($18.74); Wedding Logo Stamp ($12.79); Wedding Monogram Stamp ($21)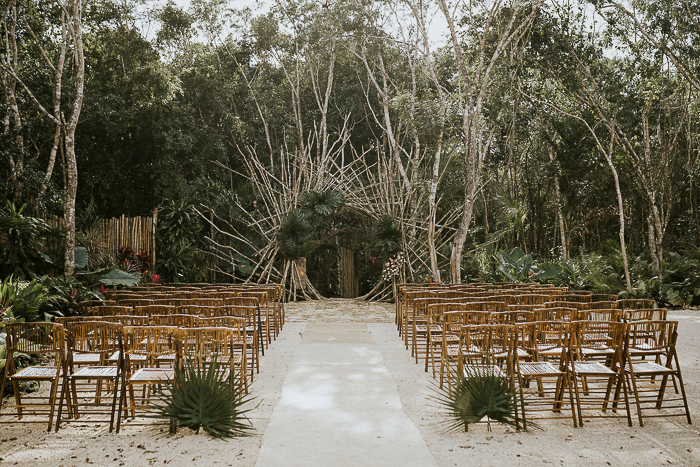 Why the Espacio Chechen
At first, we had a beach-side venue but that fell through two months before our wedding(!!). That ended up being the best thing that could have happened to us. While we enjoy the beaches, we find ourselves more drawn to the people, food, music, and cenotes in the downtown area and the jungles just outside Tulum. Our affection for this side of Tulum combined with the improvisation and scramble to find a new venue to yield a beautiful organic and bohemian vibe that we feel is far more authentically "us." The final result was a complete collaboration amongst us, our amazing wedding planner Arlenis, and all of our vendors.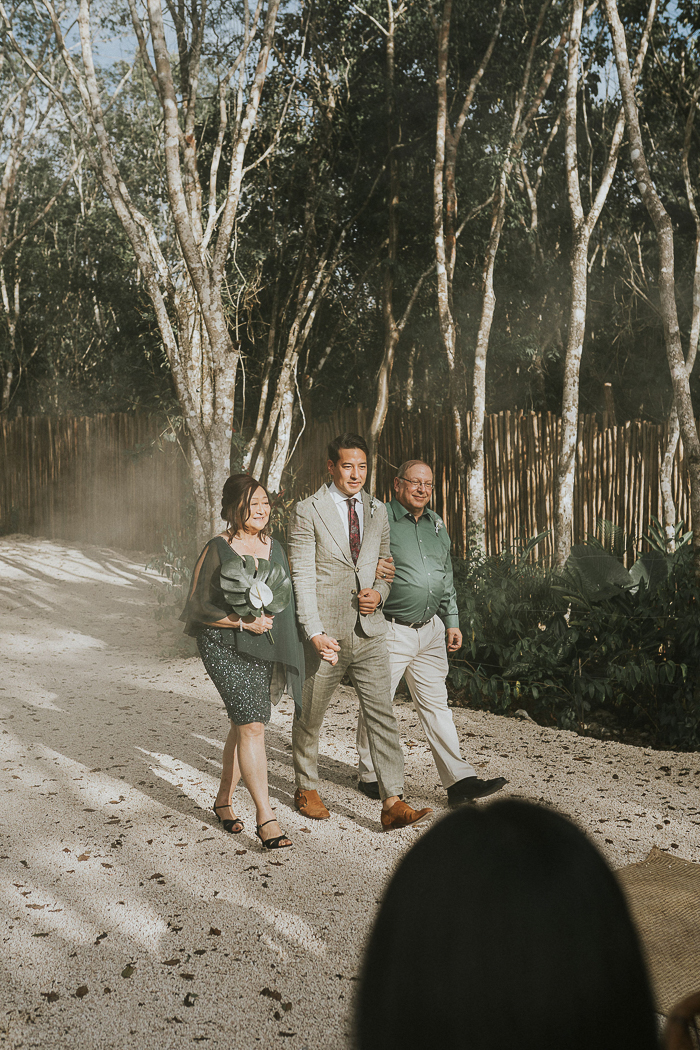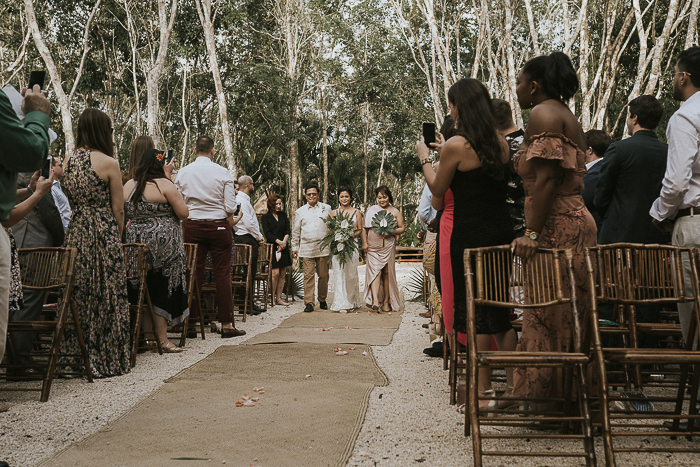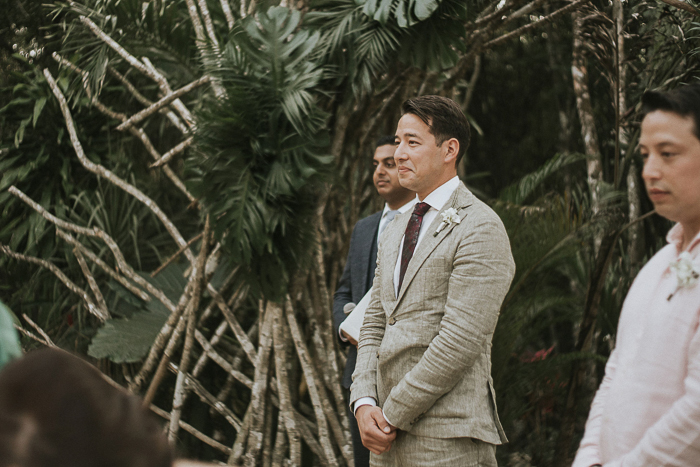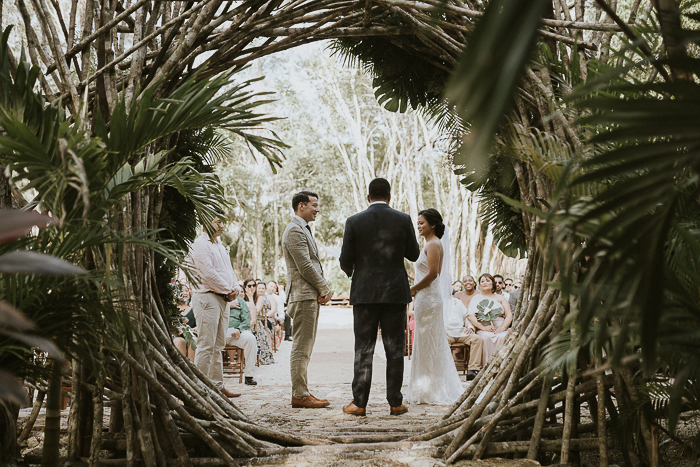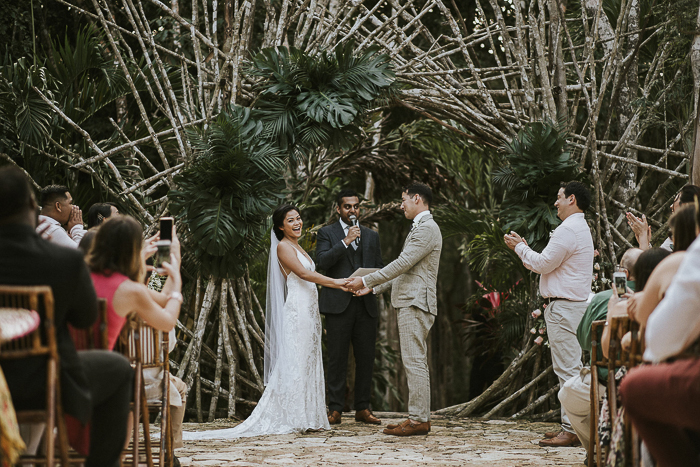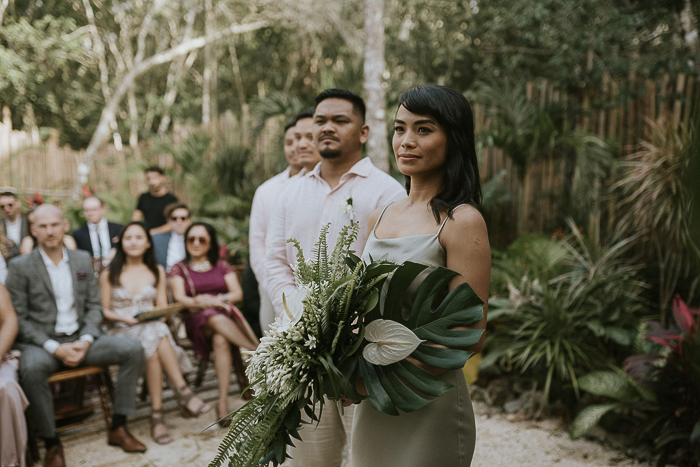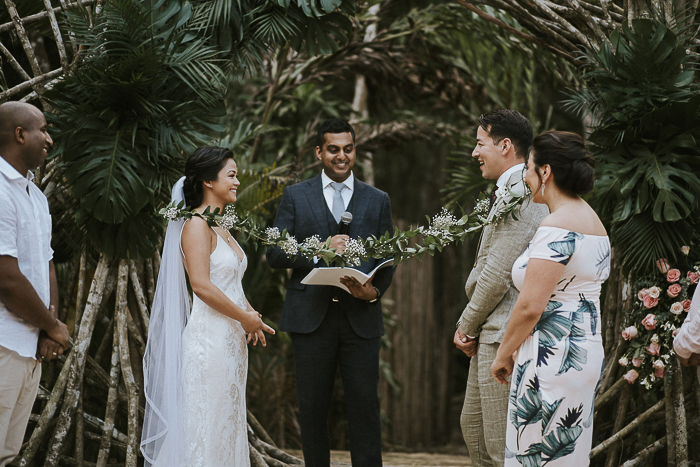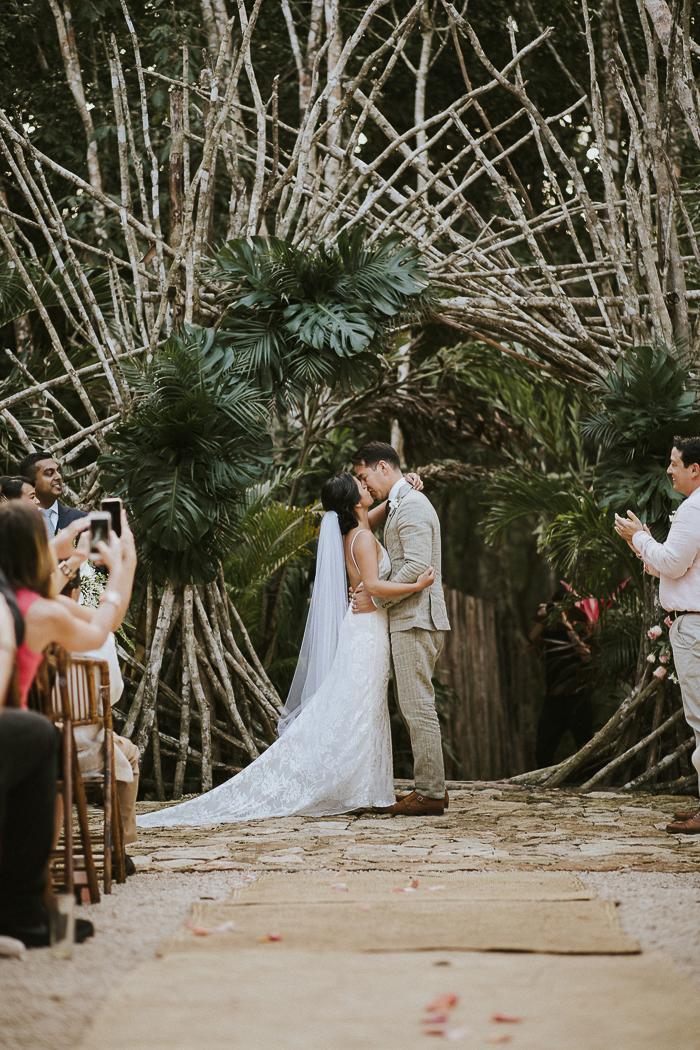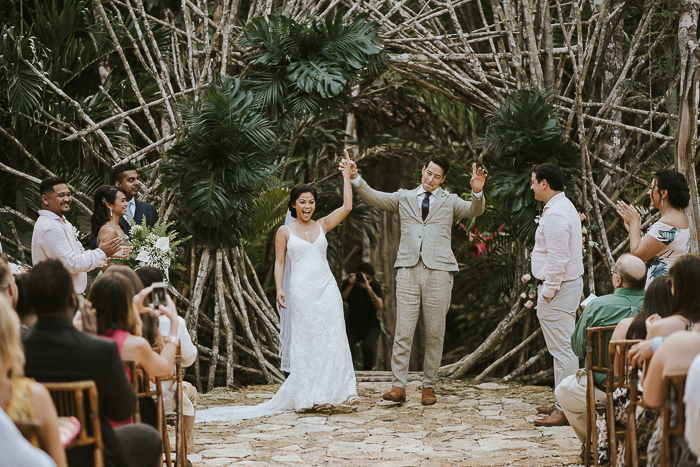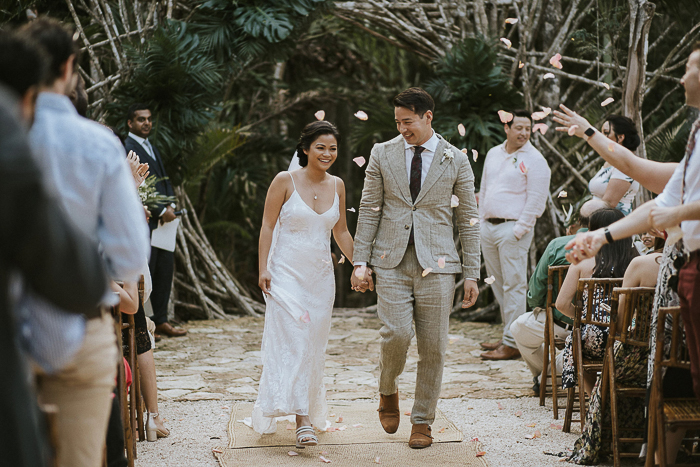 Soaking Up Time With One Another
One of our dear friends who couldn't make it (due to a new baby on the way!) gave Eric amazing advice to take a moment with just the two of us and look around at all of the people who came so far to celebrate with us. After all, this will be the only time in our lives where this exact group of people will be at the same place together creating this exact energy. We did this after the recessional, and our photographer Conie actually caught us basking in the moment! Think of how surreal it is to have a destination wedding all the way in Mexico and 100 people ventured all that way to witness our union.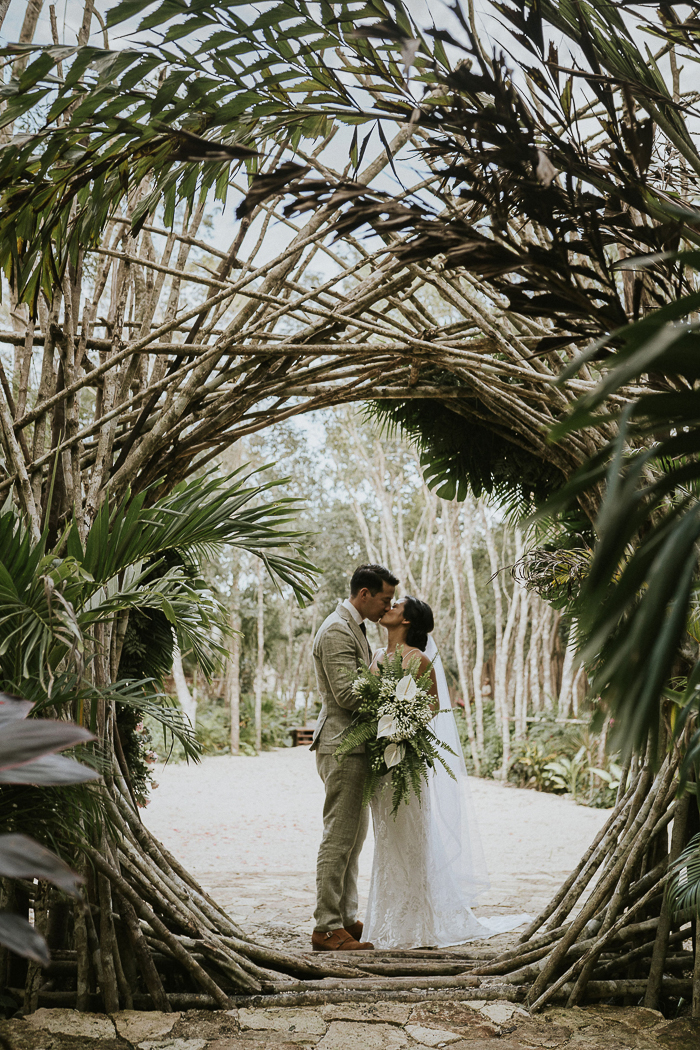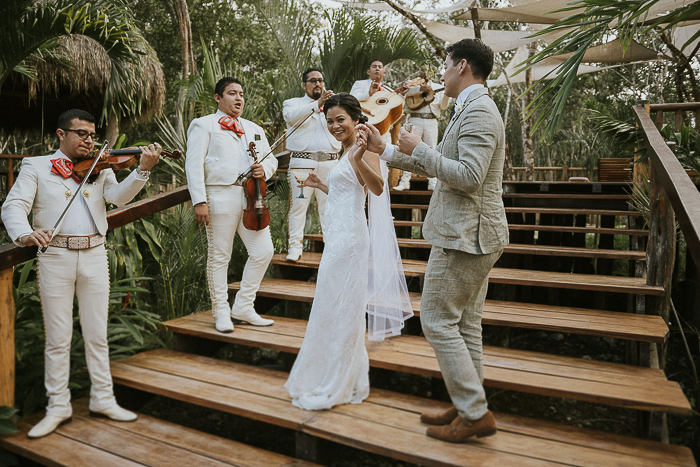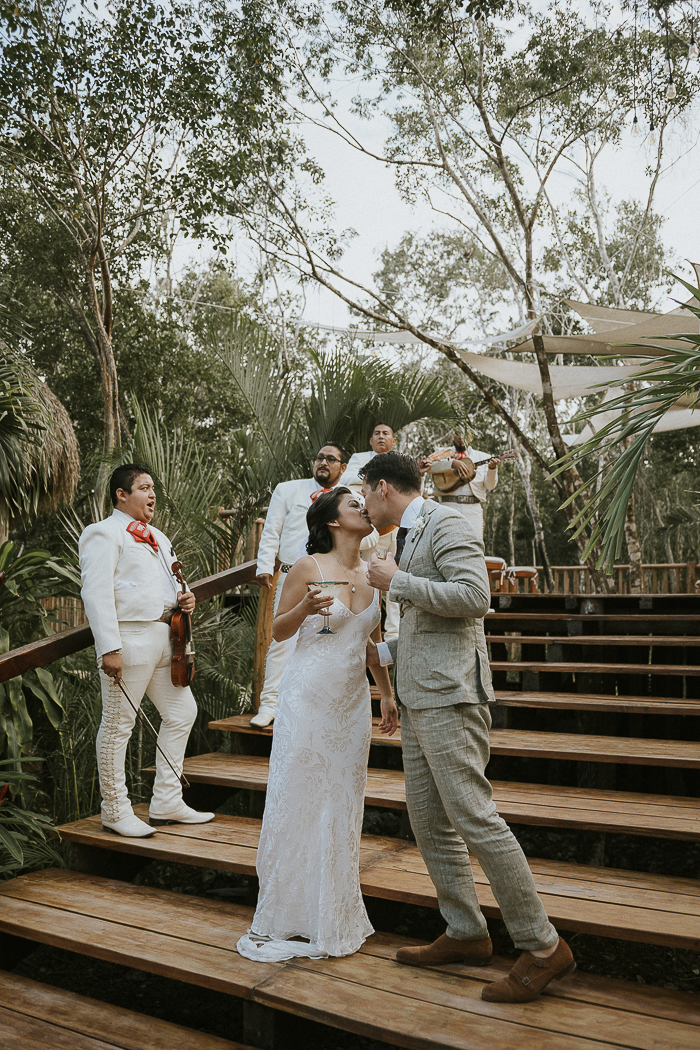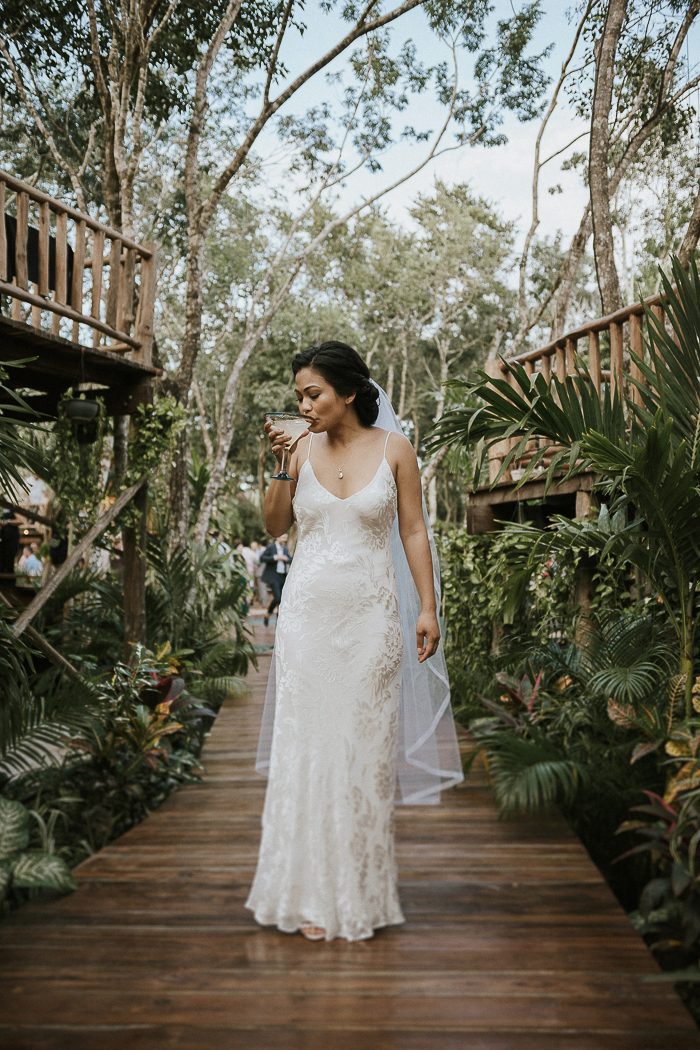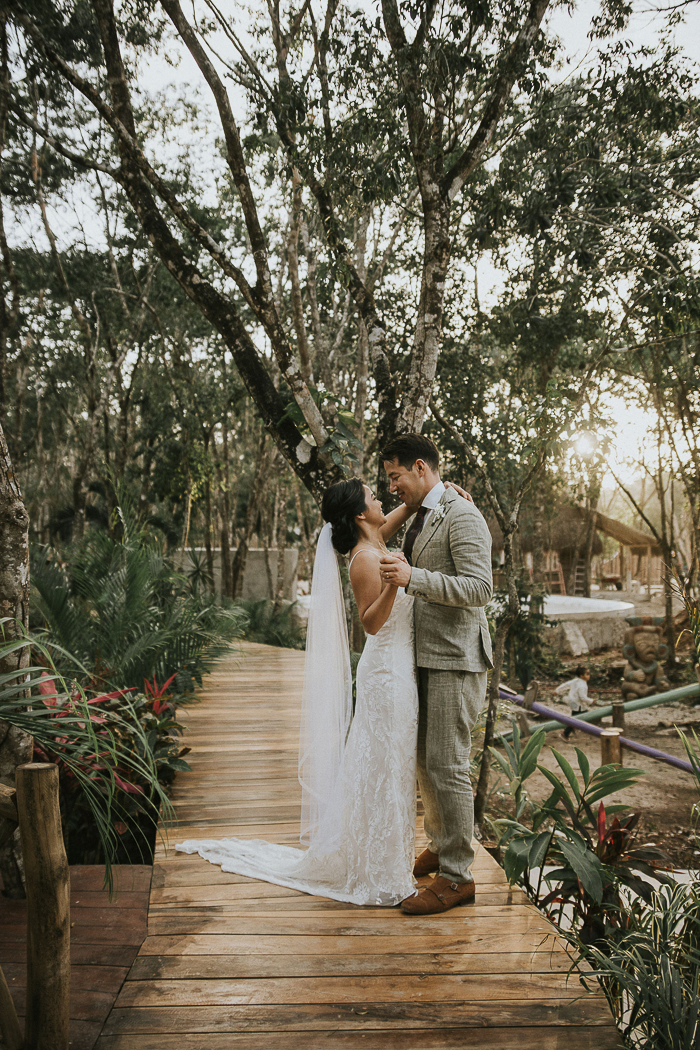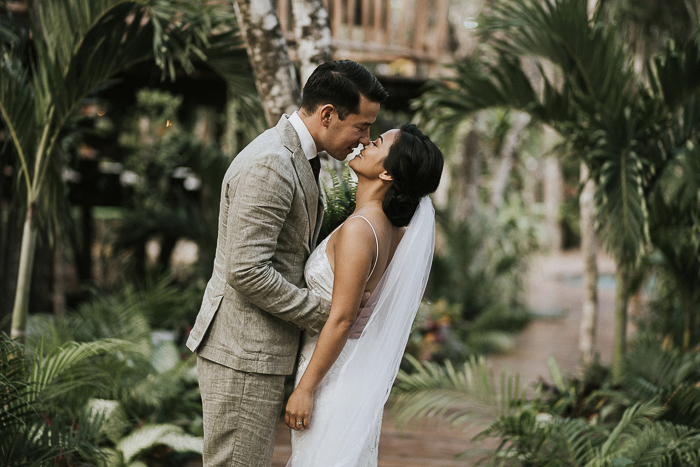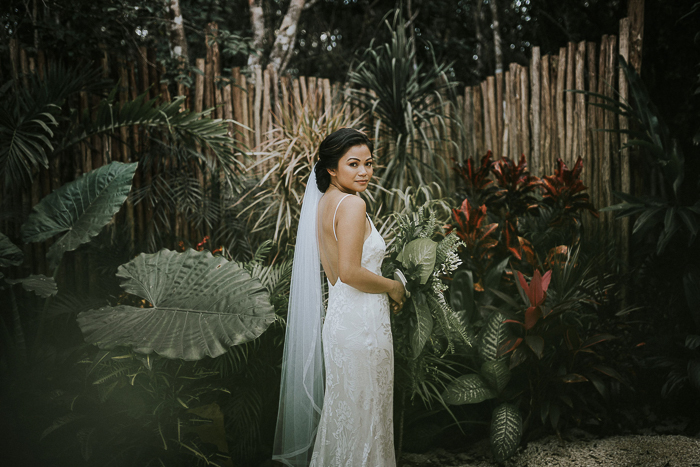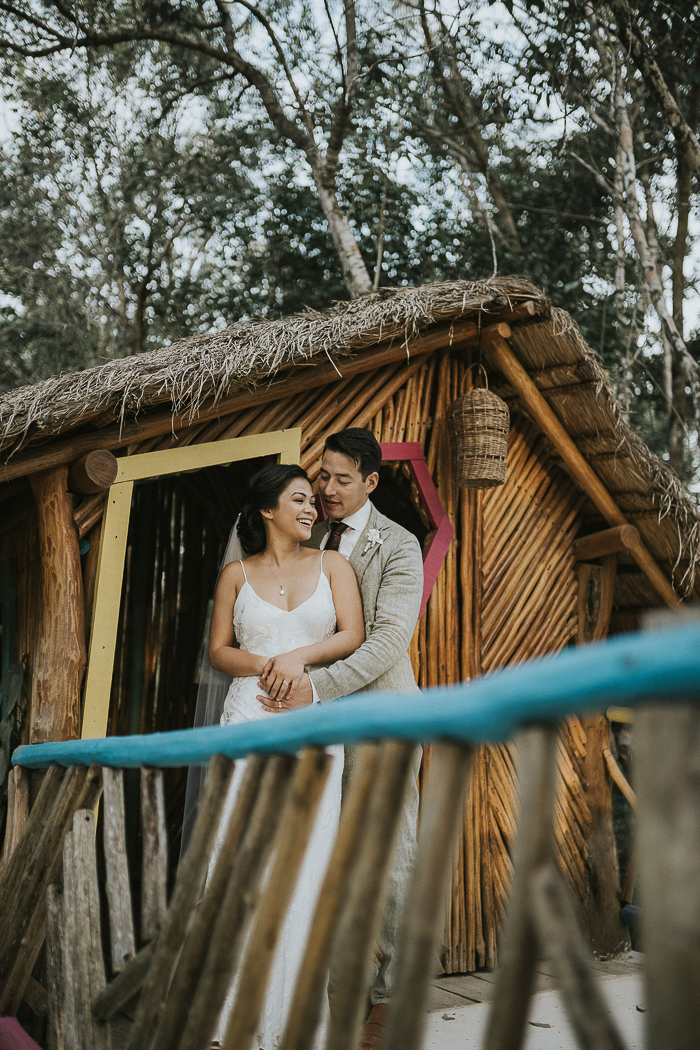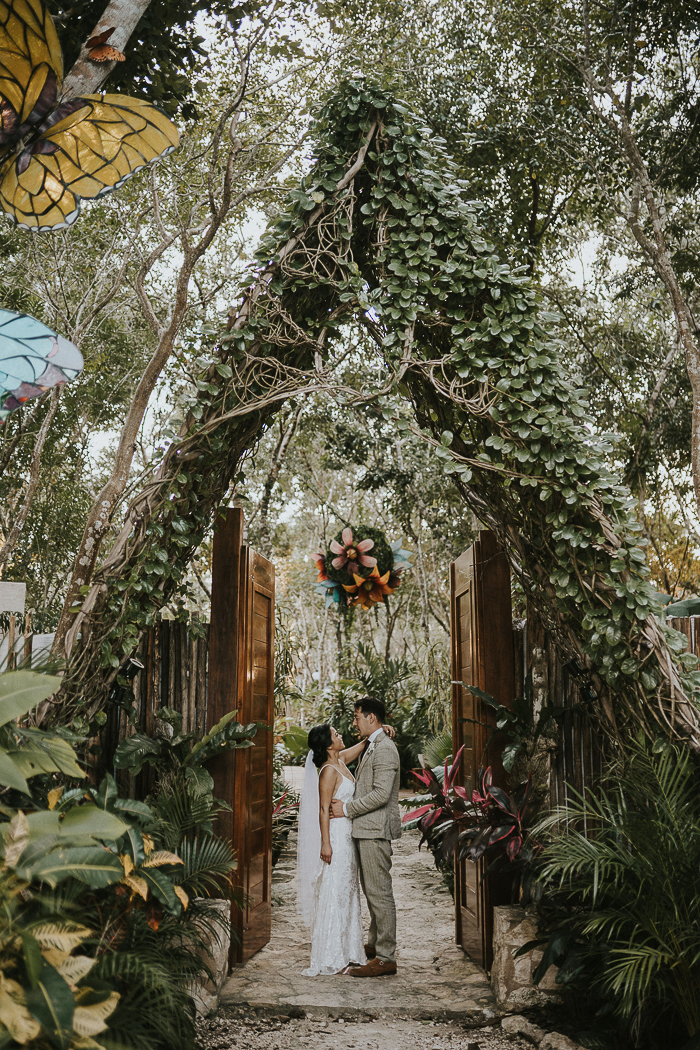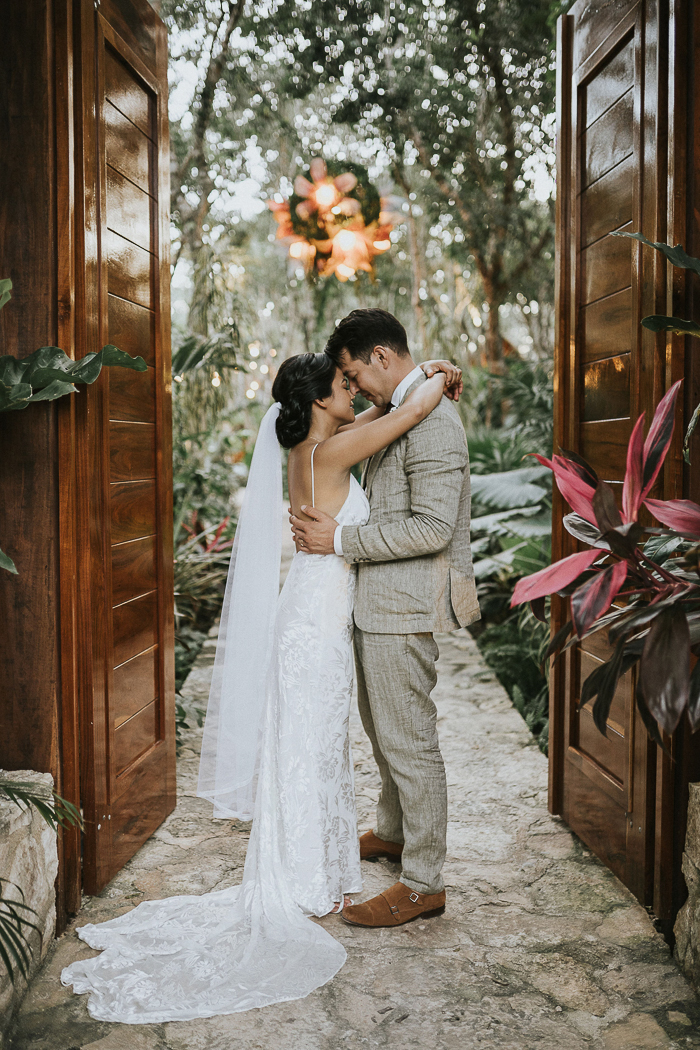 Adding Personalized Touches
I added a lot of personal touches to our wedding, Etsy really became my savior throughout the whole process. We used it for everything from ordering a customized stamp with our initials and our wedding date (then stamping it on 200 linen bags used for flower tossing and favors) to ordering our wedding cake topper in the likeness of our adopted dog, Parker. Also, having known Eric for almost 20 years, we did a yearbook of all of our pictures together through the years as our wedding guestbook. I had so much fun thinking of different ways to personalize every detail.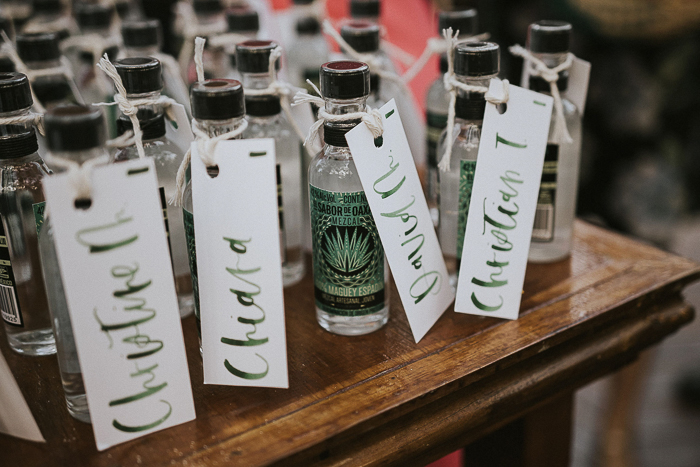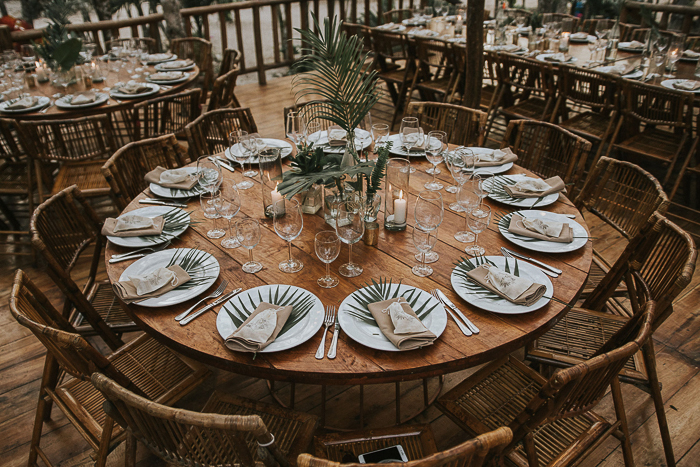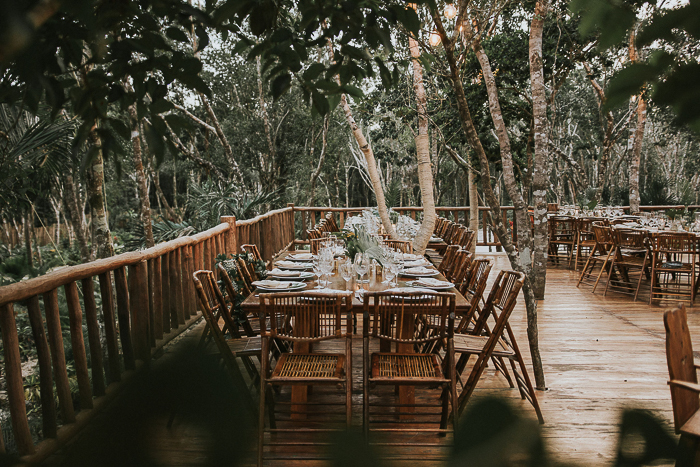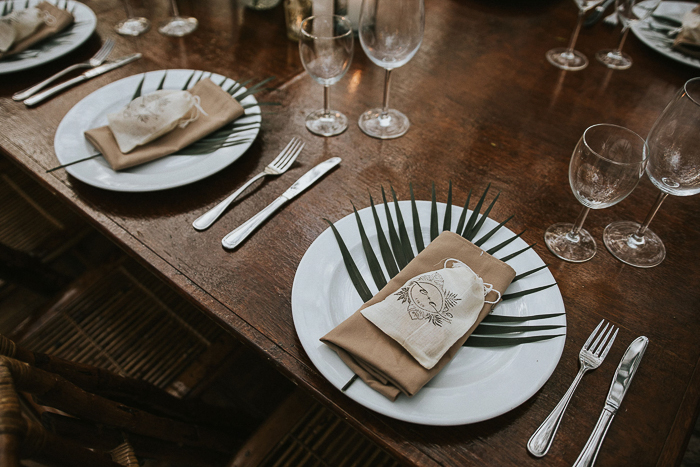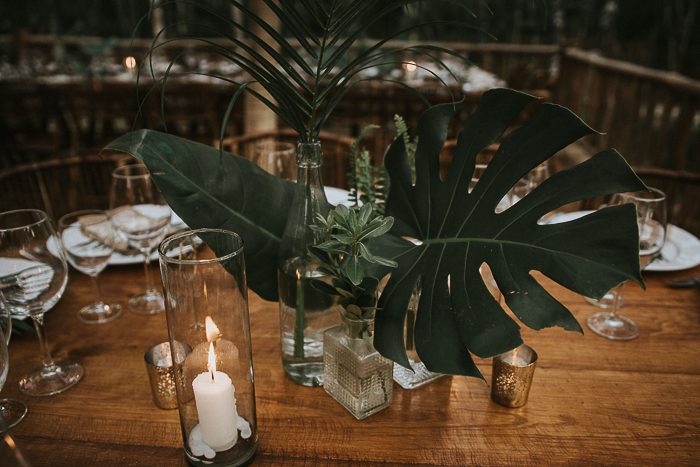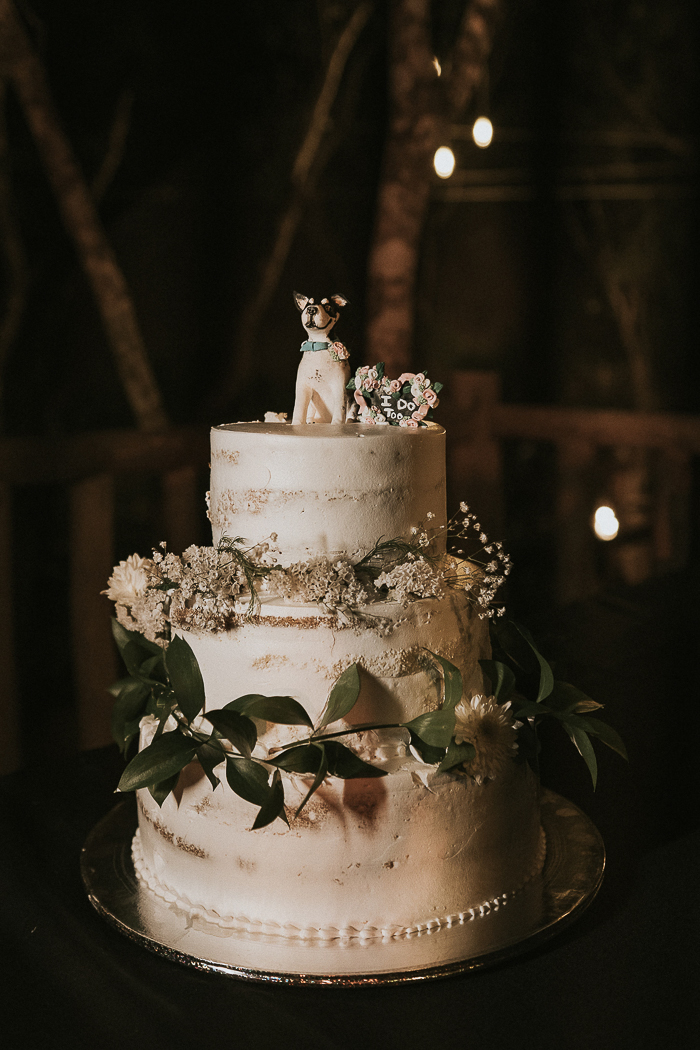 Shop similar cake toppers: Custom Pet Cake Topper ($66); Personalized Pet Cake Topper($41.99); I Do Too Clay Dog Cake Topper ($90)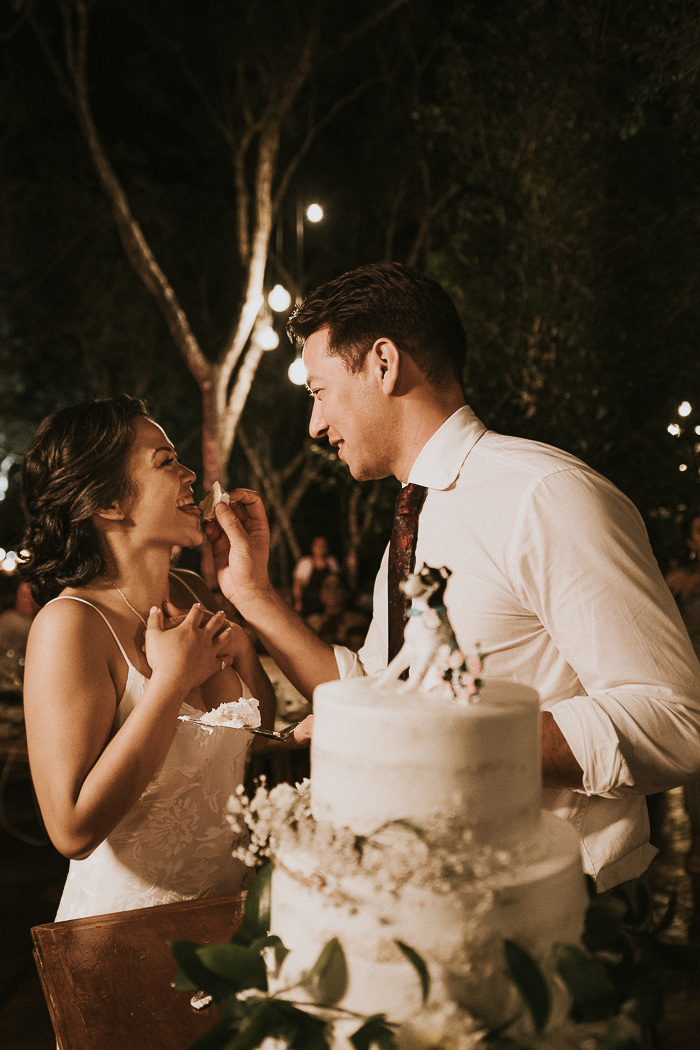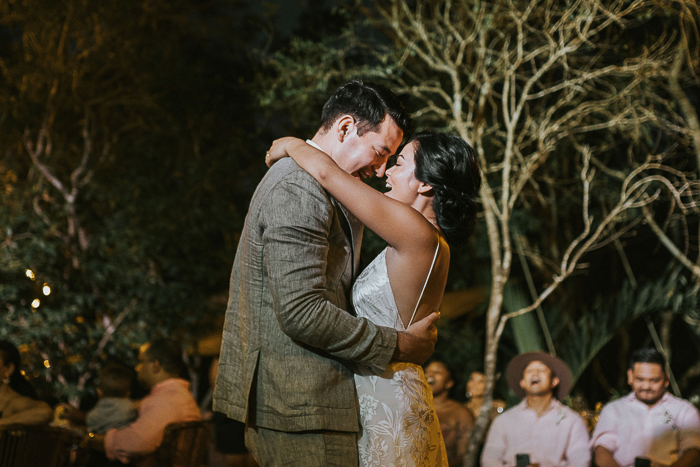 Congratulations to Chiara and Eric for their special day at Espacio Chechen—and a huge thank you to Conie Suarez Bravo for capturing it! To see more Tulum inspo, check out Diana and Zach's Chic Oceanfront Wedding at Akiin Beach Tulum.
The post Lush Tulum Jungle Wedding at Espacio Chechen appeared first on .